Did you know that 96% of people will leave your website without purchasing? For small and midsized businesses, that statistic sounds daunting. But with remarketing, you can re-engage site visitors who don't immediately convert and encourage them to finish their transactions.
Need some remarketing examples to inspire your campaigns? Check out these nine ad retargeting examples that convert! To speak directly with an expert at our remarketing agency, contact WebFX before reading on!
Good agencies have more than 50 testimonials.
Great agencies have more than 100 testimonials.
WebFX has over 1000+ glowing client testimonials.
See What Makes Us Stand out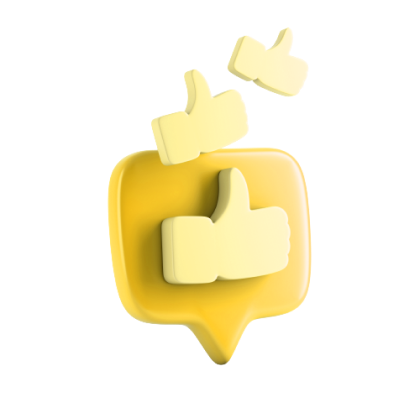 What is remarketing?
Before we dive into our remarketing ads examples, let's look at a quick definition of remarketing.
Remarketing — also called retargeting — allows you to show targeted ads to people who previously visited your website or mobile app. As they browse other sites online, they'll see your ads — and you remind them to come back to your site to purchase or complete another desired action. Valuable for businesses in any industry, remarketing allows you to boost brand awareness, conversions, and revenue.
How does remarketing work?
Remarketing works by placing cookies on visitors' devices when they meet specific criteria you set.
For example, you may want to remarket to people who visited a specific page or section of your site and left without purchasing. Their cookie ID is then added to your remarketing audience list, allowing you to show ads to them as they browse the web. If you already use Google Ads, you just need to add a piece of remarketing code to your website, so visitors can get added to your remarketing lists.
In short, remarketing works like this:
Users visit your website
Users leave your site and are tracked by cookies
Users see your remarketing ads on other websites
Users click your ads to return to your site
Users complete desired actions on your site!
Remarketing may sound complicated, but we'll walk you through every step of the process. For an in-depth overview of how remarketing works, check out our guide!
9 remarketing examples in action
Now that we covered an overview of what remarketing is and how it works, let's look at nine remarketing ads examples to inspire your strategy!
Nike ranks at the top of our list of retargeting ad examples. After searching Nike's website for a pair of new running shoes, I encountered a series of remarketing examples — including the one below — as I browsed other sites.

This remarketing ad let me scroll through several pairs of sneakers "suggested for me" based on my previous activity on Nike's website. And it included a call-to-action (CTA) button to direct me back to Nike's site to finish shopping.
How to use this remarketing example
Retargeting on the Google Display Network allows you to show ads — like this one from Nike — to visitors as they browse more than 2 million websites. If you're just getting started with remarketing, consider using simple display ads with clean images, text, and CTA buttons that guide people back to your site to buy.
Need help creating your first remarketing ad campaign? Connect with an expert at WebFX!
The next remarketing ad example comes from Airbnb. As a travel-lover, I'm constantly searching Airbnb's site or mobile app for dreamy accommodations.
After checking out a few listings, I noticed the following remarketing example in my Facebook News Feed.
This remarketing ad contains a photo of a listing I viewed (look at that cozy hammock!) with a CTA button to "Book Now." As if the offer wasn't tempting enough, the retargeted Facebook ad makes it easier than ever to complete the booking with a few clicks.
How to use this remarketing example
Create custom remarketing campaigns to reach social media users who have shown interest in your brand, products, or services. Like Airbnb, you can customize your ads based on visitors' activity on your site or social media pages.
This is a great way to remind people of your offerings and point them to your site to complete a desired action, like booking a stay. Want to get started with remarketing ads on social media? Check out our social ad services!
Next on our list of remarking examples is the clothing brand Madewell.
Like Airbnb, Madewell uses Facebook retargeting ads to re-engage site visitors and encourage them to purchase.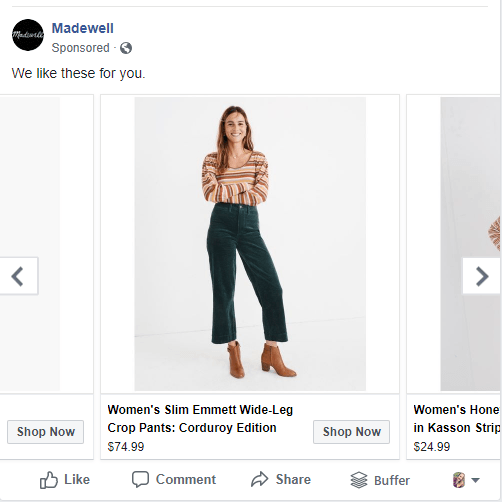 Madewell customizes remarketing ads on social media based on a user's activity on their site. This ad, for example, allows Facebook users to browse and shop a selection of curated items.
This setup makes it easy for people to buy, and the ad's personalization inspires brand loyalty among Madewell shoppers.
How to use this remarketing example
Use retargeting ads to feature curated products based on visitors' browsing history and preferences. Doing this makes it even easier for them to purchase — and personalization shows you care about their needs and interests, which can spark repeat purchases.
Next, let's look at a remarketing ad example from tech accessories brand, Casetify. After searching a few phone cases on Casetify's website, I noticed this retargeting ad pop up in the sponsored block on the right-hand column of my Facebook.
The remarketing ad includes product photos of phone cases I viewed with the reminder that they didn't want me to miss out. In addition, the ad contains a direct link to the Casetify site, so I can easily click to complete a purchase.
How to use this remarketing example
Don't be afraid to test various retargeting ad formats. In addition to News Feed ads, consider retargeting ads in other locations on Facebook and other social platforms.
By testing ad formats, you gather data and pinpoint remarketing ads with the highest conversion rates.
Next, we have a remarketing example from 1-800 Contacts. This company uses retargeted ads to re-connect with site visitors after they leave the 1-800 Contacts website. In the remarketing example below, 1-800 Contacts incentivizes first-time customers to go back to the site to get 12% off their orders.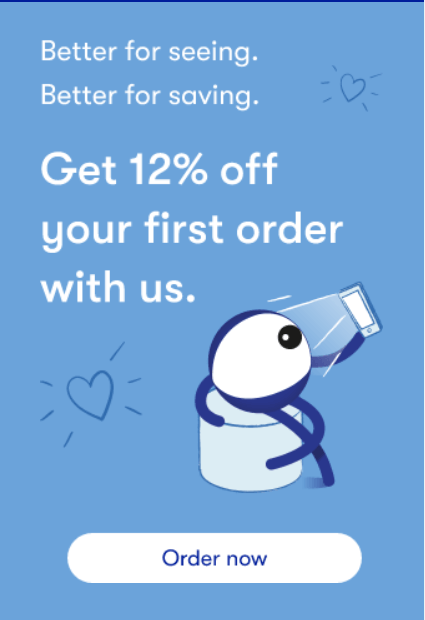 Using remarketing lists allows you to segment visitors and serve retargeted ads that best meet their needs and encourage them to take action.
How to use this remarketing example
Consider adding special promotions to incentivize remarketing ad clicks. Sometimes, a personalized deal is exactly what someone needs to head back to your site to complete a purchase. Want to spice up your remarketing ads with creative offers?
Learn how WebFX can help!
Our next retargeting ad example comes from Spotify. Spotify uses traditional display remarketing to reach people as they browse other sites on the web. Similar to 1-800 Contacts, Spotify includes a promotion in the remarketing ad example below.

After seeing the ad, people can easily click the CTA button to get three free months of Spotify Premium. The offer speaks to traditional Spotify users, who have yet to upgrade to the premium version. And the free trial eases the burden of opening your wallet for Spotify Premium.
How to use this remarketing example
Use remarketing ads to anticipate and solve pain points.
Spotify, for example, uses remarketing ads to connect with users who haven't upgraded to premium — and they offer a free trial to help them overcome the hurdle of signing up.
Next on our list of retargeting ad examples is Harry's with their display remarketing and custom trial offer.

After browsing Harry's website, potential customers see custom ads that encourage them to "Redeem Trial." The simple ad copy touts Harry's unique selling propositions, and the splashy red CTA button stands out and invites people to click. Incorporating incentives in your remarketing ads is a great way to reach first-time customers and bring them back to your site to buy.
How to use this remarketing example
In addition to incentivizing your remarketing ads, keep your copy and images clean.
And make sure you include an easy-to-follow CTA button to direct users to take a specific action, like redeem a trial offer. Are your remarketing ad CTAs falling flat? See how WebFX can spice up your copy and conversions!
Hotel chain Hilton uses display remarketing to reconnect with potential guests and encourage them to book. The remarketing example below contains simple text, an image of a Hilton destination, and an easy-to-click "Book Now" button that directs people back to Hilton's website.

As people browse other hotels and booking options online, they're reminded of Hilton's options with retargeted ads.
How to use this remarketing example
Invoke a sense of urgency with your remarketing ad copy.
In this example, the ad emphasizes the urgency of booking at Hilton.com and makes it easy for viewers to follow through with a "Book Now" button.
Expedia wraps up our list of remarketing examples with their retargeting emails. In addition to remarketing on websites, you can set automated remarketing emails to reach people right in their inboxes. After browsing Washington flights on Expedia's mobile app, I received a remarketing email with a button to view the latest ticket offers.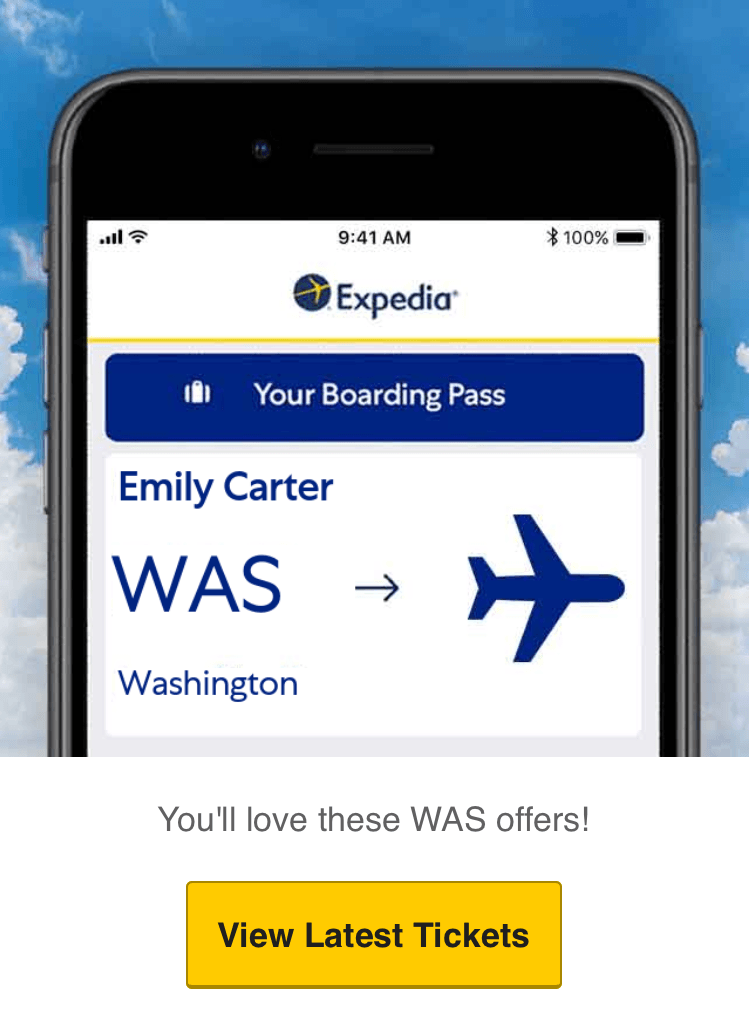 The email copy and fun boarding pass graphic are personalized with information for flights I viewed on the Expedia app. And they include an eye-catching CTA button to invite me to go back to Expedia's site to view the latest tickets and book a flight.
How to use this remarketing example
If you operate an ecommerce store and someone enters their email on your site or mobile app, set personalized emails to trigger and remind them of items they viewed or placed in their carts. Even if you don't sell online, you can send remarketing emails when people complete certain actions on your site.
For example, if someone enters their email to download a guide, you can set automated emails to send more valuable info on the topic with CTAs for a free quote. This tactic will allow you to stay top-of-mind with people who have previously engaged on your site — and you can encourage them to convert, whether that be by purchasing, signing up for an audit, or filling out a free quote form. Want to learn more about automated ecommerce retargeting ads?
93% of WebFX customers are extremely satisfied with their digital marketing results.
"Working with WebFX, everything is very organized and strategic. We're only a year into our partnership, and our expectations have definitely been met."
View More Client Testimonials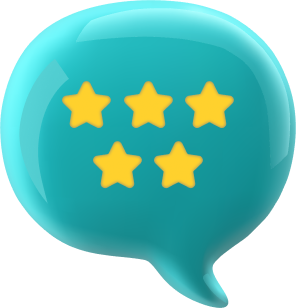 Start using these remarketing examples to boost conversions!
If you're ready to start using these retargeting examples to convert more customers, WebFX can help! Check out our remarketing services, and contact us today to level up your remarketing game this year.
How is your website's SEO?
Use our free tool to get your score calculated in under 60 seconds.
Get posts by email
Join 200,000 marketing managers and subscribe to Revenue Weekly!
"*" indicates required fields
WebFX Careers
Join our mission to provide industry-leading digital marketing services to businesses around the globe - all while building your personal knowledge and growing as an individual.