Even in the age of WhatsApp and Facebook Messenger, short message service (SMS) has shown efficacy in various areas, including cart abandonment, customer support questions, marketing new product releases, and seasonal promotions. It's a proven strategy for recouping lost revenue.
However, you need access to the best text marketing platforms to succeed in your text marketing efforts. In this post, we outline 11 tried-and-true platforms to help you find the best SMS software for your business.
Keep reading to learn more about:
Don't miss our Marketing Manager Insider emails!
Join 200,000 smart marketers and get the month's hottest marketing news and insights delivered straight to your inbox!
Enter your email below:
Inline Subscription Form – CTA 72
"*" indicates required fields
(Don't worry, we'll never share your information!)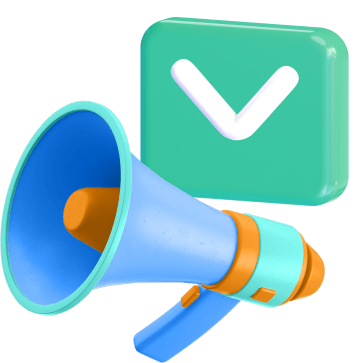 Top 11 text marketing platforms
| | | | | |
| --- | --- | --- | --- | --- |
| SMS software | G2 rating | Starting price | Free trial | Learn More |
| SlickText | 4.8 | $29 | Yes | |
| Klaviyo | 4.6 | $35 | No | |
| Mobile Text Alerts | 4.6 | $25 | Yes | |
| EngageBay | 4.6 | $12.74 | No | |
| Omnisend | 4.5 | $16 | No | |
| Active Campaign | 4.5 | $29 | Yes | |
| EZ Texting | 4.5 | $20 | Yes | |
| Twilio | 4.4 | $0.0079 | Yes | |
| TextMagic | 4.4 | $0.04 | Yes | |
| Drip | 4.4 | $39 | Yes | |
| ClickSend | 3.3 | $0.0242 | No | |
What are text marketing platforms?
Text marketing platforms are marketing tools that enables companies to communicate with current and potential customers via text message. It facilitates the creation and execution of SMS-based marketing programs for businesses.
What to look for when buying SMS marketing software
The best SMS marketing software features to look for when buying sms marketing software include:
Two-way messaging: This function allows customers to respond to messages, creating a more personalized experience and increasing engagement.
Scheduled messages: This feature helps you plan your messaging strategy, ensuring that messages are sent at the optimal time for maximum impact and efficiency.
Automation: This feature aids in streamlining your messaging process by setting up automated responses and workflows, saving time and resources while maintaining effective communication with customers.
Shortcodes: These are shortened phone numbers you can use to send and receive customer text messages. They are easy to remember and provide a convenient way for customers to interact with your business through SMS.
Personalization: This functionality allows you to tailor your messages to the specific needs and preferences of the recipient. This way, you can establish stronger customer connections and increase engagement.
Segmentation:This feature allows you to group your customers based on specific criteria such as demographics, behavior, or interests. By doing so, you can send targeted messages that are more relevant and valuable to each group, leading to higher response rates and conversions.
These capabilities streamline mass communication efforts and allow businesses to prioritize the customer experience.
93% of WebFX customers are extremely satisfied with their digital marketing results.
"Working with WebFX, everything is very organized and strategic. We're only a year into our partnership, and our expectations have definitely been met."
View More Client Testimonials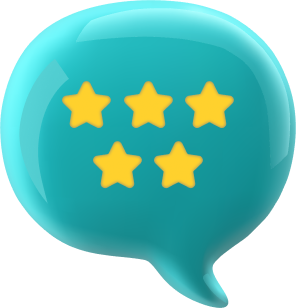 Best SMS marketing platforms in 2023
Text marketing platforms help businesses boost brand loyalty and engagement by sending clients timely, tailored messages on their mobile devices.
Here are the best text marketing platforms to get you started:
1. SlickText
SlickText is among the best SMS software for boosting business income with SMS marketing. It's compatible with many platforms, including Mailchimp, Shopify, Zapier, Meta for Business, Constant Contact, and GetResponse. It's also packed with features that improve productivity.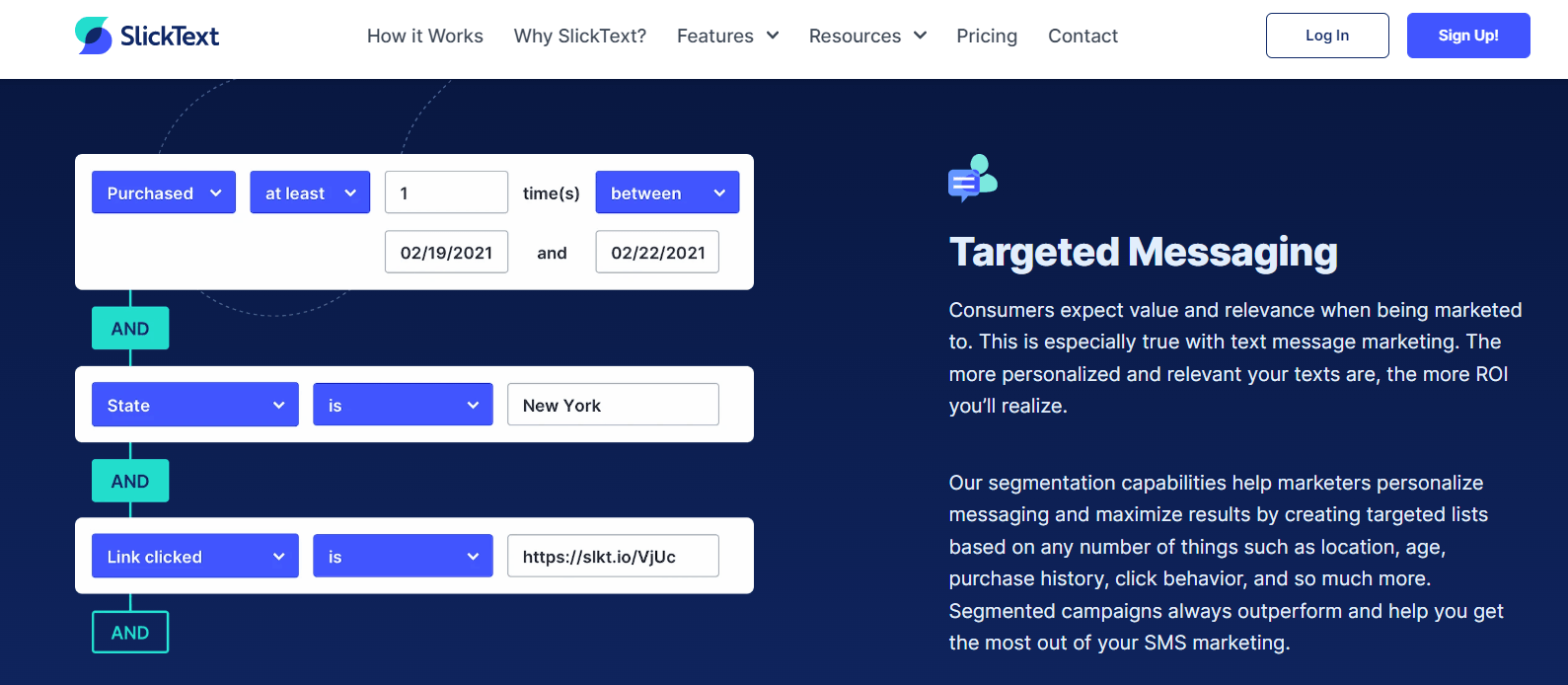 This SMS platform allows you to set up auto-reply messages and enable two-way texting to maintain prompt communication with your clients. It's Zapier-compatible, so you can make your various applications work in conjunction with one another.
It also connects with email and Facebook to expand its reach. Plus, you can take advantage of the in-built link shortening, tracking, and personalized message settings.
Price: Starting at $29 (500 texts) per month (+14-day free trial)
G2 score: 4.8
2. Klaviyo
Klaviyo is another one of the best text marketing platforms that help businesses improve customer retention rates. It offers a toll-free number, allowing you to provide excellent service to your clients without worrying about extra costs.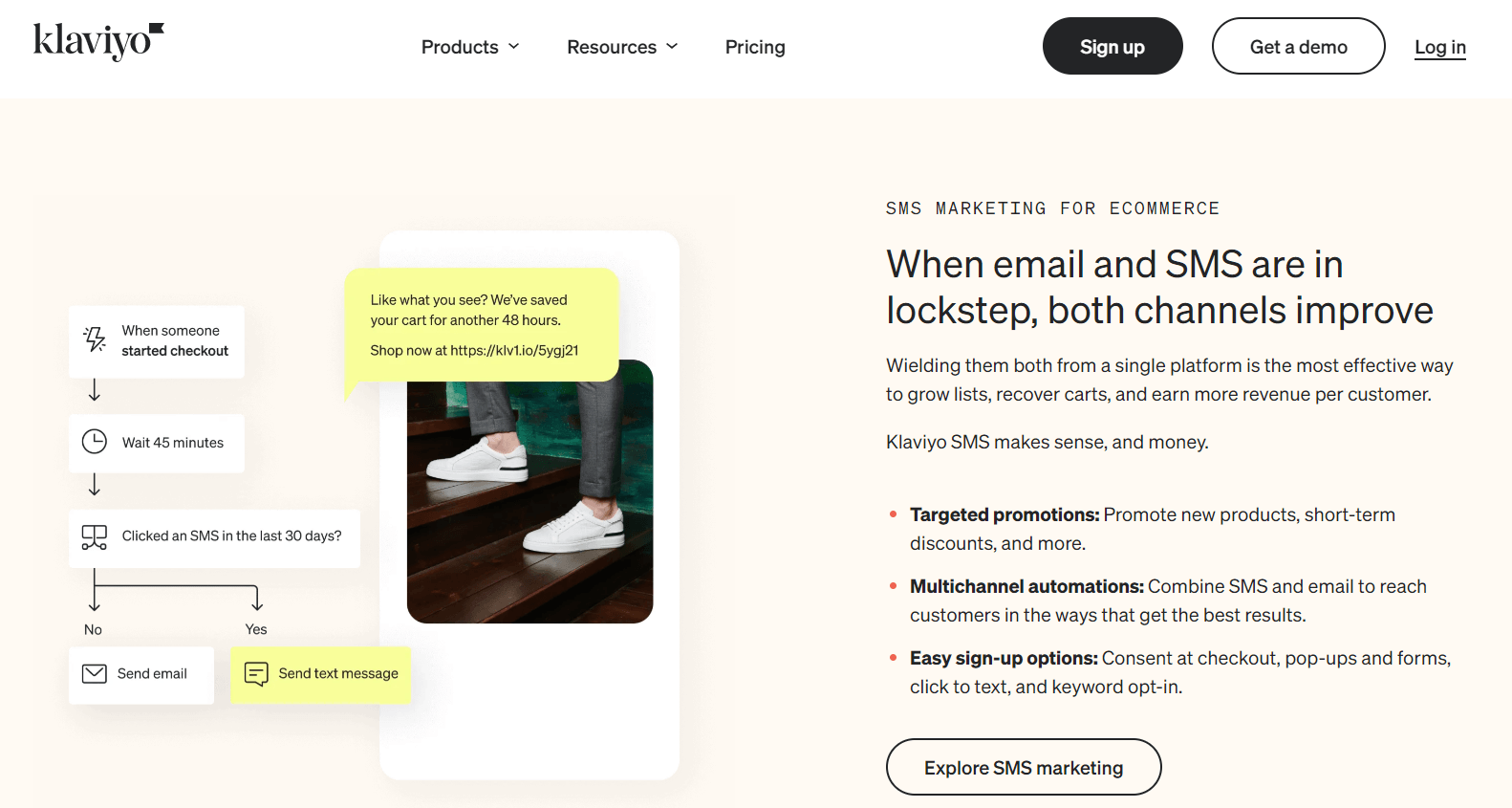 This SMS marketing platform can help you strengthen connections with regular buyers and boost sales. It also provides automated processes that allow you to schedule your text messages' delivery time and date in advance.
Price: Starting at $35 per month for SMS and email (free plan available)
G2 score: 4.6
3. Mobile Text Alerts
Mobile Text Alerts equip you with outstanding features such as international messaging, automated responses, landline texting, and contact cards to help you best communicate with your clients.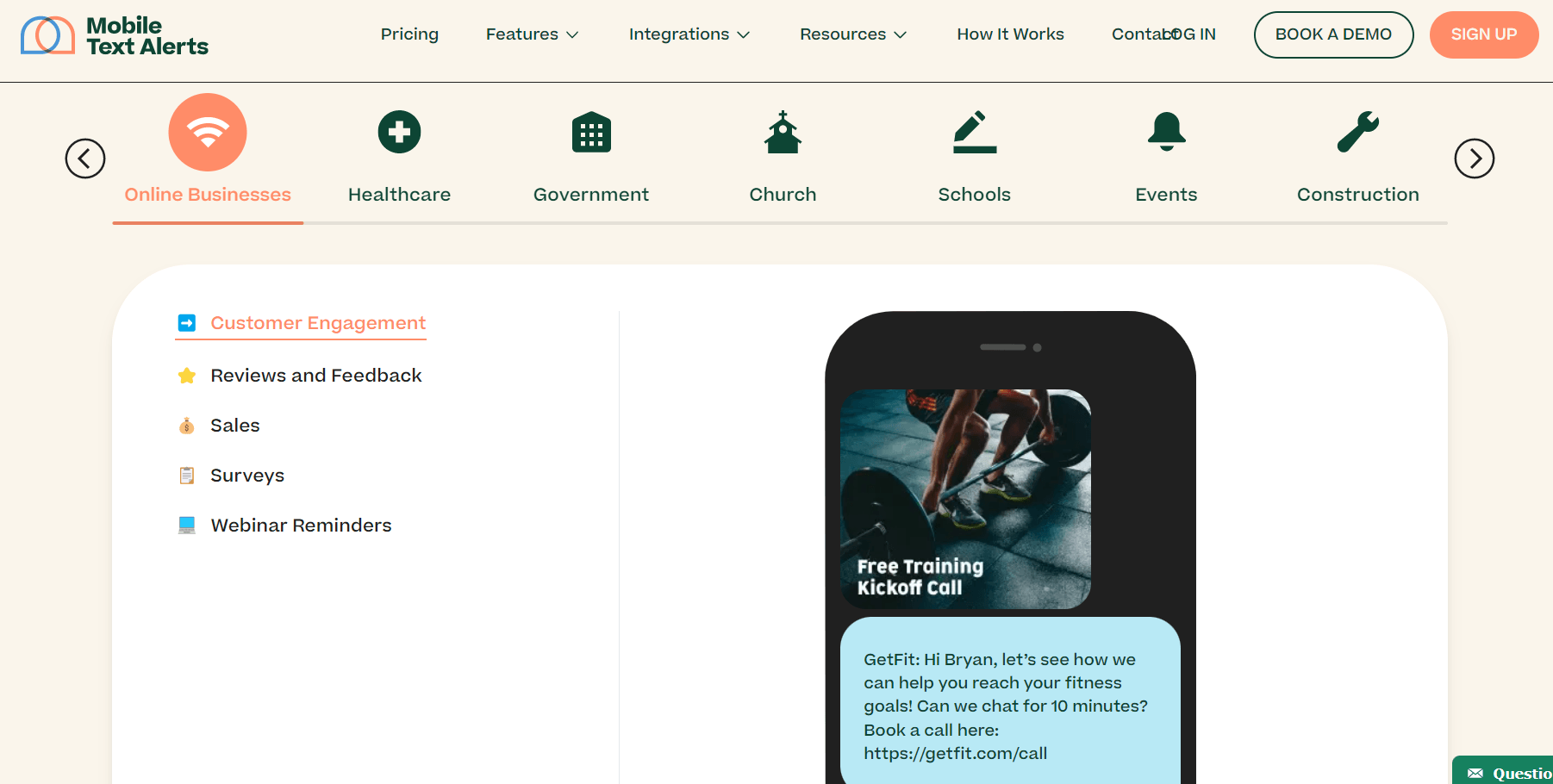 It's compatible with Zapier, WordPress, Slack, MailChimp, and ClickFunnels. It also gives you access to an API, allowing you to create your bespoke integrations. Mobile Text Alerts features a link-tracking function that lets you easily track click-through rates.
In addition, your clients can easily sign up for the SMS list by texting shortcodes or toll-free numbers, allowing you to keep tabs on all your campaigns effortlessly.
Price: Starting at $25 per month (14-day free trial available)
G2 score: 4.6
4. EngageBay
EngageBay allows you to customize your campaign and send SMS to thousands of individuals, all while keeping track of their reactions in a single dashboard.

It has an SMS feature that allows you to automate processes and send SMS messages in response to specific client actions or events, such as payment failure, product update, cart abandonment, or promotion.
You can also utilize filters to narrow down the pool of potential buyers for your offer using contact information such as dates, actions, and locations. Plus, it provides additional space to organize your contact list into distinct groups for more targeted SMS marketing.
Price: Starting at $12.74 per month (free plan available)
G2 score: 4.6
5. Omnisend
Omnisend is an SMS marketing platform that allows you to add text messaging to your email correspondence. It helps you provide a more customized and uniform user experience by integrating automated texting with an email to add push alerts in a single process.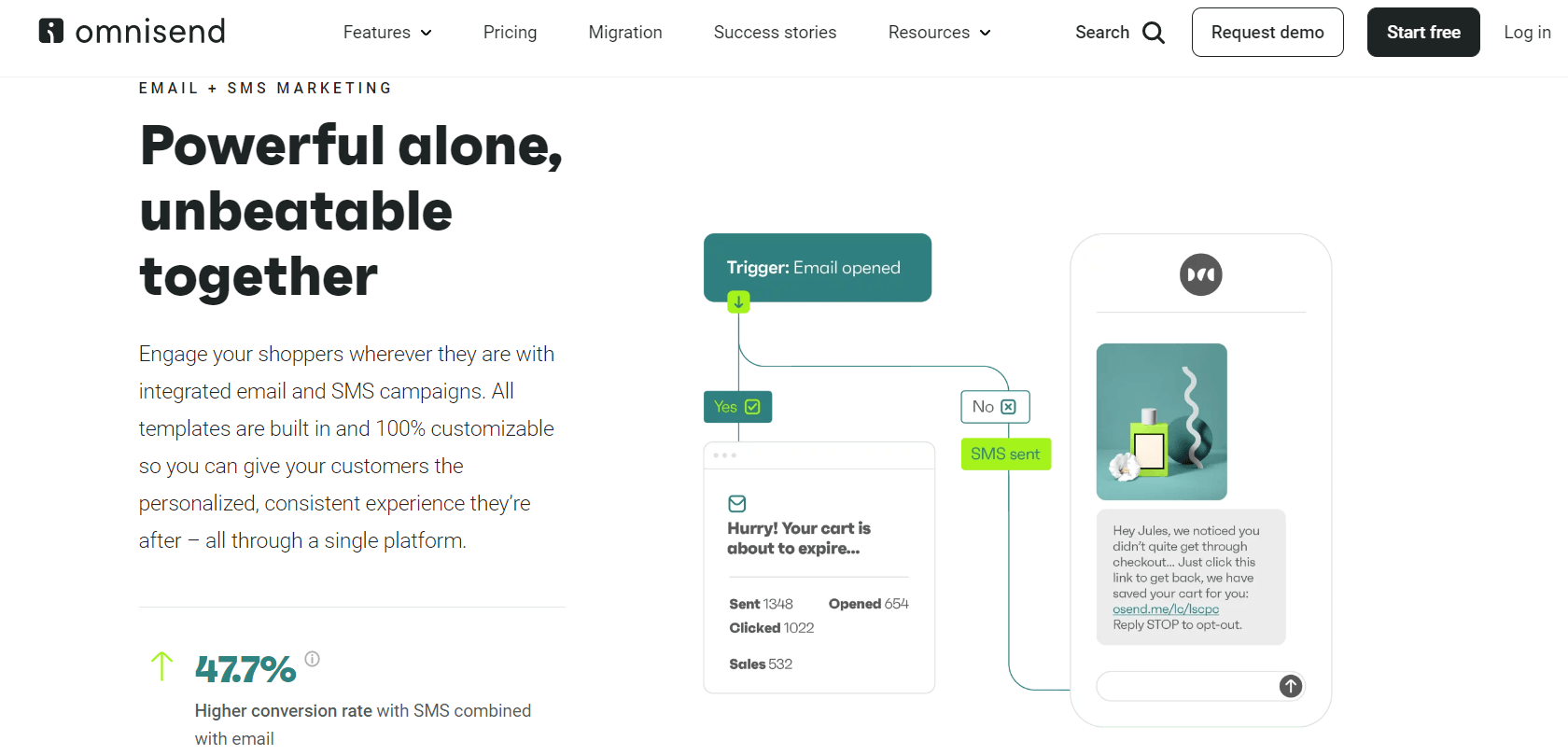 You can obtain SMS workflows for birthdays, cart abandonment, delivery confirmation, and many more with a few clicks from Ominsend's library. You can also get your message out to your prospects and clients by utilizing capabilities requiring no setup and unlimited potential applications.
Price: Starting at $16 per month (free plan available)
G2 score: 4.5
6. ActiveCampaign
ActiveCampaign is one of the best text marketing platforms for improving your communication methods with your clients. It enables you to automate SMS messages for quick reminders, promotions, transaction alerts, and more.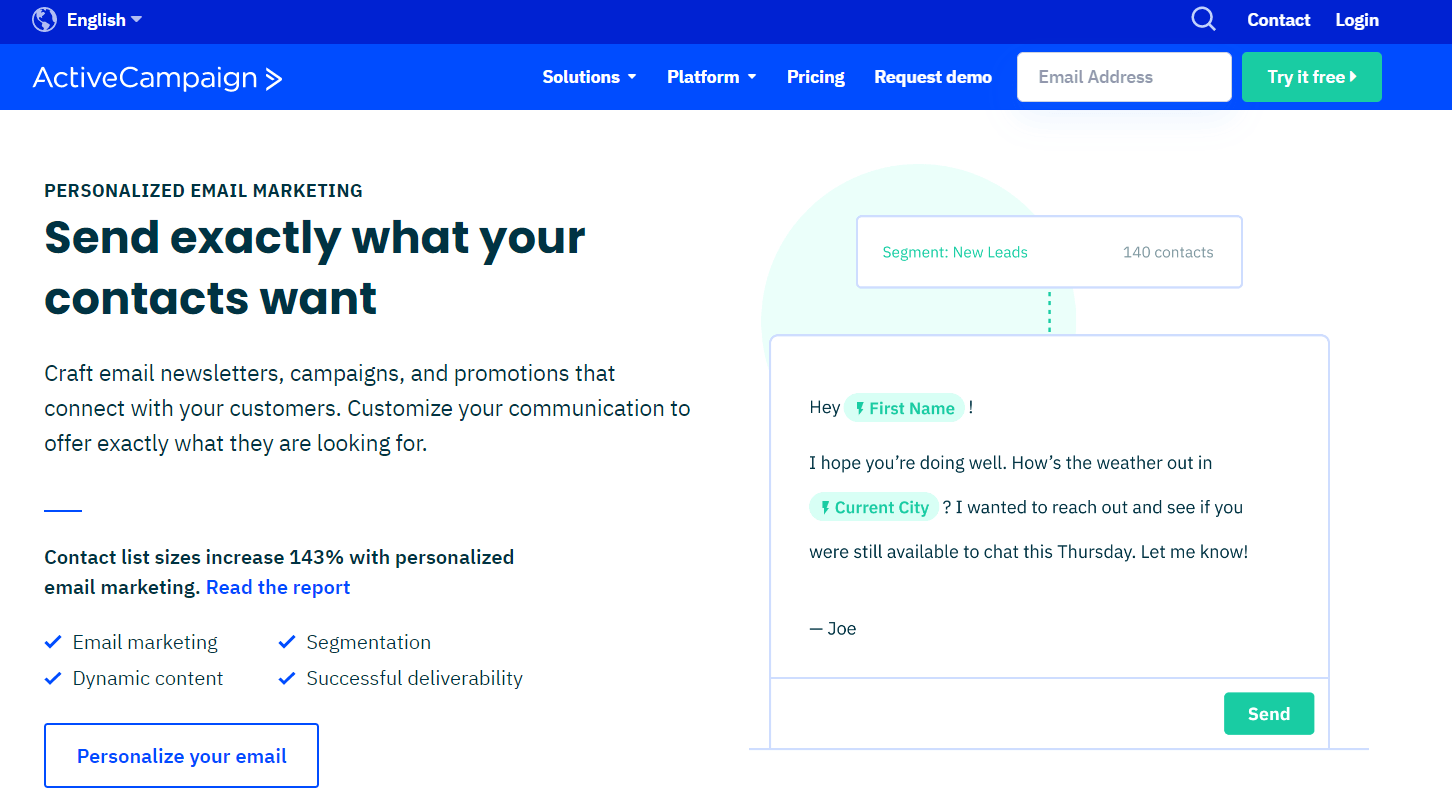 This platform also offers day and time schedules for text message delivery to keep processes running smoothly. It also allows users to enter their contact information, allowing you to import or manually manage the seamless data collection.
Price: Starting at $29 per month (paid yearly)
G2 score: 4.5
7. EZ Texting
EZ Texting is a valuable tool for expanding your SMS marketing operations. It helps you achieve better results from SMS marketing campaigns by simply importing and customizing existing consumer groups.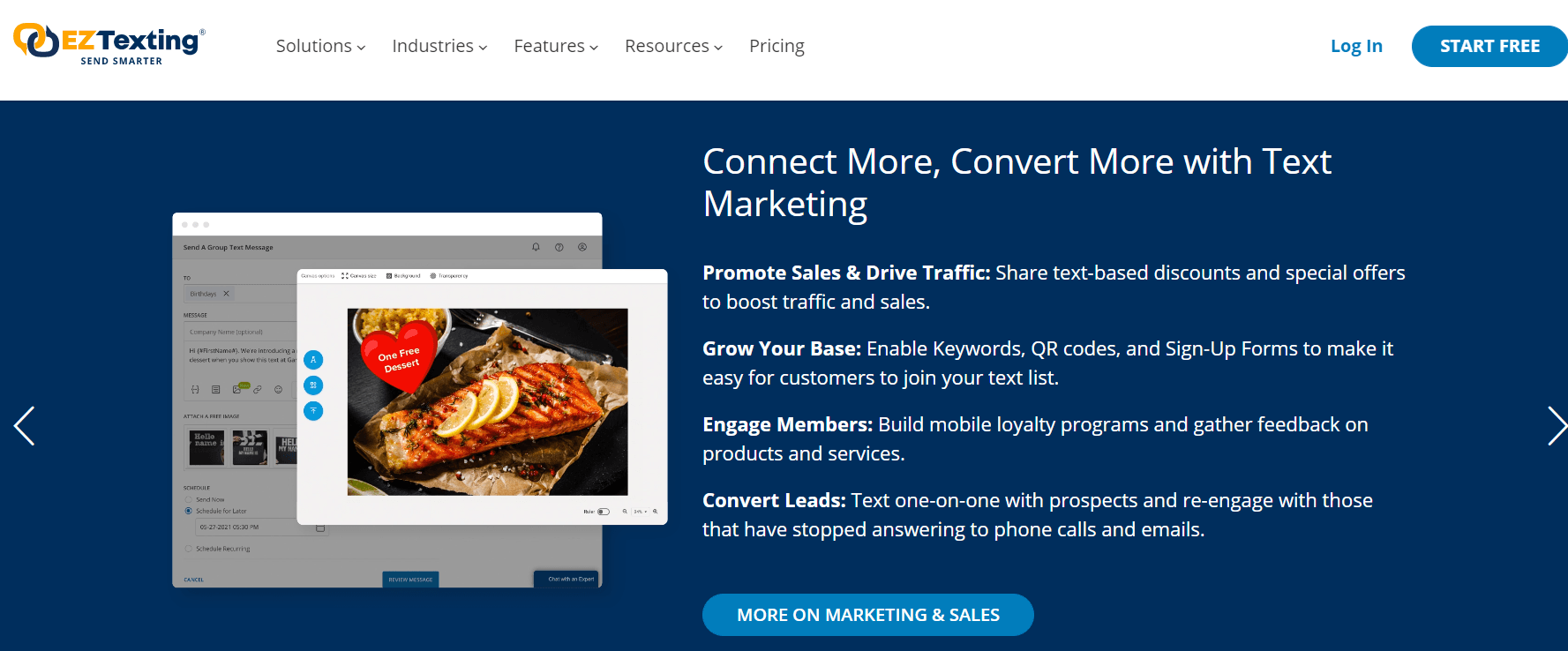 EZ Texting offers registration forms and QR code redirection capabilities, allowing users to sign up for your campaigns by texting specific keywords to a designated number, thus expanding your SMS subscriber base. It also provides automated messaging, responses, scheduling, and reminders, so you never miss a lead.
Price: Starting at $20 per month (billed annually)
G2 score: 4.5
8. Twilio
With Twilio, you can easily send and receive SMS messages.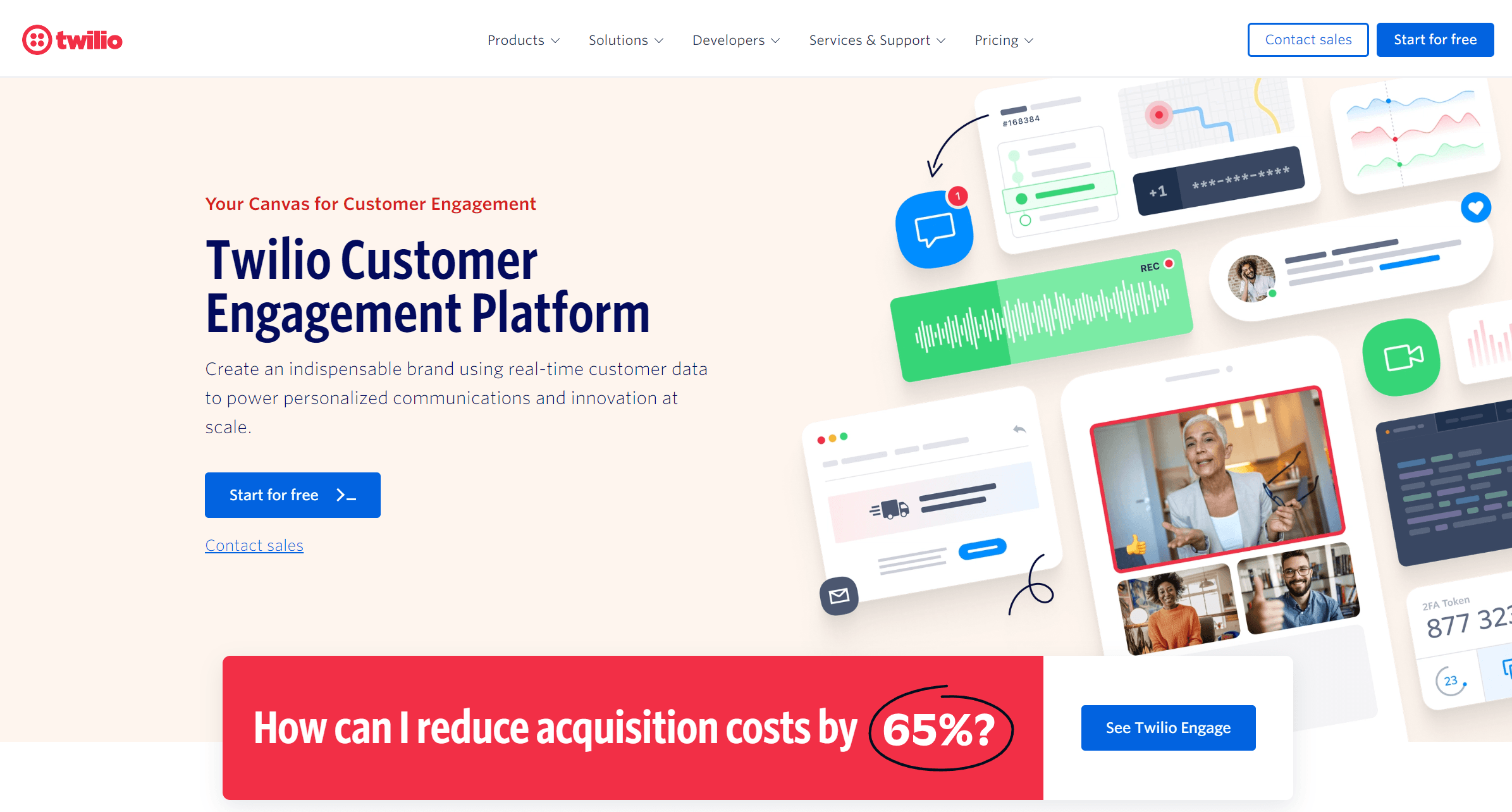 The platform makes it easy to find the documentation, code, and dev tools you need to craft custom text messages that convert. The best part — Twilio does the heavy lifting of managing mobile carrier and global regulations.
Twilio also offers convenient pay-as-you-go pricing, as well as volume discounts.
Price: Starting at $0.0079 per message to send and $0.0079 to receive
G2 score: 4.4
9. TextMagic
TextMagic is your one-stop shop for text marketing. It allows you to send notices, confirmations, and customized text messages whenever you need. It features member-specific accounts, enterprise single sign-on (SSO), secure texting, analytics, reports, automated responses to incoming messages, and phone number validation.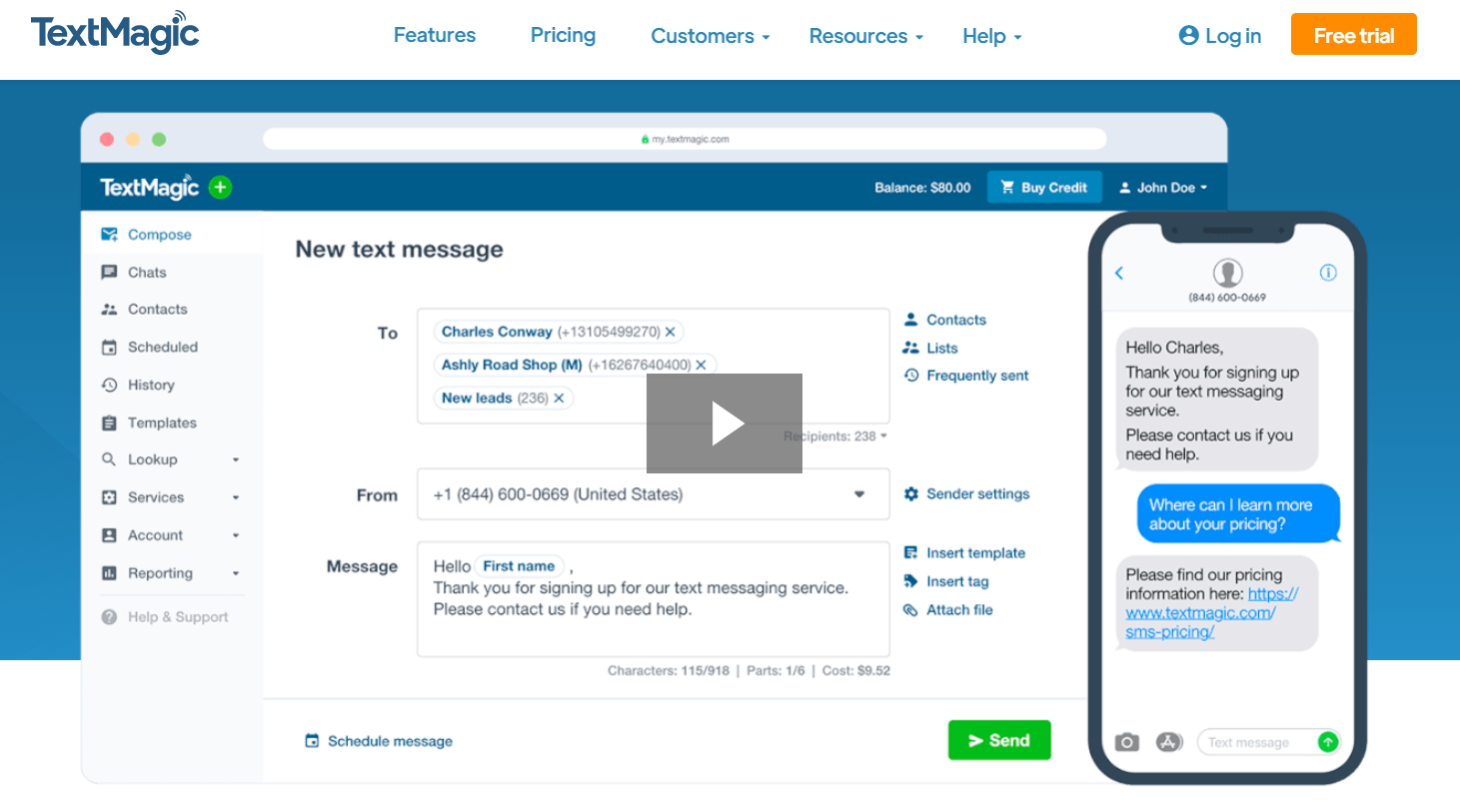 This SMS software also gives you access to many helpful tools, such as virtual contact lists, SMS scheduling, SMS file attachments, mail merge templates, SMS opt-out monitoring, and more.
Price: $0.04 per text (free trial available)
G2 score: 4.4
10. Drip
Drip offers an easy workflow builder to streamline text marketing operations and strengthen customer relationships.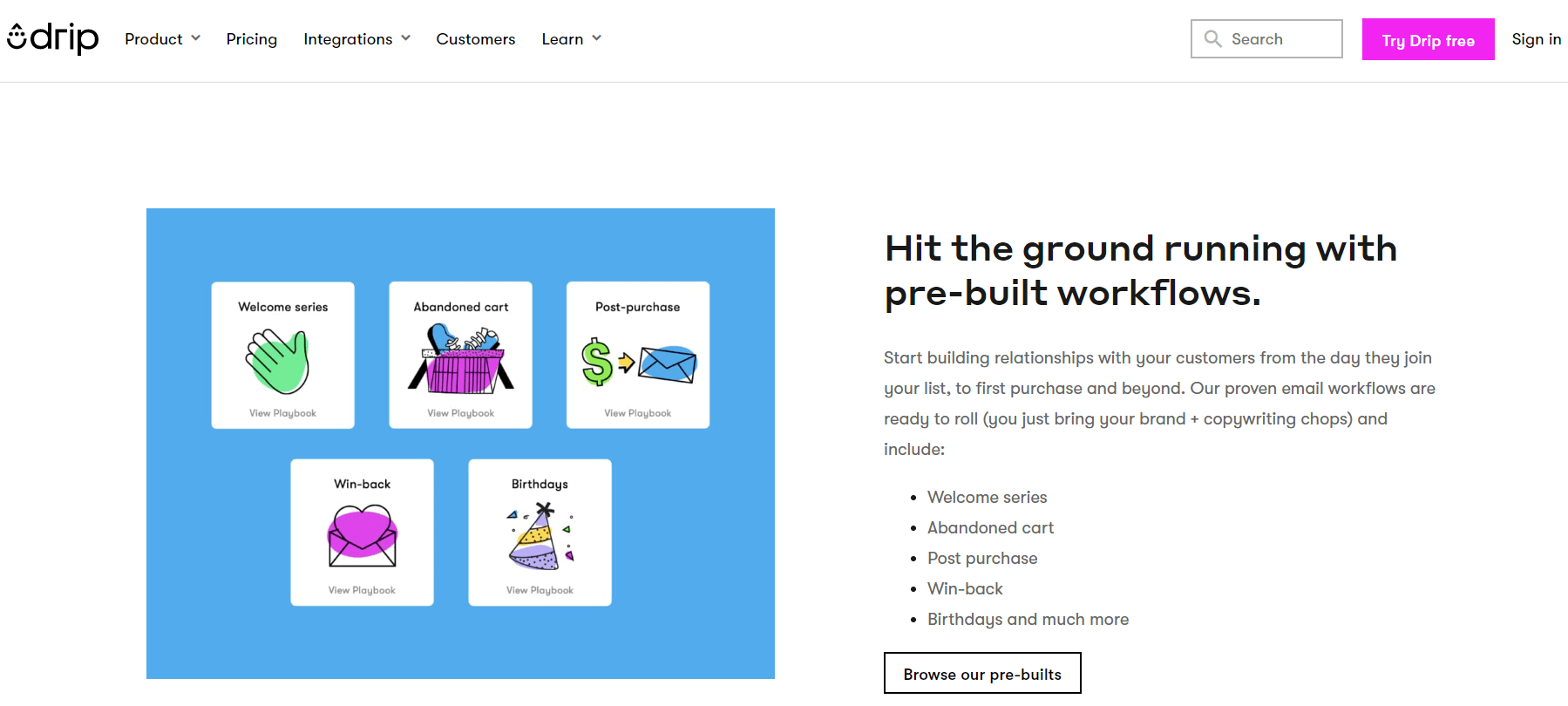 It's ideal for automating message delivery for seasonal sales, new product announcements, limited-time deals, VIP promotions, and more. It can help you grab attention, increase customer loyalty, and create a sense of urgency.
Drip is the best SMS software for building strong customer relationships, sending valuable updates, and generating income.
Price: Starting at $39 per month (14-day free trial available)
G2 score: 4.4
11. ClickSend
ClickSend is one of the best text marketing platforms on the market. It provides a web-to-SMS service, which enables you to communicate with consumers worldwide in bulk, via text message.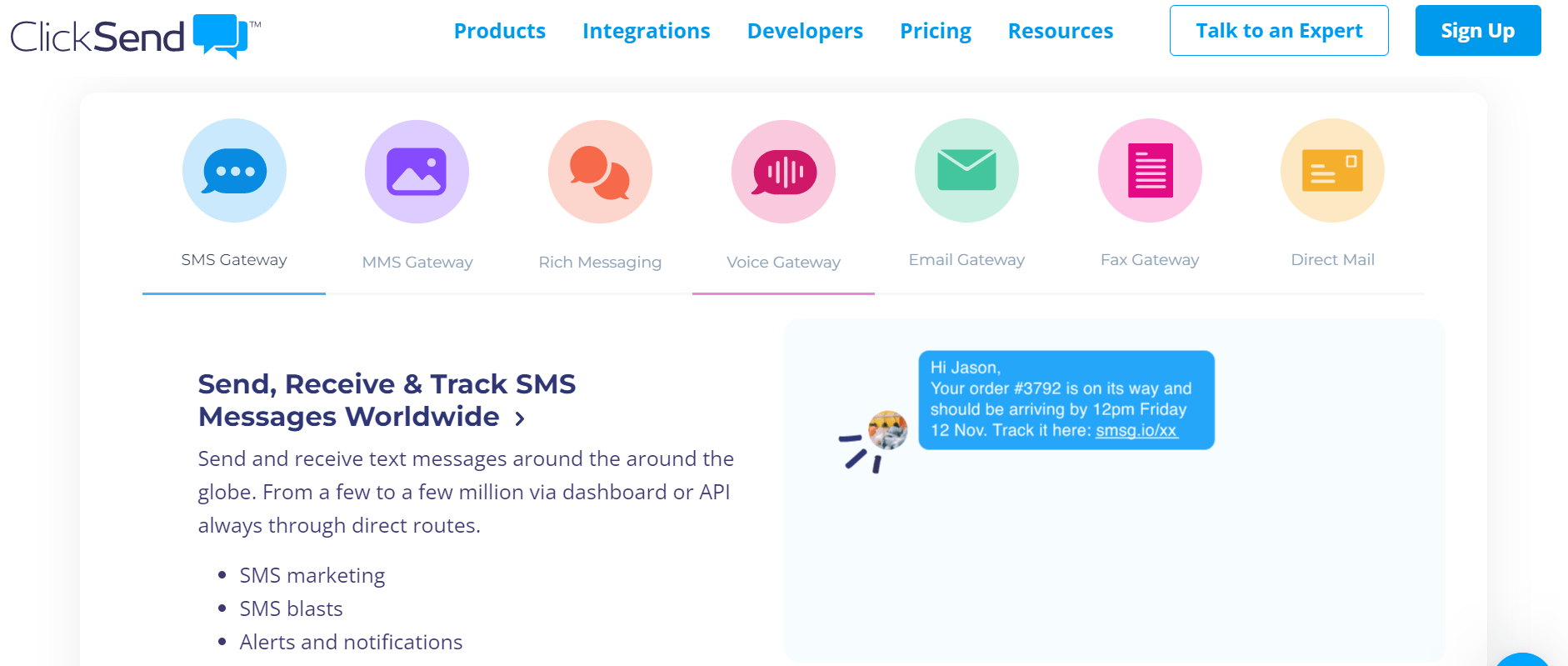 With ClickSend's features and plugins, you can easily send promotional messages, transactional SMS, and event announcements. You can also configure this SMS marketing platform to reply to consumers' inquiries with a pre-determined set of keywords.
Plus, ClickSend guarantees 100% uptime and provides a user-friendly dashboard for monitoring all your accounts at a glance.
Price: Starting at $0.0242/SMS for under 2k messages
G2 score: 3.3
Time to Level Up Your Sales
Our long list of services helps you grow every aspect of your business with marketing strategies that are proven to increase bottom-line metrics like revenue and conversions.
In the past 5 years, we've managed more than 12.9 MILLION transactions across our client base.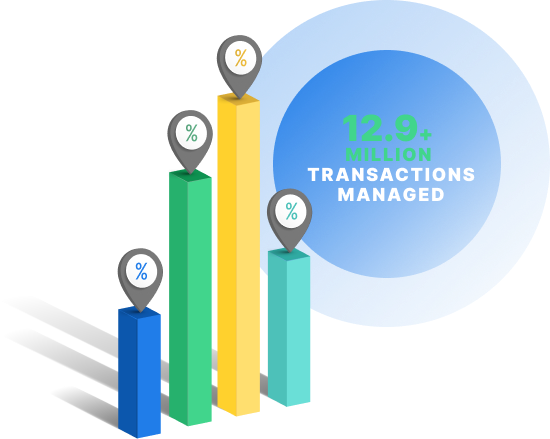 Fill your lead pipeline with WebFX
With a recommendation score that exceeds the industry average by 488% and over 500 specialists, WebFX is the go-to choice for businesses that need a hearty lead pipeline.
Contact us today or call us at 888-601-5359 to explore our lead-boosting solutions!
How is your website's SEO?
Use our free tool to get your score calculated in under 60 seconds.
Get posts by email
Join 200,000 marketing managers and subscribe to Revenue Weekly!
"*" indicates required fields
WebFX Careers
Join our mission to provide industry-leading digital marketing services to businesses around the globe - all while building your personal knowledge and growing as an individual.