The average user spends more than a quarter of their Internet time on social media — 28% of their time to be exact. But as a business, how can you engage with them on popular social platforms like Facebook, Twitter, or Instagram? On this page, we'll give you seven social media engagement examples that illustrate how leading brands engage with their followers on social.
We'll also give you some useful tips on how to engage your own social audience. Keep reading to learn more, and don't forget to sign up for Revenue Weekly, our biweekly marketing newsletter! When you sign up, you'll get tips just like the ones in this post via email!
Why social media engagement matters as a metric
How do you measure the success of a social media marketing campaign?
Some companies might want to increase website traffic via their social media platforms, while others may want to increase brand awareness. No matter what your goals are for your social media marketing campaign, they all circle back to engagement. Post engagement should be a high-priority goal for any social campaign — simply because it leads to accomplishing larger goals like increased website traffic and improved brand awareness. Engagement is the keystone of large goals because when users engage with your posts, it does much more than show you that they're interested.
When they engage, they:
Like your post
Share your post
Comment on your post
Click links to your website
These small actions can lead to:
Their friends and followers finding your brand
Their friends and followers engaging with your posts
Increased brand awareness
Increased website traffic
More conversions
When users engage with your posts, it's the first domino falling to create a domino effect of success for your brand on social and beyond.
7 of the best social media engagement examples on the Internet
Top brands use a multiple strategies to connect and engage with their audience across social media types. We've selected some of the best examples of social media engagement to help inspire your next campaign. See some of our favorite social media engagement posts examples below!
Burt's Bees interacts on Twitter
Burt's Bees tops our list of social media engagement examples simply because they take time to interact with followers and reply to their comments.
Interacting with followers in social media comments by answering questions or replying to compliments is one of the best ways to engage — simply because it makes them feel heard.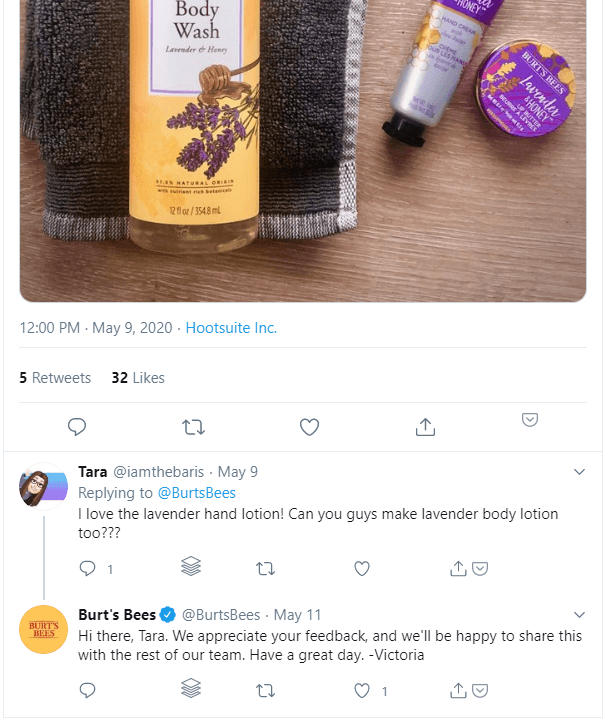 Replying to comments on your posts immediately brings you closer to your audience. Followers will no longer see you as just a brand, but they'll see you as a humanistic company that interacts with customers and cares about their feedback.
Burt's Bees goes the extra mile in this social media engagement example by signing the comment with a real representative's name. This kind of personal reply goes a long way when it comes to making your followers feel important and understood.
How you can use this social media engagement example to inspire your campaign: Let customers know that you hear their suggestions and that you care about their feedback by responding personally!
GoPro holds a contest on Facebook
Our next social media engagement example shows how GoPro successfully used a content contest to encourage engagement on Facebook. Their #HomePro challenge encouraged fans to share their best moments at home.
There were five winners per day and the prize was a GoPro camera and a five-year subscription to GoPro Plus. A Facebook user posted a photo of him and his dog playing chess on his deck, and the image was taken with a GoPro. He posted the photo to enter GoPro's "HomePro Challenge" contest.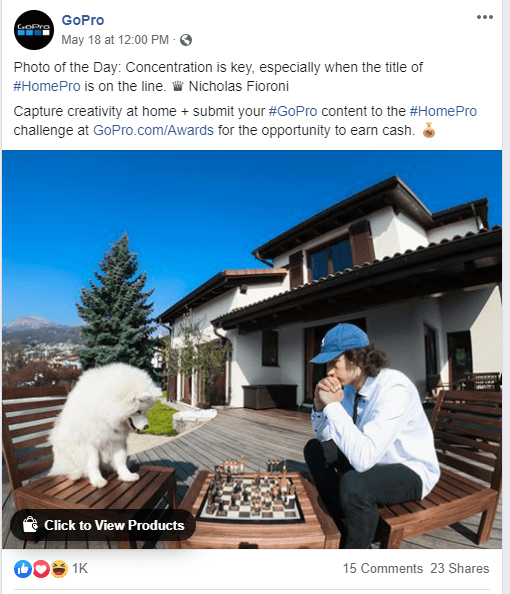 Not only does a social media contest encourage users to engage with your brand by tagging you, but it also gives you many opportunities for user-generated content — another beneficial social media engagement example, which we'll talk about later. By holding a contest, you can:
Earn free advertisements from users who share posts and tag your brand
Encourage other users to take part in your contest
Increase brand awareness
How you can use this social media engagement example to inspire your campaign: Use contests to engage users, earn free advertisements, and increase brand awareness.
MoonPie posts about current events on Facebook
There is no time like the present, and social media is a hub for posting about current events. That said, you can engage your audience by taking advantage of things that are happening around you. MoonPie provides a good social media engagement example with their video post about their partnership with GFUEL — an energy drink that comes in a flavor called MoonPie.
On May 27, 2020, SpaceX was scheduled for liftoff. Although weather ultimately caused NASA to reschedule the historic launch, MoonPie capitalized on the supposed current event by creating a video that illustrated MoonPie GFUEL floating through space. This post engages users since it refers to something that the whole world is talking about.
There was already a buzz around SpaceX, and MoonPie made efforts to mirror the excitement with their GFUEL partnership.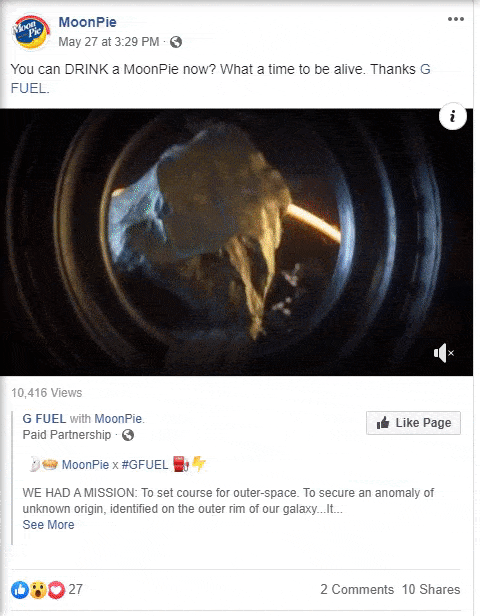 How you can use this social media engagement example to inspire your campaign: Capitalize on current events since users are already buzzing about them.
Chewy speaks to a cause on Instagram
Chewy knows just how to speak their followers' language. The pet supply brand knows that its customer base is made up of pet lovers and capitalizes on that characteristic to create one of the best examples of social media engagement on our list.
In their Instagram post, they inform followers that they're donating $700,000 worth of American Journey Dog Food to animal welfare organizations across the country.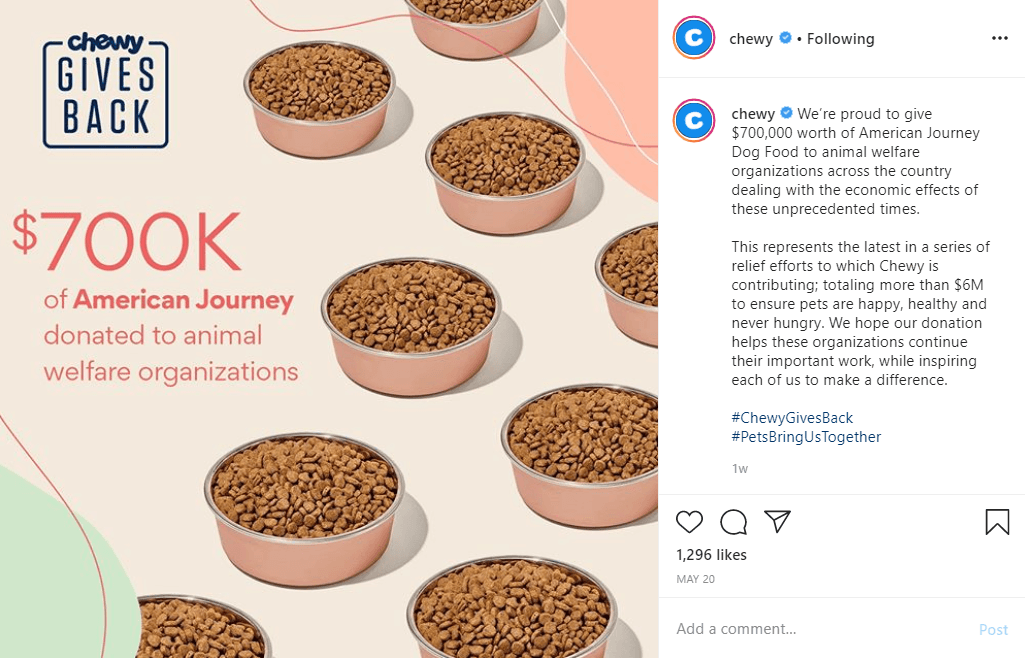 But why is this a good social media engagement example? As a business, it's important to live out your values every day, and Chewy is a great example of doing just that.
When you use social media platforms to show users how you live your values, it's a great way to engage them.
How you can use this social media engagement example to inspire your campaign: Show users specific examples and instances of how you live out your brand values.
Pop-Tart posts about a partnership with a well-known brand on Twitter
Pop-Tarts recently teamed with Good Humor to create ice cream bars that both brands' followers will love.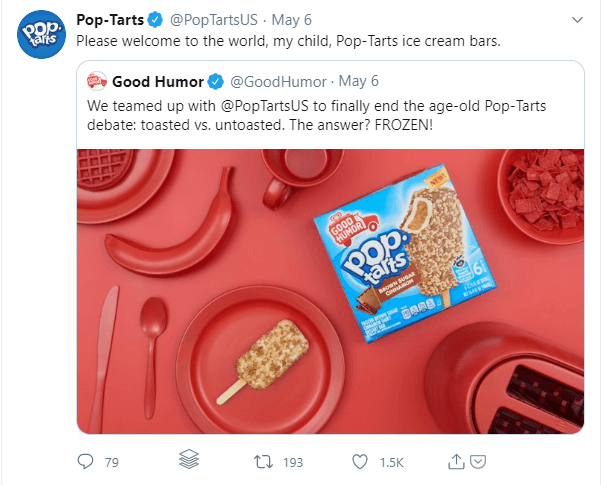 This is a good social media engagement example because it shows how teaming with other popular brands can double your interaction. Not only that, but followers that love both brands are sure to interact with posts that show off the newly-formed partnership.
How you can use this social media engagement example to inspire your campaign: Partner with a well-known brand to reap the benefits of engagement from your followers and the other brands' followers.

And don't forget to make sure that your audience aligns with the audience of the brand you partner with!
Wendy's holds a poll on Facebook
Nothing encourages user engagement like a poll, and Wendy's takes the opportunity to encourage follower participation by posting a poll on everyone's favorite topic — chicken nuggets. Users love polls because they're interactive, fun, and allow them to participate. With over 8.2 thousand votes, Wendy's saw a lot of interaction on their simple post about nugget quantities.
This interaction likely did more than just settle a debate — it encouraged users to visit their local Wendy's drive-thru to quench their cravings.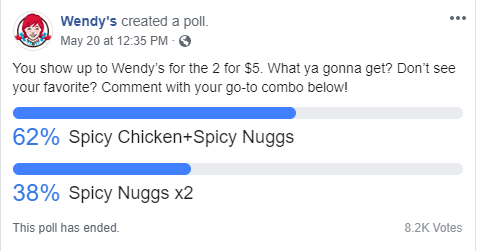 Not only that, but you can post more serious polls that help you gain insight into things like:
How a user prefers to be contacted
What kinds of posts users prefer to see on social platforms
What kinds of sales users enjoy
What products users want to see more of
How you can use this social media engagement example to inspire your campaign: Post polls to help you answer marketing questions, product questions, or just to engage with followers.
Stouffer's user-generated content on Twitter
Food brand Stouffer's wasted no time retweeting a hungry fan who posted himself cradling a collection of Stouffer's frozen meals.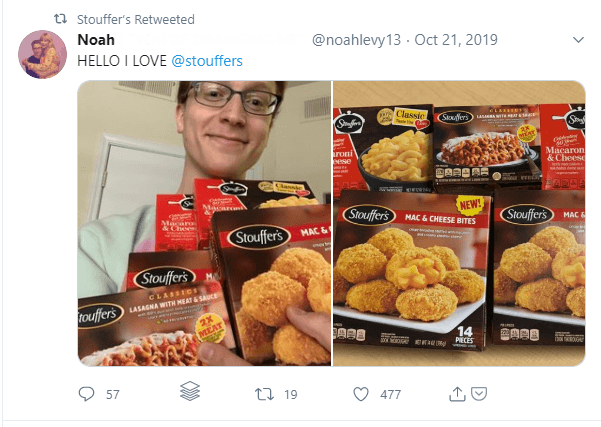 This kind of post is known as user-generated content, which is when a company reposts content that mentions their brand. This is a great social media engagement post example because it encourages others to interact with your content.
Your brand feels more approachable and you add social proof when you post real fans showing off how they use or enjoy your products.
How you can use this social media engagement example to inspire your campaign: Repost content that your fans posted so that followers can see how other brand loyalists enjoy your products.
3 of the most important ways to engage your social audience
Now that we've inspired you with some of the best examples of social media engagement, let's go over some tips on how you can engage your audience! In addition to the takeaway section of each example, of course!
1. Limit sales efforts and provide value
One of the best ways to encourage engagement with your followers on any platform is to limit how much you try to sell your products and spend more time providing value. For example, if you only post about new products and sales, users will come to know you as a brand that's only interested in selling their products and making money. Though that's extremely important for the success of your business, other digital marketing strategies like search engine optimization (SEO) and pay-per-click advertising (PPC), create wonderful opportunities to sell your products.
Social media, as a platform, is much better utilized as a platform for connection — though that doesn't mean you shouldn't take advantage of social media ads! Moderation is key, and although you'll benefit from posting about new products and sales, you should also aim to post valuable content for followers. This could be in the form of blog posts you've posted on your website or something you repost from an industry leader. You'll also benefit from posting user-generated content and sharing humanistic, conversational thoughts.
2. Be consistent
Users won't want to engage with a brand that posts once a month on social media. You should aim to consistently post on each platform — at least twice per week — to ensure that users don't forget that you exist. Of course, social media isn't the only way to connect with users but posting consistently keeps your brand top-of-mind.
Not only that, but when you post often, you also give users more opportunities to engage. WebFX can help you create a social media calendar that helps you maintain consistent connection and engagement with your followers! Just contact us at 888-601-5359!
3. Take every opportunity to connect with followers
As an enterprise brand, like Starbucks, it's impossible to reply to every comment that their posts receive. However, if you're a small- to medium-sized business that gets five to 10 comments on your posts, make an effort to reply to each of them. When you reply to user comments and feedback, it shows them that you are receptive, that you care about what they have to say, and that there is a human behind your posts.
For the same reasons, you should also try to reply to direct messages promptly. Showing that you care is key to boosting social media engagement with your followers.
Not happy with your social media engagement?
We've got just the blog post for you.
Read the Blog Post & Watch the Video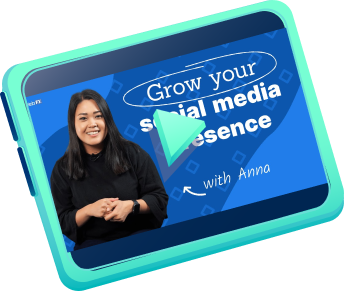 Not happy with your social media engagement?
If our social media engagement examples have you inspired to boost engagement with your social platforms, but you're not sure where to start, WebFX can help. We've published over 165,000 social posts for clients that drive engagement and help improve brand awareness and can help you manage your social posts like a pro. You can get a free quote by contacting us online or give us a call at 888-601-5359 to learn more about our social media services!
Get posts by email
Join 200,000 marketing managers and subscribe to Revenue Weekly!
"*" indicates required fields
WebFX Careers
Join our mission to provide industry-leading digital marketing services to businesses around the globe - all while building your personal knowledge and growing as an individual.