Social media platforms like Facebook, Twitter, and Instagram are growing every day. With billions of users world-wide, there is virtually no limit to how many people you can potentially reach on social media.
If you're looking to increase brand awareness for your floral company, increase traffic to your website, and increase sales overall, social media marketing can help.
On this page, we'll talk about what social media marketing is, why it's important for florists, and how you can start your social media marketing campaign today!
If you'd like to speak with a specialist about social media services before reading on, you can reach us at 888-601-5359 or contact us online for more information.
What is social media marketing?
Social media marketing is just what it sounds like — it's a strategy that uses social media to advertise your floral business online.
It utilizes numerous platforms including Facebook, Twitter, Instagram, Snapchat, and Pinterest (just to name a few), to inform users about your floral business and show them your floral creations and offerings.
Let's talk a bit more about each social platform to better understand how florists can use each.
Facebook
Facebook has over 2.13 billion monthly active users, and the platform continues to increase in popularity 14 percent year over year.
With Facebook, you can post images or videos and share text or links in updates. Users can like, share, or comment on your posts, which increases their reach to extend your audience.
Twitter
Twitter has 284 million active monthly users, and it is similar to Facebook in comparison to what you can post.
Twitter also allows you to post images, videos, links or text — but the catch is, you only have 280 characters to play with.
This means that Twitter is more of a "real-time" feed, since posts are short and to the point.
Instagram
With over 600 million active monthly users, Instagram is one of the most popular social platforms to advertise your floral business.
Unlike Facebook and Twitter, Instagram is more image-based. For a floral company, this is especially exciting, since the image of your flowers will wow your followers.
Though images are the main event, you can also post text captions with your images.
Instagram also features stories, which allows you to post live videos and photos that expire after 24 hours.

Hear What It's Like to Work With WebFX!

"WebFX did amazing work creating a new website for us on a tight schedule. They have taken the time to learn about our business and give us ideas of how to make our digital marketing better. We still have work to do with WebFX but overall very pleased."
Professional Service
Why is social media marketing important for florists?
As a florist, engaging customers with visions of your beautiful arrangements is key. Instead of just talking about your flowers, social media platforms allow you to show them, too — which is a huge selling point.
Not to mention, social media reaches billions of people every day, and one simple share can exponentially increase your audience.
Not only can you use social media to share images of your beautiful arrangements, but you can also use it to share the following:
Links to your floral website's blog
Links to informative pages on your website like how to take care of your flowers
Information about a fundraiser you're holding
Coupons and specials
Seasonal bouquets and arrangements
Information about flowers that are in season or coming into season
When you share this kind of information, users will start to see you as a leader in your field.
Not only do you sell flowers, but you know about different blooms, how to care for them, and provide seasonal options to customers looking for the perfect gift.
Another benefit to sharing valuable information is that it could be picked up by others in your industry, and share on their page — increasing your reach.
For example, if you share one of your blog posts about the history of Valentine's Day flowers, it will appeal many audiences. Others in your industry might share the article since it provides great information, in addition to every-day flower lovers who find the information interesting.
When someone else shares your articles, it will ultimately open the door to more exposure to your website and your craft. Everyone that clicks on your article will arrive at your website, which could potentially lead to them making a purchase.
Not happy with your social media engagement?
We've got just the blog post for you.
Read the Blog Post & Watch the Video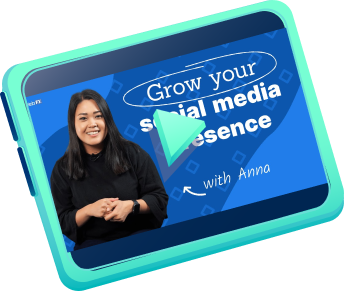 What social media strategies should florists use?
There is no limit to how many social media platforms you have a presence on. In fact, you should try to adopt as many as possible for maximum reach and exposure.
But what do you post on each, and how do your posts lead to more sales?
1. Pictures
You're selling beautiful flowers, and people want to see them. Pictures are a great idea on any platform, because they allow you to show and not just tell your target audience what you provide.
Post pictures of your flowers behind the scenes, before they become arrangements, and the process from start to finish.
You can also mix it up by posting images of your satisfied clients holding your finished bouquets, close-ups of flowers, or a collage of the different colors of roses you offer.
You can never go wrong with a picture, and when you use them on social media, you'll get more engagement from your audience, too.
Facebook posts that include a photo see a 37% increase in engagement, and tweets with images receive 35% more retweets.
2. Paid social media ads
Pay-per-click ads on social media are another great option to help extend your reach on social media.
The ads work on a bidding system where you choose what keyword you want to trigger the ad, and bid how much you're willing to spend every time someone clicks on that ad.
The best part is, you won't pay for an ad that doesn't get clicked, which makes PPC an extremely cost-effective strategy.
You can create ads on Facebook, Twitter, and Instagram.
3. Special offers
Everyone likes a special offer, and users can rarely resist a good one.
One of the best things you can do to gain website traffic is to post a special offer for one of your arrangements on social media.
Include a picture of the arrangement that is on special, and include a catchy title that will encourage users to click to your website to learn more about the deal.
Special offers work well to advertise seasonal arrangements, too!
4. Surveys and polls
When you post surveys and polls, you can also capture email addresses. This enables you to stay in contact with people that take your survey, which keeps you top-of-mind for when they need flowers.
For example, you could post a one-question poll asking users what their favorite flower is to receive. To see the results, ask users to provide their email address. You can even send an email with a special offer to thank them for sharing their contact information.
After you have a list of emails, you can start an email campaign to help you connect and engage with more leads.
74% of people use social media when making a purchasing decision.
Make their decision easy with a stellar social media presence. See how your brand can level up by requesting a no-obligation proposal today.
One of our experts will be in touch within 24 hours!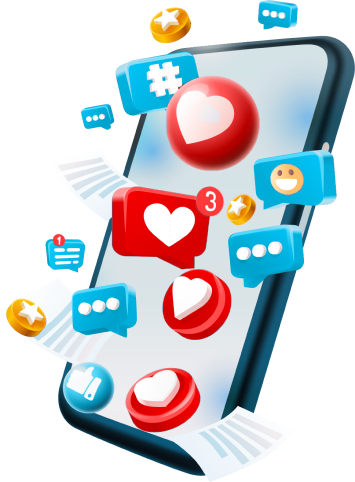 Are you ready to start your floral social media campaign?
If you're interested in all the benefits social media marketing has to offer, it's time to start!
WebFX has a whole team of social media specialists who can help to take your floral business to the next level with social media marketing.
We'll help you market your business on some top platforms like Facebook, Twitter, and Instagram and provide you with the analytics you need to make educated decisions for your social media marketing campaign.
Contact us online today, or give us a call at 888-601-5359 for more information about our social media services!
Earn a 20% greater ROI with WebFX