Results-Driven Competitor Geofencing Advertising Agency
Competitor geofencing advertising is one of the newest marketing strategies that allows you to target your customers on your competitor's turf. Literally.
When you pair with a competitor geofencing advertising agency, you'll specify virtual boundaries around your competitors' locations. Every time one of your target customers enters that boundary, they'll become eligible for a remarketing campaign designed specifically for them.
Whether it's by an ad in a search engine or a push notification on their smartphone, they won't forget about you any time soon with competitor geofencing advertising.



What does a competitor geofencing advertising agency do?
When you hire a competitor geofencing advertising agency, their job is to make sure that you target your most qualified audience while they're at your competitors' locations.
But why is that such a successful strategy?
The reason your competitors are your competitors is because they sell similar products and services to what you sell. Whether it's a physical item or a sought-after service, your competitors compete for the same customers and revenue that you do.
This means that if your customers are flocking to your competitor's location, they're also interested in what you have to offer. So, why not target them by their specific location?

Competitor geofencing advertising agencies will research your competitors, their locations, and their specific products and services. They'll then be able to create a campaign based on what they believe will be your best strategy in terms of keyword targeting, ads, and more.
After determining your end goal and the perfect strategy, your competitor geofencing advertising agency will draw polygons around your competitors' locations. Doing this will allow you to specifically target customers who enter the virtual boundary with a remarketing campaign.
Not to mention, an agency will also provide you with analytics and results so that you'll always know how your campaign is progressing.
SEO can help increase traffic to your website
One of the most sought-after benefits of implementing an SEO campaign is the ability to increase traffic to your website.
Every business owner wants more website traffic because the more people view your site, the more conversions you will earn.
By targeting the most important keywords in your industry, you'll be able to rank for those keywords in search engines like Google. When someone searches for that term, the URL to your site page targeting that keyword will show up at the top of results (with a great SEO campaign), and a user will have the chance to click it, visit your site, and hopefully make a purchase.
Increased traffic also sends great signals to Google which can help your rank better for other keywords and hold the high rankings that you already have for key terms in your industry.
You can even use geofencing for recruitment!
They can help improve brand awareness for your company
When you increase brand awareness, you'll be able to stay top-of-mind to past and potential customers. By staying at the top of results pages, users will consistently see a link to your website, and your brand will become something they're used to seeing.
Being at the top of results pages also increases clicks, which means more users will visit your site and learn more about your brand and offerings.
They might even tell a friend or two!
Is it beneficial to hire a competitor geofencing advertising agency?
When you start to understand competitor geofencing, you might wonder if it's a campaign you can handle on your own. To answer the question, take a look at some considerations below.
Determine if you're able to manage the campaign on your own
There's a lot that goes into a competitor geofencing campaign — keyword research, setting up your ad platform, figuring out your monthly spend, and setting up your virtual boundaries. That being said, there are a few questions to ask yourself before deciding to take on the project within your own company.
Do you have the knowledge?
Knowledge is power, and you need to tap into extensive knowledge when implementing a new campaign that has the potential to improve your business. However, if marketing isn't a part of your job description, ample research may still not be enough to understand all the important technical aspects of competitor geofencing advertising.
If you don't have the knowledge necessary, it'll be difficult to implement your own competitor geofencing campaign.
Do you have the resources?
Becoming an expert takes time, which is something all business owners understand. You didn't start a successful business over night and it took a period of time for you to learn about your industry, customer service, and finances, to name a few. You likely took some classes in college, read some books, and dealt with some real-life scenarios — and by some, we mean a lot!

Learning how to implement competitor geofencing advertising is no different. You'll have access informational resources, read extensively on the topic, and maybe even watch a tutorial or two.
If you said "no" to the last question about being knowledgeable in the realm of competitor geofencing, you'll need to consider if you have the resources to become knowledgeable.
If you don't have the information necessary to learn extensively on the topic, it might be best to hire a competitor geofencing agency to help you.
Do you have the staff necessary to take on the job?
Let's say you've started to teach yourself all about competitor geofencing in hopes of implementing your own campaign. You spend late nights watching tutorials and taking notes on all of the informative content you've read.
Two days into your self-teaching journey, something comes up at work and your geofencing campaign is now on hold.
Teaching yourself how to implement a successful campaign is taking more time than you originally thought, and you're beginning to think that you need to pull a few more of your employees in on the efforts.
The only problem is that every employee has their own job to do at your business, and you don't have the time to train them on a topic that you barely understand yourself.
If you don't have the staff necessary to help you with the job of setting up a competitor geofencing advertising campaign, and you can't handle it on your own (let's be honest, what business owner can?), then hiring a competitor geofencing advertising agency is your best bet.
Do you have room on payroll to hire an expert?
Let's say that you've decided that you don't have enough staff members to learn the ropes of competitor geofencing, so you consider bringing on a full-time marketing expert to help you with your campaign.
Though this might feel and sound like a good idea at the beginning, you'll have to consider a few things. Do you have enough room on payroll to hire an expert? Do you have enough company resources to offer another employee benefits?
Overall, it's your best option to hire a advertising firm to take care of the job for you.
A competitor geofencing advertising agency will take care of everything
When you hire an agency to do the work for you, you'll hardly have to lift a finger. They'll take care of putting together the perfect campaign — the only thing you'll have to do is approve it.
They'll work with you to determine the best course of action for your campaign, determine ad spend, keywords to target, the design of your ads, how big to draw your virtual geofences, and more. You can leave all the technical stuff to them.
In the end, it's better to hire an agency to do the work for you. You'll still learn a thing or two about competitor geofencing in the process, you just won't have to become an expert.
How do I choose the best competitor geofencing advertising agency for my business?

With so many companies starting to adopt competitor geofencing advertising, how can you be sure that you choose the right agency for your business?
We have a few pointers!
Pay attention to how long they've been in business
One of the first things to look for in a competitor geofencing advertising agency is how long they've been in business.
If an agency has only been in business for a year or two, they probably don't know the industry, trends, and strategies as well as an agency that's been in business for decades.
Young agencies also haven't had time to build up a client profile, which means there aren't very many people that will be able to speak to the success they've had with that agency.
Furthermore, when an agency hasn't had many clients, they likely haven't had to deal with a host of pitfalls and shortcomings when it comes to campaign success. This means they don't have a ton of experience digging themselves out of unsuccessful campaigns, making it hard to trust them with yours.
Make sure they have all the services you're interested in
When you hire a competitor geofencing advertising agency, you're already looking for ways to improve your business with marketing. That means you're possibly looking for other strategies that pair well with geofencing to take your overall marketing campaign to the next level.
If your business is also interested in marketing strategies like SEO or PPC, you should be sure that the competitor geofencing advertising agency you choose also offers these strategies.
Why? When you choose an agency that can work on all of your campaigns at once, they'll do it better than a few separate agencies would. When a single agency does all of your marketing, they can share the same analytics, insight about your company, and more across their agency.
This means that all of your marketing campaigns will move toward the same goal, take shape under the same roof, and your marketing strategy as a whole will be far more cohesive.
Not to mention, no matter how many strategies you're interested in, having a single point of contact for your entire marketing strategy is a huge benefit.
Take note of their reviews and testimonials
Reviews and testimonials are incredibly similar but differ in some important ways. Reviews are offered on third-party sites and can be positive or negative. Take the reviews below as an example:

Testimonials, on the other hand, are typically featured on a company's website and are all positive feedback from past clients. They are used to illustrate first-hand accounts of previous clients and are beneficial for enticing potential customers. Testimonials talk about the quality of the products and services and new customers really trust them, since they're written by someone who was once in their shoes.
Regardless, both are extremely significant in helping you decide on the perfect competitor geofencing advertising agency.
When you're researching potential competitor geofencing advertising agencies, you should be sure to read through reviews and testimonials to make a well-informed and well-rounded decision about who is the best option for your business.
Keep in mind that it's highly unlikely that an agency will have all five-star reviews, so cut them a break if the positives outweigh the negatives.
Ready to Grow? Get your FREE Quote Today!
We measure our success by how much we WOW our clients.
WebFX is a top competitor geofencing advertising agency
If you're looking for a competitor geofencing advertising agency that's one of the best, WebFX is here for you.
We're a full-service Internet marketing agency, which means we don't just offer competitor geofencing strategies. We believe in a well-rounded marketing strategy which includes far more than just competitor geofencing.
We offer tons of strategies that fit perfectly with competitor geofencing advertising. Some of those strategies include:
Search engine optimization (SEO)
The point of competitor geofencing advertising is to get ahead of competitors, namely when your target audience is on their turf. But SEO offers another way to get in front of your target customers efficiently.
With an SEO campaign, we'll create content that targets your industry's most important keywords so that you can rank highly in search engine results pages for key terms.
When your website ranks in the top spots of a results page in a search engine like Google, customers are much more likely to click on your result, rather than one that's halfway down the page — or even worse yet — on page two of results.
In order to ensure that your company gets the most traffic as possible, SEO is a crucial strategy and one that pairs extremely well with competitor geofencing advertising.
Pay-per-click advertising (PPC)
PPC is closely related with competitor geofencing, mostly because the ads that customers see with competitor geofencing are pretty much carbon copies of ads they see with a PPC campaign in terms of structure and design.
They work in the same way. You choose a keyword to target, one that is important to your brand and attracts site traffic, and bid on how much you're willing to pay when that ad shows up (whether it be for competitor geofencing or PPC).
Social media advertising
Another strategy that works well with competitor geofencing advertising is social media marketing. With this strategy, you'll be able to pinpoint your audience with geofencing, but you'll also be able to reach them with some of the world's most popular social media platforms.
WebFX offers social media campaigns on platforms including Facebook, Twitter, Instagram, LinkedIn, and more.
If you're interested in specifically targeting your customers by location, we can help you create different social profiles for each location your business has — allowing local customers to find and shop at your brick and mortar storefront.
In addition to these services, WebFX also offers the following:
These work great with competitor geofencing advertising too!
We don't believe in cookie-cutter marketing campaigns, which is why we create a custom campaign for each of our clients. We'll get to know you, your market, and your industry along with your competition to get a full picture of your needs.
We'll talk about your goals and what kind of marketing strategies you already have in place to determine the best course of action for your new campaign. If you don't currently have a marketing campaign in place, don't sweat it, that's what we're here for!
You'll be able to choose the different levels of targeting you're interested in, how much you spend on your ad campaign, and other budget-altering decisions.
You have total control of your campaign with WebFX, and we're just here to deliver results.
Remember those testimonials we talked about earlier? We have 785+ of them. We also have over 180 in-house marketing specialists who have a passion for improving the lives and businesses of our clients. They're subject-matter experts in their field, and they'll work together to create the best marketing strategy for you.
Competitor Geofencing Plans From WebFX
Browse our competitor geofencing advertising plans to learn more about what our services include and what they cost: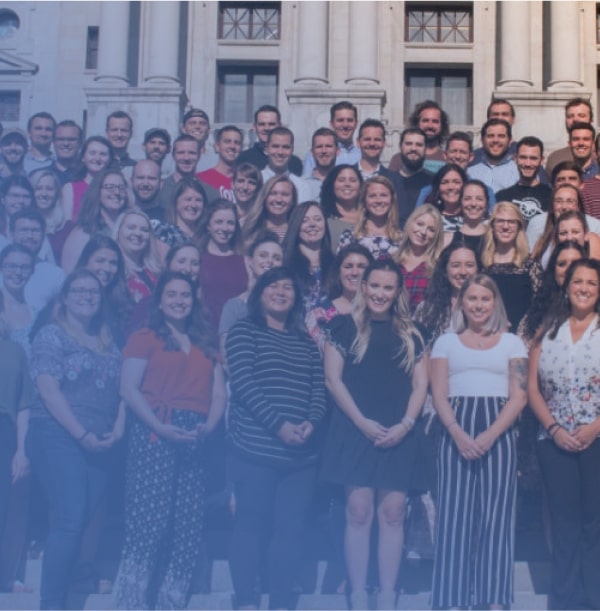 Partner with a trusted competitor geofencing advertising agency
If you're interested in a competitor geofencing advertising campaign, WebFX is here for you. Don't forget about our handful of other offerings, too!
Feel free to contact us online or give us a call at 888-601-5359. We can't wait to hear from you!