2023 Account-Based Marketing Pricing: What Should Your Business Pay?
With more than 60 percent of business-to-business (B2B) marketers planning to launch account-based marketing (ABM) programs in the next year, it's important to learn more about what you can expect to pay for ABM in 2023 and beyond. Learn more about ABM marketing costs, plus how to build a realistic budget for your business in this helpful guide!
Professional ABM services pricing
Curious about how much WebFX ABM services cost? Browse our prices below, or keep reading to learn more about how much account-based marketing costs
CURRENT CLIENTS ONLY

$850/month ad spend (paid to networks)

LinkedIn Account Targeting

Up to 100 web lead phone calls tracked

Google Ads & LinkedIn Networks
Aggressive Plan
$650 / month
CURRENT CLIENTS ONLY

$2,501-$5,000/month ad spend

Competitor Intelligence Monitoring

LinkedIn Lead Form Ad

LinkedIn & Google Ads Networks
Market Leader Plan
$225 / month
CURRENT CLIENTS ONLY

$3,500 initial investment

Custom Display Ad Development

Up to 4 consultations

Google Ads, Bing, & LinkedIn Networks
Common ABM Marketing Pricing Questions
ABM marketing pricing: 9 factors to include in your budget
A variety of factors influence ABM marketing pricing. If your company wants to launch a successful campaign, whether in-house or with an agency, you need to understand these elements and their impact on your account-based marketing costs.

The nine most influential factors on ABM marketing pricing include:
Learn more about each feature below.
1. Target account
If you're researching account-based marketing, you probably have an idea of the account you want to target and secure. For example, you may know about a potential high-value client searching for a new provider. Or, you may have a current client with a contract up for renewal.

No matter what company you want to target, you need to look at the following features:
Business size
The size of your target account influences your account-based marketing pricing tremendously. In most cases, a larger business or account translates to higher ABM costs. That's because a bigger business generally features more decision-makers, which requires a more complex strategy and approach.
Number of decision-makers
With account-based marketing, your business or agency must persuade the target account's key decision-makers. If you don't have their support, you don't earn their business. Like business size, more decision-makers demand a more intricate strategy, which causes higher costs.
Number of departments
The number of departments affected or involved with a purchase decision can also impact account-based marketing pricing. For example, you may need the support of that company's leadership and IT departments to secure the sale. The more departments involved, the higher the costs.
While this step can require extensive research, it can also provide tremendous insight into your budget.
2. Brand awareness
When your company launches an ABM marketing campaign, you have one goal: earn a client. While other marketing strategies may focus on building brand awareness, your approach focuses on moving audience members to purchase.
That doesn't mean account-based marketing only targets bottom-of-the-funnel (BOFU) accounts. It also focuses on the top and middle of the funnel, as it's uncommon for decision-makers to take an identical path to conversion.
For example, Decision-Maker A knows nothing about your business, which means you need to work on building their brand awareness. In comparison, Decision-Maker B already knows about your company, as well as your product, so you must focus on eliminating their interest in competitors.
As brand awareness occupies a higher place in the customer journey, it adds another layer to your account-based marketing strategy. You need to develop a plan for moving this audience from the top and to the bottom of the funnel to secure their support and the company's business.
That's why brand awareness can increase account-based marketing costs substantially.
3. Product or service
Whether you're providing a product or service, you need to consider the complexity of your company's offerings. In many cases, you need to persuade decision-makers and departments without a background in your industry.
For example, if you're a software-as-a-service (SaaS) provider that offers customer relationship management (CRM) software, you may need to explain your product's benefits to several parties, including sales and IT teams.
You can expect each department and its decision-makers to have different experience levels with CRM applications. That's why your marketing team or agency needs to develop an account-based marketing strategy for each audience's experience level, as well as specific needs.

For instance, for IT decision-makers, your team may develop a campaign that demonstrates the hassle-free process of installing, managing, and troubleshooting your software. In comparison, you may emphasize the speed and ease of using your application to the sales department.
Get perspective on your product or service's learning curves by asking for the opinion of family, friends, and other departments in your company. Research your decision-makers beforehand too. That way, you can know whether you're marketing to beginners or experts.
4. Competition
Like other digital marketing techniques, you need to look at your competition when building your account-based marketing strategy and budget. If you have other businesses competing for the same account, it can push your company to launch a more aggressive campaign.
A more aggressive strategy requires a bigger financial investment.
Before you investigate your competition, however, research the potential value of the account. When you know how much an account is worth to your business, both in the short- and long-term, you can determine the maximum amount worth investing in your ABM marketing campaign.
This proactive step can prevent your company from overspending. It can also serve as a reference point for the decision-makers that set your budget. Plus, researching an account's value can help your team determine if an account is worth pursuing.
For reference, your business does not need to match the spend of your competitors to secure an account. You do, however, need to create a competitive campaign that can stand out from your competition, which can result in higher account-based marketing costs.
5. Ad spend
With account-based marketing, many businesses invest in pay-per-click (PPC) advertising. In some cases, companies use traditional advertising channels, like print, even though traditional marketing and advertising channels usually offer a lower return on investment (ROI).
Whether you use traditional or digital advertising strategies, your business needs to establish an ad spend. Ad spend is what your business pays a company to deliver your ad. For example, you may pay a billboard company or a search engine like Google to display your ad.
The advantage of digital advertising strategies like PPC is that your business only pays when people click on your ad. In comparison, traditional advertising requires upfront payment, with zero guarantees that your target audience will see your ads.

Plus, PPC offers your business access to advanced targeting options, which lets you tailor your campaign to the decision-makers and departments that matter to your team. For example, you can target by age, location, interests, topics, and more with ads on search engines and social media.
Even better, you can remarket to people that have interacted with your company's website. When you combine this feature with the targeting options available, you can build a targeted ad campaign for your specific account.
The advantages of PPC make it a competitive choice for businesses investing in account-based marketing. If you decide to use PPC, ad spends vary. On average, however, small-to-midsized businesses spend $9000 to $10,000 per month.
Depending on your strategy and audience, you may spend more or less on your campaign.
6. Event spend
As a part of your account-based marketing costs, your team should evaluate your potential event spend. Once your company moves closer to securing an account, it's common to host an event for target decision-makers. An event can push them to choose your business.
For example, you may host a conference, client appreciation dinner, or happy hour event to encourage key decision-makers to meet, interact, and chat with your team members. This mix of casual conversations and business discussions can persuade companies to select your product or service.
If a live event isn't feasible for your business, you can also offer online experiences. Webinars, for example, are a common alternative. They allow your team to interact with target accounts, as well as provide helpful information about your services or products.
Companies can also take an aggressive approach to events with geofencing advertising. This advertising strategy allows your business to target specific locations, like a trade show or industry summit, and deliver ads to attendees.
It's an aggressive, as well as effective strategy, especially when you know your target audience.
While your business doesn't have to invest in event marketing, it can help your company secure an account. Look at your audience and competitor research, however, before deciding. If you partner with an agency like WebFX, we can also offer guidance.
7. Marketing strategies
In addition to evaluating your ad and event spend, your team also needs to assess the cost of other marketing strategies. For example, you may use social media marketing and advertising, as well as video and content marketing to reach and convert your target account.
A few examples of costs associated with these strategies include:
Developing your strategy in-house or with an agency
Hiring freelancers for deliverables, like graphics or copy
Managing your strategy in-house or with an agency
For many businesses, time is the most significant investment of account-based marketing. Launching an ABM marketing campaign requires your team to take on additional responsibilities, which can lead to setbacks in other priority projects.
That's why many companies partner with a full-service digital marketing agency, like WebFX, that can provide all the services necessary to reach your target account. As your partner, we handle the time-intensive processes of developing, launching, and managing your campaign.
Plus, we provide you with a dedicated account manager, making account updates only a phone call away. You can also count on regular check-ins, which allow you to discuss strategy, review results, and ask questions.
Whether you lead your marketing initiatives in-house or with a trusted ABM marketing agency like WebFX, it's essential to plan your strategy. That way, you can build an accurate budget for your account-based marketing costs.
8. Technology
Companies that succeed in ABM marketing leverage powerful technology to deliver customized strategies. That's why your business needs to consider investing in marketing technology. If you partner with an agency like WebFX, you receive immediate (and free) access to our marketing suite, MarketingCloudFX.
While every marketing technology platform is different, machine learning and artificial intelligence (AI) are becoming critical features. MarketingCloudFX comes with both, leveraging the power of IBM Watson to deliver audience insights, industry-specific recommendations, and more.
If you manage your account-based marketing strategy in-house, your business will most likely invest in third-party software. Companies that offer this software, like HubSpot, usually charge a monthly fee and provide several tiers of software access.
A few free software options are available too.
In most cases, however, your business will find a paid version that offers the tools necessary to design and launch your account-based marketing strategy. The upfront pricing for marketing software makes it easy to estimate this ABM marketing cost, though.
9. Agency
When researching account-based marketing pricing, it's also worth evaluating the cost of partnering with an agency. With the complexity of ABM marketing, many businesses decide to work with an agency to develop, launch, and manage their campaign.
The cost of an agency varies and can depend on the aggressiveness of your strategy. For the best price estimate for professional account-based marketing services, request quotes from a vetted list of agencies for your business.

A few factors that influence your agency's account-based marketing pricing include:
Experience
Technology
Campaign complexity
Past agency performance
For the best results, you want to invest in a reputable, experienced agency.
WebFX is an excellent example of a trusted account-based marketing agency. We offer more than 20 years of experience, plus feature more than 1020+ client testimonials that demonstrate our commitment to achieving our clients' goals, from securing new accounts to driving sales.
That's why we continue to maintain a client retention rate of more than 90%.
Find the best account-based marketing agency for your business by looking at the above factors, from experience to technology. It's also important to chat with every potential agency. These discussions can help you see how an agency treats its clients, builds its strategies, and more.
How to budget effectively for ABM marketing
Even when you know what factors affect account-based marketing pricing, it's challenging to build your budget. You can take several steps, however, to ease the process of budgeting for in-house or outsourced ABM marketing.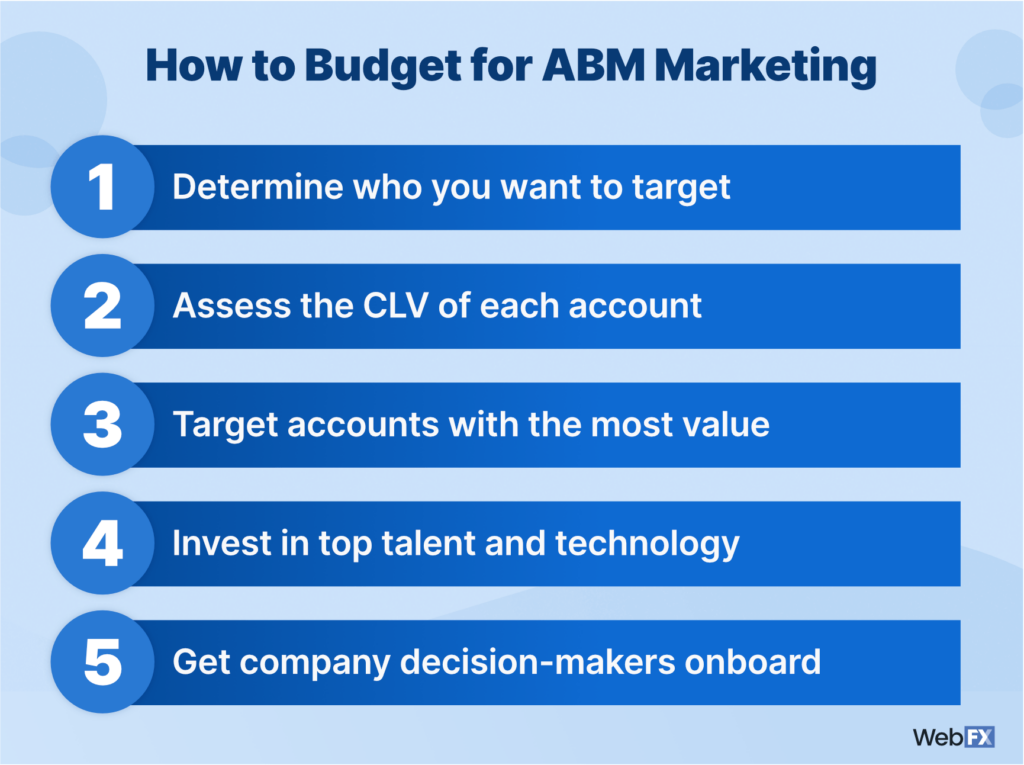 Get started with these five tips:
1. Determine who you want to target
If you want to develop an accurate account-based marketing budget, you need to determine who you want to target. Your team should research the accounts, decision-makers, and departments for insight into what kind of campaign you need to launch.
This step serves as the foundation for your strategy and your budget.
2. Assess the CLV of each account
Before you even plan an account-based marketing campaign, you need to evaluate the customer lifetime value (CLV) of an account. In some cases, you may find an account's CLV isn't worth the effort or investment of ABM marketing, allowing your company to focus on more valuable targets.
3. Target accounts with the most value
Companies make a common mistake with account-based marketing: they spread their budget across too many accounts. If you want the best results (and return) from ABM marketing, then you need to target fewer accounts or increase your account-based marketing budget.
When you focus on the accounts that offer the most value, you can optimize your budget for securing these accounts. In comparison, targeting any account that offers potential value limits the impact of your strategy, impacting your results.
4. Invest in top talent and technology
For many businesses, account-based marketing is a new investment. That's why many companies partner with ABM marketing agencies. They offer the expertise, tools, and resources for launching a successful campaign.
If your company wants your account-based marketing strategy to succeed, then you need to make talent and technology a priority. Tech and expertise become even more critical if you're competing with several other businesses for an account.
Partnering with an agency takes away the time, cost, and hassle of recruiting and hiring someone that specializes in account-based marketing too. It also allows you to act fast in launching your campaign, eliminating the onboarding process that would come with a new hire.
No matter which decision you make, focus on having the best tools and talent on your side.
5. Get company decision-makers onboard
With account-based marketing pricing, it's essential to have the support of your company decision-makers. If you want their endorsement, your team needs to demonstrate how ABM marketing can benefit your business and contribute to your company's goals.
This step can require some research but can have an immense impact on your company's adoption and future use of account-based marketing. For the best results, consider compiling a list of potential accounts and their value for decision-makers to review.
Ready to Grow? Get your FREE Quote Today!
"We measure our success by how much we WOW our clients."

Bill Craig
WebFX President
FAQs about account-based marketing pricing
If you have additional questions about account-based marketing pricing, view our FAQ!
1. When should businesses create their account-based marketing budget?
Companies often want to develop a budget for ABM marketing first. This decision, however, can lead to problems when researching accounts, creating strategies, and more. That's why businesses need to assess accounts first, and then build a budget.

When you start with account analysis, you can get an estimate for what your company will need to spend to reach and secure that account. Plus, you determine what your business should pay (at most) to convert this account into a client.
2. Is there an average for account-based marketing costs?
The customization required by account-based marketing makes it difficult for businesses to provide an average for ABM marketing costs. What your company spends on a campaign depends heavily on the account, from that account's decision-makers to its predicted lifetime value.
It's even a challenge to provide averages for account-based marketing service prices. The investment of your agency depends on your strategy, timeline, target account, and several other factors. That's why it's best to request quotes, which provide your business with an accurate estimate.
3. What is a reasonable price for ABM marketing services?
For many organizations, ABM marketing is a brand-new field, which is why many companies partner with a digital marketing agency that specializes in account-based marketing, like WebFX. What do ABM marketing services cost, though?
Prices vary, much like in-house budgets for ABM marketing, for professional ABM marketing services.

When you work with an ABM marketing agency, they build a specialized campaign and tailored strategy for your business. This campaign and strategy often target a single account, though it may include additional accounts depending on the agency and account features, as well as your preferences.
The degree of customization that comes with ABM marketing services is why many agencies only provide custom pricing. This pricing model can become frustrating for some businesses, which is why WebFX offers free quotes for our ABM marketing services.
With our free, no-obligation quotes, your team can get an accurate estimate for what professional ABM marketing services will cost your business. While you can use custom quotes to determine which agency you partner with, it's important to discuss the risk of "cheap" account-based marketing prices.
4. Why should businesses avoid "cheap" account-based marketing services?
Companies typically promote "low" or "cheap" rates for digital marketing services, including ABM marketing. While your business may pay less upfront for these services, many companies pay more later. The agency doesn't deliver a strategy that works, for example, costing your team the account and sale.
For you, this scenario of events can have a long-term impact on your business and your career. If your company invests a substantial amount of money into an agency (based on your recommendation) that under delivers, it hurts not only your organization's bottom line but also your reputation.
Protect yourself, as well as your company, by partnering with an account-based marketing agency that has a track record of successful client relationships. That agency may not have the lowest prices, but they do offer the expertise to make you confident in their ability to secure valuable accounts.

WebFX, for example, comes with a client recommendation score that's 488% higher than the industry average. This fact highlights our ability to deliver on our clients' expectations, as demonstrated by the revenue we've driven for our clients in the past five years — more than $3 billion.
Get some background on an account-based marketing agency's pricing by asking for quotes from several agencies for comparison. It's also worth browsing that agency's testimonials, portfolio, and accolades to see if they're a trusted choice for your business.
5. Why partner with an account-based marketing agency?
While many businesses can manage other marketing strategies in-house, it's a challenge to lead an account-based marketing initiative in-house. It requires an ABM marketing background, advanced technology, and the support of many team members.
If your company wants to launch an account-based marketing campaign internally, it can require hiring additional team members, as well as vetting third-party software providers. Each step can push your marketing launch back by months.
That's why many companies partner with account-based marketing agencies, like WebFX. When you choose to outsource your account-based marketing campaign, you gain immediate access to the tools and talent you need to launch a successful campaign.
ABM Plans From WebFX
Learn more about how much account-based marketing costs by browsing our pricing plans below
Features
Basic
Current Clients Only
Aggressive
Current Clients Only
Market Leader
Current Clients Only
Initial Campaign Development and Strategy
LinkedIn
Company Size, Industry, Job Title, Job Function, etc
LinkedIn
Targeting of Existing Contact Lists (emails and phone numbers)
LinkedIn
CompanyTrackerFX Site Visit Targeting
LinkedIn
Wish-List Account Targeting
LinkedIn
Site Visit LinkedIn Retargeting
Google Ads Retargeting
of LinkedIn Company Visits (starts in month 3)
Google Ads
Similar audience target development for those visiting your site through account-based targeting strategies
Google Ads
Custom in-market segments developed for target industries
Google Ads
Competitor Interest-Based Display Targeting
Bing Audience Targeting
Professional User Profile Targeting
Lead Nuturing Strategy for Account-Based Marketing Leads
Creative Development for Ads and Long-Term SEO Account Targeting
Initial LinkedIn Sponsored Content Ads (up to 4)
Additional LinkedIn Ads
Additional One-Time Creative
Additional One-Time Creative
Additional One-Time Creative
LinkedIn Lead Form Ad Included
Initial Display Ad Development for Google Audience Targeting
Additional Display Ad Development (up to 4) (created every 6 months)
Google Analytics & MarketingCloudFX Integration & Goal Tracking
MarketingCloudFX (MCFX) Software Installation, Access, and Training
MarketingCloudFX Competitor Intelligence Monitoring
MarketingCloudFX Lead Tracking (Calls and Forms)
MarketingCloudFX CompanyTrackerFX Visit Reporting
Results analysis/reporting with Google Analytics and MCFX for ROI
Ongoing Industry Analysis and Monthly Strategy Development
Ad Campaign Copywriting and Strategy Development
Single Account Representative
Personal Consultation Per Month
1 Consultation
Up to 2 Consultations
Up to 4 Consultations
Up to 100 web lead phone calls tracked per month (Included for all WebFX clients)
*Additional call tracking over 100 calls
Custom Quote
Custom Quote
Custom Quote
Up to 25 web lead phone calls transcribed per month
Monitoring clicks, conversions and click fraud activity
Monthly performance & analysis reporting
500+ SMEs behind campaign driving results
Initial ABM Campaign Investment (1-Month Duration)
$2,500
$2,800
+12% of ad spend
Ad Network Monthly Spend
$850 – $2,500
$2,500 – $ 5,000
$ 5,001+
Progressive Monthly Management Cost (6-Month Commitment, Subsequent 5 Months)
$525
$650
$225/mo. +12% of ad spend
Need more information? Call Us: 888-601-5359
GET STARTED
GET STARTED
GET STARTED
Get custom account-based marketing pricing
Companies trust WebFX for account-based marketing.
With more than 25 years of experience, plus more than 500+ talented digital marketing specialists, we provide you with a custom strategy powered by machine learning and artificial intelligence. Plus, we offer transparent reporting and routine check-ins to keep your team up-to-date on your campaign.
Get a free quote for your marketing plan by contacting us online or calling us at 888-601-5359!