As a florist, some of your busiest times include prom season and Valentine's Day — but how do you ensure that your floral business is getting optimum sales and website traffic during the rest of the year?
Digital marketing is the answer. This kind of floral marketing refers to numerous strategies that help you to better promote your flower shop online. In doing so, you'll see more sales and more website traffic, which can help increase your revenue year over year.
On this page, dive into digital marketing for florists by sharing six effective flower shop marketing ideas that you can start using today, so you stay busy all year.
If you'd like to speak with a digital marketing specialist about online marketing plans before reading on, you can reach us at 888-601-5359 or contact us online.
Good agencies have more than 50 testimonials.
Great agencies have more than 100 testimonials.
WebFX has over 1000+ glowing client testimonials.
See What Makes Us Stand out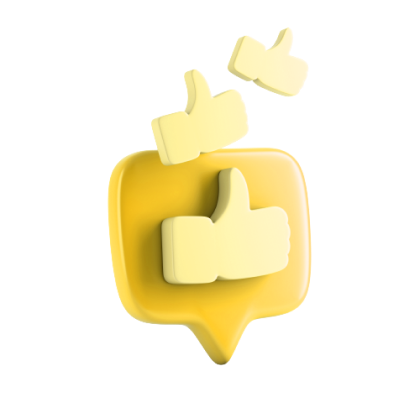 What is digital marketing for florists?
Whether you're providing flowers for someone's big day, creating a bouquet to send to someone who's not feeling well, or crafting the perfect boutonniere for someone's prom date, your floral shop caters to a multitude of clients.
That means your target is everyone and anyone that's looking to make a statement with flowers. With such a wide audience, it's important that you reach them in as many ways as possible — and one of the most effective ways is digital marketing.
Digital marketing allows you to advertise your floral business online in ways that will help drive traffic to your website to increase sales.
Some of the most well-known digital marketing strategies include SEO, or search engine optimization, PPC, or pay-per-click advertising, social media marketing, email marketing, content marketing, and even web design. (WebFX offers them all!)
Let's talk about how these strategies can benefit florists like you!

Hear What It's Like to Work With WebFX!

"WebFX did amazing work creating a new website for us on a tight schedule. They have taken the time to learn about our business and give us ideas of how to make our digital marketing better. We still have work to do with WebFX but overall very pleased."
Professional Service
6 fantastic flower shop marketing ideas
Your business can start benefiting from online florist marketing with these six fantastic flower shop marketing ideas:
1. SEO
SEO is the process of improving your floral website to ensure that it's driving as much traffic as possible. These small improvements work together to create a website that is a magnet for customers.
Here are a few techniques that this flower shop marketing strategy covers:
Creating beneficial, informational content: Without content, your floral website won't rank in search engine results pages. For that reason, the process of SEO makes it a top priority to ensure that your website has beneficial and informational content that ranks above your competitors.
Keyword targeting: Within your content, you'll have a list of target keywords. These keywords are the terms that your audience searches the most often, and they'll be dispersed throughout your website content, title tags, and metadata. So, for example, you may want to write a page strictly on how to take care of your flowers after you bring them home. Your keyword could be "fresh cut flower care" and you could target it with your content. When you target a keyword in your content, it allows you to show up in search results when users search for that keyword.
User experience: Another element of SEO is ensuring that your visitors have the best experience possible. That means that you optimize for things like page speed, add images and graphics to your pages, and have a fully-functioning navigation bar. These small details will help to satisfy users and help them find what they're looking for quickly and easily.
These few small details of SEO are extremely important, because Google's algorithm weighs them heavily when they rank pages.
This means that if they see that your floral website includes highly beneficial information and provides a great user experience for customers, Google will be more likely to serve your floral pages higher in search engine results pages — because they're looking to serve the very best results for each search.
2. PPC
PPC is another fantastic strategy when it comes to florist marketing ideas. When you start a PPC campaign, you'll see results almost instantly, whereas SEO takes a while to show results.
PPC is essentially a bidding war for the keywords that we talked about in the last section. You'll essentially bid on the keyword that you want to rank for, and if you beat out other bidders, your floral website's content will show up as an ad in Google search results.

Why is showing up as an ad so important, you might ask? Because PPC ads show up above all organic results, giving you an edge over your competitors.
The best thing about PPC as a flower shop marketing strategy is that they're extremely affordable, and you only pay when your ad is clicked. So, for example, if you win the bid for the keyword "fresh cut roses," your ad will show up in search results. However, you'll only pay your bid amount for that keyword when the ad is clicked.
3. Social media
Social media is a great platform for florists. Many social platforms have a reliance on images to make posts unique, and let's face it; flowers are some of the best material for photos.
In fact, users like 3.5 billion photos per day on social media. That's a lot of opportunity to show off your beautiful floral arrangements to the world, receive likes and shares, and ultimately — more business.
Social media isn't all about photos, though — you can use social media to post about a new arrangement you've created, a new flower season, or informational articles about how to take care of fresh cut flowers.
Social platforms are also a great place to post content from your website's floral blog, or articles on your website, so don't ignore this strategy when it comes to building your flower shop marketing plan.
4. Email marketing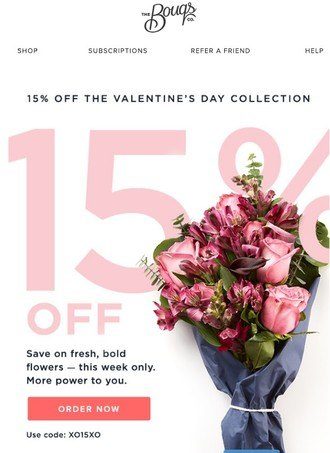 People don't order flowers every day, for every occasion, but it's important to stay top of mind for when people do need flowers.
Email is a great way to do so. In order to start an email marketing campaign, you'll first have to capture emails on your website. You can do so by offering site visitors the opportunity to sign up for your newsletter for special offers, subscribe to your blog, or learn more about a certain product.
After you capture their email address, you'll be able to keep in touch and send them emails that keep your floral business top of mind.
You can share your latest blog post, photos of arrangements you've created in the past week, fundraisers you're participating in, or a coupon for 10% off your Valentine's Day bundle.
5. Content marketing
As we mentioned in an earlier floral marketing tip, your floral website won't be able to rank without content. Content is the basis for ranking in results pages, so it's important that it's useful, informative, and beneficial to readers.
When you create informational content that is over 2,000 words, you have the best chance of ranking highly in results pages. Writing at length about a topic allows Google to see that you're a master in your field.
Google also loves to see fresh, new content, so creating a floral blog is a great strategy to ensure that you have consistently fresh content on your website.
6. Web design
Believe it or not, web design is a digital marketing strategy when it comes to marketing flowers, and it's extremely important.
You should think of your website as a sort of first impression for users. It's often the first glimpse users will get of your floral business, and it's important to make a great first impression.
You should ensure that your website full encapsulates who you are as a floral business. When you come up with a color scheme, a font style and a graphic format, you'll be able to create brand awareness with your customers.
Speaking of brand awareness, creating a unique, recognizable logo within your branding is also a huge plus for your floral business.
Our digital marketing campaigns impact the metrics that improve your bottom line.
See More Results

WebFX has driven the following results for clients:

$3 billion
In client revenue

7.8 million
Leads for our clients

5.2 million
Client phone calls
Help your business flourish with digital marketing for florists
If you're convinced that a digital marketing campaign is the right move for your floral business — you're absolutely right.
A digital marketing campaign will allow your floral business to increase sales year over year, drive traffic to your website, and ensure that you don't just have busy seasons, but a busy year.
Contact us today for a free quote and to see how WebFX can help your floral business grow with digital marketing.
Earn a 20% greater ROI with WebFX