The retail industry is highly competitive, with retail stores competing on local, regional, and often national levels. The retail sector has continued to see a shift from in-store purchases to online shopping.
Consumers have become increasingly more interested in where they buy from and how the company represents itself online. Connecting authentically with your audience can help build a relationship with your customers. Data-driven personalized and relevant online customer shopping experiences make shopping online more accessible than ever for the consumer.
Data representing a customer's shopping history and pattern is often stored and used for personalized product recommendations. The popularity of this technique continues to grow, with 89% of U.S. marketers reporting that personalization on their websites or apps resulted in an increase in revenue.
Shoppers also want to get their merchandise as quickly and conveniently as possible using their mobile devices to make online purchases. Marketing your company, brand, and products online gives you an opportunity to reach potential customers across the globe. If you'd like to speak with an Internet marketing specialist, contact us at 888-601-5359.
Our digital marketing campaigns impact the metrics that improve your bottom line.
See More Results

WebFX has driven the following results for clients:

$3 billion
In client revenue

7.8 million
Leads for our clients

5.2 million
Client phone calls
4 best Internet marketing strategies for your retail store
There are lots of ways you can advertise your retail company online. Sometimes you can even get help funding that advertising from manufacturers, where they give you co-op dollars. But either way, your marketing can do a lot to boost sales.
Here are four strategies for making that happen.
1. SEO for retail
Search engine optimization, often referred to as SEO, is the process of improving your website to rank better in the search engine results pages, driving more traffic and leads. When you rank better, you become more visible, attracting visitors and potential buyers to your site.
As you optimize your site for SEO there are many factors to keep in mind when trying to rank, such as user experience, content, and your HTML code. Search engines use an algorithm to give every website a grade. For example, when a user searches in Google, Google crawls all websites to determine how relevant that page is to the search. Search engine algorithms are constantly changing, so your SEO tactics will too.
SEO is essential for retail stores because statistics show 79% of U.S. consumers shop online. Having an optimized ecommerce site can help you gain more traffic and increase conversions.
Some tips for SEO Optimization for retail site:
Fresh content: Search engines seek to match user search queries with the most up-to-date and accurate search results. One way to send positive authority signals to Google is to keep your site updated with new content on a regular basis.
Google Business Profile: Particularly for retail stores with storefronts, it is important to have up-to-date information and to verify your listing on Google Business Profile. This allows Google to see your listing as credible and current, ensuring Google displays your local listing when searched.
Mobile experience: With mobile users accounting for the majority of Internet usage at 60%, it's imperative that websites provide a seamless user experience across all devices. Google has stated that responsive design is their preferred choice of website structure, which allows web admins to have one website that adjusts according to device size without creating any duplicate content.
2. Google Merchant Center for retail
The Google Merchant Center is another way to increase your ecommerce presence and attract potential buyers. Through the Google shopping platform, you can make products available to users searching for items to buy on Google.
To get started, Google will ask you to set up a data feed, which is just information about your products in a format Google can read and process. It is important you structure the elements of your feed in a way Google can understand, so your products appear for the relevant search queries. For example, if you add black denim jackets to your data feed when a user searches for that particular product, your black denim jacket listing may appear in the search results if your feed is set up correctly. Key elements to keep in mind when creating your feed are product descriptions, product categories, product type, price, brand, and apparel categories.
There are a few other benefits of using the Google Merchant Center that can help with your online marketing strategy. The Google Merchant Center can be connected to your Google Ads and Analytics accounts. You can utilize your Google Ads account to run Google Shopping Campaigns and connect your ads to products in your Merchant Center. To start tracking those ads, you can use Analytics to monitor conversions, clicks, and customer engagement. Reporting is a great way to observe your return on investment and measure success.
3. Social media for retail
Social media refers to many platforms, with some of the most well-known being Facebook, Twitter, and Instagram. Social media can be used as a way to advertise and even sell your products online.
Social media and SEO are more closely related than you may think. For example, social media can directly impact your link-building strategy. If you are utilizing a blog to display fresh content, adding links to share on social sites can boost your views and increase traffic to the site. This is just one example, but there are many ways to utilize different social media platforms to benefit your marketing efforts.
In addition, social media platforms can be used to drive leads and sales. Facebook gives you the option to run ads and create a store, reaching even more potential buyers.
4. PPC and retargeting for retail
Pay-per-click, often referred to as PPC, is a type of Internet marketing in which advertisers pay a cost per click fee, known as CPC, each time their ad is clicked. As opposed to SEO, which drives traffic through organic visits, PPC earns visits through those paid listings.
When you run a PPC campaign, your ads appear on a search engine results page when a user searches a keyword related to your ad. For example, if you bid on the keyword "pet shampoo" and a user searches for "pet shampoo," your ad might show up in the top spot on the Google results page. It is crucial to keep in mind, Google only charges the CPC fee when a user clicks on your ad. Building the right PPC strategy is critical as you want to ensure your leads are converting and the CPC is worth the click.
PPC also allows you to track customers who have visited your site and display ads throughout their browsing session. This marketing technique is called retargeting. It is important to link buyers to the page of the product you are advertising to making the buying process as streamlined as possible.
Partner with a team of ecommerce masters!
WebFX campaigns have delivered more than 12,936,451 ecommerce transactions in the last 5 years
Read the Case Studies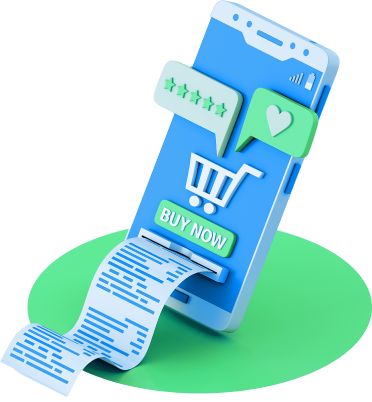 Hear What It's Like to Work With WebFX!

"Our WebFX team was on top of everything. Best part is our lead contact felt like she was part of our company. She learned everything about our business so quickly and was able to be very efficient with our brand. Reacting to what we needed or wanted to change, making us feel so comfortable the whole way!"
Retail
Are you ready to start Internet marketing for your retail store?
Internet marketing can be accomplished through a range of techniques. It's essential to keep your target market in mind when developing your marketing strategy. You want to make sure your marketing efforts are relevant to your buyers, which in return are producing sales.
WebFX has an entire team of Internet marketing experts who can help you develop a digital marketing strategy specific to the goals you have for your retail store.
We've generated over $3 billion for our clients. Take your sales to the next level. Contact us today to get started!
Earn a 20% greater ROI with WebFX