Meet Your Search Engine Marketing Company
Grow leads, sales, and revenue with WebFX, a leading search engine marketing company with a 91% client retention rate. With our agency, you'll receive a custom strategy for search engine optimization (SEO) and pay-per-click (PPC) advertising, plus a dedicated account manager and regular reporting. Keep reading to learn more about growing your company with us!
Search engine marketing is one of the best ways to ensure your next client finds you in search engine results pages — and with 93% of online experiences starting with search engines, you want that to happen because getting found in search results will help you earn more traffic, leads, and revenue.
If you're thinking, "That sounds great, but I have no idea how to do it" then you're in luck! Our search engine marketing company will help your business succeed with SEM. Just ask our clients — we've helped them generate more than $3 billion in revenue in the past five years.
Browse our SEM services to view our plans and pricing. Or, keep reading to learn more about partnering with our search engine marketing agency. You can also call us at 888-601-5359 or contact us online to chat one-on-one with an SEM strategist!
What do our search engine company's services include?
With our search engine company, your business will receive a turn-key solution to SEO and PPC:
SEO services
Increase your visibility in valuable search results with our SEO services for SEM, which include:
On-page, off-page, and technical SEO
Custom strategy
Dedicated account manager
Competitor analysis and monitoring
Quarterly and monthly reporting
Phone calls, lead, and revenue tracking
Access to MarketingCloudFX, which is our proprietary marketing suite for syncing marketing data, measuring return on investment (ROI), and enhancing your SEO strategy with machine learning insights from IBM Watson and Google AI
And more
Besides traditional SEO, our search engine company can also help your business with specialized SEO services like local SEO, ecommerce SEO, and even enterprise SEO, since we feature an experienced in-house team of more than 500 professionals.
PPC services
Earn a top spot in ready-to-buy search results with our PPC services for SEM, which include:
Custom strategy for ad networks like Google Ads and Microsoft Advertising
Strategic bid management
Dedicated account manager
Phone calls, lead, and revenue tracking
Regular reporting
Access to MarketingCloudFX
And more
Your company can also access more specialized PPC services with our search engine optimization marketing company, too. A few examples include ecommerce PPC, social media advertising, and geofencing advertising.
What to expect when you partner with our search engine marketing firm
When you partner with our search engine marketing firm for SEO and PPC, you can expect:
Getting a dedicated account manager with experience in your industry
Receiving a strategy customized to your goals and most important metrics
Earning insight into competitors SEO and PPC strategies
Obtaining regular reports that review your strategy's performance, ROI, and next steps
Achieving an ROI from your SEM campaigns
With a client recommendation score that beats the industry average by 488%, you can count on WebFX to deliver a strategy that performs for your business and allows your team to focus on bigger in-house tasks.
Inside our search engine company's SEM process
Though we've worked with hundreds of clients in numerous industries, we've never worked with your business – which is why that will be our first step when working with you.
It's important to us that we get to know your company before we start creating a strategy, so that we understand your needs, goals, and what you're looking for in a search engine marketing company.
We're also completely transparent – we want to make sure that we are a good fit for your needs, and that your company is a good fit for what we offer.
After determining that your business is a good fit for WebFX, we'll determine the SEM services you need to achieve your business goals.
We offer all the strategies mentioned throughout this page including SEO, PPC, content marketing, reputation management, Google Business Profile listings, and more.
We also know that every business is different. That's why we offer several service packages that offer different levels of service.
The three standard tiers are basic, aggressive, and market leader, though we also offer custom enterprise level plans if none of these meet your needs. Visit our service pages to learn more about our SEO and PPC campaign management services, or contact a strategist to discuss your goals!
Why do businesses hire your search engine marketing company?
Small-to-midsized businesses across the world choose our search engine marketing company because:
You get a dedicated account manager that knows your business — and your name
You get a strategy tailored to your industry, brand, and goals
You get regular updates and reports on your campaigns' performance
You get an agency with 25+ years of digital marketing experience
You get access to supporting SEM services, like content marketing and landing page design
You get a smart solution to measuring your ROI and syncing your ROI from multiple channels
With WebFX, you get everything you require in one place.
From experience to services, you don't have to wander between agencies to find what you need. Instead, you can count on our search engine marketing agency to provide the solutions, expertise, and reports you need to deliver results and showcase them to company leaders.
That's why 91% of our clients make us their long-term partner for digital marketing.
Ready to Grow? Get your FREE Quote Today!
"We measure our success by how much we WOW our clients."

Bill Craig
WebFX President
FAQs about search engine marketing
Learn more about search engine marketing with these FAQs:
What is search engine marketing?
Search engine marketing (SEM) is an umbrella term that includes any technique that impacts the way your business is seen in search engine results pages. It includes search engine optimization (SEO), as well as pay-per-click advertising (PPC), content marketing, and claiming local business listings.
What do search engine marketing companies do?
A search engine marketing company will work with websites in order to ensure that they rank well in search engine results pages for keywords related to their products or services.
It's extremely important to the success of a business to be visible in these results, because otherwise, they won't be able to attract customers actively searching for what they offer.
There are a few different strategies that a search engine marketing company will use to ensure the best results for their clients, including SEO, PPC, content marketing, and more.
What is SEO?
SEO is the process of optimizing a website so that search engines like Google can crawl its pages, determine what they're about, and index them in their databases of online content.
Then, when a user searches for a keyword related to that site, the search engine will be able to include a page if it's one of the most relevant options in its index.
Without SEO, it's highly unlikely that your website will rank well in results pages.
What do SEO strategies for SEM include?
There are several elements that go into creating a successful SEO strategy for SEM:
Keyword research
Keywords are one of the most important parts of almost every SEM tactic. They help form the basis your SEO and PPC campaigns, and allow you to make more informed decisions for the rest of your strategy.
As we mentioned earlier, the primary goal of search engine marketing is to rank well in search results for the keywords your target audience is searching. But unless you know what those keywords are, you won't be able to achieve this goal.
This means that your SEM strategy needs to start with keyword research. You can do this by using a free keyword research tool, like keywordtool.io or Ubersuggest.
Both tools will help you discover keywords that are valuable to your niche and give you important information like the search volume of a specific keyword, cost-per-click, and even the competition level.
This helps you decide exactly what keywords to target to get the highest return.
Keyword optimization
Once you've done keyword research to determine exactly what keywords you'll target on your pages, it's time to optimize your pages for those keywords.
Keyword optimization refers to the way in which you include your keywords throughout your website. When you optimize your pages for your keywords, it allows search engines to determine what your pages are about, and if they are best fit for a user's search query.
There are a few locations on your website that you should always include your targeted keywords.
First, you should always include your keywords in your body copy. These signals search engines that your page does in fact inform readers about your keyword. But be sure to only target one keyword per page.
However, you should avoid using your keyword in excess. This practice is referred to as keyword stuffing, and you can actually drop in search engine rankings if you do it.
You should also be sure to include your target keyword in your title and header tags, and your meta descriptions. Also, be sure to include them in your image's alt tags as well.
Content creation
For SEO to be successful, it's essential that you create content that targets the most valuable keywords for your specific industry. After all, search engines can't suggest your site as a result if you don't actually provide the information users are searching for.
You can begin by looking over the list of keywords you discovered during the research phase, and determining which ones your site doesn't yet have pages about. Then, use these keywords to create blog posts, articles, and other helpful content.
Backlink profile
Another significant factor in your site's ability to rank well in search results is your backlink profile, or the number and quality of links pointing to your pages.
Google and other search engines view links from trustworthy sites as signals that you're an authoritative and valuable source of information, so the more you have, the better you'll be able to rank in search results.
This means that in order for your pages to rank well, you need to gain links from industry leaders and other high authority websites. You can do this by creating interesting original content, then reaching out to other site owners and asking them to share it with their readers.
This is often much more challenging than editing your pages and adding new content, but is absolutely essential for a successful SEO strategy.
User experience
Google's job is to ensure that they serve the best possible results for each search query. In doing so, they not only take into account the quality of the content, but also the quality of the user experience.
If your site is difficult to navigate or read, this can negatively affect your ability to rank well. This means that if your site has usability issues, fixing them should be part of your SEO strategy.
Make sure that your site makes it easy for users to find what they're looking for by including a straightforward navigation bar, and reduce your load times as much as possible.
What is PPC advertising?
PPC is an advertising model that allows you to promote your products or services within search engines.
PPC ads work on a bidding system in which you bid to place ads in the search results for keywords that are the most valuable for your business. For example, if you work at a bakery that specializes in wedding cakes, you could bid to place an ad in the results for "wedding cakes Harrisburg PA."
If your bid is among the highest, your ad will display above the organic search results. And if a user clicks on one of your ads, they'll be taken to a landing page where they'll be able to purchase the product or service you advertised.

One of the biggest benefits of PPC is that you choose exactly how much each keyword is worth and how much you pay every time your ad is clicked. As the name suggests, you only pay for the ad when it's clicked, and not when it's seen.
This makes PPC an effective advertising strategy, regardless of your budget.
What are some SEM techniques that search engine marketing companies use?
SEO, PPC, and content marketing are the most important SEM techniques, but there are a few other elements that also affect the way users see your business in search results.
Google Business Profile
Google Business Profile is a free way to ensure that local customers can find your business easily. If you've ever searched for a local business, you've likely seen listings and a map at the top of the results page.
When you register your business for GMB, you have the chance to show up in these listings. Your business can show up on the map, along with a star review out of five, customer reviews, pictures, location, price range, and more.
This makes it extremely easy for customers to simply click on your business and get directions from wherever they are.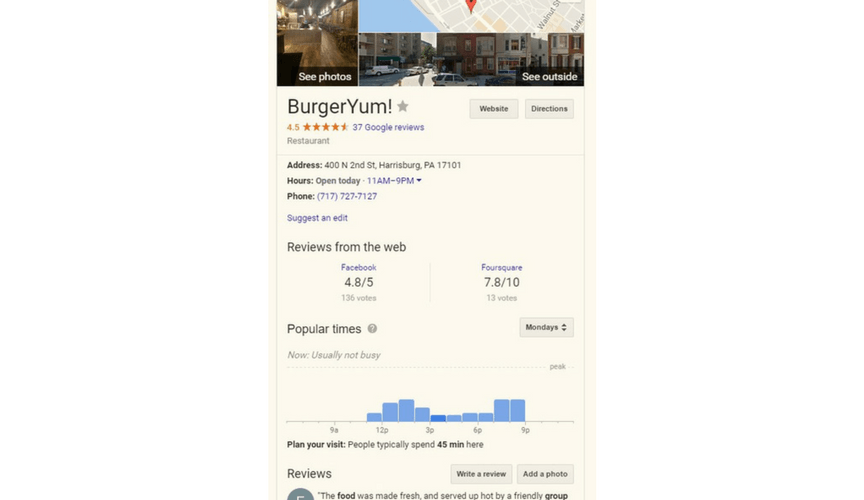 It's also a proven fact that Google Business Profile users are twice as likely to be considered reputable by customers, simply by verifying their information – and considering how easy it is to sign up, there's no reason not to.
Reputation management
Reputation management helps minimize any negative press about your business in search results, and allows you to increase the amount of positive content about your business.
It's been shown that 40% of consumers will form an opinion about your business or service just by reading one to three reviews. This means that you can't afford to have more bad reviews than good ones – especially when a whopping 92% of consumers read online reviews.
Reputation management involves responding to negative reviews positively, as well as using techniques that push negative press about your business to the bottom of results pages.
If your business has received negative press in the past, you'll definitely want to consider reputation management as part of your SEM strategy.
Content marketing
Content marketing works hand in hand with SEO, since in order for your website to rank in search engines, your pages need to have helpful content.
Content refers to anything from written pieces like articles or blogs, to multimedia elements like infographics or videos.
The best content that will rank highly in results pages is content that targets your most valuable keywords. But once you choose your keywords, your content should be created with the reader in mind – not Google.
Write and create pages that provide your target audience with interesting information, or help them accomplish specific tasks. This will help you establish your brand as a trustworthy resource, and will increase the chances that they'll ultimately become customers.
However, you should avoid practices like keyword stuffing, which uses your keywords in excess and in places that don't make sense. This practice is considered a black hat SEO tactic since it is seen as a spammy practice by Google.
Drive revenue with the best search engine marketing company
WebFX is one of the top search engine marketing companies in the world. We specialize in all things Internet marketing, and we offer custom plans for each of our clients.
If you're ready to improve your visibility in search engine results, WebFX can help. We've worked with over 500 satisfied clients and have over 1,020+ testimonials that explain in their words how effective we've been at driving traffic and increasing conversions.
If you're interested in learning just what WebFX can do for your online presence, contact us today to speak with a strategist about our SEM services!