SEO Services List: SEO Service Breakdown of 15 Undeniable Strategies
Search engine optimization (SEO) is not only one of the most popular online marketing strategies out there, but it's also one of the most effective.
SEO allows you to climb the search engine results page rankings by improving on-page and off-page elements of your website that work together to make it more beneficial to your target audience.
Higher rankings mean more site traffic and it's no secret that more site traffic leads to more conversions and revenue over time.
But what SEO services do you need to beat your competitors online? Our extensive SEO services list can help you gain insight into the world of SEO, and also inform you of exactly what you should look for when hiring an SEO agency.
To learn more about the deliverables that should be on every SEO services list, read on! If you're interested in talking to a specialist about WebFX's SEO services list, or what SEO can do for your company, give us a call at 888-601-5359 or contact us online!
The 2 core components of the best SEO services
If you want to create the most effective SEO services list, it's essential to consider that there are two kinds of SEO — on-page and off-page SEO. Before we can dive into our SEO service breakdown, let's talk about these two kinds of SEO, which the best SEO services include.
On-page SEO
On-page SEO refers to any optimization that you control.
These are site elements that you can change and are not dependent on outside factors.
Off-page SEO
Off-page SEO is the opposite of on-page SEO.
It's any optimization strategies that take place off your website and are out of your control.
I don't quite understand on-page and off-page SEO
If you're still confused about the difference between on and off-page SEO, don't worry!
It will help to see a specific SEO services list to help you better understand each one.
Read on to see an extensive SEO services list that breaks down into on- and off-page SEO!
SEO services list: On-page
Let's dive into our on-page SEO services list breakdown. Any combination of these services is great, but implementing them all ensures that you have a well-rounded and successful strategy with some of the best SEO services available.
1. Title tag optimization
Title tags are what appear in search results when users enter a specific query.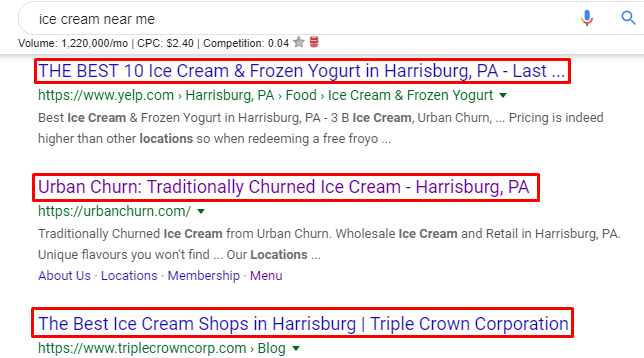 If you want to have a compelling title tag, you should follow best practices that include things like length and keyword usage. Your title tag can affect the click-through rate (CTR) of your pages, so it's crucial that you craft one that intrigues users.
You also want to use a title tag checker tool to ensure that your title tag is the right length. Otherwise, it could get cut off in search results and a decrease in effectiveness.
Google wants to be sure that the content it selects to rank highly is the most beneficial to searchers, which is why you should also use your top keyword at the front or beginning of your title tag.
2. Meta tag optimization
Meta tags, or meta descriptions, are the text that shows up under your title tag in search results.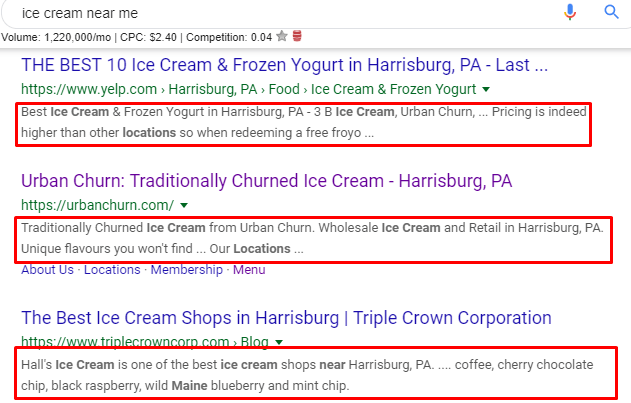 They give users an idea of what they're about to read and help them decide whether to click to your website.
Like title tag best practices, you'll want to make sure that your keywords show up at the beginning of your meta description, and that in total, it's about 160 characters (including spaces).
Keep in mind that Google might not always choose to use your written meta description, though. If they think that there is a snippet in your copy that better describes your page for users, they can pull that instead.
3. Headings
Headings help users understand the hierarchy of your site content.
Optimizing your content headings is a crucial element of any SEO services list since it not only helps users understand your page, but also Google.
You should feature headings on your page starting with an H1, and continue utilizing headings in order from H2, H3, H4, and so on.
Using your keywords in your H1 is critical.
Typically, search engines look at your H1 to determine the category and context of your content. Not to mention, H1s help Google determine how relevant your content is to a specific topic.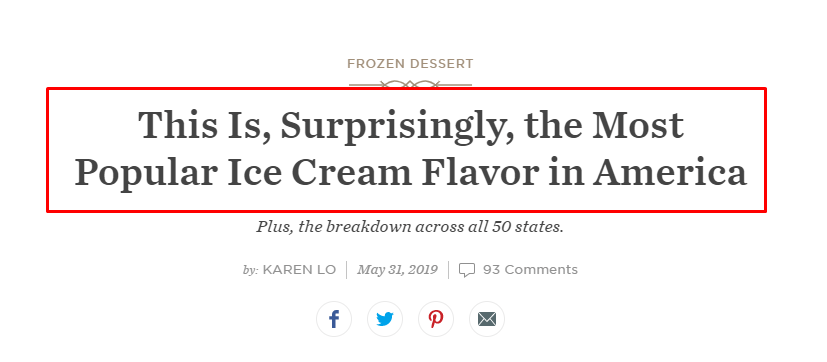 The writers of this article were likely trying to target the following keywords:
"popular ice cream flavor"
"most popular ice cream"
"most popular ice cream in America"
Their H1 let's search engines know.
Your other headings should follow in chronological order and feature different variations of your core keyword.
4. URL optimization
Another strategy that should be on every SEO services list is URL optimization.

You should always consider including your target keyword in your URL while trying to keep it short and sweet. Long URLs tend to be overwhelming, whereas short, tidy ones look more approachable in search engines.
For example, if you're a wastewater treatment plant practicing SEO, you might create a URL structure that appeals to your different audiences: Constituents, buyers, and government workers. This URL structure will help your team organize content and help your website visitors navigate your site.
5. Image optimization and alt tags
Images are an essential part of your website pages.
They not only add interest to your content but keep users engaged.
Optimizing your images is another strategy that should show up on any SEO services list, but how can you optimize your images?
First, make sure you compress your images.
Uploading huge files to your site pages makes them load slower, and the slower your pages, the less likely users are to stay. There are a wide variety of tools that you can use, like Kraken, to compress your images without compromising quality.
Speaking of quality, you'll also want to optimize your images by ensuring they're high quality. When you upload grainy, low-quality images to your site, it makes users question the quality and trustworthiness of your website.
Finally, optimize your images with alt tags.
Alt tags are what show up in an image's place if the image can't show up in your content, for whatever reason. Not only does an alt tag give readers an idea of what's supposed to be there, but it also helps Google understand the context of the image and what it is since it can't read actual images.
6. Content optimization
Content optimization is probably the biggest and most important on-page SEO factor. Not to mention, it's one of the best SEO services an agency could offer. If you don't see content optimization on an SEO service list, you might want to choose another agency.
Content is the keystone of any digital marketing plan, and it's crucial that you optimize your content.
Here are a few areas that you'll want to consider:
Researching your target audience: Without having insight into your target audience, there's no way you can create content for them. You should think about the age and gender of your target audience, as well as what they're interested in so you can create content that targets them.
Finding valuable keywords: Keyword research is essential to optimized content. Otherwise, you're taking a blind chance at ranking, and quite frankly, you likely won't rank. You need to determine what keywords your audience is searching for and create content around those words.
Optimizing word count: Although there is no hard-and-fast rule for how many words you should have on any given page, research has shown that longer content gets more social shares, has more linking domains, and even ranks higher in SERPs. The sweet spot is anywhere from 2000 to 2500 words for optimal ranking.
Including CTAs: Including calls-to-action, or CTAs, in your copy give users the chance to purchase your products or sign up for your services. Without CTAs, you're not giving users an easy way to convert, which means they might not.
7. Mobile-friendliness
Ensuring that all users can experience your website the same way — no matter what device they're on — is crucial. Another on-page strategy that typically lands on every SEO services list is optimizing for mobile-friendliness.
Google wants to provide the best possible results to users, and they don't consider your website one of the best if users can't access it from phones, tablets, and desktops properly.
You can test the mobile-friendliness, or responsiveness, of pages on your site with a tool like Google's Mobile-Friendly Test tool.
8. User experience
User experience, or UX, is an integral part of on-page SEO because it determines how much enjoyment site visitors get out of your pages.
Of course, your website is all about content, but it's also about the experience users have when they find your site. Are things easy to find? Do you provide contact information in a logical spot on your website?
All these things, and so much more, work together to create a fantastic user experience. And you guessed it, for Google to rank you highly, you have to provide an excellent experience for users, which means having a top-notch website design.
9. Page speed optimization
Page speed is proven to be one of the ranking factors that Google uses to determine where a site ranks in SERPs. That means you should always look for page speed optimization on any SEO services list.
Google knows that users don't have unlimited patience.
If you want users to stay on your site, your pages need to load in three seconds or less. That said, ensuring that your pages load faster than three seconds is crucial because most people expect websites to load in two seconds or less.
10. Internal linking structure
An effective internal linking structure is when you link to site pages from other pages on your site. You can picture it like a spider web that connects all the pages on your site together.
This is extremely useful in helping Google find and index new pages on your site. The more pages Google crawls and indexes, the more chances you have to rank for key terms that you target with your content.
SEO services list: Off-page
Now, let's talk about some of the off-page SEO services that matter to the success of your campaign. Don't forget, these are things that you do outside of your website that can help you rank higher in search and increase brand awareness.
1. Maintaining active social media accounts
With billions of users on social media platforms today, it's crucial that your business is present on social media platforms like Facebook, Instagram, Twitter, and LinkedIn.
When you have a social media presence, it allows you to connect with your customers on a different level, as well as to provide a certain level of customer service. Not only that, but it can also work to drive traffic to your website, and even make sales.
If you want to increase your social media following, WebFX offers social media marketing services for a wide variety of platforms. Whether you want to be active on social or increase your brand awareness, our social media management strategies can help.
2. Having a Google Business Profile
When you have a Google Business Profile (GBP), you can show up in map results for queries related to your business.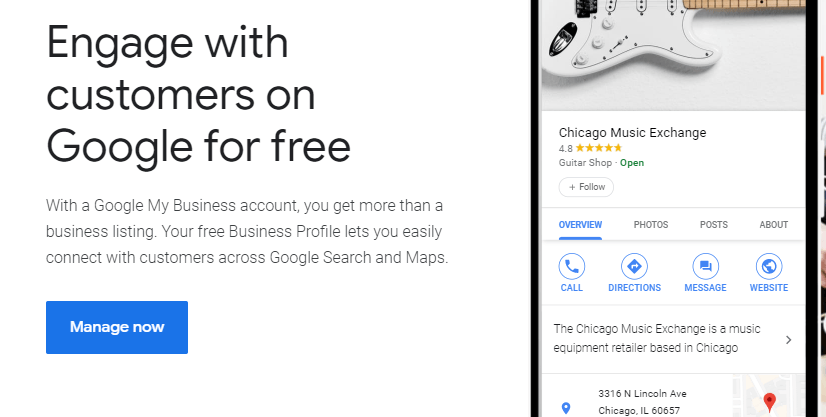 GBP also links to local SEO since it helps you attract customers near your brick-and-mortar store. It's one of the best strategies to make an SEO service list, simply because when your GBP listing shows up in search, you're at the top of search results.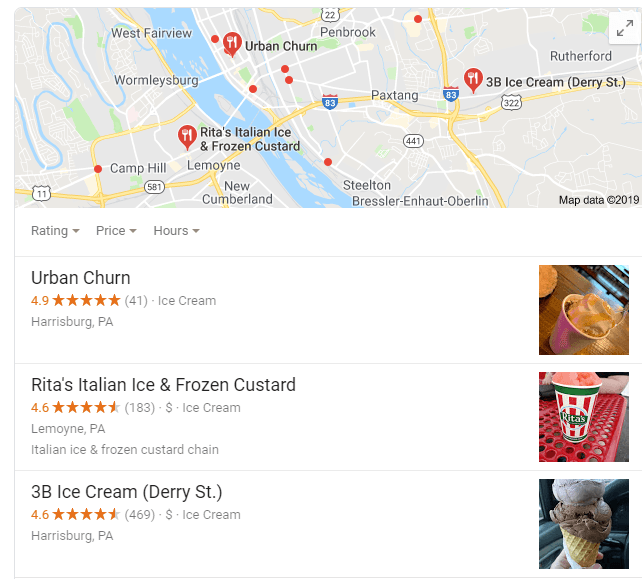 3. Implementing a blog on your site
Implementing a blog on your website is a great off-page SEO strategy.
Why?
Because a blog helps you create a database of linkable content that you can post on social media and share in emails. Not only that, but it provides excellent content for users to share as well — proving to Google that you're a leader in your industry.
That blog content is a great way to get users back to your site to learn more or make a purchase. Blog implementation as a whole is one of the best SEO services you can utilize.
4. Creating linkable infographics
Creating custom infographics to help you explain complex ideas for your site is another must-use SEO service list strategy.
Not only do they help engage users and keep them on your site pages, but they're also a great piece of sharable content that other high-quality websites can link and share.
When other users link to your content, it helps you gain links, which benefits your domain authority among other valuable metrics. These metrics can help you rank higher in search results.
5. Networking with high-quality sites
When you talk to and network with respected industry leaders, you can build relationships that can improve your SEO. Although that might sound like a stretch, hear us out.
When you network with high-quality businesses, you can encourage them to link to your content and share your graphics. Not only does this help your site from an SEO standpoint, but it also helps to increase brand awareness.
These are real SEO results driven for a WebFX client.
You're next.
Learn More About SEO Services


260%
increase in organic revenue

198%
increase in organic transactions
150%
increase in organic traffic

3872%
increase in sessions from SEO
Work with an agency that has an SEO services list a mile long
If you're ready to work with an SEO agency that offers all the SEO strategies mentioned on this page (and then some), WebFX is here for you.
We're a full-service digital marketing agency that will work with you to create a custom SEO campaign that can transform your business with some of the best SEO services out there. With $3,021,182,299+ generated in revenue for our clients' companies, we're a trusted partner for your team.
Contact us online or give us a call at 888-601-5359 to learn more about our custom SEO campaigns!
How Is Your Website's SEO?
Use our free tool to get your score calculated in under 60 seconds.