Geofencing Solutions: How a Geofencing Plan Benefits Your Company
Are you looking for a way to motivate nearby users to visit your business or connect with your team? If so, geofencing advertising is the strategy for you. With geofencing solutions, you can drive more local customers to your business.
Get a preview of our custom geofencing solutions, which include competitor geofencing advertising and addressable geofencing advertising. Plus, learn what geofencing is and how it helps your business reach new heights.
If you want to learn more about our geofencing marketing solutions one-on-one, contact us online or call us today at 888-601-5359 to speak with a strategist about building a custom strategy for your company.
Our digital marketing campaigns impact the metrics that improve your bottom line.
See More Results

WebFX has driven the following results for clients:

$3 billion
In client revenue

7.8 million
Leads for our clients

5.2 million
Client phone calls
Get a custom geofencing solution for your business
If you want to start using geofencing for your business, a great place to start is by looking at geofencing marketing companies. You're busy running your company. Investing in geofencing services from experts lets you focus on running your business while they run your campaign.

At WebFX, we offer two powerful geofencing solutions:
With our custom, data-driven strategies, we can help you drive more local customers to your business, attract more qualified leads, and generate more revenue and sales. Keep reading to learn more about bringing these geofencing solutions into your business.
What do WebFX geofencing solutions include?
When you're looking at our geofencing solutions for companies, you want to know what you're getting in your geofencing package. Let's take a quick look at what you can expect to get with your geofencing advertising plan.
Customized strategy
Your business is unique, and you need unique geofencing solutions to go with it. At WebFX, we create custom plans for all our clients. We'll build you a geofencing plan tailored to your industry, target market, and goals.
With a custom strategy, we can help you create fences that fit your business.
We can make fences as small as 1000 square feet, or as detailed as a 12-sided polygon fence, for example. Our team of over 500 experts will work with your business to create a geofence strategy that works best for your company.
Dedicated account manager
Unlike other geofencing marketing companies, you won't need to spend time trying to figure out who to contact for information about your campaign. At WebFX, we have dedicated account managers that you can contact directly with any questions or concerns.
We like to partner you with a hands-on account manager who can help you with your campaign. Our account managers will spend time getting to know your business and your team. They'll help you create a personalized campaign that fits your organization's needs.
Targeting
At WebFX, our geofencing advertising campaigns offer precise targeting for your business.
We'll help you establish who's interested in your products or services.
Our team will help you build a series of audiences that want to hear from your business. From this point, we'll help you segment your audience to send personalized geofenced messages.
We'll help you pinpoint custom audiences and locations with our targeting features. This process will help you drive more leads and conversions for your business.
Competitor research
Geofencing is an excellent way to target leads for your business — and your competitors. At WebFX, we conduct competitor research to know who you're advertising against and how you can do better than them.
We'll research your competitors to help you understand their strategy and see how they're geofencing (if at all). We provide in-depth research on competitor locations so you can learn how to outperform your competition, like by targeting their location.
Conversion tracking
With conversion tracking, we help you track and measure the results of your geofencing campaign. Our program, MarketingCloudFX, allows us to track your campaigns' performance to ensure it's helping your business grow.
We'll track conversions made by your campaign in real-time.
Our award-winning team can set up web- and location-based conversion zones to help maximize your reach. We'll always keep you updated about your campaign's performance and help ensure you're driving the best results.
What types of geofencing solutions do you offer?
At WebFX, we offer two types of geofencing solutions for your business.
Competitor geofencing
When you choose our geofencing company, you can access our competitor geofencing services.
With competitor geofencing, we help you build a geofence around competitors to drive leads to your business.
Learn More About Our Competitor Geofencing Services
Addressable geofencing
Addressable geofencing helps you get more specific with your targeting. Instead of targeting a general area, you're focusing on specific lines on a map or particular properties. It allows you to create a hyper-targeted campaign that reaches up to one million addresses.
Learn More About Our Addressable Geofencing Services
How can geofencing solutions help my business?
There are many geofencing benefits for companies like yours.
Let's take a look at the five benefits of investing in geofencing solutions:
1. Geofencing solutions help you reach and bring in customers
Geofencing solutions are an effective method for helping you reach customers. As soon as users enter or exit your fence, you send them a notification, show them an ad, or add them to your remarketing campaign.
You reach them when they're near your business, which drives them to visit you.
It's one of the best forms of advertising because you're marketing to leads who are by your business. If you're offering a great deal, for example, you're enticing people to stop by your store and check out your products.
Geofencing with WebFX lets you remarket to your audience. When people enter your geofence, they get added to a remarketing audience. They will later see ads for your business when browsing online or using a mobile app.
2. Geofencing solutions help you build brand awareness
Geofencing advertising helps you build brand awareness.
When you send push notifications or serve display ads, you're reminding your audience of your business. Even if they don't visit your company right away, you're building their brand familiarity.
Building brand awareness is crucial for earning conversions now and later.
When leads are ready to convert, they remember your business and choose it over the competition. By using geofencing, you'll help build your brand and keep your company at the forefront of your audience's mind.
3. Geofencing solutions help you create a personalized experience for your audience
If you want your content to resonate with your audience, you must customize it. Your audience is oversaturated with content. If you want them to engage with your ads or notifications, you must create a personalized experience for them.
Geofencing marketing allows you to create tailored messages for relevant leads.
You don't need to send a template message to all your users. Instead, you can send customized messages to different groups interested in your business, so they receive information relevant to their interests.
4. Geofencing solutions help you stay within your budget
Geofencing advertising is a cost-effective ad strategy.
The best part about geofencing marketing is that your money goes towards leads with the most interest in your business. You're engaging with people who subscribe to your email list, attend industry tradeshows, or use your app.
These are people already interested in your business.
You can help nudge these leads towards conversion to earn more sales for your business. By using geofencing solutions, you'll put your ad budget towards leads more likely to convert and gain a better return on investment (ROI) for your efforts.
5. Geofencing solutions help you earn more conversions
Geofencing will help you generate more conversions because geofencing lets you reach people with the most interest in your company. It's a great strategy to get qualified leads, people in the door, and sales.
This strategy can help you with more than earning sales, though.
If you're aiming to get sign-ups or quote requests, you can use geofencing to complete these lead-generating actions, too. Geofencing is an excellent method for helping you earn the types of conversions you want.
FAQs about geofencing solutions
Learn more about geofencing solutions with our FAQ!
What is geofencing?
Geofencing is the practice of setting geographic boundaries using the global positioning system (GPS) and radio frequency identification (RFID).
You establish a virtual barrier, and when people enter that barrier, you can send them text messages, app notifications, social media ads, and emails. You can also add these leads to a remarketing audience and advertise to them after they leave your fence.
Where do you place a geofence?
You can place a geofence around your business, a competitor's location, tradeshows, conferences, and more.
Competitor geofencing is when you set up a fence around your competition. When people enter the fence, they'll get added to a remarketing audience. Later, a promotion from your company deters them from visiting your competitors and gets them into your door instead.
For example, let's say you own a coffee shop in a popular shopping area. You decide to build a fence around your competitor's shop, which is a few blocks down.
People walking through the area want to grab some coffee before they start shopping. They see your competitor's shop and decide to go there because it's convenient.
Later that night, they start seeing ads for your coffee shop. They see you're having a $2 large coffee sale. The following weekend, these people decide to check out your coffee shop and take advantage of your sale.
This process could get them to start visiting your business more and become recurring customers. Ideally, making this appealing offer to your audience gets them to choose your coffee shop over the competition.
How do you draw a geofence?
Now that you know the different types of fences, you need to know how to make a fence. When you set up your fence, you'll draw a virtual perimeter around your targeted location, like your business or your competitor's business.
Many companies will create a circle around their property or location. If most people walk to your location, you can set a range of 4-5 blocks. When your audience primarily drives to your business, you'll want to set a radius of 4-5 miles.
You aren't restricted to drawing a circle, however.
When you set up a geofence, you can create a polygon shape, for example.
Are there any stipulations to geofencing?
Users must enable their location on their phones to get messages when they enter your fence or become a part of your remarketing audience. Your company will only be able to send notifications and messages to people you know are in the area.
Time to Level Up Your Sales
Our long list of services helps you grow every aspect of your business with marketing strategies that are proven to increase bottom-line metrics like revenue and conversions.
In the past 5 years, we've managed more than 12.9 MILLION transactions across our client base.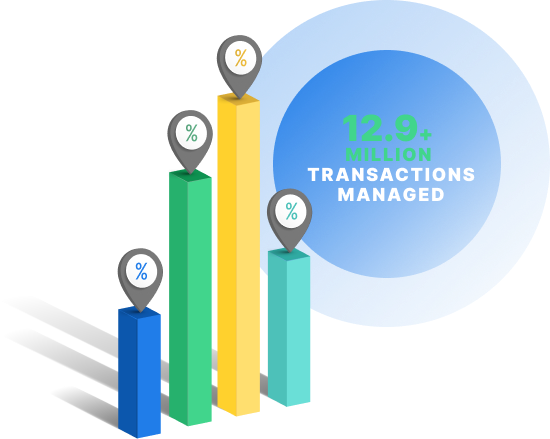 Invest in geofencing solutions from WebFX
Geofencing is an excellent strategy for helping drive more local leads for your business. By investing in this strategy, you'll help increase your sales by putting your business in front of more leads. At WebFX, we know how to create geofencing campaigns that drive results.
We're a full-service digital marketing company that specializes in geofencing solutions. Our team of over 500 experts will help you create an effective geofencing campaign.
If you're ready to see how a geofencing marketing plan can help your business grow, contact us online or call us today at 888-601-5359 to speak with a strategist about geofencing advertising plans.