Google Marketing Services That Help Your Business
Google is a dominating force on the Internet. It handled about two trillion searches in 2023, and this number only continues to increase each year.
Most people are familiar with Google because of their search engine or email service, Gmail, but they provide much more than that. They have many tools that help users find information online and help businesses manage their online presences. These tools are a great resource for any business looking to boost and monitor their visibility on the Internet.
Call 888-601-5359 to speak with a strategist about how WebFX can help you make the most of Google's digital marketing tools, or keep reading to learn more about what they have to offer for marketers.
Marketing-specific Google platforms
Although earning visibility in Google's search results requires search engine optimization, or SEO, they offer many other tools focused on helping marketers. These tools are most effective when combined with SEO, and not a replacement, but can help you more reach even more customers online.
Google Ads
Google Ads is the most popular pay-per-click (PPC) advertising platform available today. It lets advertisers place advertisements in Google search results for specific keywords so that when people search those keywords, the ads appear at the top of the page.
These keywords work on a bidding system. Once you identify the keywords you want to advertise for, you'll determine how much you're willing to pay for each click to your website for each keyword. Then, if your bid is among the highest, your ad will display at the top of search results for that keyword.
As the name implies, you only pay your bid amount when a user clicks on your advertisement. And as soon as you launch a campaign, you can immediately begin monitoring its success. Google Ads lets you see how your ad looks and the amount of traffic it is attracting.
This is a great Google tool for your business because you can choose the exact page you want your users to visit. You can direct searchers to the most relevant page on your site for each keyword, so they'll be more likely to find the information they want and convert.
As a result, you never have to worry about wasting your budget on users who scroll past your advertisement without reading it. You only pay when they actively show interest and visit your site — so with a well-executed campaign, Google Ads can be an excellent use of your marketing budget.
Google Trends
Google Trends is a great free resource to help you figure out which keywords your target audience is searching. As its name implies, Trends tells you what's trending around the world, and you can use it to see how user search trends develop over time.
Trends can show you how the interest in any given search term fluctuates and lets you compare search terms to see which ones generate the most interest. This can help you make informed decisions about the keywords you target in your SEO strategy.
You can also see the location of these searches. So if you're trying to reach users in a specific city or region, Trends can tell you how popular each search term is in that area. This is a valuable feature if you're trying to figure out how to target users by location.
Google Business Profile
Google Business Profile helps you get featured in search results and Google Maps. The service is a free way to get your business listed in search results and gives you the ability to update your listing to provide the newest information and updates to potential customers.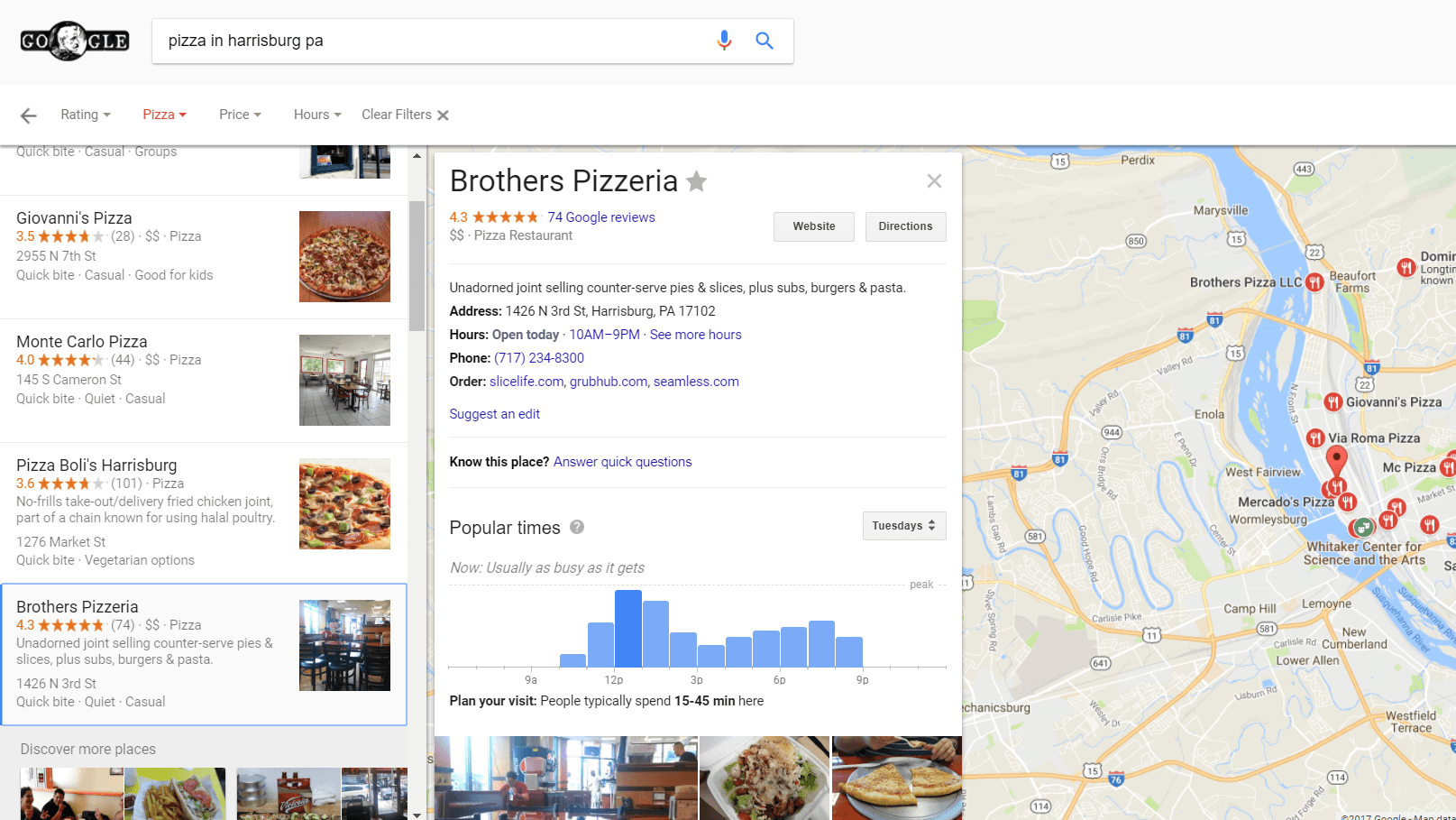 When people search for local businesses, Google provides a list of nearby results on a map. If your business is registered with Google My Business, it has the chance to appear in this list, above the rest of the search results.
These listings give users basic information about your business, including your address, phone number, and hours of operation.
Google My Business also allows users to post photos and reviews of your business. Many people write reviews — both good and bad — but others consult these listings to get an idea of whether to patronize a business they're considering. This gives you the opportunity to monitor what people are saying about your business online, and potentially respond to any criticism.
Google Analytics
Google Analytics is one of the most popular online analytics platforms today and is widely used by marketers and business owners. Analytics gives you a complete insight into your website and valuable data that can help you make informed marketing decisions, all entirely for free.
Analytics gives site owners insight into metrics like traffic, landing pages, bounce rates, conversions, and more. With some basic analytics knowledge, you can access all the information you need to evaluate your marketing strategy and make informed decisions moving forward.
You can also see how people find your site, which can help you evaluate your other marketing channels. For example, you can see how much of your traffic comes from your PPC ads, social media profiles, and organic rankings, as well as how many of the visitors from each channel convert. Analytics will tell you where your most valuable traffic comes from so you focus more of your efforts on those channels, or make it a priority to improve the others.
This is a great tool to see how people navigate your site. It offers great insight into your overall performance and is arguably the best free analytics platform available today.
Google Webmaster Tools
Considering how important your website is to your business, you'll want to know if there are any problems. Webmaster Tools can help you find and address any issues. There are many free tools within this platform that can help you gain insight into your site.
Webmaster Tools shows you how many searches your website appears for in search results, your clickthrough rate (CTR) for individual pages, which devices your audience uses to visit your site, and how your traffic changes over time. This information helps you learn where you can improve your website's visibility and make changes.
One of the best features of Webmaster Tools is the option to sign up for alerts. If there is something wrong with your website, Webmaster Tools will notify you of those issues. They'll let you know when errors are preventing people from visiting your website, which is extremely helpful for addressing problems as quickly as possible.
Time to Level Up Your Sales
Our long list of services helps you grow every aspect of your business with marketing strategies that are proven to increase bottom-line metrics like revenue and conversions.
In the past 5 years, we've managed more than 12.9 MILLION transactions across our client base.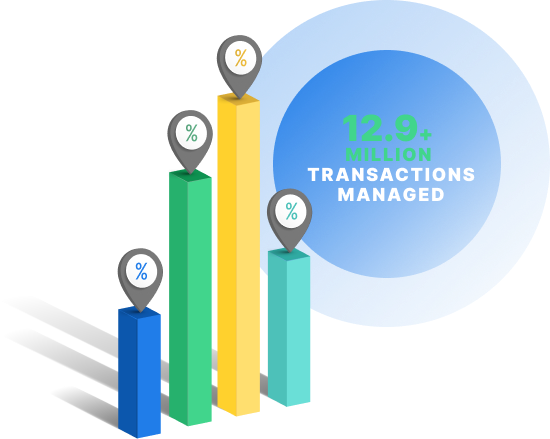 Other Google services for marketers
Google offers many marketing-focused services. If you are using any of them (or all of them), it can be difficult to keep up with them and constantly update them. Google has many great supplemental marketing services that will help you keep your marketing plan on track.
Google Alerts
Alerts allows you to monitor when certain keywords or phrases are used online. Many people are familiar with Google Alerts for personal use and set alerts for when online publications post articles using keywords they are interested in, or when information is published online using their name.
This is a great tool overall for your company. You can use to receive alerts if someone posts about you, your company, your products, or anything else related to your business. It lets you see what people are saying about a specific item or service and gives you the opportunity to respond.
Google Docs/Sheets/Slides/Forms
When you're working with a team, it's beneficial for everyone to be on the same page, but it can be difficult to share information in a way that's collaborative and allows everyone to work in the same versions.These Google features help teams stay organized and always work in the most current versions of a project.
If your company has a blog or frequently publishes content, Google Docs is a great way to write and share copy. Users can write their blog posts, share the document, and receive feedback from other members of the team. This makes the process simple and easy and avoids clogging up inboxes with back-and-forth copies of Word documents.
Sheets is a useful tool for tracking expenses. As you're working on your marketing plan, you want to make sure you're staying in budget and know where your money is going. You can use Sheets so everyone has an updated copy of the marketing expenses, and can add to it as needed.
With Slides, you can create effortless presentations and collaborate on them with multiple users. You don't have to worry about sharing a flash drive with massive files, and you can work to create presentations and make edits as necessary.
Finally, Google Forms is a great way to get feedback from customers. You can create questions to ask customers for feedback about your business and make it anonymous so people are more inclined to review your business. This is a great way to see how people respond to certain aspects of your business, whether it is customer service or the products themselves.

Google News
News is a helpful feature for figuring out things that are happening in your industry. You can use News to search topics related to your industry and see if any new or interesting trends are being covered by major publications.
This gives you the ability to capitalize on trends. If something new in your industry is trending, you can write a blog post about it, or simply share a link to an interesting article on your social accounts and ask for your followers' thoughts. By showing that you're up-to-speed with the latest news in your industry, you show your followers that you're a leader in what you do.
Want to make the most of Google's marketing services?
Google has many services to offer for marketers, and many of them are completely free to use. If you're looking for ways to simplify your marketing efforts and reach new customers, you may find success incorporating one or more into your workflow.
That being said, it can be overwhelming to sift through these options and determine the best ones for your business. And if that's the case for your company, WebFX can help.
We're a full-service digital marketing company and we offer comprehensive plans and services to fit your business. Our services include SEO, PPC campaign management, content marketing, email marketing, and much more.
When you partner with us, you won't get a generic plan. We know your business is unique, so we'll work with you to understand your needs and goals, and create a custom strategy tailored to them.
Contact us to speak with a strategist about how WebFX can help your company make the most of your online presence and reach more customers than ever before!