SMB Online Marketing for This Year: Your Executive Summary
Small-to-midsized businesses (SMBs) play a critical role in economies across the globe. In the U.S., for example, SMBs make-up 99% of the country's businesses — and many of these companies succeed because of online marketing.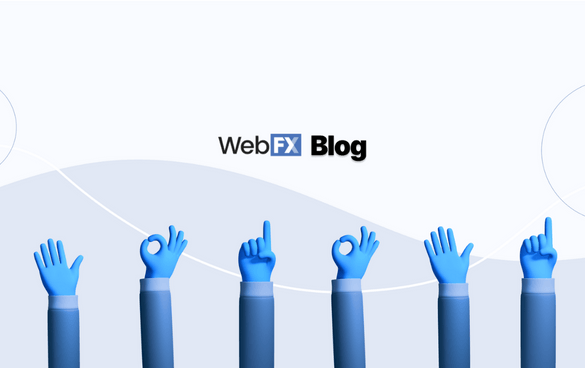 SMB
Home How Small Companies Can Challenge Big Competitors Online Attracting new customers can be difficult for any small business, but especially for those with large competitors. You don't have the resources that they do, and you certainly can't outspend them. […]
If your growing business wants to make the most of digital marketing, though, you need to remain up-to-date on the latest opportunities, challenges, and developments in Internet marketing. This guide can help, offering you an inside look at SMB online marketing.
Keep reading, and you'll learn about:
The current status of SMBs and digital marketing
The challenges in SMB online marketing
The strategies that work for SMB online marketing
Start your research on SMBs and digital marketing now! Or, if you're looking for professional help with developing, launching, and managing your SMB online marketing strategy, contact our SMB marketing company. You can reach us online or call us at 888-601-5359 to chat one-on-one.
What is SMB digital marketing?
Small-to-midsized business digital marketing, also known as SMB online marketing, describes marketing and promoting an SMB online. SMB online marketing can include various strategies and channels, like email, search, and social, and generally adapts to the unique needs of small and growing companies.
SMBs and Internet marketing
Before exploring the different online marketing challenges and opportunities for SMBs today, it's helpful to look at the current status of SMBs and Internet marketing. For example, is the Internet where most people find SMBs? Find out!
How do consumers find SMBs online?
Research shows that the Internet plays a vital part in helping people find SMBs. Check out these stats:

The top online channels that help people find and build relationships with SMBs include:
For proof, look at the following research findings for each channel:
Search
Social media
Email
Video
Paid
If you're looking to expand your SMB this year (and next), you'll want to investigate these channels. Each offers unique value and can help you support shoppers and business buyers in every stage of their journey, from awareness to purchase.
Which strategies do SMBs use for online marketing?
While paid, search, social media, email, and video all deliver value, their use in SMB online marketing varies. These differences in adoption rates happen for a few reasons, from limited advertising budgets to strained schedules.
For perspective, here are the usage rates for each strategy among SMBs:
| Strategy | Percentage of SMBs That Use |
| --- | --- |
| Search | 25% |
| Social Media | 61% |
| Email | 40% |
| Video | 55% |
| Paid | 87% |
How much do SMBs spend for online marketing?
How much companies invest in SMB online marketing varies tremendously, making it difficult to pinpoint an average digital marketing budget for small-to-midsized businesses. Around 55% of SMBs, however, spend less than $50,000 per year.
For more insight into SMB online marketing budgets, check out these research findings:
You can get more information about the cost of SMB digital marketing by looking at prices for online marketing services for small-to-midsized businesses. The average cost for these services, for example, is $2500 to $12,000 per month.
How much do services for the most valuable digital marketing strategies cost, though? Using the table below, you can see that SMBs pay from $750 to $10,000 per month for various online marketing services, like email or social media.
| SMB Online Marketing Service | Average Monthly Cost |
| --- | --- |
| Search | $750 to $2000 |
| Social Media | $4000 to $7000 |
| Email | $300 to $500 |
| Video | $1300 to $10,000 |
| Paid | $9000 to $10,000 |
If you're curious about how much your SMB should spend on digital marketing, consider the following:
According to the U.S. Small Business Administration, companies in the business-to-consumer (B2C) industry often have to spend more on marketing than organizations in the business-to-business (B2B) sector.
You can also use your revenue to gauge how much you should spend on marketing. The average is seven to eight percent of your gross revenue. You can adapt this amount to your company's operations and finances, though.
The 5 biggest challenges in SMB online marketing today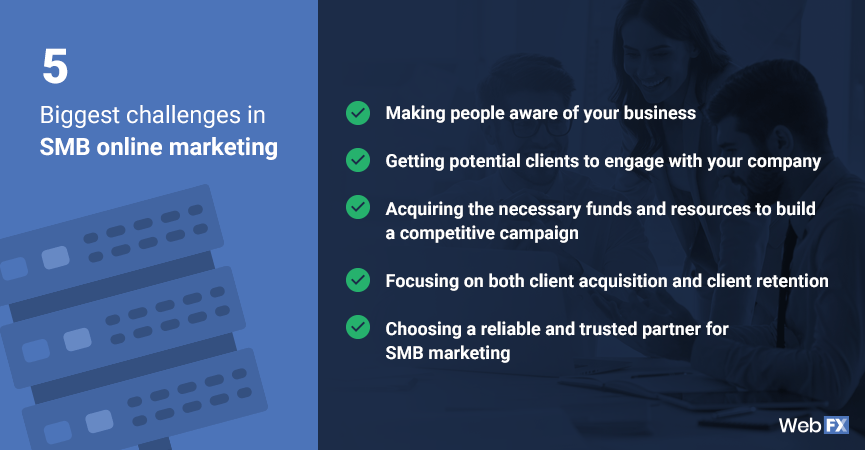 While digital marketing offers SMBs immense opportunity, it also comes with challenges. Compared to large organizations, SMBs can feel overwhelmed due to limited time, staff, and resources. Understanding these challenges (and how to overcome them), though, can make all the difference.
Learn more about the five biggest challenges in SMB online marketing today, and how to beat them:
1. Making people aware of your business
Marketing your company online offers a massive perk — you can compete with big-name brands. Strategies like paid online advertising, for instance, prioritize the quality of your ads, while search engine optimization focuses on the quality and user experience of your website.
Still, it's a challenge for SMBs to build brand awareness. A few reasons why include:
Time: Many SMBs don't have the time to dedicate to building and maintaining a marketing campaign full-time. You have a limited number of staff members, and it can seem daunting to hire another one, especially when growing slowly.
Noise: The Internet is a busy place. Whether you're marketing or advertising online, you must break through the noise to get your audience's attention. For many SMBs, it's a challenge to stand apart, especially when operating in a competitive market.
Experience: Depending on your background, you may have zero experience in online marketing. That can make investing in digital marketing nerve-wracking, as you need to spend time learning about the different strategies and techniques to succeed.
Your SMB can overcome this challenge, though. A few solutions include:

Micro-influencers: A partnership with a micro-influencer, or someone with 1000 to 100,000 followers on social media, can help you reach your audience without a hefty price tag. You can also easily capture the attention of users because they trust, listen, and watch these influencers.
Google Skillshop: A free resource like Google Skillshop can give your team the tools to succeed. While you will have to set aside the time to review the courses and exercises, they're free and offer advice critical to your success.
Consultants: A digital marketing consultant can help your business too. These consultants can provide advice and services on a per-hour or per-project basis, which can help you develop and launch a smart strategy for your company.
Remarketing: A remarketing advertising campaign can also assist with awareness. Your business can re-market your company to people that visited your site, for example, using a remarketing campaign. It's a powerful strategy for building awareness and securing new clients.
Agencies: A digital marketing agency, like WebFX, can also help your business. When you hire an agency, you get a team of experienced professionals to build and manage your strategy at a rate that beats hiring an in-house team.
Use the above tips to build a strategy for solving this problem of SMB online marketing.
2. Getting potential clients to engage with your company
In today's marketplace, SMBs also struggle with getting potential clients to participate. Social media is an excellent example of this issue, as many businesses try to encourage comments, likes, and follows from users.
A few reasons why SMBs struggle with this area of online marketing include:
Offer: Getting users engaged demands a compelling offer, one that benefits the user and amplifies a user problem. If you're asking people to take an action, but don't explain how it solves a user problem, it's easy for your efforts to fail.
Brand: For new SMBs, branding can prove challenging. You may not have an established brand, which can lead to mixed messaging. If a user can't connect or relate with your brand, you can't expect them to follow through and engage with your company.
Targeting: Using targeting can help your business in multiple ways. If you create too broad of an audience, though, or focus on extremely competitive keywords, you will not only struggle to reach your audience but also engage them.
Your business can avoid these missteps a few ways, like with the following solutions:

Research: Improve your SMB's online marketing engagement rates by researching your audience. Use social media, as well as forums, to learn about your audience and how they interact online. This research can lead to relatable offers and relevant copy.
Call to action (CTA): Give yourself the time to develop some compelling CTAs. Use your research to wordsmith a snappy offer that also demonstrates your understanding of the user's issue. Write a range of CTAs and experiment to see which one delivers the best results.
Personalize: A personalized approach across your marketing channels, from your website to your social media, can also help with engagement. Show your brand and make users feel special by personalizing their experience, whether with their name, location, or past behavior.
Overcoming low engagement can (and will) take time. If you want your company to grow and excel in the marketplace, though, you'll need to dedicate time to understanding your user base and building an experience that captures their attention and motivates them to action.
If you're still struggling, even with the above tips, considering chatting with a social media consultant or social media agency, like WebFX. We feature a team that specializes in social media and can help you discover where your social media strategy can improve.
3. Acquiring the necessary funds and resources to build a competitive campaign
Around 60% of SMBs rely on an in-house marketing team, yet many SMBs cite resources and funding as one of the biggest online marketing problems. If you find that budgeting for marketing in-house is an issue, you're not alone.
A few causes for inadequate funding and resources include:
Revenue: In some instances, your business may not have the revenue necessary to support more significant marketing initiatives. Remember, though, marketing helps grow your business. Make a reasonable investment in it, and you can help your company improve its revenue.
Support: A lack of support from company leaders can also result in a barely-funded marketing campaign. Marketing teams at SMBs need to help the organization's decision-makers understand the value and impact of online marketing.
Results: Failing to deliver results can also lead to smaller marketing budgets. This problem relates to experience. If your SMB doesn't have a marketing background, it's challenging to deliver a successful campaign. That's why researching and learning about marketing is essential.
If you're experiencing this online marketing problem for SMBs, you can try a few solutions, including:
Outsource: Around 40% of SMBs outsource digital marketing, whether to a freelancer, agency, or consultant. In most cases, outsourcing offers a cost-effective solution to SMB digital marketing. You access the talent and resources necessary, without the high in-house cost.
Educate: Marketers at SMBs can also educate company leaders about digital marketing. If your decision-makers don't understand a strategy, like SEO, they will have trouble understanding its value. Take the initiative to explain these tactics and answer their questions.
Measure: Tracking the return on investment (ROI) of your marketing efforts can help make them cost-effective too. If you notice an underperforming strategy, like an ad campaign, audit it and make changes to improve its return. Take a proactive versus reactive approach.
As resources and budgets are one of the most significant pain points of SMB online marketing, you'll want to think about how this problem impacts your business and its digital marketing strategy. Solving this problem sooner, rather than later, can help you make the most of Internet marketing.
If you're thinking about solving this problem with outsourcing, WebFX is a trusted choice for SMBs.
We feature an experienced and passionate team of more than 200 online marketers. Plus, we offer MarketingCloudFX, an advanced artificial intelligence software that measures your ROI and digital marketing performance automatically.
Make your workday easier and your marketing efforts better with the help of WebFX.
4. Focusing on both client acquisition and client retention
When it comes to marketing and advertising, many SMBs concentrate on building their client base, which makes sense. You want to grow your business. It's still important (and valuable), though, to focus on retaining your current clients and reducing your churn rate.
A few reasons that SMBs don't focus on both client acquisition and client retention include:
Goals: Most SMBs create goals that revolve around growth, like by driving x number of sales or achieving x amount of revenue. These goals, however, can push marketers and companies away from the clients that often bring the most financial value: Existing ones.
Product: Depending on your SMB, you may offer a product or service that doesn't promote a long customer lifecycle. SMBs, however, need to remember the value of recommendations. Create a happy one-time customer, and you may earn dozens from them talking about you.
Leadership: Company leaders can push client acquisition over client retention too. Their focus can impact every aspect of your marketing campaign, from its budget to its targeting to its strategy. While challenging, educating company decision-makers is essential.
You can counter this SMB online marketing challenge a few ways, including:
Reward: Giving your clients a reason to stay (or make another purchase) can help with client retention and acquisition, via word-of-mouth recommendations. Research your audience and use that information to find what would surprise and delight them, like an order discount.
Demonstrate: Showing the value of client retention can also help shift the focus of company leaders. Compile information about your customer lifetime value (CLV), as well as your marketing campaigns, to demonstrate the potential impact of focusing on retention too.
Coordinate: Building a coordinated client acquisition and retention strategy can also help bring focus to this critical area for SMBs. Your social media strategy, for instance, may use paid ads to reach future clients and organic posts to engage your current clients.
With these potential solutions, your company can start focusing on two critical areas. Increasing your client base, as well as improving your client retention rate, can help your SMB compete with competitors and grow.
Again, if you're having trouble solving this issue, an online marketing agency like WebFX can help.
In the past five years, we've helped our clients and their businesses earn more than $1.5 billion in revenue, as well as more than 4.6 million leads. These results are more than numbers, though. They're the foundation and fuel for companies to hire more team members, invest in new resources, and more.
With WebFX, you don't just market your SMB, you grow it.
5. Choosing a reliable and trusted partner for SMB online marketing
While many SMBs decide to outsource SMB online marketing, they often struggle to choose a reliable partner. When it comes to SEO services, for example, only 30% of businesses would recommend their provider.
Why do SMBs have trouble with finding an agency, consultant, or freelancer? A few reasons, including:
Budget: When searching for an online marketing provider, many SMBs come across agencies, consultants, or freelancers offering "cheap" services, and sign with them. Unfortunately, you get what you pay for in digital marketing. For many SMBs, that means subpar service and zero results.
Knowledge: Digital marketing is a whole new area for some SMBs. If you don't know much about online marketing, it's easy to fall for providers that offer low-quality services. They can't (and won't) deliver, which wastes your money and your time.
If you're outsourcing your SMB online marketing, you can solve this problem with the following tips:

Research: Before you sign with an agency, freelancer, or consultant, do your research. Learn about what services should include, as well as how much they should cost. Then, start requesting quotes and proposals from potential candidates.
Meet: Talking with a potential candidate face-to-face (or via phone or video) can help with finding a reliable provider too. See how they interact with you and your team, as well as how much interest they take in your business. Their actions can serve as indicators for how they'll treat your company.
Question: During the research and hiring process, you should also compile a list of questions to ask providers. These questions can range from their experience with your industry to their response to failure. Get insight into how a provider works for you before you sign with them.
Using the above tips, you can save your company time and money. You can also set yourself up for success, partnering with an experienced provider (like WebFX) that will take care of your team and help you grow your SMB.
BONUS READING: SMB Marketing Checklist
Learn more about SMB digital marketing
Want to learn more about SMB digital marketing? Check out some of our top articles on the topic:
Get better results from your SMB online marketing efforts
Online marketing offers your growing business immense potential.
With platforms like Google and Facebook, your company can take its products, services, and brand to the next level. For that to happen, though, you need a competitive online marketing strategy for your SMB.
At WebFX, our award-winning agency specializes in SMB online marketing.
In the past five years, we've helped our clients' companies attract more than 7.8 million leads, earn more $3 billion in revenue, and manage more than nine million transactions. Results like these are why more than 91% of our clients make us their long-term partner.
Start growing with Internet marketing by contacting us online or calling us at 888-601-5359 today!