What Are the Best Traffic Sources?
Monitoring analytics is absolutely essential for success with any Internet marketing strategy. Luckily, it's easy to access virtually all of the information you'd ever want to know about your company's website with tools like Google Analytics.
This information can help you not only understand how well your marketing strategy performs, but also how to improve it going forward. But for many marketers, it can be difficult to determine which information is the most important and what it says about their sites.
That's why it's no surprise that traffic sources cause confusion for many Google Analytics users. There are many ways that visitors can arrive on your site, and it often influences what they do once they arrive. So which is the most valuable?
On this page, we'll break all of these traffic sources down and explain the benefits of each. If you want to learn more, you can give us a call at 888-601-5359.
We foster and form long-term partnerships so that your business has long-term results.
Over 90% of WebFX clients continue partnering with us into year 2 of their campaign.
Hear from Our Happy Customers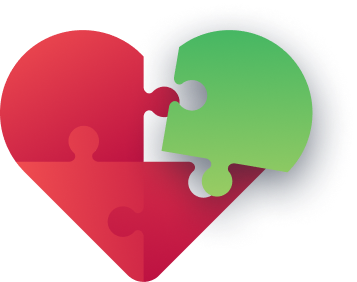 What are traffic sources in Google Analytics?
In order to see a full breakdown of your site's traffic sources, log into Google Analytics and navigate to Acquisition > Overview. There, you'll get an in-depth look at how visitors are arriving on your site.
The first thing you'll see is a pie chart representing how much of your overall traffic comes from each source.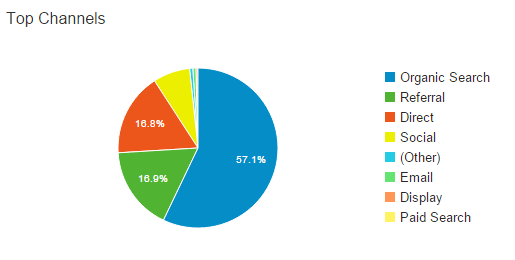 If the majority of your traffic is from one single source, it's probably the channel where you invest the largest portion of your marketing budget. That being said, the quantity of traffic from each source isn't really what matters – it's the quality.
The most valuable traffic sources for any site are the ones that attract visitors who convert. And although they can vary for different businesses, certain channels tend to attract more qualified visitors than others.
Organic search
Organic search traffic refers to all visitors who arrive on your site by clicking the organic results (not PPC ads) in search engines like Google. This means that they went to a search engine, typed in a certain word or phrase, and saw one of your pages as a result.
If your company uses search engine optimization (SEO) as one of your main marketing strategies, you should expect to see a large portion of your traffic coming from organic search. This indicates that you're not only ranking well for at least a handful of keywords, but that people are seeing your site in the results and clicking through.
Referral
Referral traffic includes all visitors who landed on your site by clicking a link on another site. If your company was recently written about on a popular blog and the author included a link to your site, for example, you should see at least a few referral visitors. The more authoritative the referring domain, the better,
Direct
Direct traffic is from visitors who came to your site by typing your URL into their browsers. In most cases, these visitors have been to your site in the past and return either to convert or continue learning about your company.
Social
Social traffic includes visitors who clicked links to your site on social media sites like Facebook or Twitter. If you use social media as part of your marketing strategy, you should expect to see a decent amount of traffic from this source.
Email
Email traffic refers to all visitors who click on the links in your newsletters and other emails. If you run email marketing campaigns (or even just have an RSS subscription set up for your blog), you should see some traffic from email.
Display
Display traffic is from users that click display ads on other sites. If you run ads using the Google Display Network, all of the visitors you attract from them will be counted in this source.
Paid search
Paid search traffic refers to all of the users who click on your paid advertisements other than Google Display Network ads. If you run ads using Google AdWords or Bing Ads, you should see some traffic from this source.
(other)
Traffic from the source marked (other) is from other marketing campaigns your company tracks using custom campaign parameters. If you've ever used Google's URL builder to track the results of a particular strategy, you can see the visitors who clicked on those links.
Which sources are best?
To put it simply, the best traffic source for your company is the one that generates the highest percentage of conversions – and it can vary for individual businesses.
That being said, organic search traffic is preferable for most. The visitors who arrive on your site by actively searching for products or information are more likely to be engaged with your content and stick around than those who clicked on an ad while doing something else.
However, organic visitors aren't necessarily the only ones who found your site while looking to buy – visitors from paid search often arrive on websites after seeing their ads in search results. In this case, these visitors may actually be closer to converting than organic visitors, because many of them were well aware that they were clicking on a paid advertisement.
Traffic from email is also valuable, because those visitors have already indicated interest in your company by subscribing to a newsletter or some other form of communication. If they were willing to give you their email address and opt into hearing from you, they're already a quality lead.

Of course, this isn't to say that the other sources aren't valuable. A visitor can arrive on your site from almost anywhere and still be a potential customer.
But if you're trying to figure out where to focus your efforts, visitors from organic search, paid search, and email are some of the most valuable for any business.
Want to start making the most of your site traffic?
At WebFX, we have experience working with clients in a variety of industries to attract traffic from all of these sources. And more importantly, we have experience helping them convert that traffic into customers.
If your company is ready to start making the most of your online marketing strategy, we'd love to help. Contact us today to speak with a strategist!
Earn a 20% greater ROI with WebFX