With Amazon's continued dominance of the ecommerce market, it's no surprise that retailers are reevaluating their digital advertising and marketing strategies, which often focus on Google. That is why Google Shopping versus Amazon is becoming a hot topic for online retailers. Which is best for increasing your revenue and online visibility?
Keep reading to find out!
What is Google Shopping?
Google Shopping is a paid advertising platform that allows retailers to promote their products to consumers. Plus, it helps shoppers find relevant products to their search queries. It's a win-win situation.

If someone searches, "white tennis sneakers," for example, Google Shopping displays a series of relevant products. Users can then use filters to narrow their results by size, color, brand, price, and even seller.
The first step to increasing your SMB's Amazon sales is getting a FREE proposal.
One of our experts will be in touch within 24 hours!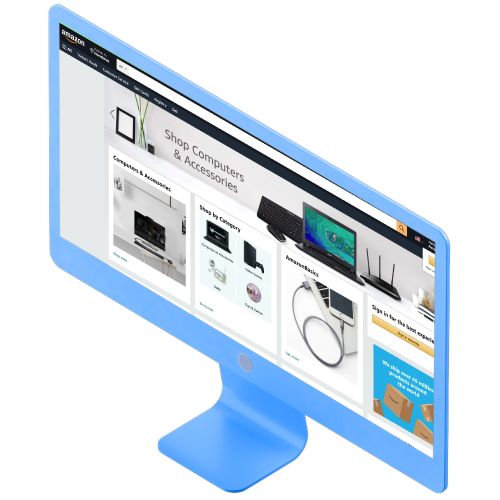 What is Amazon?
Amazon is an ecommerce website the features a wide array of products.
These can include products sold by Amazon, as well as other retailers. Like Google Shopping, Amazon features paid advertising options, including Sponsored Product Ads.

If someone searches, "white tennis sneakers," for instance, Amazon also displays a series of relevant products.
While Google Shopping focuses 100 percent on paid or promoted product listings, Amazon also includes organic product listings. Now, ready to dive into the Google Shopping versus Amazon debate?
6 things every retailer should know about Google Shopping vs. Amazon
For ecommerce stores, Google Shopping and Amazon each offer value. With the increased presence of Amazon in advertising, however, there are several things that retailers need to know about these two platforms. Here are the six most important things you should know about Google Shopping versus Amazon:
1. Google Shopping decides when your product appears in search results
While the average retailer credits Google Shopping for generating most of their website orders, you are at Google's mercy when it comes to your ad's display. Unlike Amazon — or even Google Ads — you can't specify the keyword you want to target in Google Shopping. If you sell white tennis sneakers, for example, you can't create an ad group that targets keywords related to that product.
Instead, you rely on Google to display your ad for relevant searches, like, "white tennis sneakers," or, "white canvas tennis shoes." Google uses your product title, description, and category to determine when to display your ad. So, while you can optimize your listing for certain keywords, you don't have the same control that Amazon's advertising services offer. For example, if you're creating a Sponsored Brands advertisement on Amazon, you can use manual targeting to list keywords that would make your ad appear in search results.
Plus, you could optimize your product listing for those high-value keywords. In short, if you want maximum control of your ads, Amazon is the way to go.
2. Amazon uses several types of advertisements to reach shoppers
While advertisements from Google Shopping display across Google's various platforms, like YouTube, Amazon offers variety in the appearance of your product ads. You can choose from Sponsored Products Ads to Sponsored Brands to Product Display Ads. The appearance and placement of these ads in Amazon search results can help you reach your target shopper.
For example, a Sponsored Brands ad dominates search results on Amazon — it's the first thing users see.

Meanwhile, Product Display Ads, reach consumers looking at a similar or alternative product. With these kinds of advertisements, you're connecting with users as they shop, not while they're watching an unrelated video.
The versatility of Amazon ads is useful, especially if Amazon is your prime channel for product orders.
3. Google Shopping offers access to shoppers in more than 35 countries
In the Google Shopping versus Amazon debate, however, Amazon doesn't match the reach of Google Shopping. With Google Shopping, you can reach consumers in more than 35 countries. With Amazon, you can only advertise to users in 10 select countries.
Countries that both platforms reach include:
Canada
France
Germany
India
Italy
Japan
Spain
U.K.
U.S.
For some businesses, this difference in reach may not matter. If you only ship to the U.S., Canada, and U.K., for instance, it doesn't matter that Google Shopping can reach users in Brazil, Japan, or Australia.

What if your target audience is in China, though?
Unlike Google, which China's Internet blocks, Amazon can advertise to shoppers in China. That is a massive win if your target shopper resides in China. Google Shopping, however, offers similar wins if you're targeting audiences outside the reach of Amazon ads.
As a result, it's critical to consider the demographics of your audience when comparing these platforms.
4. Amazon has a lower average for CPC
While Amazon and Google Shopping both operate on cost-per-click (CPC) models — note, Amazon's display and video ads have an upfront cost of $35,000 — they vary in their average CPC. The difference is significant too. For the ecommerce industry, Google's average CPC is $1.16.
In comparison, Amazon has an average CPC of $0.77. While that's only a difference of $0.39, it adds up. For example, if your ad receives an average of 75 clicks per month on Google Shopping, that's $87 a month — or almost $1045 a year.
If your Amazon ad earns the same number of clicks, that's $56 a month or $672 a year. That's a difference of almost $400. If you saved that much on your advertising efforts, you could reinvest it into your pay-per-click (PPC) campaign. That could lead to more clicks, more purchases, and more revenue for your ecommerce store. As Amazon takes credit for more than 40 percent of online sales, its lower CPC is a big bonus in the Google Shopping versus Amazon debate.
5. Google Shopping increases brand visibility and awareness
A win for Google Shopping? It increases your brand's visibility and awareness among shoppers. While Amazon's Sponsored Brands include your company's name, it does so in a tiny font.
Other Amazon advertisements, like Sponsored Products, don't include the name of your business at all. Instead, Amazon prefers that companies incorporate their brand name into their product titles.

Google Shopping, however, displays your business' name.
The name of your brand appears below your product image and title in a green-colored font. It's easy for users to spot, which can help them remember your company. If you're focused on growing your brand awareness, however, it's worth considering other digital marketing channels.
With Google Shopping and Amazon, you want to drive sales and see immediate results — that's why you're paying to advertise your products. In comparison, brand awareness focuses on more of a long-term, ongoing return. That's why another channel, like social media, can offer better and more cost-effective results when it comes to building brand awareness.
So, while Google Shopping offers value for brand awareness, it's not what the platform is really for — it's for an immediate improvement to your bottom line.
6. Amazon reaches audiences with a high-purchase intent
Amazon and Google Shopping focus on audiences that are ready to buy. Amazon's share of the ecommerce market has reached 50 percent, however. That is a massive amount, emphasizing that when people shop, they do it at Amazon.
While Google Shopping can still help you reach consumers in your target audience, Amazon offers access to more of them. It also appeals to user behavior, which is to go to Amazon to find and buy a product. It's another reason in the Google Shopping versus Amazon debate that emphasizes Amazon's growing importance in the advertising market.
Just as Google is the go-to hub for searching, Amazon is the place for shopping.
Partner with a team of ecommerce masters!
WebFX campaigns have delivered more than 12,936,451 ecommerce transactions in the last 5 years
Read the Case Studies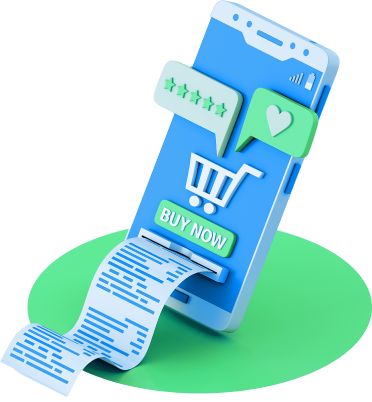 Want to learn more about promoting your ecommerce store?
Looking for advice about how to push your product orders to an all-new high? Get the inside scoop about how to advertise on Amazon, as well as Google, by becoming a member of our popular newsletter — sign up at the top and start receiving exclusive content today!
WebFX Careers
Join our mission to provide industry-leading digital marketing services to businesses around the globe - all while building your personal knowledge and growing as an individual.