Cutting-edge web design is vital for telehealth companies today.
Your site provides you with an online location where your customers can find valuable information about your telehealth business. Your website should also give them the push they need to convert to your services.
Read on to learn six best practices for web design for telehealth, as well as the remarkable web design services WebFX offers for your business.
Ready to get started? Contact us online or call us at 888-601-5359 to learn more about what our talented team of web designers can do for your telehealth organization!
6 best practices for incredible web design for telehealth sites
Your website is your telehealth brand's home on the Internet. Like any storefront, you want it to be clean, presentable, and well-organized so your customers feel right at home.
Follow these six web design best practices to craft a website designed to convert.
1. Craft a professional design that fits your brand's style
As a telehealth brand, you shouldn't just pick any old web design. In fact, 38% of people stop engaging with a website if they consider it unattractive.
Your design should appear professional and clean to appeal to your potential clients. You want to give them confidence in your brand when they see your site.
Create a professional web design by:
Using white space: White space is a design element that often gets ignored when it comes to site design, but professional web designers swear by it. White space offers several benefits, like enabling you to organize elements on your site and guide your audience's eye to important elements on your site.
Utilizing engaging images: Images help make your site more visually appealing. They can also give your audience a feel for your brand's personality. Use custom images instead of stock photos to give your site a more personable, human feel.
Choosing a suitable color scheme: Your color scheme is just as important as any other part of your site. Many clients will recognize your telehealth company based on your color scheme. Take some time to study the psychology behind colors when choosing your telehealth palette.
2. Create easy-to-use navigation
The best web design for telehealth allows your audience to navigate quickly and efficiently around your site to locate helpful information and learn about your services.
Your navigation should be intuitive and organized. You'll want to include standard tabs on your navigation like:
Home
About us
Services
Contact us
You don't have to stick to the standard format of "About us" or "Services." You can make your tabs more engaging, similar to California Telehealth Network, whose primary tabs include:
Home
Who we are
Who we serve
What we offer
What we're learning

Each tab under the mains contains a drop-down box that provides users with additional information.
With smooth navigation, you'll help clients find information faster and keep them on your site longer.
3. Incorporate responsive design
It is vital for telehealth web design to be fully accessible on mobile devices because more than 50% of internet traffic today uses mobile to access websites online.
Responsive web design incorporates flexible layouts that adapt beautifully to any device. Responsive elements will scale no matter the screen size.
Your telehealth site doesn't have to look exactly the same on all devices. You can choose elements that give your audience the best user experience to show on mobile devices.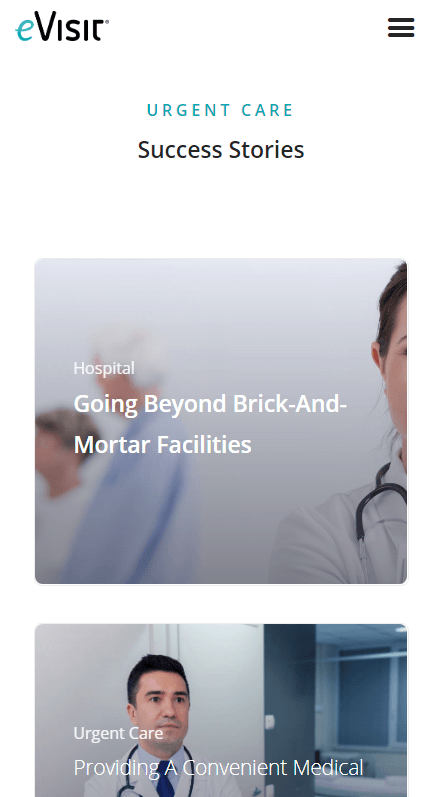 Telehealth sites with responsive design help provide your customers with a consistent patient experience across devices, which enhances your site's usability, convenience, and ability to meet your user's needs.
Try out these tips to incorporate responsive design:
Incorporate a fluid grid into your site's code
Optimize your images to scale
Choose elements that work on all devices
Use a premade responsive website template
Hire a web design agency with responsive design services
4. Ensure your website loads fast
Did you know that over half of web searchers won't wait more than three seconds for a page to load before abandoning it for another site?
Fast loading websites deliver a better user experience, which keeps leads on your page longer. These clients will spend more time getting to know your telehealth practice.
Your website needs a rapid load speed, so users can get information fast. You can check the speed of your telehealth web design using Google's PageSpeed Insights tool to see how your site currently loads and how you can fix issues.
To improve your load speed, spend some time:
Identifying and compressing heavy elements on your page, like images or videos
Auditing your current server configuration
Optimizing your HTML code
And if you're too busy, you can get page speed services from a top digital marketing company!
5. Include visuals in your design
Visual elements encourage users to interact with your telehealth site and connect with your brand. When you add visual elements, you help improve brand awareness and boost conversions and sales.
Adding visual elements provides the perfect opportunity to demonstrate your services, highlight your team, and help explain complicated concepts easily.
Use these visual elements to boost your telehealth site's engagement:
Images: Images are the simplest form of multimedia, but a well-placed image within your content can be an extremely effective means of engaging with your audience.
Videos: With video production, you can create valuable videos that provide helpful information, explain complex topics, or provide insight into your services or team.
Infographics: Infographics are a great way to illustrate processes, break down facts, or organize statistics. Use quality infographics to present complex information in a visually appealing format.
6. Use accessible calls to action (CTAs)
Calls-to-action (CTAs) provide one of the best methods of encouraging visitors to your telehealth site to convert.
Having robust, actionable CTAs throughout your telehealth web design will guide audiences towards the next step in the conversion process.
CTA buttons should use colors that stand out on your page and from the rest of the elements on your telehealth site.

For telehealth, your CTAs should hint at what to do next, so be specific when you create them. For example, instead of just saying, "Click Here," say, "Click Here to View Our Services."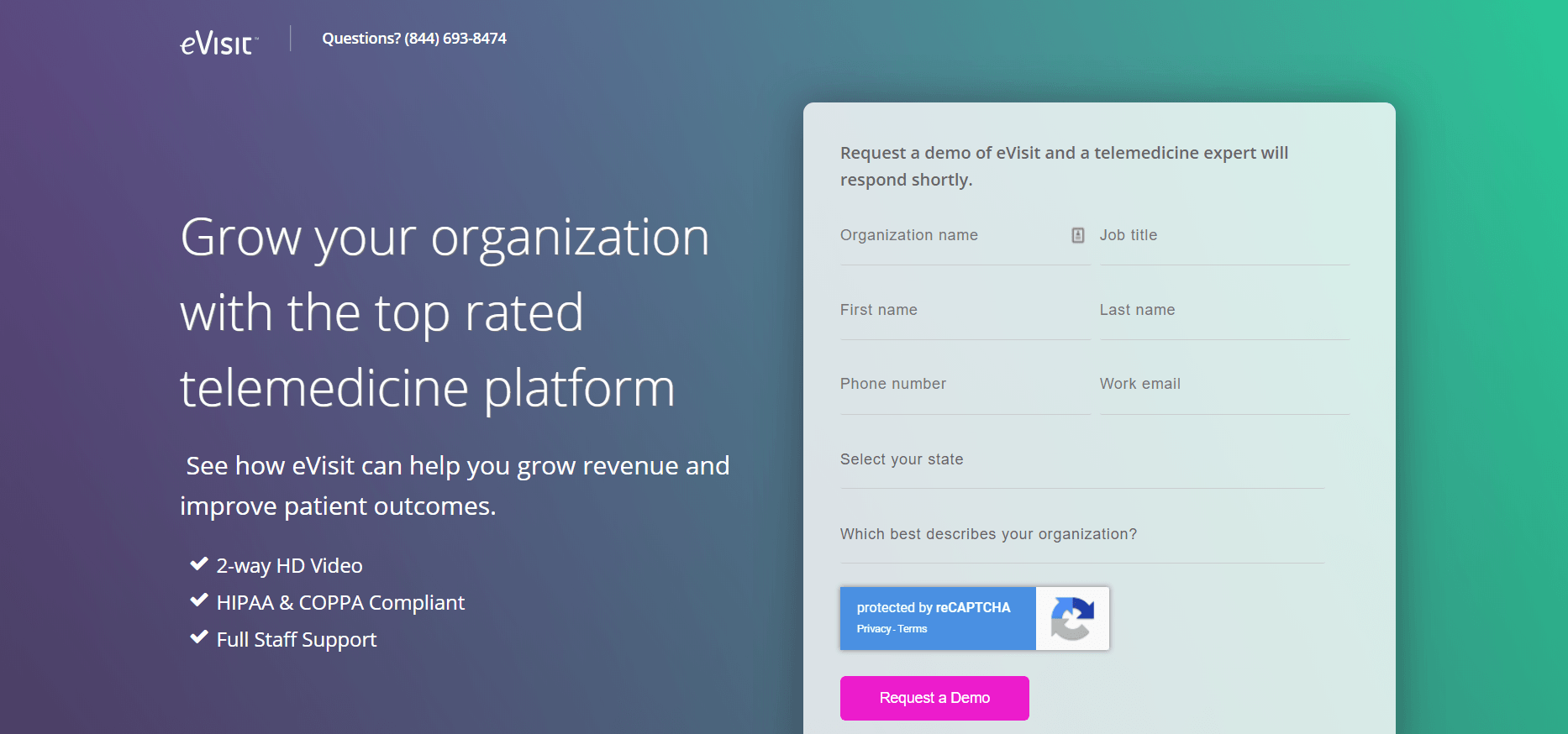 Hear What It's Like to Work With WebFX!

"WebFX gets it done! They've done a great job working with our changing vision and goals, and their turnaround times are wonderful. All staff are professional, timely, and friendly."
Healthcare
Quality web design services from WebFX
At WebFX, we offer quality, custom web design services to fit your budget. We offer a wide range of website design services perfect for your telehealth agency, including:
Need a web design for telehealth fast? Our proprietary software, RainmakerFX, will help you build a telehealth website in 30 days!
Partner with WebFX for all your web design and digital marketing needs!
When you partner with WebFX, you'll gain access to our team of award-winning web designers through a dedicated point-of-contact who will help you manage all aspects of your website marketing.
Our team of over 500 digital marketing specialists is qualified to handle all your website needs, from SEO and content marketing to website user experience analysis that helps enhance your web design.
We always endeavor to drive revenue and leads for our clients with our custom website marketing services. Just in the last five years alone, we've driven $3 billion in revenue and 7.8 million leads for our clients.
Check out our amazing web design portfolio!
Contact us online or call us at 888-601-5359 to learn how we can help you craft a website design for your telehealth practice that enables you to earn new patients!
Earn a 20% greater ROI with WebFX