Did you know that 80% of local searches result in conversions?
Between search engine optimization (SEO) and pay-per-click (PPC) ads, you can increase your chances of earning those local conversions. If you're looking to take your presence further in the search results, Google Local Services ads for cleaning services can help you earn more conversions.
In this post, we'll cover everything you need to know about Google Local Services ads and provide you with three benefits of investing in these local ads.
If you want to learn more about Google Local Services ads, contact us online or call us today at 888-601-5359 to speak with a strategist about our local advertising options.
What are Google Local Services Ads?
When you search online for local services, you may notice a block of three featured companies that include:
Business name
Star ratings
Hours of operation
Phone numbers
Other important information, like years in business
If you see these boxes at the top of the search results, you're looking at Google Local Services ads.

These ads appear in the search results when users search using a zip code or city. Users will see the list of three businesses and can click on each of the listings to find more information. By clicking on a listing, users get extra information about a company.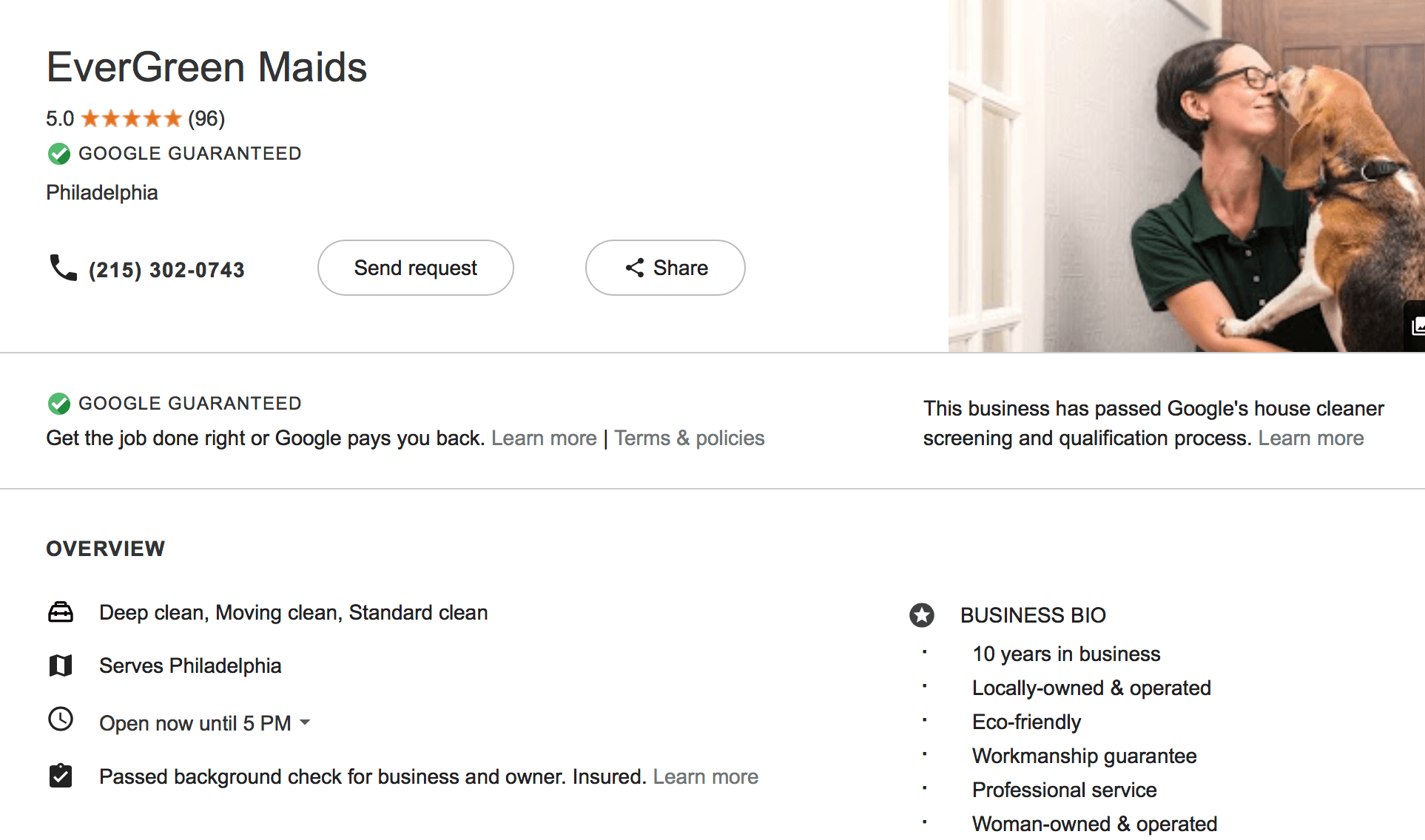 In this example for EverGreen Maids, the searcher sees that this business is eco-friendly and locally owned and operated. People can also look at Google reviews for this business. If they like what they see, they can call to request more information about the company's cleaning services.
These ads are simple and easy to use. They provide an excellent opportunity for your cleaning business to attract more valuable leads that convert.

Hear What It's Like to Work With WebFX!

"WebFX has helped our company understand SEO and how it works. We have been impressed by the thoughtfulness of the team members and their communication is above reproach. Also, Basecamp is neat to see how our project is progressing. Really this company is about educating through the process which we appreciate."
Cleaning Service
FAQ: Google Local Services ads for cleaning businesses
Let's look at some common questions about Google Local Services ads for cleaning companies.
Are Local Services ads and PPC ads the same?
No! These advertisements are two different types of ads. They operate differently and have different intentions.
PPC ads have multiple purposes. You can use PPC ads to increase brand exposure, boost site traffic, earn leads, and gain conversions.
With Local Services ads, the focus is solely on getting leads to contact your business. There's no link to your website, so the focus is on getting phone calls, appointments, or emails to book services.
Another big difference between these ads is the payment. With PPC ads, you pay each time someone clicks on your ad. You pay this amount regardless of whether someone stays on your ad for 10 minutes or leaves immediately.
With Local Services ads, you only pay when someone contacts your business. You pay when users call or email your company, but you won't pay if someone only views your ad.
Overall, it's best to use these strategies in conjunction with one another. Not every search will drum up Local Services ads. For search results that don't, you'll still have a PPC ad in place to attract users.
Additionally, there is a chance people will miss or skip over the Local Services ads. If you also run a PPC ad, you'll catch leads that miss your local ad. It's a great way to drive more leads for your cleaning service business.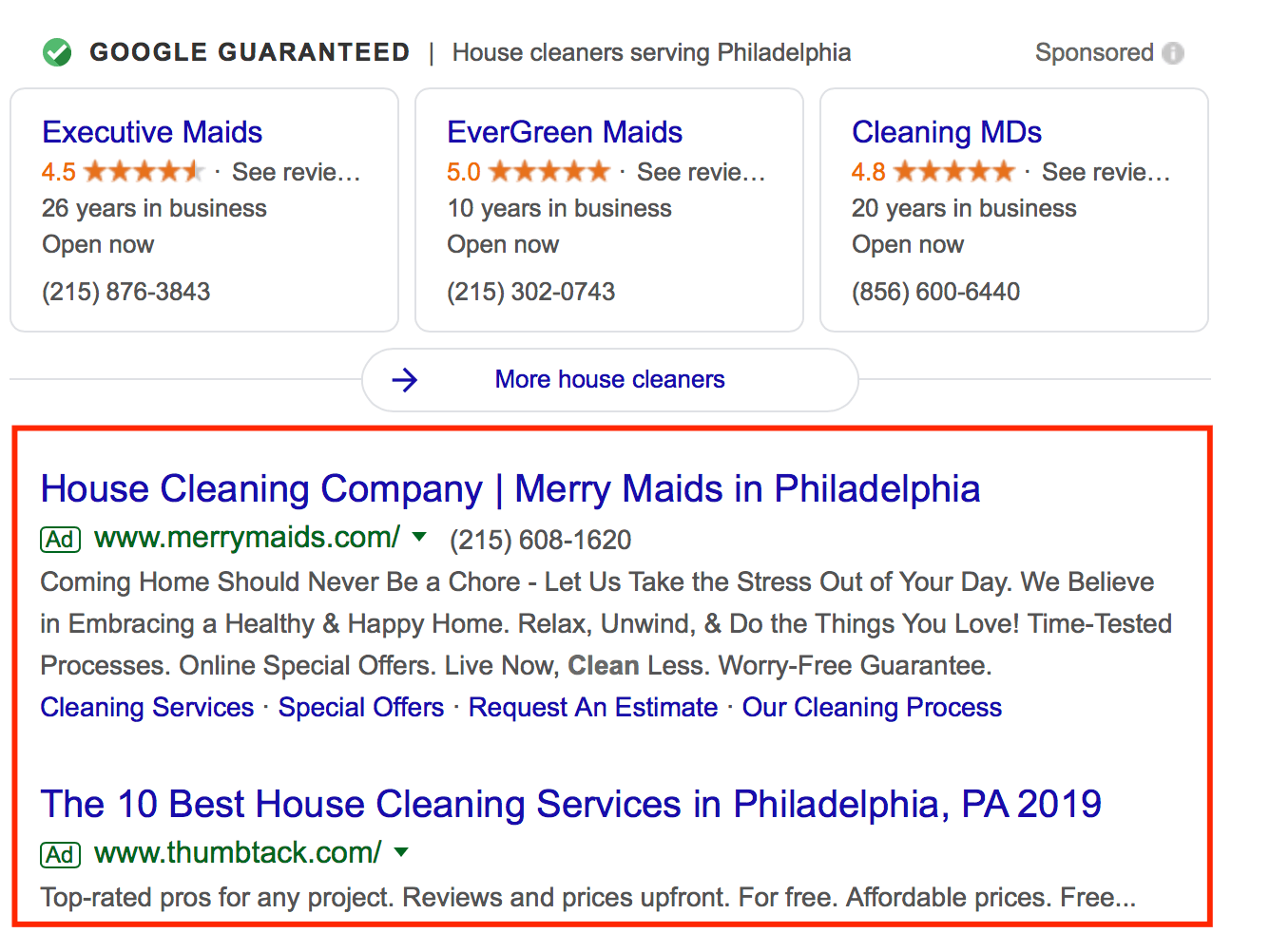 Are there limitations to Google Local Services Ads?
Yes. Google Local Services ads cater to businesses in specific categories. Some of the industries that can run these ads include:
Cleaning services
Locksmiths
Plumbers
Electricians
Garage repair companies
These ads focus on businesses that offer services that people need. As a cleaning service company, you'll have free rein to run Local Services ads for your company.
What is the Google Guarantee program, and how do I get a badge?
When you look at Local Services ads, you'll notice that some listings have a green badge.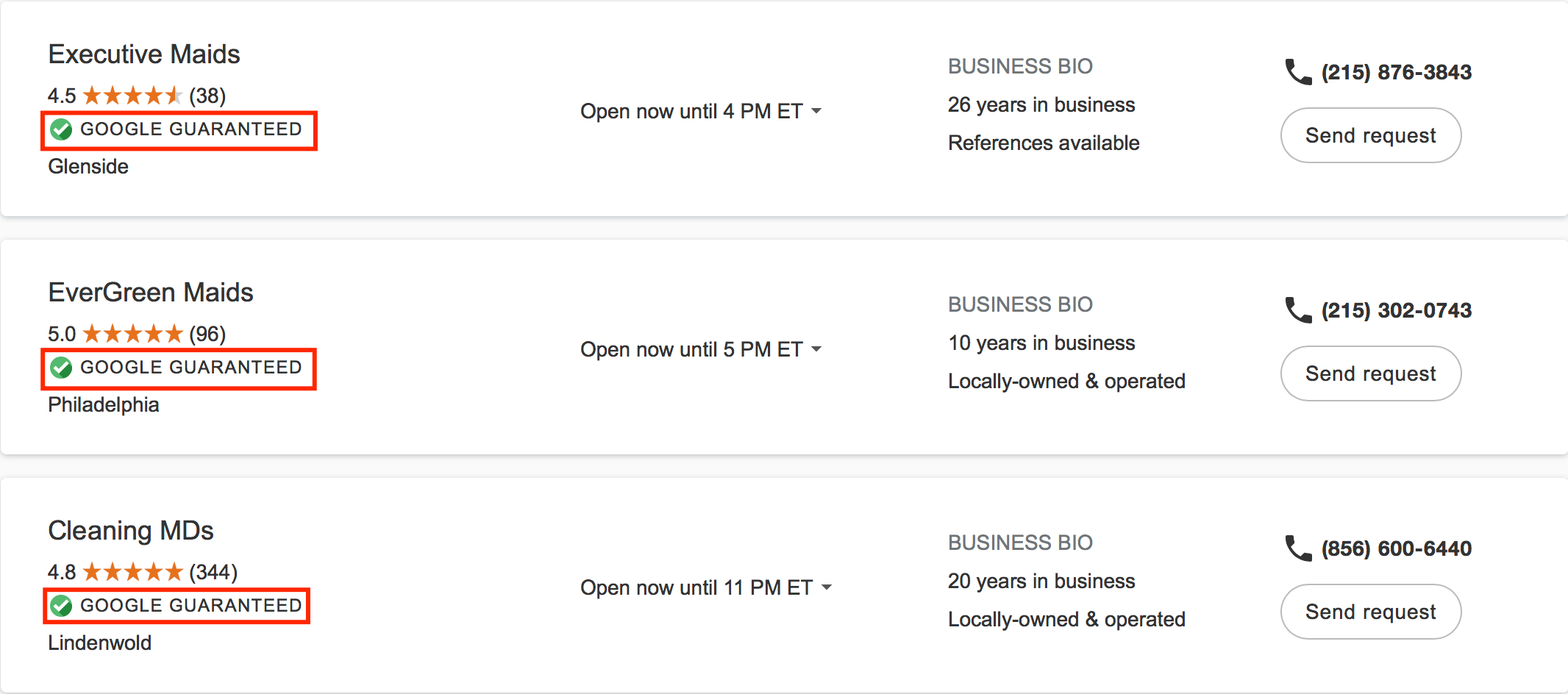 This green badge is an important signal of trust. To get this badge, Google must vet your company. Google conducts a background check, verifies your licenses, and ensures you have insurance.
If you pass Google's vetting process, you'll get your badge.
When you're a part of the Google Guarantee program, users feel confident that your business will do a good job. People trust Google, so having a badge that signifies Google vetted your company makes people more inclined to use your services.
An essential part of the Google Guarantee program is reimbursement for clients. If someone hires your company and doesn't like the work you did, Google will refund them up to $2000 for the job.
If you do great work, you won't need to worry about people submitting for reimbursements. Instead, the badge will reflect your company as a qualified expert that does great work.
Our digital marketing campaigns impact the metrics that improve your bottom line.
See More Results

WebFX has driven the following results for clients:

$3 billion
In client revenue

7.8 million
Leads for our clients

5.2 million
Client phone calls
How do I set up Google Local Services ads?
Google Local Services ads are simple and easy to set up. You'll follow three steps:
Sign up: First, you'll sign up as a provider. Tell Google the services you offer and your business's location. This information helps you show up in relevant search results.
Set your budget: Next, you'll set your budget for how much you want to spend on these ads. Take the cost per contact into consideration when you're running these ads. A $500 budget with a $10 CPC will only get you 50 leads, but a $2000 budget with the same CPC could get you 200 leads.
Launch your ads and take control: Finally, you'll launch your campaigns and start attracting new leads. Google gives you control over when you run your ads, so you can start and stop them as you need.
By following these three easy steps, you'll get your Google Local Services ads up and running for your cleaning service business.
Why should my cleaning business use Local Services ads?
When you're investing money into a marketing campaign, you want to know how it benefits your business and helps you grow. Let's take a look at three big reasons to invest in Local Services by Google.
1. You only pay for leads that contact your business
Google only makes you pay when someone contacts out to your business through your ad. If someone clicks on your ad to learn more information, you won't pay for that person.
You only pay when someone:
Calls your business and speaks with someone on your team
Calls your business and leaves a voicemail
Sends a text message
Sends an email
This setup means you're only paying if someone is interested enough in your business to call and get more information or book an appointment. It allows you to get more out of your budget when you only pay for reputable leads.
2. You build trust with a Google Guarantee badge
With dozens of providers available, many people have trouble narrowing their focus on a few viable candidates. They can comb through reviews to get a sense of the business, but what happens if a few companies have similar ratings? That's where the Google Guarantee badge helps.
By having this badge, you send a signal of trust to your audience. They know Google vetted and backs your business. Since they trust Google, they feel confident that they can trust your business also.
If you use Google local services and have a Google Guarantee badge, you'll put yourself ahead of competitors that don't have an ad or badge.
3. You gain more visibility in the search results
You want as many viable leads as possible to find your cleaning services business. Maximizing your online presence allows more people to discover your cleaning services and look into hiring your company. Google Local Services ads help you increase your visibility in the search results to reach more interested leads.
If you're already using SEO and PPC, Google Local Services ads are the icing on the cake. You can create one more opportunity to expose your brand to viable customers. Not to mention, your local ad will appear at the top of the search results, above PPC ads and SEO listings!
By investing in Google Local Services, you'll help your business increase exposure and drive more leads to contact you about your cleaning services.
Time to Level Up Your Sales
Our long list of services helps you grow every aspect of your business with marketing strategies that are proven to increase bottom-line metrics like revenue and conversions.
In the past 5 years, we've managed more than 12.9 MILLION transactions across our client base.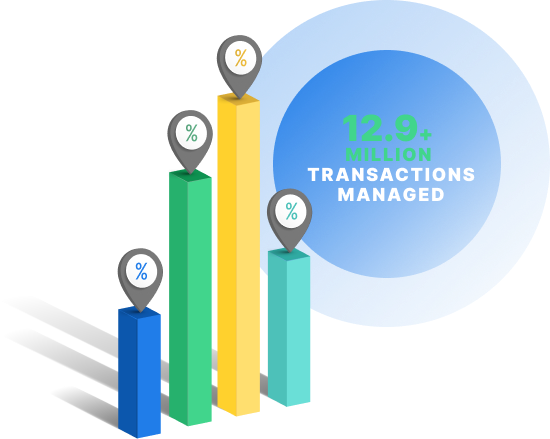 Get your Google Local Services ads up and running today
Investing in Google Local Services will help your cleaning service attract more reputable leads. You'll fill your schedule and keep your business busy with a steady flow of new leads. Google Local Services ads will help you attract more local customers for your cleaning service business.
Not sure how to get started? Turn to a team of over 500 local marketing experts that can help you create stress-free Local Services ads that help you grow your business.
Contact us online or call us today at 888-601-5359 to speak with a strategist!
Earn a 20% greater ROI with WebFX