Recently, Google discovered that locksmiths and plumbers in the San Francisco area were abusing home service ads. As a result, Google announced a new verification process that shows whether a company is "Google guaranteed" or not. This process will allow businesses to stand out and showcase their credibility in comparison to competitors who aren't verified.
Below you can view what users will see in the search results.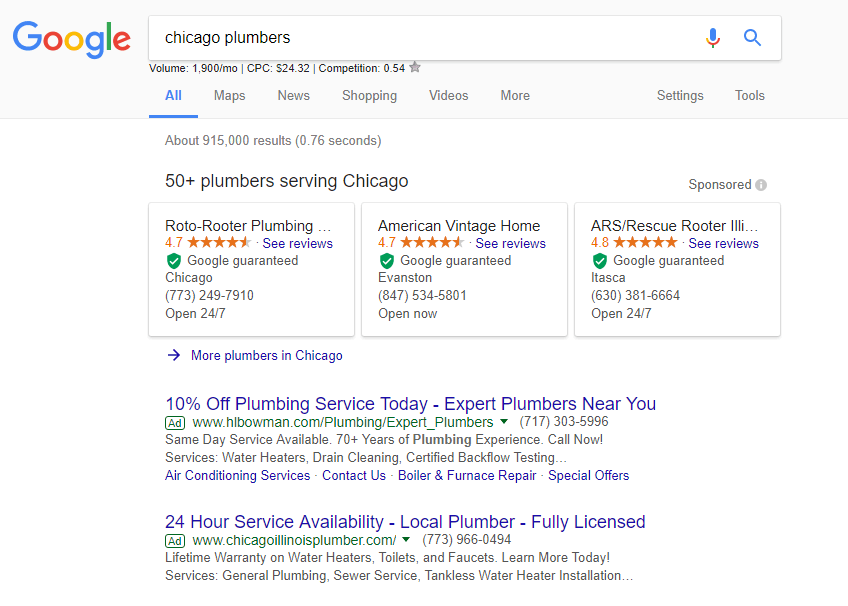 This new advanced verification process can be the deciding factor between which company receives a person's business and which doesn't. If you searched Google for a plumber and didn't recognize any of the company names that appeared, you'd call the one verified by Google over the one that wasn't.
It's that simple. When a person clicks on a company that's Google guaranteed, they're taken to the home service ad for the business, which includes more detail about the value of being Google guaranteed. This increases the company's credibility even further.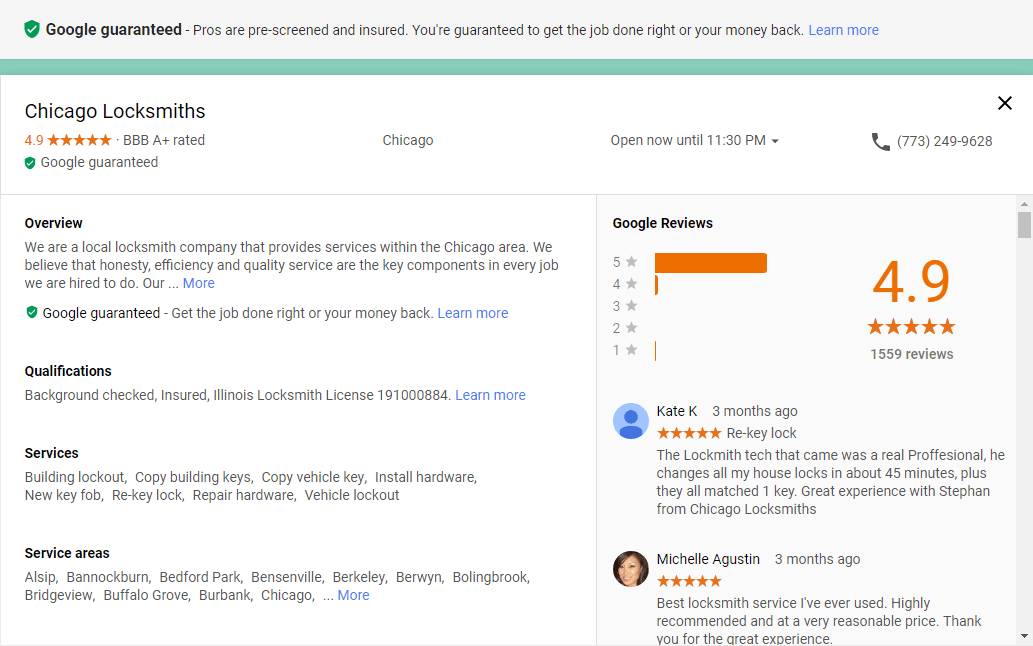 Being Google guaranteed is attractive to customers because it means the companies have been pre-screened and insured. It also means that the company will do the job correctly or refund the customer.

If you don't have your home service company Google guaranteed, you are essentially handing valuable customers and revenue to your competitors.
But why do that when the steps to get Google guaranteed are simple? The process to obtain a "Google guarantee" green checkmark consists of various questions from Google, as well as completion of an application with a third party verification company. This same process will apply to plumbers and locksmiths using Google Ads.
Why should locksmiths be Google guaranteed?
Over the years, locksmiths have gotten into trouble for being involved in online scams.
Essentially, the locksmith scam went something like this – A person calls one of the bargain locksmiths that Google Ads or Google Business Profile suggests. The call is then redirected to an offshore call center where someone local is dispatched, and without attempting less drastic options, the locksmith drills the person's lock open. And hands them a large bill.
These online scams have made individuals in need of locksmith services skeptical. However, Google noticed what was happening and put the new guarantee process into place to cut down on the number of scams. Now, when a person does a Google search for a locksmith, they can choose to call a company they know can be trusted.
When they're faced with a choice between two locksmiths, the person searching is going to call the one Google promises will get the job done or their money back. It eliminates all risk and reassures them that the locksmith is focused on quality.
How does being Google guaranteed give plumbers an advantage?
The thought of having to call a plumber can often lead to feelings of dread. They're already overwhelmed with the plumbing issues at hand, but they also worry about things like the plumber being unlicensed or uninsured, scoping out their home for burglary, or overcharging them for their services.
When a plumber makes their business Google guaranteed, they significantly reduce these concerns. A potential customer sees the little green checkmark and the words "Google guaranteed" and knows the plumber is credible and trustworthy. Similar to locksmiths, a customer is much more likely to hire a plumber that has been verified then take a chance on one that's not.
In other words, being Google guaranteed immediately adds value to your plumbing company.
What are some additional benefits to being Google guaranteed?
One of the main benefits of being Google guaranteed is that your business is at the top of Google search results. This ensures visibility to anyone who searches for a company in your industry and allows you to connect with potential customers as soon as they search for your services. You can use the app to reply to messages, track bookings, and manage leads.
The convenience it offers gives you the ability to stay connected on-the-go, which is important in the home services industry. Being able to personalize messages, as well as your profile also gives your company that extra edge. One of the best advantages to being Google guaranteed is that you only hear from customers that have chosen your profile over the rest, which keeps you from wasting time and resources.
All of your energy is focused on qualified leads, rather than attempting to convert those who aren't ready yet.
Do I still need SEO if my business is Google guaranteed?
The short answer is absolutely! But let's talk about why. Making your business Google guaranteed doesn't necessarily mean you'll rank highest in the search results.
In fact, only three Google guaranteed businesses show up at the top of the search results! The rest appear in a list if you click on one of the top featured companies. So, it's important to be one of the top verified home service companies in order to stand out.
SEO continues to be extremely important if you want your company to increase your rankings in search engines like Google. When you make your business Google guaranteed and you invest in SEO, you're increasing your website's ranking and credibility, which leads to an increase in both traffic and sales for your home services business. Focusing on good SEO reinforces the value of your company when paired with a Google guarantee.
SEO is getting you to rank higher, while Google guaranteed is ensuring you communicate your credibility.
Want to make your home services company Google guaranteed, but need help?
Being Google guaranteed allows you to showcase and build a positive reputation online. It may seem overwhelming to get everything in place to become verified, but we're here to help! We can guide you in the right direction and ensure you take all the right steps.
Our industry-leading Internet marketing company will work with you to reach your goals and get your home services company Google guaranteed! You can contact us online or call 888-601-5359 to speak with one of our experts today! We'd also love to hear from you!
If you've made your company Google guaranteed, tell us about it! How has it increased your business? What benefits have you seen so far?
Comment below!
How is your website's SEO?
Use our free tool to get your score calculated in under 60 seconds.
Get posts by email
Join 200,000 marketing managers and subscribe to Revenue Weekly!
"*" indicates required fields
WebFX Careers
Join our mission to provide industry-leading digital marketing services to businesses around the globe - all while building your personal knowledge and growing as an individual.