The success of your business relies on dependability, integrity, and communication with your clients. These are also things that comprise a successful relationship, either business or personal. Your marketing strategy should help build these relationships, and one of the most effective channels to do this is social media.
People use social media for all kinds of reasons. One of the reasons is to learn more about the companies they're considering doing business with. In fact, one survey showed that 78 percent of consumers are influenced to buy—or not buy—from a company based on that company's social media posts. This means your business needs to be on social media if you want potential customers to be confident in their decision to hire you.
You can call 888-601-5359 or click on the button below to determine which social media channels are right for your contracting business and how you can start attracting more customers with it!
Keep reading to find out what social media will do for your contracting business, as well as how to use it to reach potential customers.
74% of people use social media when making a purchasing decision.
Make their decision easy with a stellar social media presence. See how your brand can level up by requesting a no-obligation proposal today.
One of our experts will be in touch within 24 hours!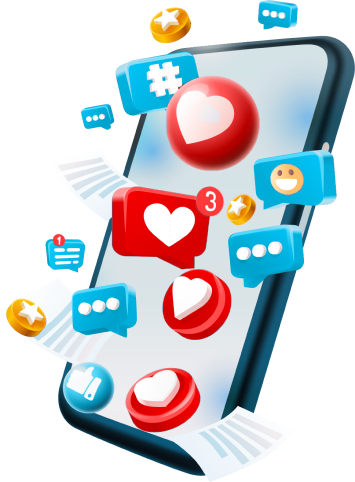 Why should contractors use social media?
To put it simply, you need to be on social media because everyone else is. What's more, they're there to figure out where to get the products and services they need. A study by Nielsen shows 54 percent of consumers rely on social media for input on purchasing decisions, which is more than any other online source. User reviews come in second at 52 percent. When your business is active on social media, you get in front of more of these people.
Social media is also a great way to find out what prospective customers want. You can use your page to find out what residents and businesses need in a contractor, what types of services they want, and what would make them choose one contractor over another. This kind of feedback makes it easier to offer the right services with the right message to the right target audience.
While these things are useful, you ultimately use social media to help grow your business. Keep reading to find out how it will help you do that.
Hear What It's Like to Work With WebFX!

"We were looking for a forward-thinking but down to earth SEO company to partner with. Not only were we looking to build a long term business relationship but we needed them to understand our needs as a small company. And WebFX met all of that criteria. Our experience has been unparalleled; from the sales team who made the drive to our office to meet us in person to our Internet Marketer who has been an absolute joy to work with. They are completely transparent about their services and they take the time to explain everything which not only sets them apart from every other SEO company we have worked with but we also feel like we're taking something away from our interactions with the staff at WebFX. We are exited to see where this year will take us knowing that we have such a great support system with their company."
Home Contractor
How can social media help your contracting business?
A lot of people go on social media to stay in touch with friends and family, share photos and videos, and catch up on current events. This is what makes it a great marketing tool as well. Social media allows you to market your business without relying on a direct sales pitch, leading to more customers and projects. Here's how:
Your messages travel farther
Granted, you probably won't reach every single person on Facebook or Twitter, but it's possible to reach enough to boost your business. The secret is sharing. As you attract followers, your current followers are sharing your content with their followers, and you end up with leads you would never reach otherwise.
Your brand becomes more relatable
Many marketing campaigns show the company in the best possible light. While often true, these campaigns still leave questions unanswered. Social media allows prospects to learn more about your company and develop a relationship that doesn't always revolve around transactions.
Your ads can be highly targeted
While social media is free to use, each platform has its own paid advertising options that are worth considering. It's tough to get your message out to millions of people on a tight budget, but with the right targeting, you can reach those who are most likely to be interested. When you narrow down your demographic, you make your strategy more cost-effective.
Top tip: If you want to learn more about your target audience to launch highly target campaigns, consider using a customer relationship management (CRM) platform. A contractor CRM enables you to track valuable information about your audience, like their age and location, so you can choose the best ad targeting options on social media.
Social media strategies for contractors
Social media is a powerful marketing tool for your business. So how do you use it to your best advantage? These steps will get you off to a good start.
Post regularly
Social media users check their newsfeeds and timelines several times a day, and they like to see new posts and updates. And if someone is following hundreds—or thousands—of people, it doesn't take long for a post to disappear. That's why you need to frequently post new content.
Make updates at least a few times a day. Share a link to a news story or photos of a recently completed project, or even just updates about your company. If you're running low on content ideas, comment on other posts or participate in discussions. Whatever you do, do it often enough to stay visible in social media feeds.
Engage with your followers
While one of your primary goals on social media might be to attract new clients, you should also work to build connections with other businesses in your industry. Get involved in discussions about regulations, pricing pressures, and other issues concerning your industry. Start cross-promoting by sharing news and updates from other businesses, and they'll likely return the favor. When you build relationships with these businesses, you improve your reputation and increase your visibility.
Even more important, however, is that you engage with your past and current clients. Offer tips and advice to anyone with a question, and respond to all reviews of your services. Over time, your company will grow its authority, network and potential client base.
Track and monitor your results
Like other marketing strategies, a social media strategy is partially trial-and-error at the start. You won't know if what you're doing is working unless you keep track of results. Use the built-in analytics tools to determine the success of your strategy.
Measure the number of followers on each channel, along with the number of times content is shared. Track the click rate on content and determine how much revenue it generates. As you monitor results, you'll find out which tactics are most effective—and, ideally, optimize your strategy for even better results.
Not happy with your social media engagement?
We've got just the blog post for you.
Read the Blog Post & Watch the Video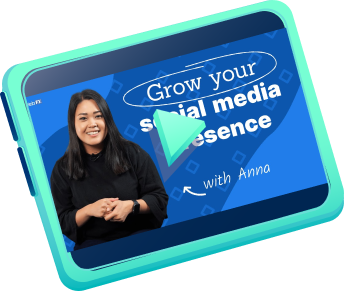 Want to start using social media for your business?
Many contractors get referrals through word of mouth and other social communications. It makes sense, then, to use social channels to find more business. Get involved in social media to raise your visibility, reach new prospects and show off your experience.
For more information on our social media management plans, feel free to contact us! Speak with a strategist today about how our team can use platforms like Facebook, LinkedIn, and Twitter to improve your online visibility and attract new clients for your business.
Call 888-601-5359 or contact us online today to see how WebFX can improve your online performance.
Earn a 20% greater ROI with WebFX