There are dozens of different home service websites you can use to find new clients for your business. BuildZoom is one of the biggest third-party websites to connect contractors to interested clients.
So, as a contractor, you may be wondering: Is BuildZoom worth it for contractors?
In this post, we'll provide the pros and cons of using BuildZoom and supplemental strategies you can use with this site. If you have any questions about reaching valuable leads for your business, call us today at 888-601-5359 to speak with a strategist.
Our digital marketing campaigns impact the metrics that improve your bottom line.
See More Results

WebFX has driven the following results for clients:

$3 billion
In client revenue

7.8 million
Leads for our clients

5.2 million
Client phone calls
What is BuildZoom?
BuildZoom helps people find a residential or commercial contractor that can complete a job for them. The jobs range from minor improvements to full-blown construction projects.
The unique part about BuildZoom is that it has a profile for every single contractor licensed in the United States. Each listing has project photos, government-sanctioned records, and detailed profiles of the contractor. This service is considered to be the best source of information about contractors because of the use of public data.
When users go on BuildZoom, they can see your contractor license, class of license, and year you were licensed. People can also see if your license has ever been suspended or if serious complaints were filed against your business. They can also see whether your company is bonded or insured.
All of this public data takes the hassle out of hiring bad contractors. Many people are apprehensive to hiring contractors because they don't know the quality of their work. BuildZoom makes it easy for clients to vet bad contractors and find good ones.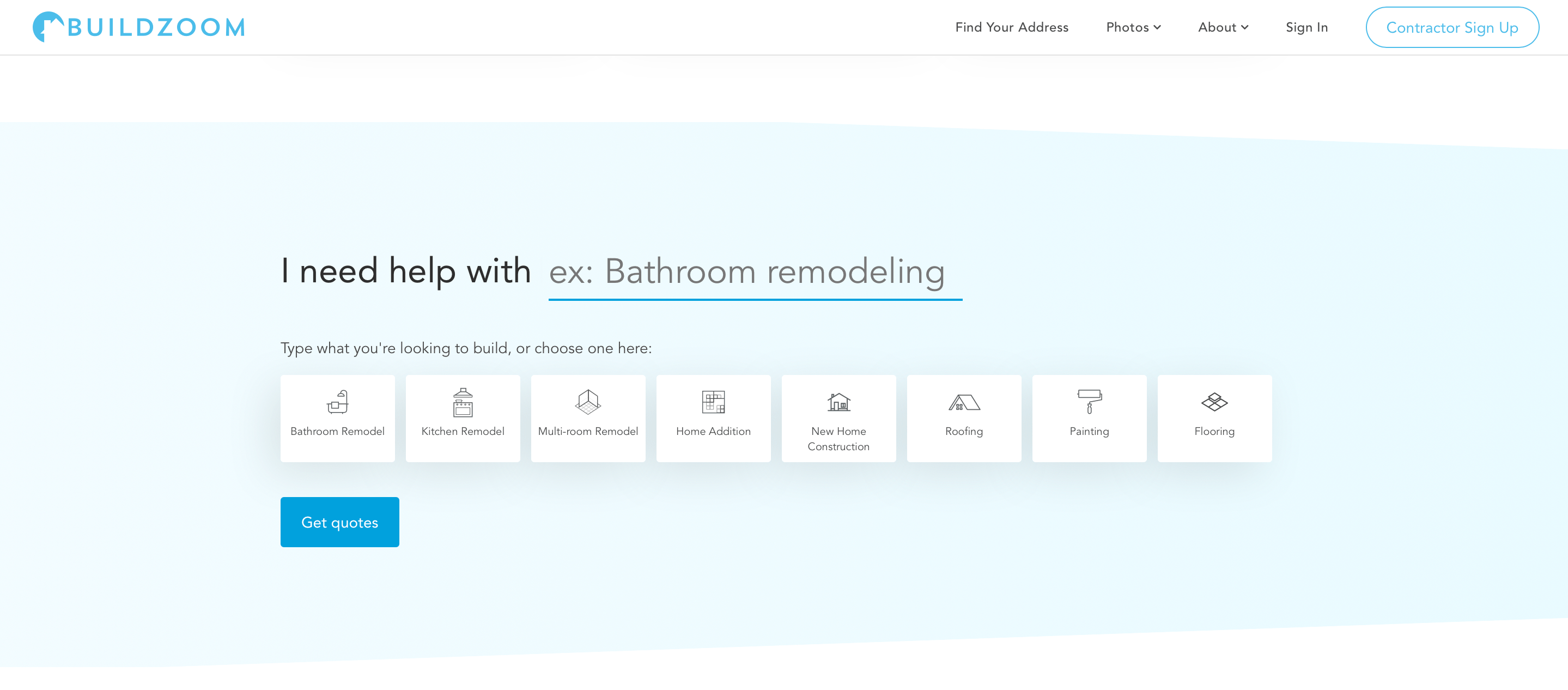 Hear What It's Like to Work With WebFX!

"We were looking for a forward-thinking but down to earth SEO company to partner with. Not only were we looking to build a long term business relationship but we needed them to understand our needs as a small company. And WebFX met all of that criteria. Our experience has been unparalleled; from the sales team who made the drive to our office to meet us in person to our Internet Marketer who has been an absolute joy to work with. They are completely transparent about their services and they take the time to explain everything which not only sets them apart from every other SEO company we have worked with but we also feel like we're taking something away from our interactions with the staff at WebFX. We are exited to see where this year will take us knowing that we have such a great support system with their company."
Home Contractor
How does BuildZoom work?
To get started with BuildZoom, a client will submit a project by answering a few questions about it. They will specify their project needs and budget. Once this information is put out there, the client gets matched with at least three professionals in their area.
These results are generated based on contractor license, building permits, and customer reviews. Again, this is where good reviews and a strong reputation helps you earn more projects. Clients will already get an idea of which companies do great work, which will help them when you submit your bid.
The client will determine the number of bids you need to submit for the project. Ensure that you include your best bid for the project. BuildZoom encourages you to deliver your bids to the client in-person and explain the rate and work to the client.
Meeting in-person allows you to create a better connection with these clients. It makes you appear more personable and allows the clients to ask any questions and voice concerns they have.
On the contractor side, BuildZoom offers project consultants that provide you with a list of bids and help guide you through the hiring process.
Is BuildZoom worth it for my business?
When you're checking out a new service for your company, like BuildZoom, you want to know if it's worth the time and investment. Let's take a look at the pros and cons of this service to help you decide if BuildZoom is worth it for your business.
Pros of BuildZoom
There are many positive aspects of BuildZoom that make it a viable option for your business. Here's a look at the advantages of using BuildZoom.
You get more jobs based on performance
One of the most common concerns about specialized services like BuildZoom is whether you'll get enough clients to make it worth your time. BuildZoom focuses on rewarding companies that do an excellent job for their clients.
Initially, BuildZoom will match you with your first clients based on your relevancy to their project and bid. BuildZoom takes all public data about your business and uses it to help clients connect with the right contractor.
Once you get your first few clients, you will get more jobs based on performance.
If your business does quality work and puts out a great product, you'll get more clients through this service. While you still have to bid for projects, your reputation will make you more likely to be chosen by future clients.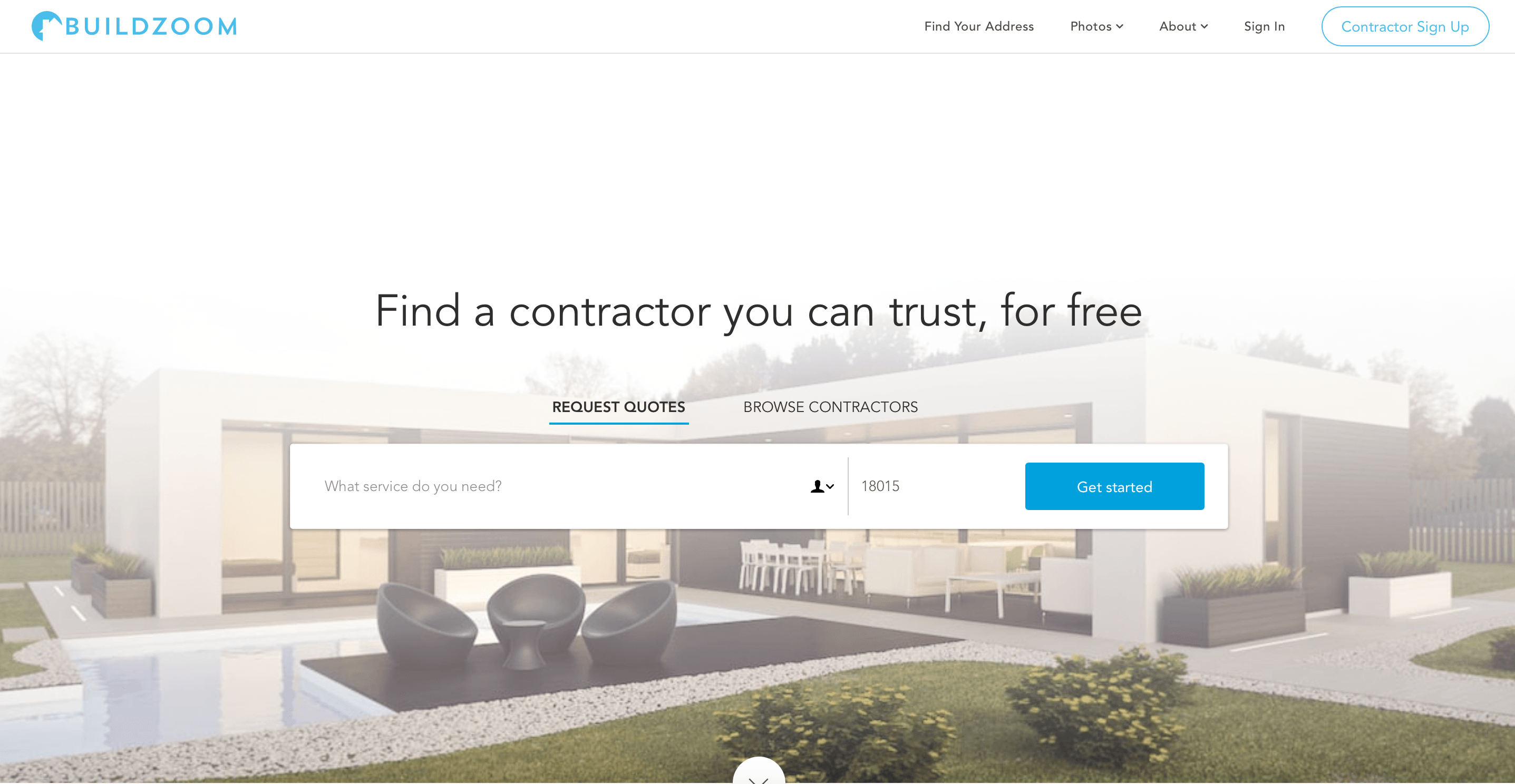 You build trust with your audience
As a contractor, you work on big projects that people invest a lot of time and money into. They want to hire a contractor they can trust to get the project done and get it done right. With BuildZoom, you build instant trust with your audience.
BuildZoom enables clients to access important information about contractors.
They get access to details like work history, previous projects, photos of projects, and reviews from other clients. BuildZoom gives your clients insight into your company long before you place your bid for the project.
This information helps you build trust with your audience. They know your company inside and out and will know if they can trust you. It's a great way to help your business earn more valuable clients.
Cons of BuildZoom
Just like there are positives of BuildZoom, there are also drawbacks.
Let's take a look at a few disadvantages of this service.
You have to pay a referral fee
As with any third-party service, you are subjected to a referral fee from BuildZoom. BuildZoom charges a standard 2.5 percent of the contractor's agreed upon price. If a client agrees upon a bid of $50,000 for their project, the contractor must pay $1250 of that to BuildZoom.
This is one of the downfalls of the service. You will have to pay additional costs for using the service, which digs into your profits.
There's an abundance of competition
BuildZoom has information for every contractor in the U.S. This means that every person who uses their site can see dozens of contractors in their area. You are in competition with all these contractors.
It can make it difficult if other contractors do work just as good as your business. You will need to put in more effort to "wow" clients and get them to choose you over other contractors.
Is BuildZoom worth it for contractors?
So now the big question is this: Should your business invest in being a BuildZoom contractor?
Overall, BuildZoom can be very beneficial to your business if you do good work. It's a perfect hub for people to find all the information they need about a contractor. They can learn the good and the bad about any contractor they're interested in hiring.
This can be extremely beneficial for your business because you build trust, which leads to earning more clients down the line. This service can be helpful to your business if you need more clients.
The only factor you must consider is the referral fee. You will have to pay this fee for each project, so you must factor that into your contracts and how it will affect your profits.
Overall, BuildZoom can be an excellent service to help you earn more valuable clients.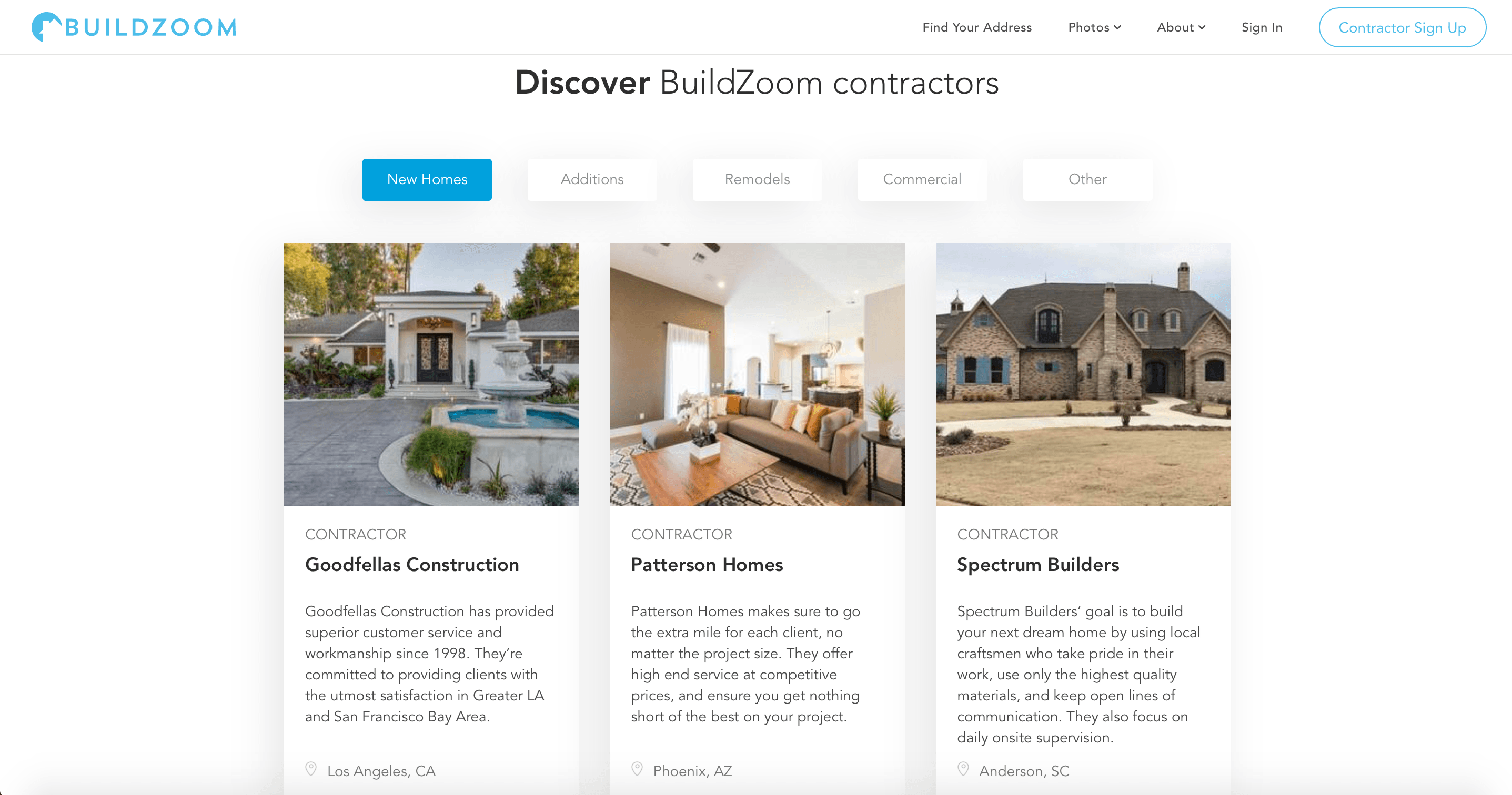 3 supplemental services to BuildZoom
BuildZoom can be an excellent resource for you to obtain valuable leads interested in your business. If you decide to use this platform, there are other services you can use with it to help you gain even more clients.
Digital marketing services are an excellent way for you to promote your business and earn new leads. You can use these methods, from organic search to paid advertising, to reach people interested in hiring contractors.
1. Search engine optimization (SEO)
Search engine optimization (SEO) is the process of boosting your website's ranking in the search results. SEO helps you drive relevant traffic to your page by using keywords to attract the right leads and improving your site's design and functionality to keep them on it.
SEO is an excellent method for helping your business bring valuable traffic to your page. This method operates on keywords, which is how leads find your content. If you want to attract the right leads to your page, you must select the right keywords to get them there.
In addition, you must optimize your page to perform well in search results. This involves improving page speed, creating a visually appealing site, and having a user-friendly design.
SEO is great for contractors because it allows you to reach leads more interested in your business. You drive more valuable traffic that is specifically searching for a contractor. It's a great way to help your business grow and continue to reach new clients.
If you aren't sure where to start with SEO, our team of over 200 experts can help you get started. We'll help you build a custom SEO campaign that drives more valuable traffic to your business.
2. Pay-per-click (PPC) advertising
Pay-per-click (PPC) advertising is an excellent way for your business to attract leads that are ready to hire a contractor. PPC ads are paid advertisements that appear at the top of the search results.
When you run a PPC ad, you bid for your ad's placement. This bid amount and your quality score determine where your ad's placement falls. You want to have a high-quality and relevant ad to get the top spot for your ad placement.
PPC ads are valuable for driving traffic that is ready to convert. In fact, PPC visitors are 50 percent more likely to convert than organic visitors. These leads know what they want and need to find the right business to give them what they need.
PPC ads are great for driving valuable leads to your business. You'll reach more leads that want to find a reliable contractor for their project. You can capture these leads by creating a paid advertisement that helps them find your business first.
3. Social media marketing
Social media marketing is an excellent way for your business to connect with people that need to hire a contractor. Social media platforms allow you to create a personal connection with your audience and get them to choose your business.
To use social media marketing, you'll want to start by choosing your social platform. Pick the platforms your audience frequents the most.
Once you have your platform selected, you'll start posting content. Your networks will determine the type of content you post. It's vital that you post relevant content for your audience to get them to engage.
Social media marketing allows you to engage your audience and get them to become more familiar with your business. It's a great way to build a connection and get your audience to choose your business over the competition.
Time to Level Up Your Sales
Our long list of services helps you grow every aspect of your business with marketing strategies that are proven to increase bottom-line metrics like revenue and conversions.
In the past 5 years, we've managed more than 12.9 MILLION transactions across our client base.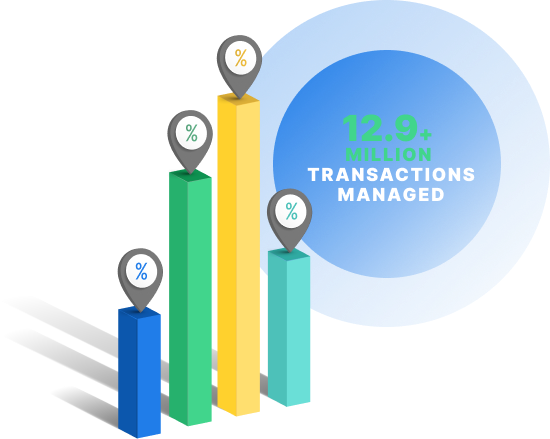 Get your business in front of more valuable leads today
BuildZoom is an excellent opportunity for your business to gain new clients. This service helps you show clients that they can trust your business to do great work for them. If you want to reach even more leads than the ones on BuildZoom, invest in a digital marketing campaign.
A digital marketing campaign from the right company will help you obtain more clients looking to hire a contractor. At WebFX, we have over 25 years of experience creating campaigns for our clients. You can count on us to produce a campaign that helps your business grow.
If you're ready to start getting your online presence optimized to reach more interested leads, contact us online or call us today at 888-601-5359 to speak with a strategist.
Earn a 20% greater ROI with WebFX