If you're looking to grow your business as a contractor, pay-per-click advertising is one of the best strategies available.
PPC is a way to advertise your business on popular websites like search engines and social networks and is able to target the customers that are the most likely to convert.
Read on to learn how this strategy can work for you, and how your contracting business can see the many benefits of a PPC campaign. You can also contact us online or call 888-601-5359 to speak with one of our Internet marketing experts.
Time to Level Up Your Sales
Our long list of services helps you grow every aspect of your business with marketing strategies that are proven to increase bottom-line metrics like revenue and conversions.
In the past 5 years, we've managed more than 12.9 MILLION transactions across our client base.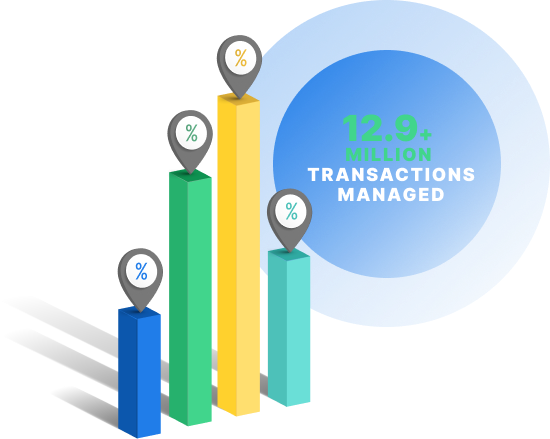 Why should a contractor use PPC?
PPC ads are great for contractors specifically because they allow you to appeal to your target audience.
In doing so, you attract quality traffic that is looking for your services. Depending on your PPC provider, you can target your customers by demographics, interests, and locations, or keywords.
Keywords are the most common form of targeting in PPC because they're so versatile.
For example, you could target people who need construction work in your area by using the keyword "general contractors in [your city]." If you offer more specialized services, you could target keywords like "electrical contractor in [your city]" or "freelance landscaper in [your city]," depending on what you do.

Hear What It's Like to Work With WebFX!

"We were looking for a forward-thinking but down to earth SEO company to partner with. Not only were we looking to build a long term business relationship but we needed them to understand our needs as a small company. And WebFX met all of that criteria. Our experience has been unparalleled; from the sales team who made the drive to our office to meet us in person to our Internet Marketer who has been an absolute joy to work with. They are completely transparent about their services and they take the time to explain everything which not only sets them apart from every other SEO company we have worked with but we also feel like we're taking something away from our interactions with the staff at WebFX. We are exited to see where this year will take us knowing that we have such a great support system with their company."
Home Contractor
How does PPC work?
PPC allows you to buy visits to your website rather than waiting for visits through organic search results.
Google Ads is the most popular platform for PPC. It calculates which ads will display in search results. To show up, you bid on keywords related to your business, and Google Ads determines where to place you.
If your competitors outbid you, their ad will show up above yours. If you outbid them, your ad will show up above theirs.
The higher your ad displays, the more likely someone will be to click it.
When your ad is clicked, you pay your bid to Google. If no one clicks on your ad, you don't pay anything!
Social networks have a similar process for PPC, as well. These ads are targeted based on demographics and interests, and you pay your bid to the social network when it's clicked.
How much does PPC cost?
Since you only pay when your ad is clicked, it's easy to run a PPC campaign on a budget. That's because you choose exactly how much you'll pay every time your ad is clicked and for an entire campaign.
Ad platforms make it easy to stay within a budget, too. You can set ads to stop displaying once you hit your budget cap.
But if you decide to outsource your PPC campaign to an agency, you'll pay anywhere from $2,500 to $5,000+ per month, and you get expert campaign management, in-depth competitor analysis, keyword research, and more.
Our digital marketing campaigns impact the metrics that improve your bottom line.
See More Results

WebFX has driven the following results for clients:

$3 billion
In client revenue

7.8 million
Leads for our clients

5.2 million
Client phone calls
Best practices for contractor PPC ads
There are a few things that you should keep in mind when creating PPC ads for your contracting company.
1. Create a landing page that promotes conversions
A landing page is where an ad takes a customer when they click. You should have a unique landing page for every ad campaign you run to get the best possible results.
Your landing page must match the content in your ad.
In other words, if you run an ad for the keyword "general contractors in [your city]," it should go to a page you made that talks about how you work in the area, what you've done in the area, and how someone can contact you.
Your landing page should also let potential customers contact you, so they can become a new lead. You can encourage them to become a lead by using a strong call to action that tells them the next step to becoming a customer.
It should also include a contact form for the site visitor to fill out so that you can keep in contact with them.
2. Be unique
Highlight what makes your company unique in your ad.
If you're the only contractor in the area that does a specific kind of work, include that in your ad so that customers see immediately why they should hire you.
Standing out in the crowd isn't easy, but if there's something obvious that sets you apart — highlight it.
3. Keep it simple
When you create an ad, keep it easy to understand.
Complicated wording or images can overwhelm customers, and if they don't get the point of the ad at first glance, they probably won't click on it.
Stick to conversational wording, direct images, and simple videos when possible. The last thing you want to do is scare away a potential customer with lots of jargon or images they don't understand.
Do you need help with a PPC campaign for your contracting company?
We know that you're busy. We don't want your marketing campaign to suffer because of it.
WebFX has all the resources and expertise to create the perfect PPC campaign for your contracting company that will attract the business you need to grow.
Contact us today for a free quote!
Earn a 20% greater ROI with WebFX