With 5 billion active users and 91% of businesses on social media, your flooring company stands to benefit from a robust social media marketing strategy.
Flooring companies can use social media to promote their products and services. It's a great way to show potential clients why they should partner with you for their flooring needs.
Want to learn more? See how to leverage social media for flooring companies and learn our favorite social media tips for flooring businesses in this all-in-one guide!
Or, if you're ready to partner with a data-driven social media marketing agency, request a free proposal from our experts today!
74% of people use social media when making a purchasing decision.
Make their decision easy with a stellar social media presence. See how your brand can level up by requesting a no-obligation proposal today.
One of our experts will be in touch within 24 hours!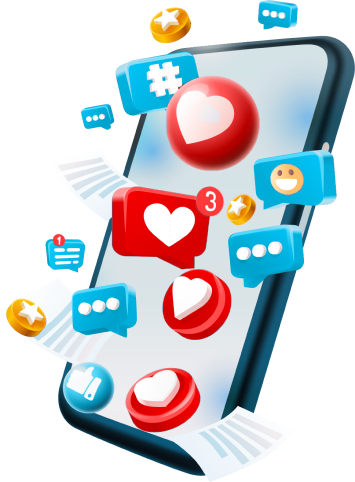 How can I promote my flooring business on social media?
If you're trying to grow your business, one of the top questions you may have is, "How can I promote my flooring business on social media?"
With social media, you can communicate your products' value, answer customer questions, and build client relationships. Because of how many people use social media — and share content that interests them — this medium can significantly increase your company's reach.
Now that you know how to use social media for flooring professionals, are you ready to dig into specific tactics? Follow these eight social media tips for flooring businesses:
1. Choose your social media platforms
While you have many social media platforms to choose from for your flooring company, focus on the most strategic platforms for your business. Start by understanding your business goals and target audience.
Once you have a clear understanding of your business strategy, you can choose the most effective platforms for your company. Possible social media for flooring companies include:
Pro tip: Optimize your social media profiles for users. Feature your logo in your profile picture, include keywords in your bio, and link to your website.
2. Gather social media marketing content about your flooring company
With your profiles ready to go, you'll need content ideas to publish. A few post ideas for marketing flooring include:
Behind the scenes of the installation process
Past projects you've completed or rooms featuring your flooring
Newly available flooring
Information about each type of flooring
Industry news and trends
How-to guides for customers to choose, install, and maintain a floor
Best flooring for different uses and niches (e.g., durable flooring, kitchen flooring, easy-to-clean flooring, and more)
For example, LL Flooring highlights flooring design trends while also showcasing one of their hardwood flooring options: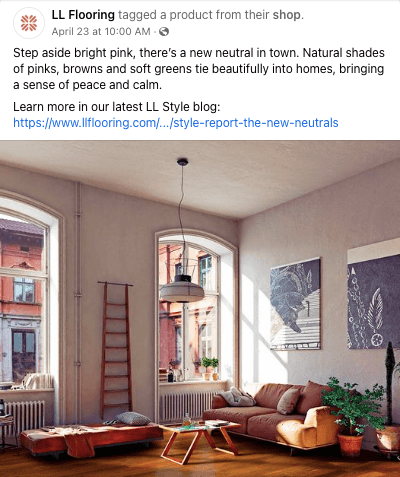 Pro tip: Once you've gathered your social media marketing ideas, strategically choose which content to post on each platform. Instagram works great for visuals, Twitter for bite-sized content and links, and LinkedIn for industry-related content.
3. Align your social media content with other digital marketing strategies
Your digital marketing strategies should all work together to promote your flooring company. Use consistent branding across all platforms and write your social media posts with the same brand voice you use on your website and advertisements.
Improve your site's search engine optimization (SEO) by sharing site content on your social media pages. Provide a link or a teaser of your most recent articles or blog posts to encourage your followers to read the page on your site.
This content-repurposing strategy works well for building backlinks, which is one of the most influential SEO ranking factors. Share articles that position you as a flooring expert on LinkedIn and Twitter.
When you share your knowledge, industry pros can see what you created. If they find your pages valuable, they might link to it on their website. This process drives valuable traffic to your business.
4. Create unique, valuable flooring content
As you plan your social media content, prioritize value. Your social media followers want to see content that matters to them and that they can use. Show your audience how you solve their flooring-related problems by:
Answering customer and flooring industry questions
Posting high-quality photos and videos
Writing engaging, informative captions
Make your content more valuable by targeting niches. Depending on your business goals, you can drill down to niches such as:
Homeowners with pets
Parents who own a home
Interior designers
Commercial building managers
And other audience segments
While a designer might want aesthetic-based information, a pet owner focuses on flooring maintenance and durability.
Therefore, social media marketing for flooring businesses that target designers might emphasize design trends and theory. Meanwhile, content for pet owners could include maintenance tips and facts or case studies about your floors' durability.
For example, Floor and Decor highlights the durability of some of their flooring choices in this Instagram post: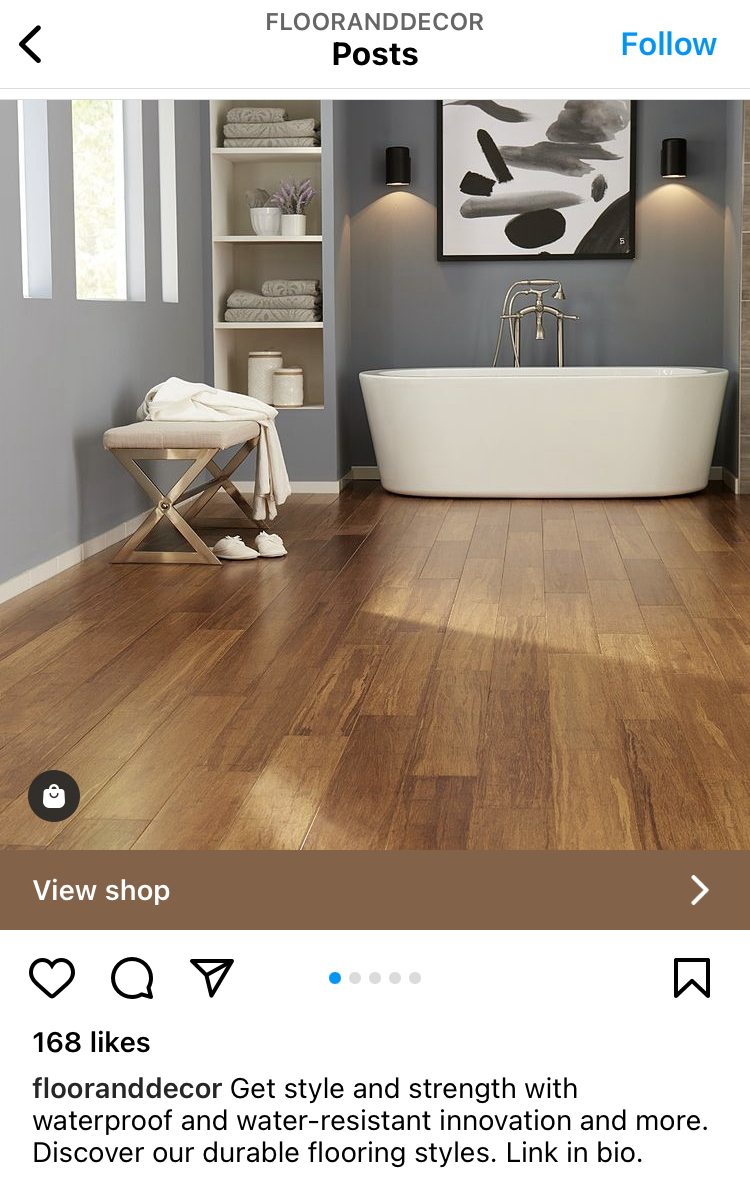 Want to target multiple customer segments? Create a social media strategy that incorporates a strategic mix of both content types!
Pro tip: Test your content ideas to see what performs best with your audience. You might try different hashtags, content types, or topics, then collect engagement data to measure each variation.
5. Plan and schedule social media posts
Success on social media requires consistency. Plan your content to go up at the optimal times of the day, according to when your audience most often uses social media.
Your posting schedule will vary across platforms and audience segments. Homeowners, for example, might scroll social media in the evenings or on weekends. Meanwhile, your business-to-business (B2B) segments likely consume content during the week.
Juggling multiple platforms and post schedules can prove challenging. To help you manage your social media posts, use a social media scheduling tool like Buffer or Hootsuite to keep track of all your posts in one place.
6. Engage with your audience
Social media provides a more effective way to build relationships with your target customers than other marketing platforms. When your potential clients see how responsive, authoritative, and helpful you are, they're more likely to want to work with you for their flooring needs. Engage with your followers by:
Encouraging comments
Responding to comments
Encouraging clients to tag you in posts about your flooring
Reposting user-generated content
Using industry- and brand-specific hashtags
Employing social listening
Posting surveys and question boxes to better understand your audience's needs
Interacting with industry partners such as designers and construction managers
7. Integrate paid social media advertising for your flooring company
In addition to marketing flooring services through organic posts, incorporate paid social media advertising to improve your reach.
Each platform provides different ad types, and you set your budget. Social media advertising also allows you to target specific audience segments. Want to reach young adults who may be purchasing their first home soon? Set a demographics-based target audience for your ads!
8. Measure results and adapt
Social media changes regularly. Stay ahead of the changes by constantly measuring your posts' performance. To track your social media success, select metrics that align with your business goals.
Compare your performance to key performance indicators (KPIs) so you know where you need to improve — and where you're succeeding.
As you analyze your flooring company's social media performance, don't be afraid to try new tactics. Social platforms are continuously publishing new features to help you deliver a better experience. Because organic social media marketing requires no direct investment, you can experiment with new post types at minimal risk.
Meet WebFX:
Your world-class, tech-enabled marketing agency with over 1.6 million hours of combined expertise.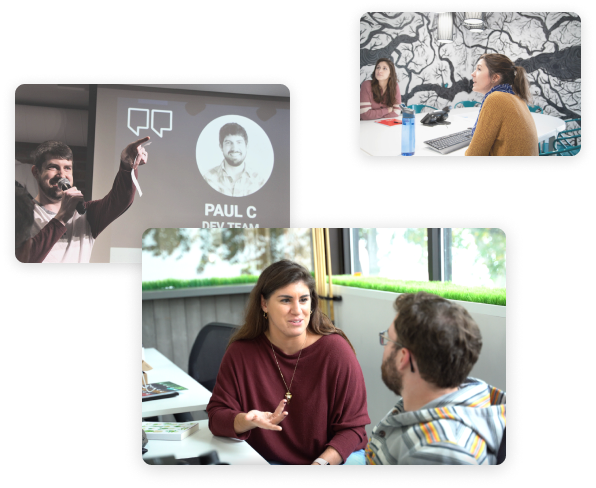 Generate more leads with social media for flooring companies
Social media marketing for flooring businesses provides the perfect opportunity to showcase your stunning products and build relationships with potential leads. Through your content, you can show your audience why they should trust you for their flooring needs.
If you're ready to build your social media marketing strategy, partner with a social media agency that knows your unique needs. At WebFX, we drive real results for flooring companies. We've created 165,000 social posts and generated 7.8 million qualified leads for our clients.
We know how busy you are managing your product catalog and closing sales. Let our digital marketing experts handle your social media marketing and social advertising so you don't have to worry about it. Contact us at 888-601-5359 to speak with a strategist or request a free quote online today!
Earn a 20% greater ROI with WebFX