When people need garage door repairs, replacement, or maintenance, you want to ensure they come to you. Prospects may not even know they need your services unless you tell them why.
People looking for services often look online. Having a strong social media presence helps show prospects you're out there, so they'll turn to you when they need help with their garage door.
If you use social media to drive awareness for your business online, check out these tips to improve your strategies. For additional help, contact our social media experts at WebFX. We'll help you use social media to its full potential!
74% of people use social media when making a purchasing decision.
Make their decision easy with a stellar social media presence. See how your brand can level up by requesting a no-obligation proposal today.
One of our experts will be in touch within 24 hours!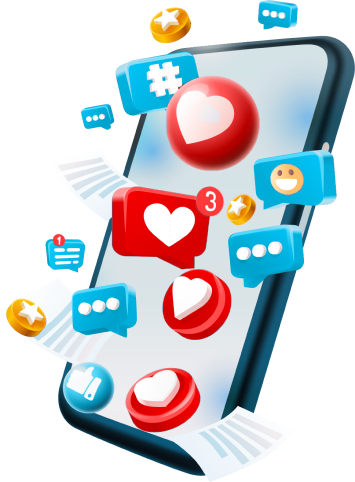 The value of social media for garage door companies
Social media helps your garage door company increase audience engagement and brand awareness. Here are a few reasons you should consider using social media for your business:
Expand your brand awareness:

Use social media to demonstrate your brand's personality and what you do. When customers know who you are and your values, they'll trust you with home repair projects, including garage doors.

Learn about your audience:

Monitor what people say

about your business online with social media. If they rave about a recent repair job you did — or post a complaint — on Facebook, you can use this knowledge to grow as a company.

Engage with your audience:

People love a business that responds to their questions and posts content relevant to their needs. Whether you share tips for spotting maintenance needs or reply to comments and direct messages to answer pressing questions, you'll build brand loyalty to bring in more business.

Advertise for lower costs:

You can set up a social media account for free. Rather than paying for ads, draw in customers by posting about recent jobs, sharing promotions and more from your social media page.
4 social media for garage door companies tips
Whether you recently set up your first social media account or want to draw more visitors to your garage door company page, here are some tips to improve your social media efforts.
1. Consider your audience
As a garage door company, you serve a particular demographic. Your customers are people who own homes, like millennials or older generations. With this information in mind, you should choose a social media network that appeals to your audience. For example, you'll likely enjoy more success on Facebook or Twitter than on Instagram, which appeals to a demographic under 25.
Your audience will also determine the content you share. If you typically provide more garage door repairs than installations, your audience may not express interest in a post about the most popular garage door style because they don't want to replace their garage door.
2. Vary your content
If you feel you've run out of content ideas or your audience doesn't engage with the content you post, try mixing it up a bit. Here are a few engaging content ideas to spruce up your social media page:
Share completed jobs:

People love visual content because it illustrates the services your business offers. Share before and after photos of a successful door replacement to show your value to customers.

Use polls:

Gather data about your business and please customers by showing them that you value their input.

Host giveaways:

Increase engagement by allowing followers to share your posts for a chance to win a discount on their next garage door maintenance.
3. Engage with your audience
Rather than only pushing content out, try to engage with the others' content. If a satisfied customer posts about your garage door repair on Facebook, comment thanking them for their business. Maybe even repost their review on your page. When you do this, their followers or friends come to see your company as friendly and trustworthy.
Another way to converse with customers online is by responding to direct messages. Past customers might use direct messages to share concerns about a previous job. If you resolve these concerns, you may win back their service and prevent them from posting a negative review online.
Customers considering your services may also use direct messages to ask questions. When you answer their questions quickly, they may choose your business over a competitor.
4. Consider paid advertising
You can also expand your reach on social media through paid social media advertising. While this strategy costs money, unlike posting on your social media, it's a great way to expand your reach. Ads push your business beyond current followers to other prospects who might need your services.
The typical social media user in the U.S. spends 2.7 hours each day on social media. If they see ads for your service while scrolling through Facebook, they might remember you when they need a garage door replacement or another similar service.
Social media services for your garage door company
Free up time and leave your social media in expert hands with social media services. Our team at WebFX knows how to optimize your social media to drive leads for your business. We offer social media management services where we create and schedule posts and respond to comments. If you want to advertise on social media, we will help with that too.
Many plans come with tiered payment options. You can choose how much to contribute to your social media efforts. Maybe you'd like to sample our services with a limited plan. Otherwise, select an in-depth plan with multiple social media channels and up to 30 social posts each month.
We have driven nearly 7.8 million leads for our clients, and we'll help you draw in customers to your business. Our team of over 500 subject matter experts brings the knowledge you need to your campaign, and team members proactively improve their careers to help you get the desired results.
Growing your social presence with WebFX is a walk in the park.
"WebFX allows growing your social media platforms to be stress-free! They are knowledgeable and adapt to your company needs!"
Learn More About Our Social Media Services

Learn more about WebFX's social media services
WebFX will help your garage door company build traction on social media with social media management or paid advertising. With a solid social media presence, you will bring in more leads and encourage conversions. We'd be happy to discuss your social media strategy. Reach out online or call 888-601-5359 to speak with a strategist today.
Increase your leads, sales, and revenue with digital marketing
Find Us Driving Revenue Nationwide