Home services companies are essential for homeowners in every community, and for years, the most important element in earning new customers was simply word of mouth. And while this is still a helpful factor, the Internet is playing an increasingly large role in how people find home services providers.
There are many online channels you can use to reach new customers, and today, social media is one of the most effective.
At first, this might sound surprising. But considering the average American spends 2.7 hours each day using social media and checks their social media about 17 times a day, it's not hard to believe.
So if you're not yet using social platforms to promote your home services company, keep reading to learn more about how they can help you reach your goals. Or, if you'd like to get started using social media for your home services company, you can call 888-601-5359 or contact us online today to speak with one of our skilled and knowledgeable social media experts.
Growing your social presence with WebFX is a walk in the park.
"WebFX allows growing your social media platforms to be stress-free! They are knowledgeable and adapt to your company needs!"
Learn More About Our Social Media Services

How social media can help home services companies
Whether you're an electrician, contractor, plumber, HVAC specialist, or specialize in one of countless other home services, you can benefit from using social media to reach new customers.
This is because social media is where many consumers go today to voice their opinions and share their experiences with friends and family. Many times, this includes the experiences they've had with businesses.
They can discuss and recommend products and services, and those recommendations are then read by a larger audience than they would be if they were simply shared with other people in person.
This means that your business is likely already being discussed on social media platforms. And if you join them, you can become part of the conversation. It's a great opportunity for potential customers to get to know you, and for your business to stay connected with your current clients.
By setting up public profiles and posting content on a regular basis, you can also create a positive image for your business and spread awareness about your services.
You can also use your accounts as a place to answer customer questions and encourage people to learn more about your business.

Hear What It's Like to Work With WebFX!

"We were looking for a forward-thinking but down to earth SEO company to partner with. Not only were we looking to build a long term business relationship but we needed them to understand our needs as a small company. And WebFX met all of that criteria. Our experience has been unparalleled; from the sales team who made the drive to our office to meet us in person to our Internet Marketer who has been an absolute joy to work with. They are completely transparent about their services and they take the time to explain everything which not only sets them apart from every other SEO company we have worked with but we also feel like we're taking something away from our interactions with the staff at WebFX. We are exited to see where this year will take us knowing that we have such a great support system with their company."
Home Contractor
Social media tips for home services professionals
While simply having social accounts is a step in the right direction, using certain strategies can your business make the most of them. Here are a few tips to help you get started.
1. Choose the platforms your audience uses
With so many available options, it can be tough to decide which platforms to use for your social media marketing. In general, though, you want to go where your current and potential customers are.
To do some basic research, ask your current customers what social media sites they use and which ones they most like to follow local businesses on. You could also check out your competitors' social profiles to see what they're using and which accounts have been the most successful in terms of follower counts and post engagement levels.
The best starting point for most businesses is Facebook, because it has the largest active user base of any platform today. You can use it to post updates and photos, and allow customers to post reviews of your services.
You can also use Twitter to share brief (280-character) updates, as well as links to helpful information on your website and industry news. Visually-based platforms like Instagram are also useful for sharing images, which can be beneficial if you want to show off completed projects.
2. Promote your social accounts on your other marketing channels
Starting a social media profile from scratch can be tough, but you can encourage your existing customers to follow your accounts in several ways.
You can start by adding links on your company's website, as well as signs with your page name in your business's physical location. You can also include your URL in any other marketing materials you share, and encourage users to visit by letting them know what they can gain by visiting – whether that's discounts or simply updates about your latest projects.
3. Post regularly
Updating your pages regularly is essential for gaining and engaging with followers, and the best way to ensure that you do this is by creating a social media calendar. An update calendar can help keep you on track and save you from scrambling to come up with post ideas at the last minute.
You should plan to publish new posts consistently, but not so much that you overwhelm your followers. Opinions of how often to post differ, and the recommended number is different for each social media network, but you can experiment with different post frequencies and times until you figure out what works best for your business.
4. Engage with your followers
As its name implies, social media is meant to be social – so take advantage of this unique opportunity by engaging with your followers. Ask them questions in your posts and respond to any comments you receive.
If someone asks a question, be sure to answer as quickly as possible with relevant, helpful information. And if you receive a review (either positive or negative), thank the customer for sharing their opinion, and offer to resolve the issue over a private message if necessary.
Responding to your followers shows people that you care about your customers, which can go a long way for building your reputation online.
Not happy with your social media engagement?
We've got just the blog post for you.
Read the Blog Post & Watch the Video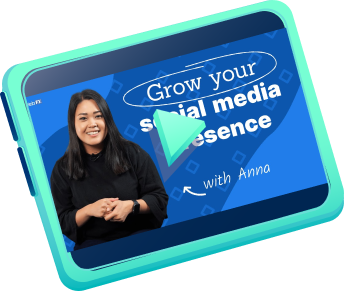 Social media marketing services from WebFX
Social media marketing for home services is all about building relationships, and can also be used to grow your brand awareness and provide your followers with new and interesting information.
If you're ready to start using social media marketing to grow your home services company, WebFX can help. Our social media team has years of experience creating custom plans for clients in a variety of industries, and we'll do the same for you.
Earn a 20% greater ROI with WebFX