It might not have occurred to you to generate new leads and customers with content marketing. After all, people only call you when there's a problem with their pipes. They do, and they will, but only if they know your business exists. Content marketing for plumbers can help you be the one they think of when they need your services.
It's true that you only hear from people who require your service right away, and that might happen only once every few years. But here's the issue with that thinking: you're not the only plumber in your area. Dozens of other plumbers are waiting for those same calls, but they're not just placing ads in the Yellow Pages and waiting by the phone. They're actively reaching out with useful content customers need, when they need it.
If you'd like to speak with one of our content marketing experts directly, you can reach us at 888-601-5359 or contact us online to chat about our content marketing services. You can also continue reading below to discover what content marketing is, why plumbers need it, and how you can get started today!
On this page, you'll get an overview of content marketing and why it's so important for plumbers. You'll also learn a few content marketing tips that will start improving the reach of your business today.
What is content marketing?
According to the Content Marketing Institute, "content marketing is a strategic marketing approach focused on creating and distributing valuable, relevant, and consistent content to attract and retain a clearly-defined audience — and, ultimately, to drive profitable customer action."
Essentially, content marketing is the practice of creating content that potential customers will find useful. In the long run, the goal of this content is to make customers interested in your company, and drive them to take some kind of action—in this case, calling you for help.
This content can take many forms, including:
Blogs and articles
How-to videos and infographics
Whitepapers and e-books
Regardless of the format or topic, all good content has one thing in common: it provides value to the audience. Instead of only reaching out when you want customers to buy services from you, you go to them with the kind of information that convinces them to reach out when they need you.
Now that you know what content marketing is, let's take a look at how it can benefit your business. Keep reading to find out why this is a better approach than traditional marketing for your plumbing company.
Our digital marketing campaigns impact the metrics that improve your bottom line.
See More Results

WebFX has driven the following results for clients:

$3 billion
In client revenue

7.8 million
Leads for our clients

5.2 million
Client phone calls
Hear What It's Like to Work With WebFX!

"I have recommended WebFX to everyone that I talk to and will continue to do so. I can't stress enough how helpful WebFX is with helping us understand the SEO information and how it works."
Plumbing Company In New York
Why do plumbers need content marketing?
What's the big deal about content marketing for plumbers? If someone has a leak, they'll call. But will they call you, or will they call one of your competitors?
You can no longer assume you'll get more business just because you have a website and a listing on Google Maps. You need content to help you reach out to current and potential customers if you want any of the following:
More website traffic and leads
Websites with blogs and other unique content rank higher in search engines than sites without them. If other plumbers in town have a blog, but you don't, they're attracting more website visitors—and more business leads.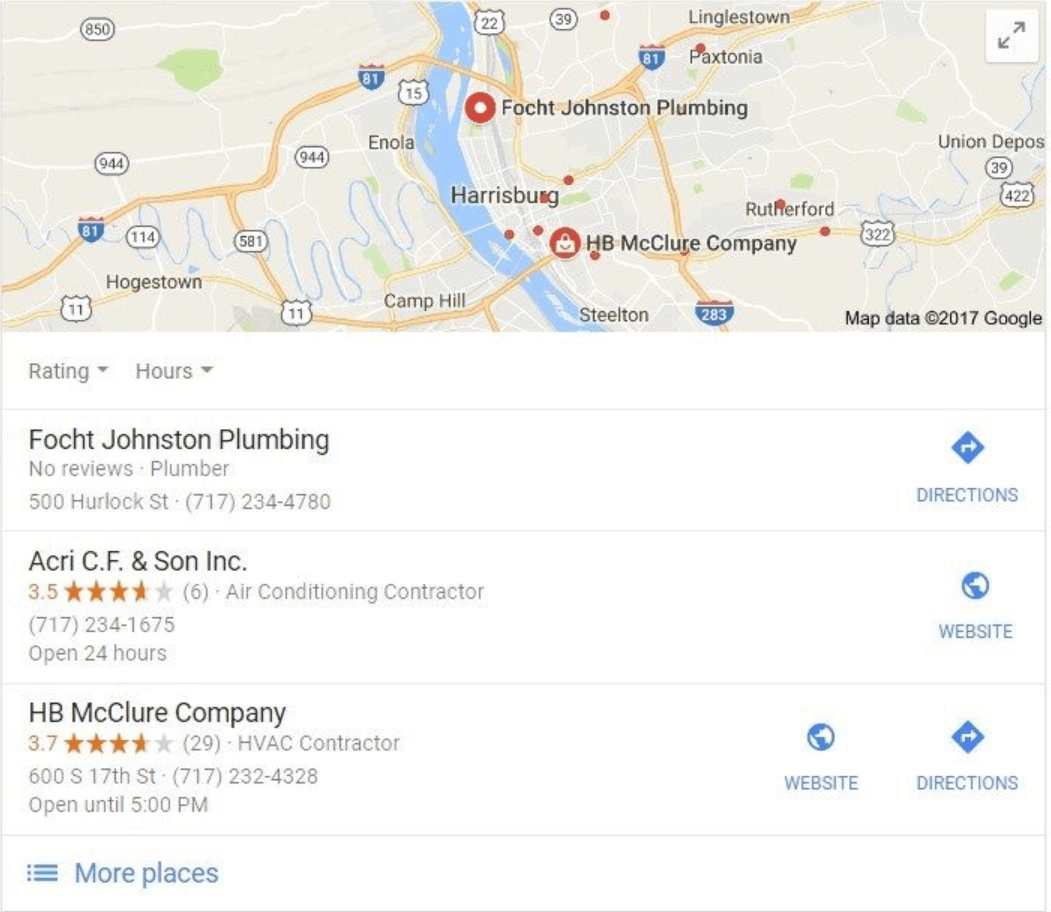 Producing new content that is filled with relevant keywords can help your website rank higher in search engines. And the higher your site ranks in search engines, the more likely it is to attract the attention of those who are looking for a plumbing company in their area.
Lower marketing costs
Magazine and newspaper ads cost a lot of money. So do radio spots. But you don't have to invest your advertising dollars there, because your customers are spending more and more of their time online. In fact, 85 percent of them use the internet to find local businesses.
Content marketing costs much less than traditional marketing, so you can generate a better return on each new lead and customer. Additionally, the lower cost of producing content allows you to better utilize the money you might have spent on traditional marketing—for example, in designing a new website or upgrading your equipment.
A competitive edge
Consumers are attracted to online content that provides valuable information, such as how to handle a leaky faucet. If your business is creating this content and sharing it on your website and social media, people are likely to find it.
Over time, local visitors may come to rely on your expertise to answer their questions. And because you've provided such valuable content to them in the past, they may choose you over other plumbers when they actually need your services.
How can plumbers get started with content marketing?
Content marketing is essential to bringing in more customers, whether you create it yourself or hire a team to manage the process for you. It takes time to reach your goals, but even a few basic steps will point you in the right direction.
As you create more content for the web, you'll generate more leads and revenue without spending a fortune on advertising costs. However, these results don't happen overnight. Content marketing requires time and effort to really make an impact in the form of increased conversions from online visitors.
Here are some of the first steps you can take to begin a successful content marketing plan.
Start a blog
This is usually the first step in a content marketing strategy. It's an effective one, because people tend to trust websites with blogs. Blog posts also present a perfect opportunity for you to show off your plumbing expertise.
By creating and updating a blog on a regular basis, you will create fresh new content for your website that is likely to rank in search engines. You can also keep current and potential customers coming back to your site week after week, as long as the content you are producing is interesting and relevant to them.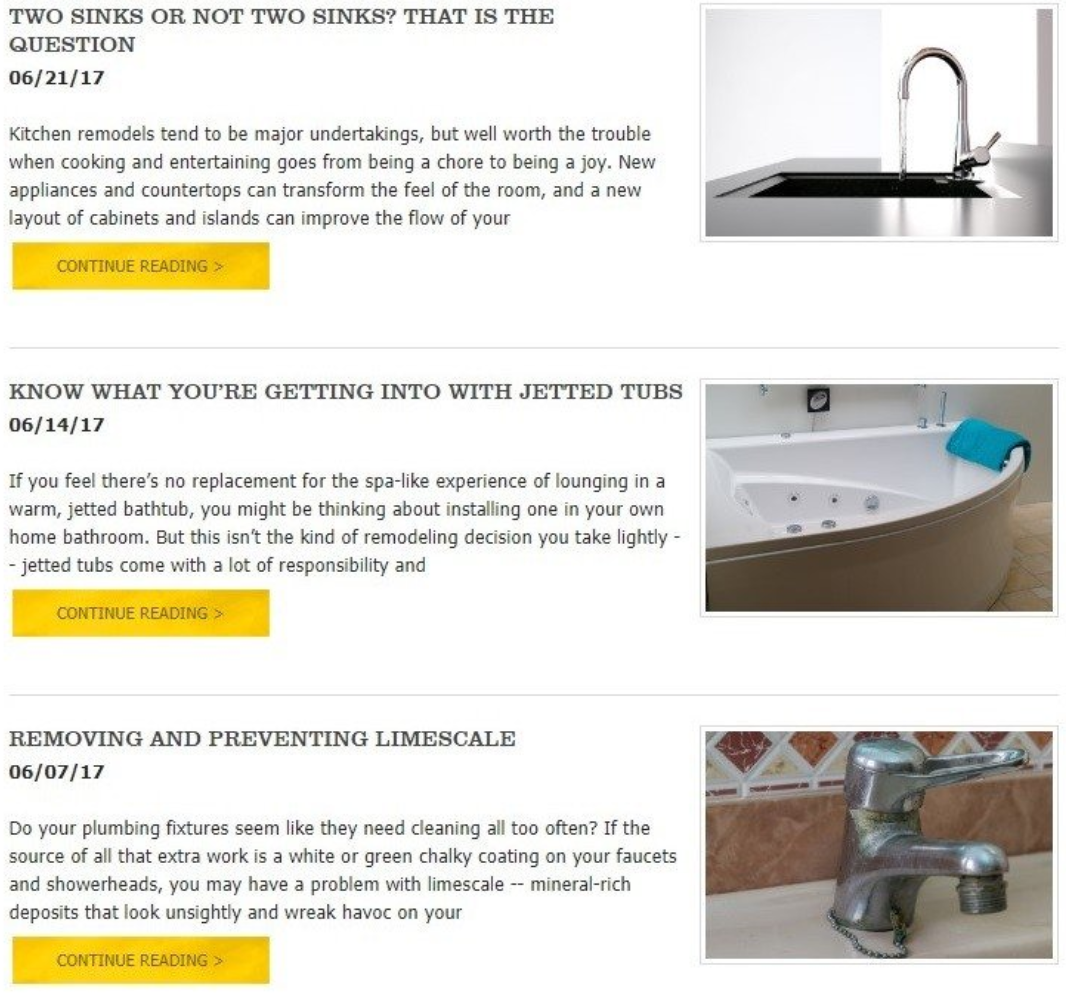 Focus on relevant topics
Remember, the success of content relies on relevance, not just frequency. Your blog has to focus on the things readers care about.
To get started, make a list of the questions your customers have asked you over the years. These may have been simple questions about dripping faucets, or more detailed ones about water heaters and other plumbing-related issues. Keep adding to the list as you think of other questions. Before you know it, you'll have enough ideas to produce new content for months!
Create content that answers these questions or focuses on these topics. For example, some sample articles might be:
How do I stop a faucet from leaking—for good?
How do I turn my water heater back on?
What can I do to keep my pipes from freezing in the winter?
What's the difference between different types of toilets?
You can also write content that focuses solely on questions or concerns in your area—for example, "how hard are the cold Detroit winters on my pipes?" This can help increase the likelihood that local customers find your content, vs. those who aren't even in your business area.
Get on social media
Your website isn't the only online channel that can bring in new customers! Your social media pages can attract potential leads, too, and they can be a crucial component in the distribution of the content you are producing.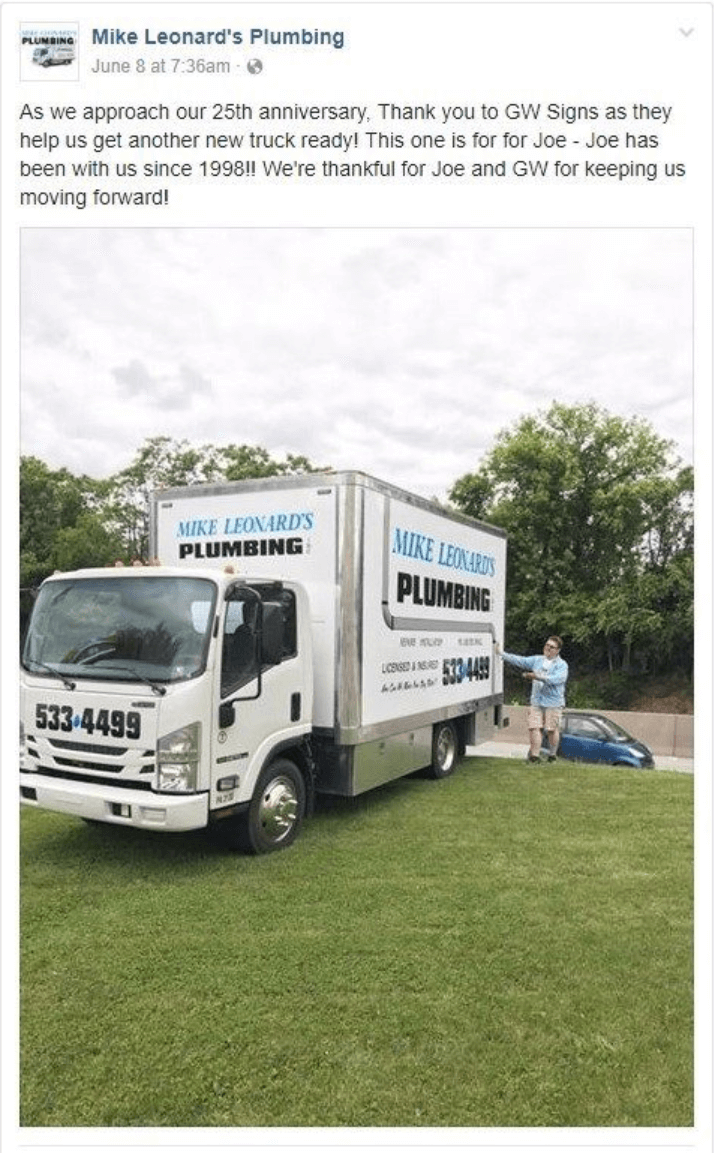 If you aren't using social media, start now. You don't have to get involved on every channel, just the ones your customers use. If you do have pages, start posting status updates, links to your content, and links to content on other sites. The more active you are on social media, the better the chances you have at attracting people who are in need of a plumber in the future.
37% of marketers say that generating high-quality leads was one of their biggest challenges.
We want to decrease that percentage.
WebFX can help you generate high-quality leads with a customized marketing strategy.
Learn More About Lead Generation Services
Drive calls with content marketing for plumbers
You might think content marketing for plumbers is a nice, but unnecessary, addition to your marketing plan. However, your competitors are already using it, and they're getting more clients and referrals as a result. You don't want to be left behind!
If you aren't using content to market your business, get started now, or get help from someone who can start it for you. Need someone to lend a hand? WebFX is a leading Internet marketing firm with content marketing experts who are standing by now.
Give us a call at 888-601-5359 or contact us online today to learn a little more about our content marketing packages and what we can do for you.
Earn a 20% greater ROI with WebFX