Our parents and grandparents turned to the phone book whenever they needed professional help, but these days we turn to Google. When an emergency arises, we type in our location and our need to find the best option. This is called online search, and it has become the most common way to find what we're looking for.
Search engine optimization, or SEO, is basically a way to make those searches beneficial for your plumbing company. By employing proven strategies, SEO companies can ensure that your company rises to the top of those searches, providing you with the highest ROI and most customers possible.
The importance of SEO services for plumbers cannot be overstated. That's why we have put together this article, which will give you an overview of SEO, why it is important for your plumbing company, and how it can help you. If you'd like to speak with one of our Internet marketing experts, you can reach us at 855-601-5359.
What is SEO?
Search engines are the online version of a popularity contest. Search rankings are based on complex algorithms that look at dozens of different criteria. The sites that rise to the top of those rankings are those that get the most links from other sites and provide the most authoritative information on a subject.
The goal of SEO is to make your plumbing company's website stand out to these search engines. A website must be optimized, or improved, in order to deliver the best search results.
The strategies for SEO are complicated and change frequently, because Google is always updating the algorithm that determines search results. An SEO "best practice" can become outdated in a matter of months—a good SEO company will stay on top of these trends and keep optimizing your website to increase results.
SEO can include work done to your plumbing website, but it may also include work done on other sites.
The Benefits of SEO for Plumbing Companies
The Internet has become a central point in our world in recent years. This means companies need to change the way they have traditionally marketed themselves and embrace new methods. SEO is part of that change.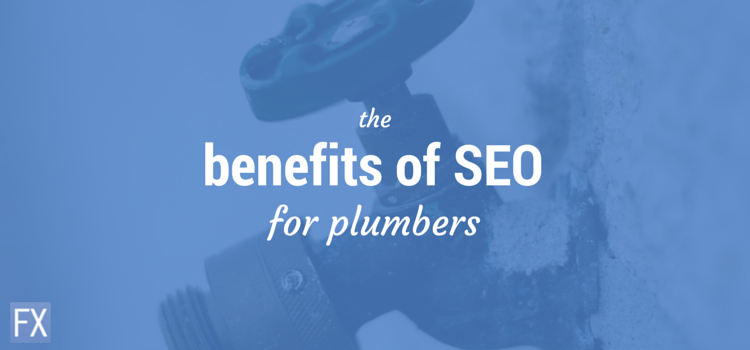 The higher in the search engine rankings your company appears, the better the chance someone will click on your website. The objective of SEO is to increase those chances, which can lead to large benefits. These include:
An increase in traffic to your website
More phone calls to your business
A greater reach for your plumbing business
The chance to connect with people who need your services
SEO is one way to accomplish these goals.
Targeting the Right Keywords
"Keywords" are the words or phrases that people use in their searches. If they are looking for a plumber and they live in Denver, they might type in "plumber in Denver" or "Denver plumber." It's important that you use these keyword combinations on your website, so you can appear in the search results when someone does a search for these terms.

Think about what words someone might use to search for your business based on the services you offer and your location. You can even use tools like Keyword Tool, Ubersuggest, and SEMrush to discover they keywords people search when looking for your business online and incorporate those words into your website copy.
An SEO company can also research the best keywords to target and naturally insert those words into already existing content on your site.
It's always important to focus on natural, quality writing when you're inserting keywords. No one will trust a website that sounds like it was written by robots with awkward keywords. Instead of using phrases like "find a good plumber Denver," insert words such as "in" that will help your copy flow naturally.
Tackling Local SEO Services for Plumbers
There are many ways people can find information about your plumbing company on the Internet, and those places are not just on your website. The best place to start is with a free business listing on Google, which allows you to fill in your business's name, address, phone number, hours, and even upload a photo. This will be one of the first results to show up in a Google search, so put time and effort into making your profile look professional.
Also fill out your listing on YellowPages.com. This is a popular site for looking up services such as plumbing.
Online review sites such as Yelp are also popular, where people can review your business. Positive reviews can be a great way to bring in new business. Encourage satisfied customers to log on to Yelp and leave comments about your plumbing business. You might also add your listing to Foursquare and Swarm so customers can "check in," or say they have visited your business.
Another great way to optimize your site for local search is to include locations throughout your copy. When you mention your plumbing services, include the local towns you service. Google will pick up on your location and start to list you phrases such as "Denver plumber."
Ramping Up Your Social Media
Social media is a key part of any SEO efforts for plumber companies. Active social media accounts signal to Google that your business is responsive and thriving. That boosts your rankings in search results.

You should have, at the very least, Facebook, Twitter, and Google+ accounts. Share things with your fans and followers that can help them with their plumbing and pipe problems. You could include a link to your company's blog post on winter weather care for pipes or a notice about an upcoming open house.
In addition to using these sites to improve your SEO, you can also increase incoming business from social media. You'll find you get requests and questions from followers that help build a personal connection that is valuable to any small business.
Creating Great Content
Part of optimizing your plumbing company's website is creating content that other sites will want to link to—a key part of building your online profile. This SEO tactic requires creating new content regularly. Google favors sites with regularly updated content and links from other websites. Content creation strategies typically include:
Starting a blog on your website
Adding regular podcasts
Posting photos tagged optimally for search
Making new pages that discuss your services in-depth
If a potential customer finds a helpful piece of content you published online, they will be more likely to want to find out more about your plumbing business.
What If I Don't Use SEO?
You can have the most well-designed website, but without SEO strategies, nobody will be able to find it. This means that you won't attract new customers, grow your plumbing business, or earn more revenue.
If you want to maintain high rankings in search engine results, you need to develop an ongoing SEO strategy. Without a solid SEO plan, competitors will likely outrank you in search results, and you will miss the opportunity to attract more traffic to your website.
SEO isn't just a quick fix. And you need a trusted SEO partner, like WebFX, to ensure that your site continues to function at its prime.
Need Help With Your SEO?
If you're looking for a little help putting what you've learned about SEO to work, look no further than WebFX. Our team has many years of experience assisting plumbing companies with a wide range of SEO needs, including optimizing websites, starting local search campaigns, and identifying the right keywords.
If you need help with your SEO, feel free to reach out to us for a no-obligation quote customized to meet your specific needs. We'd love to speak with you to find out how we can help!
Ready to start your Internet marketing and design campaigns? Call 888.449.3239 or contact us online today to learn more about how WebFX can help with your SEO challenges.