If you own a plumbing business, you understand just how important it is to find valuable customers in your area. But newspaper ads and flyers on a park bench won't get you the business you need.
Online marketing, on the other hand, can help your plumbing business find new customers, highlight customer testimonials, and spread the word about special promotions — among many other things.
If you're ready to implement an internet marketing strategy for your plumbing company, read on! Or, if you'd like to speak with one of our Internet marketing experts directly, you can reach us at 855-601-5359.
Create a custom Internet marketing plan
Internet marketing plans from WebFX can help your plumbing business reach more customers and earn more revenue. Contact us to learn more!
Why should plumbers use Internet marketing?
Traditional marketing techniques, such as advertising in newspapers or on television, have always been and always will be an expensive platform to advertise. Not only are they expensive, but they just aren't effective in a world where consumers constantly turn to the Internet for answers.
These factors alone make plumbing companies the perfect candidates for an Internet marketing strategy.
With such a competitive business as plumbing, it's important to market your business in the most effective way possible. Internet marketing is one of the best ways to reach a huge amount of potential customers quickly, while giving them the chance to opt in to monthly newsletters, blogs, free plumbing guides and more.
Here are some of the best techniques to market your plumbing business online:
Write a blog
Your website should be more than just a place where customers can find your phone number and a list of your services. You should also provide useful tips and information, and a plumbing blog is the perfect platform.
Above all, your blog's content should be practical for your customers. For instance, you could blog about a list of foods that can clog garbage disposals, such as potato peels and rice. Not only is this informative to users, but it's also beneficial.
When you continuously post blogs that are useful and informative, you begin to build trust with your customers, which is extremely important to building a strong business/customer relationship.
Another great benefit of blogging is improved SEO, which can help you rank higher in search engines.
First and foremost, blogs are extremely shareable pieces of content. This means that your blogs can be shared on social media sites, in your newsletters, and on other websites, which ensure that your content is available to thousands of potential customers.
Blogs also act as a steady flow of fresh content which search engines love, especially if you post blogs regularly. They let search engines know that you are posting new content regularly that is helpful and important to your customers.
Blogs also act as a way to target long-tail keywords, which perform great for niche companies like plumbing. These phrases are great for plumbing blogs because you can essentially write a different blog for each of your long tail keywords, since they are so specific.
Create long-form content
If you've never published long-form content for your plumbing company, it should be at the top of your internet marketing strategy to-do list.
Long-form content helps your page to rank higher in search results, which is a big deal when you're looking to get site traffic. In fact, the top 10 results in most Google searches are over 2,000 words.
If you're having trouble thinking of content for your plumbing website that is that long, try thinking of topics that you can really expand on. For example, you could write a piece of long-form content that includes a glossary of common terms used by plumbers and in depth definitions of each. Another example would be tips for preventing common plumbing problems, such as lowering high water pressure, and your technique for fixing the problem.

Long-from also acts as a great way to get other sites to link to you. When this happens, not only is it helping your SEO, but it also shows that you are trusted by other websites and other leaders in the industry.
As if these perks weren't enough, long-form content can also help to increase the time on your page. If your content is meaningful and helpful to viewers, they will want to read on and be far less likely to bounce from your site.
Have an active social media presence
Social media is a channel that allows you to interact with your present and future customers with your posts. You can use platforms such as Facebook and Twitter to tell customers to call within the next week to get a special on new bathroom plumbing.
It's also the perfect place to post informative information, like your blogs and other content.
Not only does social media share your content with your connections, but their connections as well—which makes it a channel that can reach hundreds of people at a time.
You can also use social media to interact with customers.
Many people use sites like Facebook to leave reviews and ask questions about your business. In this way, social media allows for almost immediate customer service, which gives you a chance to interact with customers and show how much you value their business.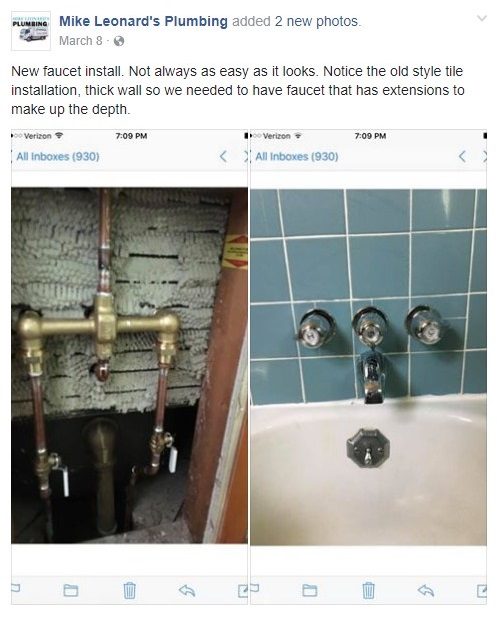 Send a monthly newsletter
Email newsletters allow your plumbing company to offer special deals to subscribers while also providing practical, usable content. Ask people to "opt in" to a newsletter by signing up for it on your website or social accounts. Then, establish a regular publishing schedule and stick with it.
Newsletters are also a great place to offer monthly promotions, which is a great way to thank customers for either being loyal or considering your service.
An email newsletter will help your company stay in the minds of your customers, since your name will be in their inbox on a monthly basis. Then, when they happen to need a plumber, they'll know exactly who to call.
Get involved in the community
When you allow your plumbing company to become involved in the community, you are showing potential customers that you truly care, not only about your customers but the entire community.
One way to add involvement in the community to your internet marketing strategy is to find forums on plumbing. Look for questions about common plumbing issues and answer them.
Be sure that every time you comment, you include the name of your company, however, avoid linking to your website every time. If you do, you have the potential of being labeled a spammer, or a company that's only interested in getting its name out there without really helping anyone.
Local news sites are also a great place to leave comments if the stories are relevant to your industry. Again, avoid spamming the comment forums of ever article, but a relevant, well-placed piece of advice at the bottom of an article is a great way to reach local readers.
Need a hand marketing your plumbing business?
We hope these web marketing ideas for plumbers inspire your own efforts to reach new customers online.
If you need a hand getting your Internet marketing campaigns up and running, WebFX can help! Our skilled team has experience assisting plumbing companies with a wide range of online marketing needs, including generating online leads and improving websites.
Contact us today for a free, no obligation quote!
Find out how WebFX can create an effective Internet marketing strategy for your website. Call 888.449.3239 or contact us online today for a free evaluation.