Drive Revenue With a Top Virginia SEO Company
Your website is your primary Internet marketing tool. That's why it's critical to invest in online marketing strategies like search engine optimization (SEO), which help your Virginia business appear in search results relevant to your company and its products or services.
At WebFX, we're a Virginia SEO company with more than 25 years of experience. As your partner, we'll help your business improve its online presence and use search to drive traffic, leads, and sales. Plus, we'll ensure you have the data to analyze and measure the performance of your SEO strategy.
Already, we've helped our clients' businesses generate more than $3 billion in revenue, as well as more than 7.8 million leads. That's why 91% of our clients make us their long-term partner for SEO and other digital marketing strategies, like content marketing and pay-per-click (PPC) advertising.
Learn more about growing your company with our Virginia SEO services by contacting us online or calling us at 888-601-5359!
Ready to Grow? Get your FREE Quote Today!
"We measure our success by how much we WOW our clients."

Bill Craig
WebFX President
What do our SEO services in Virginia include?
All our SEO services for Virginia businesses include:
SEO audit
Regular SEO reporting
Dedicated account manager
Custom SEO strategy
On-page SEO
Off-page SEO
Technical SEO
SEO content
Phone call, lead, and revenue tracking
You can learn more about what our SEO services include by browsing our SEO plans:
If you have questions about our Virginia SEO agency's SEO plans, feel free to contact us online!
How does our Virginia SEO company measure your SEO performance?
An essential key in knowing your website's performance is the statistical analysis of your website traffic. These individual measurements are called website metrics, and they're critical to Virginia SEO. These metrics cover virtually every aspect of your website, and they're essential to any online marketing strategy.
Traffic is a common metric used by Virginia SEO companies, but it's not enough. You want to go beyond traffic and look at metrics like conversion rate, time on page, and more.
Analyzing the website marketing statistics provided by website tracking tools to understand the holes in your Virginia SEO campaign is what makes tracking visitors worth your time. Depending on your unique goals and strategies, we can tweak a Virginia search engine optimization campaign to accommodate your plans for business growth.
By knowing the specifics of your site's visitors, you can tailor your SEO to Virginia customers, giving you the power to best serve your target audience. WebFX gives you a clear, information-packed report that you can easily use to gauge your website's success.
Your website marketing data is provided to you in the form of spreadsheets and graphs, so you can quickly visualize where improvements can be made to your SEO plans to increase your site's traffic or target your potential customers more cost-effectively.
Your dedicated account manager reviews this data and streamlines it into a useful Internet marketing report, tailored to your SEO plan.
WebFX's analytics provides you with specific website marketing statistics on your site's visitors, strengthening your search engine optimization in Virginia. By tracking visitors, you know how well your site is capturing your target audience.
It answers the questions you have and the questions you never thought to ask, such as:
Who and how many visited your website?
What percentage came through search-engines? What combination of keywords and search engines led them to the site? Which pages did they visit and in what sequence? Where did they go?
Does the navigation in your website need improvement? Is it too complicated to conclude a sale?
What percentage of the visitors purchased your product or service?
Which geographical location constitutes your highest-spending consumer group?
Not only does the report illustrate how your site is performing now, it also shows you how well it could be performing if cost-effective adjustments were made to your SEO strategies.
Time to Level Up Your Sales
Our long list of services helps you grow every aspect of your business with marketing strategies that are proven to increase bottom-line metrics like revenue and conversions.
In the past 5 years, we've managed more than 12.9 MILLION transactions across our client base.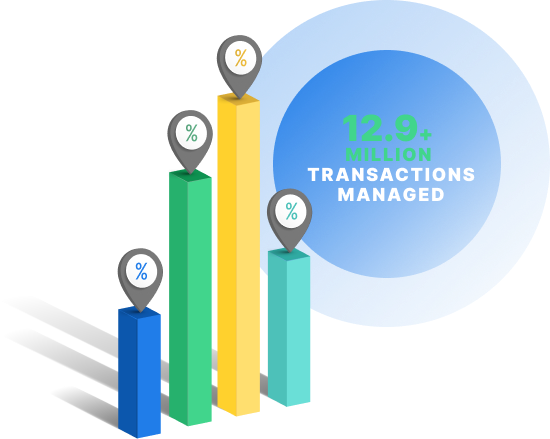 More Than SEO: We're a Leading Website Design Company
Looking for a Virginia web design company? Look no further. As a full-service Internet marketing company, WebFX offers website design services that go beyond cookie-cutter or basic. We design innovative, world-class websites for VA businesses from the ground up. Whether you need an ecommerce website to reach millions of visitors or an elegant online presence to direct local visitors to your local office, we can help.
Our Virginia web design and SEO services are tightly integrated. We design new websites, or complete redesigns, with SEO in mind. We create sites that load quickly, include important and relevant keywords, and are designed to increase conversions. They also look beautiful, clean, and modern.
The WebFX Difference
WebFX is a full-service Internet marketing company, meaning no matter what kind of website services your Virginia business needs, we can help. Whether you're searching for a website redesign, social media management, or copywriting services, we can do it all for you… no matter what your budget or timeline.
When you choose us as your marketing services provider, you get a dedicated SEO project manager who will make sure your requests and projects are handled in a timely manner. You'll also get the expertise of an Internet marketer who can advise you on SEO, PPC, marketing, or anything else you may need help with. We won't simply design your site and throw you to the wolves afterwards — we're in it for a long-term relationship, so we'll be with you long after your site is finished.
When you're looking for a Virginia web design company, don't just choose the first firm you find. Choose WebFX for reliable service backed by years of experience, expertise, and proven results for SEO in Virginia. We offer SEO services in offices from New York to Florida and everywhere in between, and we can't wait to help you!
Call 888-601-5359 or contact us online today for a free evaluation.