Ecommerce PPC Management Services: Increase Your ROAS
People love to shop online, and your pay-per-click (PPC) ads can get your products discovered and purchased. With ecommerce PPC management services, your online store can use Google and Bing to drive traffic and sales. Learn how our ecommerce PPC services (which provide you with complete account ownership) can help by requesting a free ecommerce PPC proposal today!
Explore Ecommerce PPC Service Plans
Pro Plan
$975 / month
or 15% of ad spend, whichever is higher
$5,000 – $30,000/month ad spend (paid to networks)

10,000 keywords

AdTechFX: 3rd party audience targeting, account-based retargeting, CRM pipeline retargeting

1 FunnelsFX landing page template (includes setup)
Enterprise Plan
12% of ad spend / month
Plus $250 / mo. platform fee
$30,001+/monthly ad spend (paid to networks)

10,000 keywords

4 lite display ad creative sets

15-second CTV commercial
Drive more orders with ecommerce PPC management
With around 65% of small-to-midsized businesses (SMBs) investing in PPC advertising, your company needs a smart and competitive strategy — especially when it comes to the ecommerce sector. That's not easy when you have limited time, resources, and team members.
WebFX, however, is ready to become your newest team member.
As an ecommerce PPC management agency with more than 25 years of experience, we're a trusted choice for SMBs looking to not only advertise their products but also grow their companies. Just in the past five years, we've helped our clients manage more than 12.9 million transactions. If you're ready to start earning more sales and transactions for your business, then contact our ecommerce digital marketing agency today.
Chat with a dedicated strategist about our ecommerce PPC management services by contacting us online or request a free audit of your ecommerce PPC campaign (if you spend $1000 or more per month) today.
"I've been working with WebFX for several years, and my company has changed and grown significantly in that time. They have guided my SEO and PPC strategies to help fuel this growth, and WebFX takes on each project as though they are part of my company."
Owner
AUTO PARTS STORE
WebFX Ecommerce PPC Management Pricing
Browse our ecommerce PPC management plans and prices now!
Features
Pro
Most Popular
Enterprise
Investment
Ad Spend Limit
$5,000 – $30,000/month ad spend (paid to networks)
$30,001+/monthly ad spend (paid to networks)
Initial Optimization
$2,250 (First Month's Management, including Campaign Restructure, Creative Development)
$5,800 (First Month's Management, including Campaign Restructure, Creative Development)
Progressive monthly management cost:
$975 or 15% of spend, whichever is higher
12% of ad spend +$250/mo. platform fee
Included Networks
Google PPC Network
Google Local Services Ads
Bing PPC Networks
Google Text Ad Remarketing & Banner Remarketing (if banner ads are included, provided by the client, or creative banner design is paid for)
Google customer match & audience match
Google Shopping Management
AdTechFX Programmatic Advertising powered by MarketingCloudFX
– 3rd Party Audience Targeting
– Account-Based Retargeting
– CRM Pipeline Retargeting
Management Deliverables
500+ SMEs behind campaign driving results
Initial campaign development & strategy
Advanced keyword research and selection
10,000 Keywords
10,000 Keywords
Industry analysis
Ad campaign copywriting
Ad copy performance testing
Ongoing keyword development and tweaking
Dynamic keyword insertion into ads
Google analytics integration & goal tracking
Strategic bid management
PPC account settings monitoring (Ex. Geotargeting)
Campaigns will be managed through client's SEM accounts for (client will retain Admin/owner access of all campaigns created)
Up to two personal consultations per month
Monitoring clicks, conversions and click fraud activity
Setup and management of rule based bidding
International PPC campaign management (Addtl. fees may apply)
Creative Deliverables
Setup of 1 FunnelsFX Landing Page template
Lite Display Ad Creative
2 sets rapid display ads – 16 ads total (8 images per set)
2 sets of custom layout display ads – 16 ads total (8 images per set)
Connected TV Commercial Ads
1 15-second rapid ConnectedTV ad
1 set of Custom TV ads 15-30 seconds with voiceover (2 videos total)
Audio Commercial – Coming Soon!
1-3 FuelFX Assets or Bring Your Own
1-3 FuelFX Assets or Bring Your Own
International Campaigns (SEM Only) – Each additional language monthly management cost:
$275
$275
Performance Reporting
Monthly performance & analysis reporting
Website conversion analysis reporting
Omni-channel customer journey tracking and reporting
Federated Ad CLID Pool for tracking calls to specific paid ad campaign
Shared pool (Up to 25 concurrent Paid Advertising visitors)
Shared pool (Up to 50 concurrent Paid Advertising visitors)
IntegrationsFX: Conversion Based Smart Bidding
Included with
License
Included with
License
IntegrationsFX: Lookalike + Custom Audiences
Included with
License
Included with
License
Add Ons
Dedicated Federated Ad CLID Pool of 25 dedicated numbers and 25 concurrent visitors
$100/month
$100/month
Dedicated Federated Ad CLID Pool of 100 dedicated numbers and 100 concurrent visitors
$400/month
$400/month
Premium Display Ad Creative
$900 per set
$900 per set
15 Sec Premium CTV Commercial Creative
$600 per video file
$600 per video file
30 Sec Premium CTV Commercial Creative
$900 per video file
$900 per video file
Additional Sets of Lite Display Ad Creative
$300 per set
$300 per set
Additional Sets of Lite CTV Commercials
$300 per video file
$300 per video file
Weekly Data Calls: Review campaign changes every 7 days
$600/month
$600/month
Translation Services:
By Quote
By Quote
Website conversion analysis implementation
By Quote
By Quote
Social Media PPC Advertising
By Quote
By Quote
Landing page performance testing
By Quote
By Quote
GET STARTED
GET STARTED
What do our ecommerce PPC management services include?
When it comes to ecommerce PPC management, you want a turnkey solution.
You don't want to bounce between agencies and struggle to coordinate their strategies and remember their responsibilities. Instead, you want a trusted contact and provider for your ecommerce PPC campaigns.
With WebFX, you get everything you've wanted in a PPC provider because our services include:
Google Shopping
Google Ads
Bing Ads
Remarketing
GoDataFeed
MarketingCloudFX
And more!
Keep reading to learn more about these core features of our ecommerce PPC management services.
Google Shopping
Get a prime spot in search results with Google Shopping ads.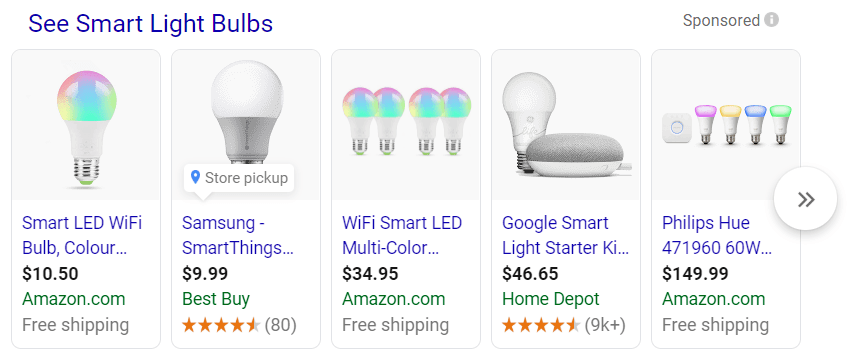 With these ads, your company can promote your products to users ready to buy them.
Your dedicated WebFX account manager will take care of developing, creating, launching, and managing your Google Shopping ads. From Product Shopping to Showcase Shopping ads, your dedicated account manager will help you leverage each one to drive orders.
Google Ads
Maximize your real estate in search results with Google Ads.
Advertise your brand and products to achieve goals related to improving brand awareness and sales, as well as remedying shopping cart abandonment with diverse pay-per-click ads for your ecommerce company.
With more than 650 client campaigns managed, WebFX can guide your business to success.
Bing Ads
Go beyond Google with Bing Ads, now called Microsoft Advertising, with our ecommerce PPC services.

Capitalize on competitors that ignore Bing Ads with a dedicated campaign for this platform. Earn sales, build brand awareness, and bring back customers that abandoned their shopping cart with a competitive and targeted campaign for this ad network.
Remarketing
Adopt a proactive approach to the 96% of people that will leave your site without making a purchase.
Use remarketing to advertise your business to users that visited your website and browsed your products. With these ads, your company (and dedicated account manager) can get shoppers to come back and purchase your products.
GoDataFeed
Make your day-to-day even easier with GoDataFeed management from our team.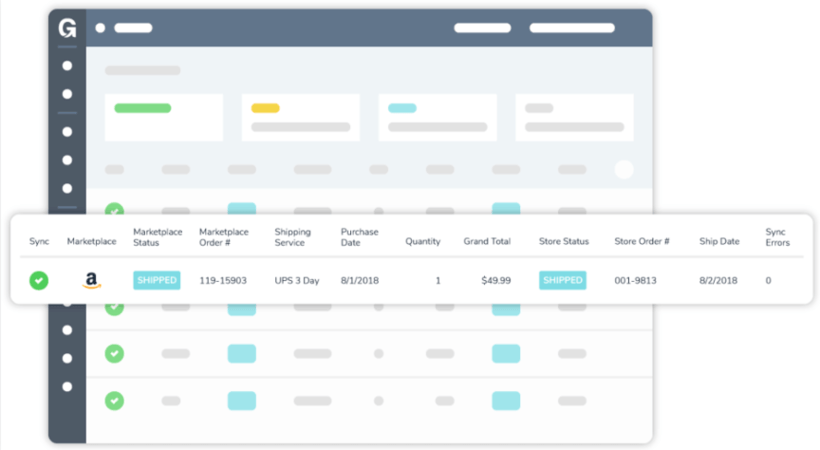 Let your experienced WebFX account manager handle managing your GoDataFeed so that you can focus on processing orders, restocking inventory, and growing your business. This feature of our ecommerce PPC management services also includes DataFeedWatch.
MarketingCloudFX
Get instant updates on your ecommerce PPC's performance with MarketingCloudFX.
Use this marketing software suite, which features the machine learning and artificial intelligence power of IBM Watson, to monitor the return on investment (ROI) and overall performance of your paid strategy.
Additional perks of MarketingCloudFX include competitor tracking, website personalization, and more!
Learn more about what you get with our ecommerce PPC management services by talking one-on-one with an experienced strategist to gain insight into the dozens of deliverables that come with our PPC management services for ecommerce companies.
Partner with a team of ecommerce masters!
WebFX campaigns have delivered more than 12,936,451 ecommerce transactions in the last 5 years
Read the Case Studies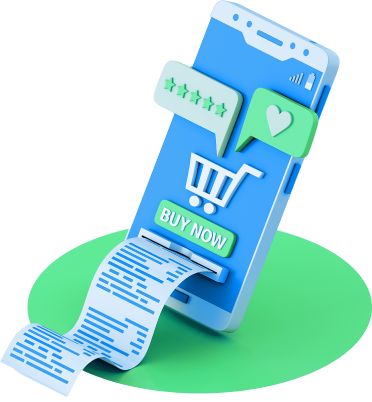 Inside our ecommerce PPC management services
Get a preview of what it's like to partner with us with this overview of how our ecommerce PPC services work:
Research: As your ecommerce PPC service provider, we take a customized approach to creating your strategy. That's why we research your business, industry, and competitors, plus ask questions about your brand, audience, and goals.
Build: Next, we outline and compile your ecommerce PPC strategy. Your strategy includes targeting, like keywords and audiences, as well as ad groups, landing pages, ad copy, and more. As a full-service agency, we provide everything your ads need to succeed.
Optimize: Once you review and approve your ad creatives, we launch your campaign. Then, we monitor its performance, making tweaks to improve its click-through rate, conversions, and return on ad spend.
Report: Every month, we generate an easy-to-follow report for your team. Your dedicated account manager reviews your report with you, answering your questions and providing your team with a suggested roadmap for the upcoming month.
Improve: Using your past campaign data, your dedicated account manager implements updates to your ads to boost their performance and provide your team with even better results, like more website visits and sales.
If you'd like to learn more about our process and how our ecommerce PPC services work, contact us online or call us at 888-601-5359 to chat with an experienced strategist about your online store and its PPC goals.
Why use our ecommerce PPC services?
Ecommerce PPC services offer your business several advantages, including:
Save time: With professional PPC services, you save yourself an immense amount of time. Instead of laboring over your Google Ads or Microsoft Advertising account, you can entrust an experienced and dedicated account manager with the task.
Earn prime real estate in search results: A paid ad offers your business a top spot in search results, whether you're using Google Search ads or Google Shopping ads. Get ahead of competitors and reach shoppers looking for products like yours.
Generate immediate sales: PPC allows you to rapidly boost qualified leads, sales, and revenue. When you start reaching users via search, you start accessing a revenue-driving channel. Our ecommerce PPC services can help maximize and maintain your sales from online advertising.
If you're looking to grow your sales, as well as your ecommerce company, pay-per-click advertising is a proven strategy. Our digital marketing agency can help you take full advantage of this strategy, saving you the time and stress of managing it yourself.
Questioning the quality of your SMB's PPC performance?
Get your FREE PPC audit from WebFX today!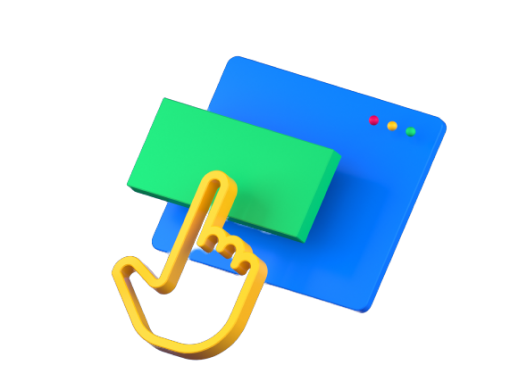 5 benefits of ecommerce PPC
Investing in ecommerce PPC offers your business several advantages. You can bring more traffic (and future customers) to your website, as well as drive immediate sales with an online ad campaign from our agency.
Why invest in ecommerce PPC?
Get more qualified traffic
Use a cost-effective advertising option
Create hyper-targeted ads
Generate more brand awareness
Measure results with ease
Learn more about the perks of ecommerce PPC for your company now:
1. Get more qualified traffic with ecommerce PPC
One of the top benefits of PPC for ecommerce is that you don't have to wait for results.
PPC can start driving relevant, targeted traffic to your website the minute your ads go live.
That's because PPC targets people searching for your products online. In comparison, traditional advertising strategies target everyone and anyone, which means you're paying for people outside your target audience to see your ads.
With the targeting options that come with ecommerce PPC ads, you can attract more qualified leads or people who are interested in purchasing your products. It's a smart strategy for any ecommerce company, whether you're big or small.
Our dedicated account managers help your business maximize the value of PPC.
We create custom strategies for your company based on your goals, industry, audience, and products. This kind of plan always outperforms the cookie-cutter approaches that other PPC campaign management services will take.
2. Invest in a cost-effective advertising option with ecommerce PPC
Did you know that pay-per-click advertising boasts an average ROI of $2 for every $1 spent?
If you're focusing your ad spend on Google Ads, that amount increases to $8 for every $1 invested. That's a tremendous return on investment. It's one of the many reasons why PPC (for any industry) is a must-use strategy.
With ecommerce PPC, you also have enormous control over how you spend your money.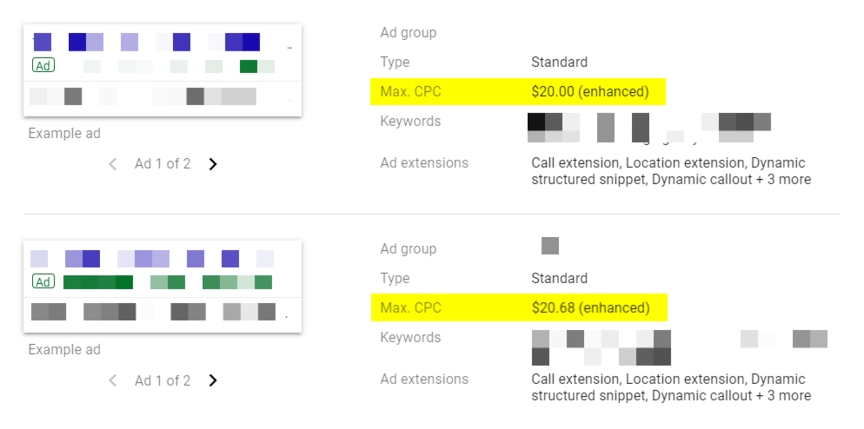 For example, when launching a pay-per-click campaign, you can specify your monthly ad spend, your budget for specific ad groups, and your bids for different keywords. It's an immense amount of freedom and contributes to the cost-effectiveness of PPC.
The fact that our ecommerce PPC management services include strategic bid management helps amplify this benefit. We help your company optimize your monthly ad spend by ensuring your campaigns maintain cost-effective bids throughout the month.
3. Create hyper-targeted ads with ecommerce PPC
Ecommerce PPC also features a significant number of targeting options. This trait makes it one of the best online advertising strategies available. With the various targeting options available, your WebFX account manager can make hyper-targeted, revenue-driving campaigns for you.
A few examples of the custom targeting options available in Google Ads include:
Location
Demographics
Device
Interests
Behavior
Topics
You can also take advantage of remarketing when it comes to ad targeting. This targeting option focuses your ads on users that make up a specific audience that visited your site, like shoppers that abandoned their shopping carts, for example.
With our ecommerce PPC management plans, you can take full advantage of these targeting options without the worry of creating an overly targeted campaign. Your account manager will research your shoppers to develop a broad audience first and then narrow it over time by using your campaign data.
This kind of approach provides you with a data-backed strategy versus one based on guesses.
4. Generate more brand awareness with ecommerce PPC
PPC is also a great way to boost awareness of your ecommerce store.
While brand awareness isn't a core focus for most ecommerce companies, it's a worthwhile goal. When you dedicate some of your ad strategy to brand awareness, you can capture future market share by focusing on users in earlier stages of the digital marketing buying funnel.
With brand awareness campaigns, you often target keywords and phrases related to your business, as well as competitors. For example, you may target a competing brand name to make users aware of your company as an alternative option.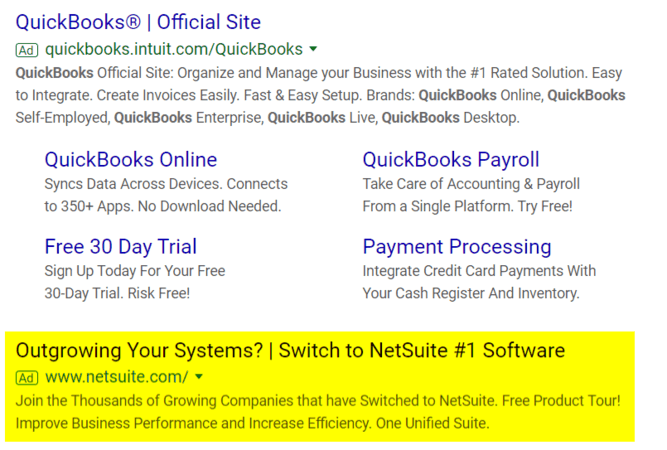 Even though people may click on your ad and skip buying from you, they have a better chance of remembering your company and brand. Their memory can come in handy when shopping for family or suggesting a product to a friend.
As your ecommerce PPC management partner, our agency will help you maximize brand awareness.
Our service plans include ad campaign copywriting, as well as ad copy testing, which means we can refine the content of your brand awareness ads to improve their impact and memorability. Even better, we feature an in-house copywriting team to help us do it.
5. Use a measurable ad strategy with ecommerce PPC
With ecommerce PPC, it's also incredibly easy to track and measure the success of your campaigns.
Via Google Ads' conversion tracking, you can gauge the effectiveness of your PPC campaigns and determine how many ad clicks lead to website purchases, phone calls, blog signups, and more. You can also link Google Analytics to your Google Ads account for even more insight.
This information can help you build a stronger campaign for your ecommerce business. You can even use PPC data to inform other online marketing strategies, such as search engine optimization (SEO) or conversion rate optimization (CRO).
Of course, when you partner with WebFX, your account manager will take care of creating and setting up your Google Ads account (unless you already have one) and will link your Google Analytics and Google Ads accounts if they aren't already.
Your dedicated account manager will also look for trends in your campaigns, which they'll show your team during your monthly consultation. If you want to check for patterns too, you can always log in to your Google Ads account.
Why choose WebFX for ecommerce PPC management?
WebFX is an award-winning PPC company, and our team of specialists understands what it takes to help you get the best possible ROI from your PPC campaigns. For perspective, we've managed more than 650 campaigns and have helped our clients earn over $1.5 billion in revenue in the past five years.
A few ways WebFX (and our ecommerce PPC management services) are different include:
We offer transparent pricing
At WebFX, we publish our PPC ecommerce management prices online.
Sharing our prices online allows you to get the complete picture when it comes to what our services include and what they cost. That way, you know how our services align with your company, budget, and PPC needs.
If your needs go beyond our traditional ecommerce PPC plans, we offer custom PPC options for various budgets. With this offering, you can evaluate your options and choose the plan that's right for your ecommerce business.
Even better, we offer custom reporting, so you'll never have to question where your money goes.
We bring years of experience to PPC
Our team of PPC specialists has years of experience working in the industry.
Your dedicated advertising specialist will carry certifications in Google Ads, as well as Bing Ads — WebFX is also a certified Google Premier Partner. For the best results, we also partner you with an account manager with experience in your sector of the ecommerce market.
This combination of skill and experience allows your WebFX account manager to build competitive strategies, optimize campaigns fast, and deliver results that meet your company's most challenging goals.
If you're looking for an experienced team of PPC professionals, choose WebFX.
We dedicate ourselves to your success
As your partner, we invest ourselves in your company's success.
That's because we value our clients and their businesses. We want your company to grow and succeed, so we dedicate ourselves to your success. That's why we measure our success by yours, like launching a new product, hiring a new team member, or expanding your operations.
It's also why we continue to stay ahead of industry trends, helping your company leverage the latest strategies to drive results. When you choose WebFX, you partner with a team that genuinely cares about yours.
We redefine the client experience
Our agency takes a client-first approach to our services.
We value your input, as well as questions, and make sure you're always up-to-date on your account and campaign performance. That's why our client retention rate remains above 91%. It's also why our client recommendation score exceeds the industry average 488%.
With WebFX, you have more than a service provider, but a true partner.
Just look at some of the results of our clients, like PaulB Parts.
This industrial, agricultural, and mechanical parts supplier upped their PPC conversion rates year-over-year by 75%. Even better, with WebFX, the company generated a 150% ROI increase, year-over-year. PaulB Part's also lowered its year-over-year cost per lead by 23% with the WebFX team.
FAQs about ecommerce PPC management services
Get more information about ecommerce PPC management services with our FAQs:
What are ecommerce PPC services?
Ecommerce PPC services are professional services for advertising on pay-per-click ad networks, like Google Ads, Microsoft Advertising, and Facebook. Typically, ecommerce PPC management will include developing, managing, and monitoring ad campaigns.
How much do ecommerce PPC services cost?
Prices for ecommerce PPC services depend on several factors, including your ad spend and your ecommerce PPC agency's pricing model. Typically, ecommerce PPC plans cost $400 to $5000 per month or 10 to 20% of your monthly ad spend.
Get started with ecommerce PPC management services
Are you ready to get better results from your pay-per-click campaigns? Contact WebFX.
With our experienced team, data-driven strategies, and track record for results, we're the trusted choice for companies looking for PPC management services. As your partner, we'll help your company take its PPC (and revenue) to the next level.
Contact us online today or call us at 888-601-5359 to get started!