Tech-Enabled Services: Get a Bigger ROI from Marketing
Drive more leads, sales, and revenue with a smarter, leaner marketing strategy. With tech-enabled services from WebFX, your business can use the power of advanced tech — like machine learning and artificial intelligence — without the high upfront cost. Get started today by requesting a proposal!
Run smarter campaigns with technology-enabled services
Say goodbye to operating on guesses and hunches when it comes to building marketing campaigns, managing leads, and measuring campaign results.
With our tech-enabled services, your business can:
Build marketing campaigns based on industry-specific data
Measure campaigns (and their return) instantly
Organize, manage, and prioritize leads efficiently
Eliminate time-consuming tasks and processes
Sync your marketing data from across campaigns automatically
View all your marketing data from one platform
And more
Help your company improve its marketing campaigns and marketing return on investment (ROI) with MarketingCloudFX, the powerhouse behind our technology-enabled services.
Already, our clients have used MarketingCloudFX (and our award-winning digital marketing services) to track and earn more than $3 billion in revenue and over 7.8 million leads — and that's only in the past five years.
Learn more about bringing tech-enabled marketing services to your workplace by contacting us online or giving us a ring at 888-601-5359.
Technology-enabled service pricing
For the most accurate pricing for our technology-enabled services, contact one of our strategists.
Speak with a strategist
They can provide your business with an accurate quote based on your unique needs. For example, an ecommerce business will likely focus more on sales than leads, which can influence which tech-enabled services they would need.
If you'd like to view some standard prices, check out our deliverables and rates for MarketingCloudFX:
| Features | Silver | Gold | Platinum |
| --- | --- | --- | --- |
| Monthly Visitor Limits | Under 50,000 visitors/month | 50k-2m visitors/month | 2m-5m visitors/month |
| Platform setup and configuration | | | |
| IntegrationsFX two-way CRM data connector | | | |
| Rollout training call with sales funnel analyst | | | |
| Monthly Lead Tracking through LeadManagerFX | | | |
| Lead Status options | | | |
| Import options for closed lead data from CRM | | | |
| Website conversion trends and insights | | | |
| Notes field for lead tracking | | | |
| Call Tracking through CallTrackerFX | Up to 100 calls/mo. tracked | Up to 200 calls/mo. tracked | Up to 300 calls/mo. tracked |
| | Includes 3 call tracking numbers | Includes 5 call tracking numbers | Includes 5 call tracking numbers |
| | Up to 50 calls/mo. transcribed | Up to 75 calls/mo. transcribed | Up to 100 calls/mo. transcribed |
| Conversational intelligence analysis | | | |
| Prospective lead tracking tool set | | | |
| This tracking occurs whether or not the lead converts | | | |
| Competitive content and SEO research | | | |
| Organic traffic recommendations | | | |
| Page-level content analysis | | | |
| AI-powered SEO tool access | | | |
| ReviewboostFX reputation monitoring and review tracking platform setup | Review tracking for 1 location | Review tracking for 2 locations | Review tracking for 2 locations |
| Facebook reviews | | | |
| Google reviews | | | |
| Yelp reviews | | | |
| Data export of historic reviews | | | |
| Monitoring dashboard for lifetime review metrics | | | |
| Leads from website will automatically be pushed into CRM platforms | | | |
| Access to MCFX mobile application for iOS and Android platforms | | | |
| Monthly cost | $299/month | ($125/month for existing customers) | $599/month | ($225/month for existing customers) | $999/month | ($325/month for existing customers) |
| Need more information? Call Us: 888-601-5359 | GET STARTED | GET STARTED | GET STARTED |
What are tech-enabled services?
Tech-enabled services, also called technology-enabled services, refer to on-demand hardware or software services that empower your business to streamline, sync, or complete various processes. These services generally operate on a subscription model.
What are tech-enabled marketing services?
A type of technology-enabled service, tech-enabled marketing services are hardware or software services that focus on streamlining, syncing, and completing processes related to marketing, whether online or offline.
These services generally concentrate on improving measuring, data sharing, attribution, and more.
WebFX is a partner businesses trust.
Hear from HydroWorx, who saw a 236% increase in organic sessions with WebFX services.
Watch the Video Testimonial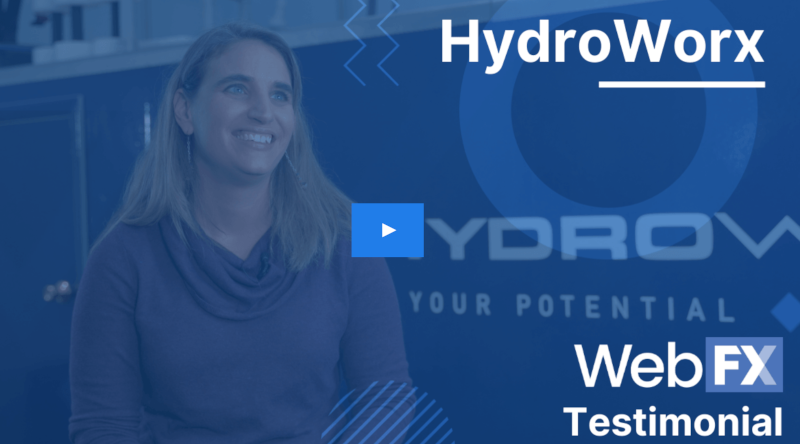 Why use any type of technology-enabled service?
Investing in technology-enabled services offer several advantages, including:
Cost-effective
Tech-enabled services offer a cost-effective alternative to building a similar technology in-house.
For many businesses, it's cost-prohibitive to develop, build, and maintain a similar solution in-house. That said, technology-enabled services offer small-to-midsized companies the chance to use and benefit from the advanced tech they couldn't access otherwise.
For perspective, we've invested more than $3 million into our tech-enabled solution, MarketingCloudFX. Building MarketingCloudFX in-house has allowed us to give our clients consistent, realistic prices for our services versus fluctuating rates influenced by third-party providers.
Instant access
With tech-enabled services, your business also skips the line to access the tool and experience results.
You get instant access to your technology-enabled services, which means you can immediately begin leveraging its features to benefit your company. In comparison, opting to develop the same solution in-house could require years of development, which places you behind competitors.
Not to mention, it will take your business longer to drive a return on investment (ROI).
Efficient
Partnering with a tech-enabled service provider also eliminates the maintenance that comes with hardware and software solutions. Businesses that build similar solutions in-house must also account for the team members, time, and tools necessary for maintaining their tech-enabled product.
When you invest in technology-enabled services, you skip the costs associated with in-house management. You don't have to worry about hiring dedicated team members to manage the solution or establishing a game plan for expanding that product's capabilities.
Instead, you can rely on the dedicated research and development team at WebFX to manage and develop MarketingCloudFX to deliver on your needs and help your business stay ahead of the competition.
Quick ROI
Technology-enablement services also provide a positive ROI sooner.
When comparing the purchase of tech-enabled services to the development of tech-enabled services, you have a lower cost involved with purchasing versus developing. That makes it easier for you to show the financial benefit of tech-enablement to company leaders because there is a smaller investment.
Hands-free setup
Businesses that invest in tech-enabled services don't have to set up anything.
That's because most technology-enabled service providers make setting up their solutions fast and easy — because they do it for you. In comparison, an on-premise solution may take longer to set up due to limited team members, complex configurations, and more.
With MarketingCloudFX, for example, we provide your business with a dedicated account manager.
They take care of setting up MarketingCloudFX for you, from integrating custom relationship management (CRM) tools like Salesforce and Shopify to setting your business up with TeamworkFX, our project management platform.
Easy to access
Accessibility is another benefit of technology-enablement services.
When you invest in these services versus an in-house solution, you often receive a product that's accessible 24/7. Many service providers will also ensure that you can use your product on multiple devices, from desktops to tablets to smartphones.
You can access MarketingCloudFX, for instance, wherever an Internet connection is available. We've also developed a mobile app for MarketingCloudFX too, which means you can access, review, and share your marketing data whenever you want.
Measuring the metrics that affect your bottom line.
Are you interested in custom reporting that is specific to your unique business needs? Powered by MarketingCloudFX, WebFX creates custom reports based on the metrics that matter most to your company.
Leads
Transactions
Calls
Revenue
Learn More

What technology-enabled marketing services does WebFX offer?
At WebFX, we focus on technology-enabled marketing services. That means MarketingCloudFX works to make your marketing campaigns smarter, as well as help your marketing and sales teams work together better, so your business can drive more leads, sales, and revenue.
Search engine optimization (SEO) services
Grow your presence in search results on Google and Bing with SEO services. With a higher placement in search results, your business can attract more qualified traffic to your site. That translates to more leads and sales for your company.
View SEO services
How does MarketingCloudFX support your SEO services?
MarketingCloudFX supports our SEO services (and powers your SEO strategy) by allowing you to:
Watch keyword rankings: With AnalyticsFX, a tool within MarketingCloudFX, your business can track and monitor its rankings for high-value keywords. See how your SEO efforts build over time and deliver long-term results to your company.
Get AI-generated SEO recommendations: AnalyticsFX also offers AI-generated suggestions for how your company can increase its rankings in search results. Your dedicated account manager can implement these updates for you.
Build optimized, user-friendly content: With ContentGeniusFX, your business can publish SEO- and user-friendly content that ranks well in search results and guides users through your buying funnel. Plus, you can monitor its performance, from rankings to ROI, in MarketingCloudFX.
Track phone calls, leads, and revenue: In MarketingCloudFX, it's easy to track phone calls, leads, and revenue that come from your SEO efforts. Skip using multiple platforms, and instead rely on one dedicated place for gathering, syncing, and reviewing your marketing efforts.
Content marketing services
Publish high-quality content that follows SEO best practices with our content marketing services. Attract business buyers and shoppers at every stage of the buying funnel with blog posts, product pages, and more. You can even rely on our content marketing team to develop, write, and publish your content.
View content marketing services
How does MarketingCloudFX support your content marketing services?
MarketingCloudFX helps your business get the most value from content marketing by:
Streamlining content production: With ContentGeniusFX, your business can say goodbye to the back-and-forth of reviewing and approving content. It's easy to review and approve content in ContentGeniusFX, which you can access from your MarketingCloudFX dashboard.
Grading SEO content optimizations: Use the AI power of ContentGeniusFX to ensure your content nails SEO. From keyword insertion to content formatting, ContentGeniusFX does a 360-degree analysis, so you always publish the best SEO content possible.
Monitoring content performance: With ContentAnalyticsFX, your business and dedicated WebFX account manager can track and monitor the performance of your content over time. Learn which pieces of content, for instance, generate the most email sign-ups, leads, and more.
Personalizing content to high-value users: Give your content an extra advantage with PersonalizeFX, which allows your business to tailor its website and content to high-value users. Make buying from your company even easier with a personalized experience.
Lead generation services
Attract, nurture, and convert the leads that matter most with our lead generation services, which include strategies like pay-per-click (PPC) advertising, account-based marketing, geofencing advertising, and more.
View lead generation services
How does MarketingCloudFX support your lead generation services?
With MarketingCloudFX working behind the scenes, your business can expect the following advantages:
Learn how leads interact with your site: LeadManagerFX makes managing leads seamless. Via LeadManagerFX, learn how high-value leads discovered your business, as well as how they used your website. Use this data to build a better understanding of your most valuable leads.
Track and attribute phone calls to the right channels: Forget the phone book. With CallTrackerFX, you can credit phone calls to the appropriate channels, like search, paid, and social. Plus, you can listen to transcripts and determine which pages, ad campaigns, and emails drove a call.
Automate lead nurturing with data-backed workflows: With LeadNurtureFX, you can automate (and improve) lead nurturing. Use the data and AI power of MarketingCloudFX to create custom triggers and personalized journeys that turn leads into clients.
Integrate lead management and CRM: Say goodbye to bouncing between programs and browser tabs. With MarketingCloudFX, you can access all your lead management and customer relationship management data in one place. Go ahead, make your sales team's life easier.
Email marketing services
Email marketing is one of the best digital marketing strategies when it comes to ROI. With our email marketing services, we'll help your business use email to nurture leads, drive repeat purchases, and build customer loyalty.
View email marketing services
How does MarketingCloudFX support your email marketing services?
MarketingCloudFX will empower your email marketing campaign a few ways, like by:
Access a drag-and-drop email builder: With our dedicated email platform, MyEmailFX, your business can create professional emails in minutes, thanks to MyEmailFX's drag-and-drop email builder. Our in-house design and development team can also build a custom email design for you.
Build segmented email campaigns: Segmentation, which can help your business build hyper-targeted email campaigns, is easy with MyEmailFX. Your company can also ask your dedicated account manager to handle segmenting your subscribers.
Integrate subscriber data with MarketingCloudFX: Our tech-enabled marketing services ensure MarketingCloudFX is your trusted hub for all your marketing data. That's why MyEmailFX data, from open rates to click rates, integrates with MarketingCloudFX.
Measure email marketing's ROI: Thanks to MarketingCloudFX, it's easy for your business to evaluate the ROI of your email marketing campaigns. Learn how many leads, sales, and revenue you drove through email marketing with a few clicks.
Meet MarketingCloudFX:
One platform tracking countless metrics and driving stellar results.
Learn More About Our Proprietary Software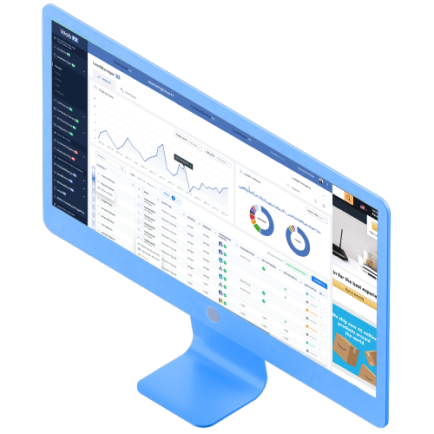 Why use WebFX for tech-enabled marketing services?
When it comes to tech-enabled marketing services, WebFX offers several benefits, including:
Proprietary technology platform
MarketingCloudFX is our proprietary technology platform.
We've invested more than $3 million developing, maintaining, and improving MarketingCloudFX, which features a suite of tools. Since we own MarketingCloudFX, we've eliminated the costs and inconveniences that often come with repackaged third-party tools.
For example, your business can count on:
Consistent pricing
Reliable uptime
Dedicated support team
And more
Even better, you can request features that our team can implement to make MarketingCloudFX even more valuable to your business. That's the power of investing in tech-enabled services from an agency that owns their software.
Impressive client satisfaction
With more than 25 years of experience, WebFX comes with a proven track record of client service and satisfaction. Our client recommendation score, for instance, beats the nationwide average by 488%.
We also maintain a client retention rate of more than 90%, demonstrating the care and commitment our award-winning team brings. As your partner for tech-enablement and digital marketing, you can count on us to make your life easier, like by saving you time, offering actionable advice, and more.
Proven performance
Clients make us their long-term partner for a few reasons — one is the results we drive.
In the past five years, we've helped our clients generate (and measure) the following results:
$3 billion in revenue
7.8 million leads
5.2 million phone calls
12.9 million managed transactions
With the expertise of our team, the artificial intelligence power of MarketingCloudFX, and the toolkit of MarketingCloudFX, we can help your business get more value from digital channels — and measure that value.
Empower your marketing to drive results with tech-enabled services
You have the power to make your marketing smarter.
Help your business measure its marketing campaigns better, as well as drive more leads, sales, and revenue from digital marketing strategies like content marketing, SEO, and email marketing with tech-enabled services.
Get started today by contacting us online or giving us a ring at 888-601-5359 to learn more!