Integrated Marketing Agencies: Maximize Your Marketing ROI
Are you ready to take your business to the next level with integrated digital marketing?
Whether you're looking to increase your revenue, boost your marketing return on investment (ROI), or improve your brand awareness, you can achieve your goals (and move past your competitors) with one of the industry's leading integrated marketing agencies: WebFX.
With decades of experience, hundreds of team members, and billions in results, WebFX is the integrated marketing company that businesses trust. Our custom digital marketing services and data-driven strategies provide your organization with a competitive edge that drives revenue and growth.
Learn more about our integrated marketing services, below. Or, chat with our team about our award-winning services by contacting us online today. You can also discuss your company's needs right now by calling us at 888-601-5359!
Our integrated marketing agency's services
As your partner, our integrated marketing agency offers your business a complete suite of digital marketing solutions. Whether you're looking to leverage social media, search, video, or another channel, we provide the services and expertise needed to succeed.
Search Engine Optimization
Content Marketing
Email Marketing
Paid Advertising
Social Media
Web Design
Search engine optimization
Modern shoppers and business buyers depend on search engines like Google and Bing. Already, 80 percent of shoppers do product research online, with 71 percent of business buyers using search engines for the same reason.
That's why companies can't afford to ignore search engine optimization (SEO).
With SEO, your business can gain valuable real estate in search results on Google, Yahoo!, and Bing. Appearing in search results relevant to your industry and target market helps your company generate leads and drive sales, as well as boost your bottom line.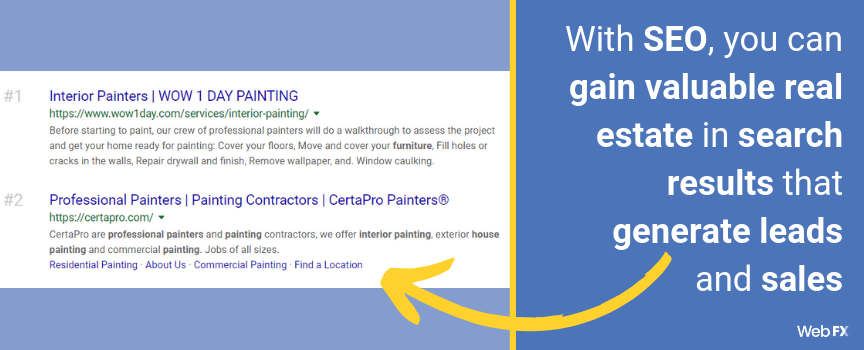 Partner with our integrated marketing firm to maximize the performance (and results) of your SEO.
Paid advertising
Your business can also coordinate paid advertising with your SEO strategy. With a pay-per-click (PPC) advertising campaign, your company can target high-value searches and appear at the top of their search results. In most cases, these searches carry value because of the purchase intent behind them.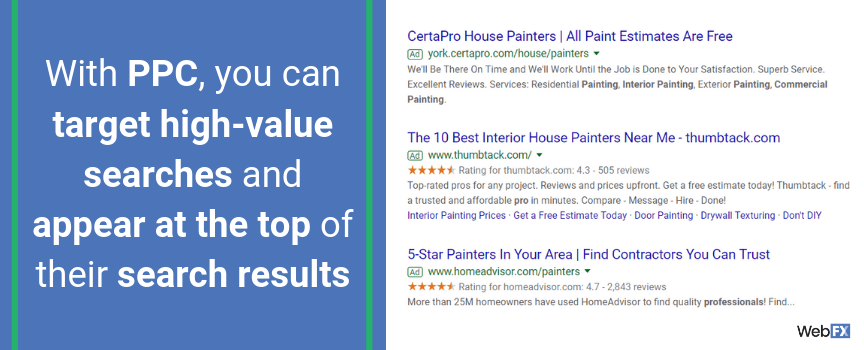 While paid advertising requires a monthly ad spend, it comes with an impressive return on investment (ROI). Companies that invest in paid advertising earn an average ROI of $2 for every $1 spent. That's because people that click on ads are twice as likely to make a purchase.
Get the best ROI from your paid strategy with a custom one from our integrated marketing agency.
BROWSE PAID ADVERTISING PACKAGES
Email marketing
In the business-to-business (B2B) and business-to-consumer (B2C) industries, email marketing delivers unmatched results. This strategy, which you can easily integrate with content marketing and other digital marketing solutions, provides an average ROI of $44 for every $1 invested.
Email is an extremely effective marketing strategy for a few reasons.
Your team can develop personalized messages and offers
Your company can segment email subscribers into hyper-targeted audiences
You can measure your strategy's behavior and performance with dedicated software
The multiple benefits of email marketing are why more than 80 percent of companies use this strategy. Your business needs to take advantage of email marketing, especially because its capable of generating 50 percent more sales than other lead generation methods.
Collaborate with our integrated marketing firm to develop and launch your email marketing strategy.
VIEW OUR EMAIL MARKETING SERVICES
Social media marketing and advertising
Billions of consumers and business buyers use social media, from Facebook to LinkedIn to Instagram. If your company wants to maximize its lead generation and revenue-driving efforts, then it needs to use social media to its advantage.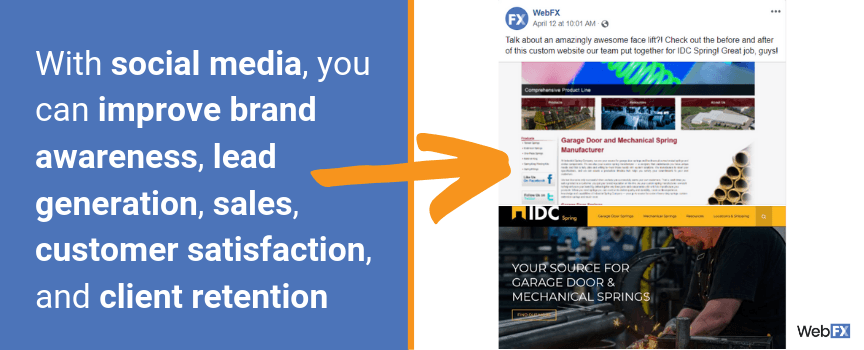 Whether your business launches a marketing or advertising campaign on social media, you can use this channel to improve brand awareness, lead generation, sales, customer satisfaction, and client retention. Without a social media strategy, your competitors get an easy opportunity for earning customers.
Work with our integrated marketing company to build, launch, and manage your social media strategy.
CREATE A CUSTOM SOCIAL MEDIA PACKAGE
Web design and redesign
Your website serves as the foundation of your company's integrated online strategy. Without a site, you can't launch critical digital marketing strategies, like SEO, content marketing, or PPC. That's why you need a website, and a user-friendly one too.
While designing (or redesigning) a website is a massive undertaking, it offers a high ROI. Companies that invest in their site's user experience tend to earn $100 for every $1 they spend. Web design's impressive ROI comes from its unmatched influence on user trust and purchase decisions.
Almost 90 percent of users, for example, shop with a competitor after a poor website experience. Don't give away those valuable leads or shoppers to the competition. Invest in your site's design and user experience to maximize your sales and revenue.
Start improving your site by partnering with our award-winning integrated marketing agency.
GET AN INSTANT WEB DESIGN QUOTE
Content marketing & copywriting
Content is critical in today's online marketplace. More than 60 percent of users prefer businesses that create and publish custom content, like on a blog. Even if your company operates offline, content is essential for reaching consumers and business buyers researching online.
A custom content marketing strategy can help your company achieve tremendous results.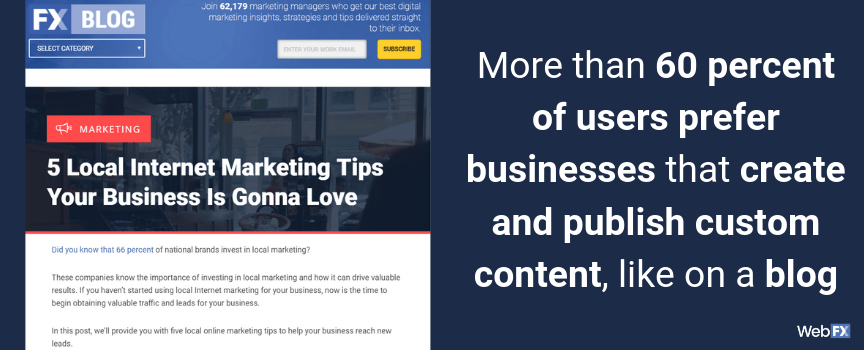 That's because content marketing doubles website conversion rates. It also generates three times as many leads as traditional marketing strategies. Content marketing also costs 62 percent less than traditional marketing.
Get the power of content marketing (without the work) by partnering with our award-winning team.
EXPLORE CONTENT MARKETING PLANS
Additional integrated marketing services
With WebFX, your business can launch a fully integrated digital marketing campaign. As a full-service integrated marketing agency, we offer a complete suite of online marketing services for promoting your company to its target market successfully.
Additional integrated marketing services you can take advantage of include:
Learn more about our services and get a custom marketing plan by contacting us online today!
6 reasons our integrated marketing company is the perfect partner for your business
Companies make WebFX their dedicated integrated marketing company for several reasons. From our friendly and experienced team members to our advanced and industry-leading marketing software, we provide an unparalleled client experience.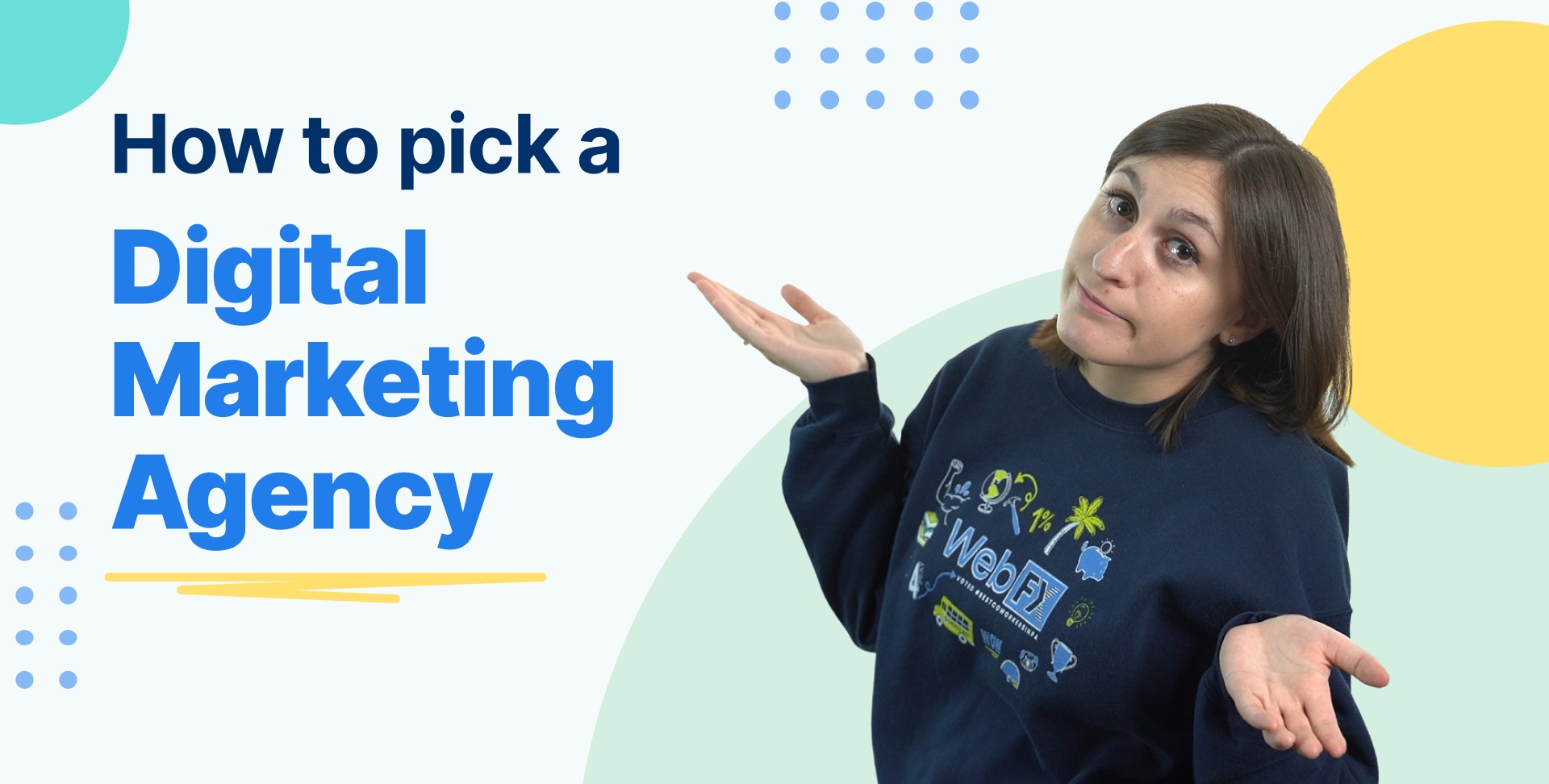 Why is WebFX the best fit for your business, though? A few reasons, including:
1. Dedicated account manager
With our integrated marketing agency, your team receives a dedicated account manager. While other firms may pass your account from manager to manager, we offer your business a consistent point of contact.
When you have a dedicated account manager, you have a different client experience because:
Your account manager knows your name
Your account manager knows your business
Your account manager knows your goals
You're a name, not a number when you partner with WebFX. That's a tremendous (and game-changing) difference for many businesses. It also makes a substantial impact on your strategy, because your dedicated account manager tailors it to your goals, industry, and more.
2. Turn-key digital marketing solutions
As a full-service integrated marketing agency specializing in digital marketing, we provide your company with all the online marketing services you need. Whether you're looking to launch a unified search and social campaign or video and search strategy, we have the expertise and tools to help you succeed.
Some examples of our available digital marketing services include:
If you're unsure about which online marketing services your company needs, our experienced strategists can help. Just contact us online or call us at 888-601-5359 to chat with a strategist about your business and what you're looking to accomplish with web marketing.
3. Industry-leading client recommendation score
With more than 25 years of experience in the Internet marketing industry, WebFX features an unmatched client recommendation score. We've partnered with businesses from dozens of industries and maintained a client recommendation score that's 488% higher than the industry average.
We credit our industry-leading client recommendation score to the following:
Our personalized approach to working with our clients
Our commitment to customized strategies for our clients' businesses
Our dedication to achieving real, tangible results for our clients, like an increase in sales
Our enthusiasm for digital marketing and building integrated strategies
When you decide to partner with WebFX, you gain a dedicated partner invested in your success.
4. Proven results
In the past five years alone, we've helped our clients earn:
More than $3 billion in revenue
More than 7.8 million leads
More than 5.2 million phone calls
For our clients, these earnings went beyond numbers. The revenue, leads, and phone calls earned allowed our clients to accomplish some challenging goals, like expanding their business into a new area, growing their in-house team, or even launching a brand-new product or service.
At our integrated marketing agency, we're ready to help your company do the same.
5. Transparent reporting and pricing
When your team partners with ours, we provide you with upfront pricing and reporting. Even before your business contacts our team (or requests a custom quote), you can view our service pricing on our website.
Transparent pricing isn't typical among integrated marketing firms. It's uncommon for agencies to publish their prices online, which makes it difficult for your business to compare companies before contacting them.
In addition to our upfront pricing, we also provide transparent monthly reporting. No matter your strategy, your dedicated account manager delivers a transparent, easy-to-read report every month. They also take the time to review the results with your team.
6. Custom strategies built for your business
A successful integrated digital marketing campaign depends on a custom strategy. While a cookie-cutter approach may save your business money up-front, it won't deliver the results you want or need to compete in your industry.
That's why our integrated marketing agency provides custom strategies. Your dedicated account manager builds a plan tailored to your business by learning about your industry, products or services, audience, and more.
For your company, that results in a high-performing strategy that generates results.
FAQs about integrated marketing agencies
Do you have additional questions about integrated marketing agencies? Browse our FAQ!
1. What is integrated marketing?
Integrated marketing provides your business with a cohesive and unified approach for marketing your company. With a coordinated marketing strategy, your business can build on the success of your campaigns, achieve your company's goals, and align your marketing messaging.
2. Why use integrated marketing?
Businesses make integrated marketing a part of their strategy for a few reasons, including:
Improve the ROI from marketing and advertising
Eliminate competition or misalignment between strategies
Reduce waste from mismanaged campaigns
Increase company growth, revenue, and competitiveness
Whether you're overseeing your marketing strategy in-house or partnering with multiple agencies, a unified marketing strategy can benefit your business. It's a smarter approach to marketing and helps your company minimize its waste and maximize its gains when it comes to promoting your business.
3. What is an integrated marketing agency?
Integrated marketing agencies provide full-service marketing solutions, as well as coordinated marketing strategies. They serve as an extension of your business by developing, launching, and managing a complete (and unified plan) for marketing your company.
Check out this post to learn more about the types of marketing agencies and services they offer.
4. Why partner with an integrated marketing firm?
Companies partner with integrated marketing companies for a few reasons, including:
Small in-house marketing team
Limited expertise in different marketing channels
Competitive industry
Underperforming integrated marketing strategy
No matter what motivates your business to consider an integrated marketing agency, partnering with one offers several benefits. If you're unsure about working with an integrated marketing firm like WebFX, think about these advantages and how they'd help your team and business.
A few of the perks that come with an integrated marketing firm like WebFX include:
Experience
Talent
Professionalism
For many businesses, our integrated marketing company provides your staff with peace of mind, as well as results. You can trust our team to deliver creatives, strategy updates, monthly reports, and more. Not to mention, you can count on your dedicated account manager to return your calls and emails.
5. How much do integrated marketing agencies cost?
When it comes to integrated marketing agencies, prices vary substantially. In most cases, however, small-to-midsized businesses (SMBs) spend around $2500 to $12,000 per month. This amount does depend on several factors, though, like your strategy and services.
If your company wants the most accurate pricing estimate, request a custom quote from an agency.
Time to Level Up Your Sales
Our long list of services helps you grow every aspect of your business with marketing strategies that are proven to increase bottom-line metrics like revenue and conversions.
In the past 5 years, we've managed more than 12.9 MILLION transactions across our client base.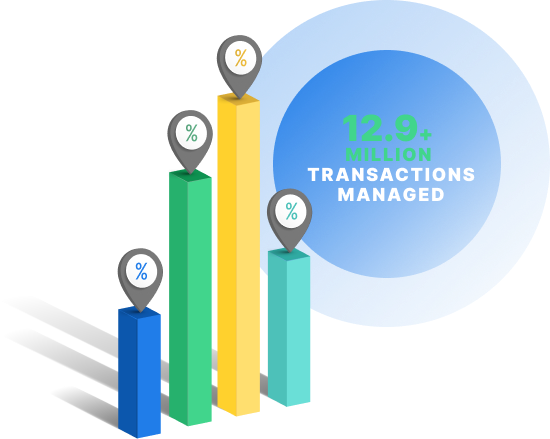 Get started with the industry's trusted integrated marketing company
With our custom strategies, plus an integrated marketing approach, we've helped our clients earn more than $3 billion in revenue (and more than 7.8 million leads) in the past five years. That's one reason why our client recommendation score exceeds the industry average by 488%.
See why businesses trust our integrated marketing company by contacting us online today!
If you'd like to chat with a strategist now, give us a call at 888-601-5359.