Grow Your Sales With Google Shopping Management Services
If you're not using Google Shopping to reach more online shoppers and grow your sales, now is a great time to start. Google Shopping increases your brand's visibility on Google and can bring highly qualified leads to your website.
One of the best ways to get the most out of this tool is to work with a professional Google Shopping management company like WebFX.
In this guide, we'll discuss how Google Shopping works, how your company can benefit from it, and why you should consider Google Shopping feed management services.
To learn more about Google Shopping management services, request a free quote online or call us at 888-256-9448.
Partner with a team of ecommerce masters!
WebFX campaigns have delivered more than 12,936,451 ecommerce transactions in the last 5 years
Read the Case Studies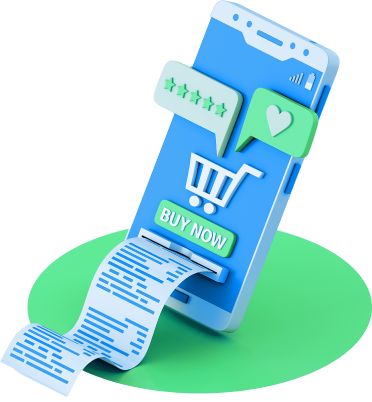 Table of Contents: Email Marketing Benefits
What is Google Shopping?
Google Shopping is a Comparison Shopping Engine that consumers can use to shop products from numerous retailers.
Google Shopping results include:
An image of the product
The product's name
The retailer's name
The product's price
Other relevant information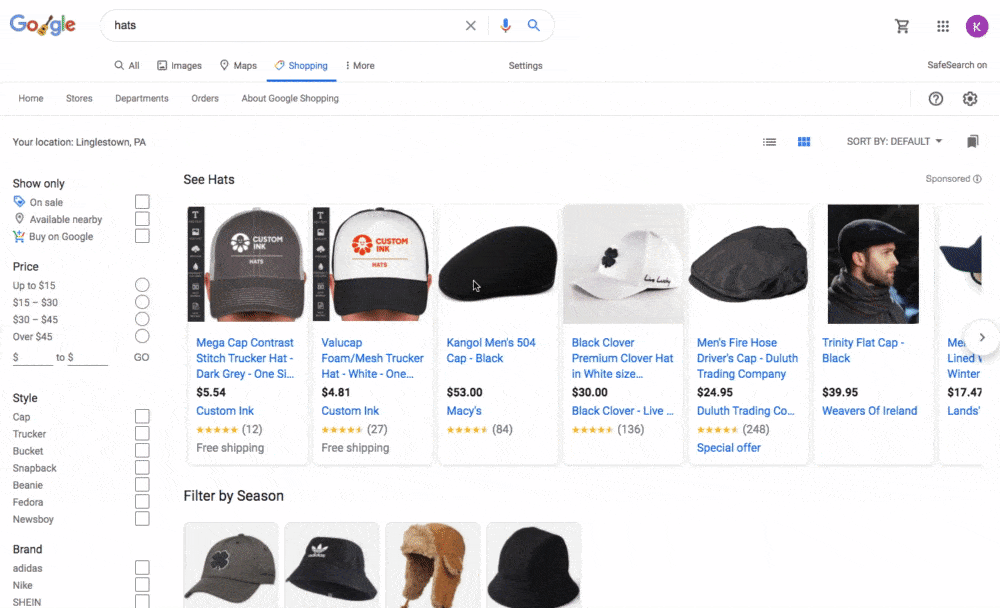 These results sometimes show up at the top of the main search engine results page (SERP) for a query, and users can also navigate to the Shopping tab from the main SERP.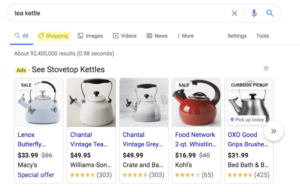 For your products to appear in Google Shopping, you must upload product data to Google Merchant Center and pay to run Google Shopping ads. Google Shopping is an extension of Google Ads and an excellent way to advertise physical products on Google.
Bonus Read: What Is Product Feed Management?
Why use Google Shopping?
Why should your business use Google Shopping to advertise its products? Here are some of the top benefits.
1. Increased visibility on Google
Google Shopping ads often appear at the very top of SERPs for product-related searches, so they're the first thing users see. They also stand out from the text-focused elements that make up the rest of the SERP because of their visual format.
2. A broader presence
More than one Shopping ad from an individual retailer can appear on a SERP. You can also have Shopping ads, a text ad, and an organic result from your website all show up on the same SERP.
Shopping ads give you another way to reach users on Google and can increase your traffic from a single search term.
3. Access to qualified leads
Google Shopping ads allow you to reach leads who are actively searching for products like yours. You can also give users the information they need to make a purchase right in your Shopping ad, helping leads get closer to a purchase decision before they arrive on your website.
4. Access to data
Google Shopping also makes it easy to get detailed information about how your ads perform. This data can help you improve your ad campaigns and determine your most popular products.
For example, you can get details about how many clicks you receive on ads for specific products. To get this information, you just need to filter your product view. You can also use benchmarking data to learn more about how your campaigns compare to those of your competitors.
How does Google Shopping work?
To manage your Google Shopping ads, you'll use Google Ads. From Google Ads, you can choose which types of Shopping ads to show and choose your bidding strategies.
Google doesn't use keywords to decide when to show your Shopping ads as it does with other types of ads. Instead, it uses the product data in your Merchant Center to determine which of your products is most relevant to a search.
Types of Google Shopping ads
You can choose from three kinds of Google Shopping feed ads.
Product Shopping ads: Product Shopping ads are the fundamental type of Google Shopping ad and contain an image of a single product and basic information about that product.
Showcase Shopping ads: With Showcase Shopping ads, you can group a set of similar products into one ad. Users can then compare the products directly in the ad and choose the one that best fits their needs.
Local inventory ads: Local inventory ads let you highlight your products for local users. When users click on these ads, they arrive on a local storefront page where they see information such as your current inventory and store hours.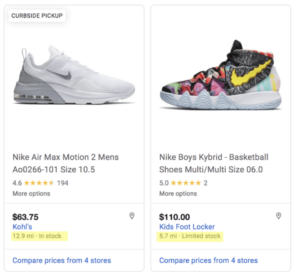 Google Shopping ad costs
Like with other types of ads, Google uses ad auctions to determine which Shopping ads to show. When a user completes a search, Google considers factors such as advertisers' bids and ads' relevance to the search to determine which ads win the auction and will display in the SERP.
The way Google charges advertisers differs depending on the type of Shopping ad.
Product Shopping ads and local inventory ads use the cost-per-click (CPC) method, which means that you only pay when someone clicks on your ad.
Showcase Shopping ads use the cost-per-engagement method. You're charged each time a user expands a collapsed ad and then views it for 10 seconds or more or clicks on the expanded ad.
When creating your Google Shopping campaigns, you can choose your maximum bid for each click or engagement. You'll only pay as much as is necessary to rank above the advertiser whose ad appears directly after yours, however.
Where Shopping ads appear
Google Shopping ads can appear:
On Google Search SERPs, at the top of the page or next to the text ads and organic results
In the Shopping tab on Google Search
On the Google Display Network, which includes Gmail, YouTube, and Google Discover
On Google Search Partner websites, if you choose to include these sites when setting up your campaign
What are Google Shopping management services?
Google Shopping management services help you ensure your products show in Google Shopping for the appropriate searches. They can also help maximize your ads' click-through rates (CTR) and the number of sales you get from them.
Google Shopping management companies like WebFX have the expertise to help you get the most out of Google Shopping. We also have experience with numerous other digital marketing strategies, including Google search text ads, remarketing, and search engine optimization (SEO).
What do our Google Shopping feed management services include?
What do you get with Google Shopping management services? When you work with WebFX, we will:
Create custom strategies for your campaigns that are designed to meet your goals
Ensure your product data in Google Merchant Center is correct and optimized so that your ads display for the appropriate searches
Optimize your product imagery to improve ad performance
Set up your campaigns and help you choose the ideal ad types and targeting
Create and manage bidding strategies to maximize return on ad spend (ROAS)
Regularly review and update your Google Merchant Center data and Google Shopping campaigns
Provide regular reporting on your campaigns' performance
In addition to Google Shopping, we can also manage your brand's presence on other shopping feeds and manage your online coupons to increase conversions and return on investment (ROI).
Why choose WebFX?
Want to improve your Google Shopping campaigns? Here's why WebFX is the ideal Google Shopping management partner.
25+ years of experience
At WebFX, we have more than 25 years of experience in digital marketing. Our team of more than 250 digital marketing experts has the expertise necessary to maximize the results of your Google Shopping feed campaigns.
Certified Google Premier Partner
WebFX is a certified Google Premier Partner, which means our team has demonstrated skills and expertise with Google Ads, met ad spend requirements, and achieved growth in our agency, client base, and client revenue.
Custom strategy
When you work with us, we'll get to know your business and your goals. We'll then develop a custom strategy that meets the unique needs of your business.
Dedicated account representative
You'll also get a dedicated account representative who will be with you throughout your campaigns, provide you with regular updates, and be available to answer your questions.
Regular reporting
We also provide regular, transparent reporting on your campaigns' progress. You can access campaign data through MarketingCloudFX, and your account representative will update you with periodic reports and consultations.
Full-service digital marketing
We're a full-service digital marketing agency, so we offer a wide range of other digital marketing services in addition to Google Shopping management.
Because we offer a full suite of online marketing services, we understand how various channels work together and can provide you with a comprehensive Internet marketing strategy.
Real results
We focus on providing meaningful results for our clients. Over the last five years, we've generated 6.3 million leads and $2.4 billion in sales for our clients.
Get started with Google Shopping management services
Ready to increase your visibility online, grow website traffic, and boost sales? Google Shopping management services from WebFX can help!
To get started on your custom Google Shopping strategy, call us at 888-256-9448 or request a free quote online today.