The 10 Best Google Ads Companies Around the World
In this article, we're going to talk about the best Google Ads companies in the world. Read on to learn more about the best Google Ads companies in your region!
Google Ads is one of the best advertising platforms available on the Internet today. You can use Google Ads to promote your business at the top of Google search results, on third-party websites, and more. With that much potential, it's definitely a platform you'll want to take advantage of.
But running campaigns in Google Ads takes time and effort — time and effort that you might not have. After all, you have a company to run, and you can't necessarily afford to spend all your time on Google Ads. That's why it can be helpful to have a third-party Google Ads agency on your side.
There are plenty of excellent Google Ads companies out there, but they're mostly limited to specific geographical regions. That means you may be uncertain which Google Ads agency is the best one to partner with in your area of the world.
Luckily, we've got you covered. Keep reading for a list of the best Google Ads agencies across the world, including:
WebFX (North America)

Galletti Advertising (South America)

One Umbrella (Western Europe)

UAWC Agency (Eastern Europe)

XNUMERIK (Northern Africa)

Hype Digital (Southern Africa)

SEO Sherpa (Middle East)

Oxedent (South Asia)

AJ Marketing (East Asia)

Farsiight (Australia)
Then subscribe to Revenue Weekly — our email newsletter — for more digital marketing tips from the experts!
Don't miss our Marketing Manager Insider emails!
Join 200,000 smart marketers and get the month's hottest marketing news and insights delivered straight to your inbox!
Enter your email below:
Inline Subscription Form – CTA 72
"*" indicates required fields
(Don't worry, we'll never share your information!)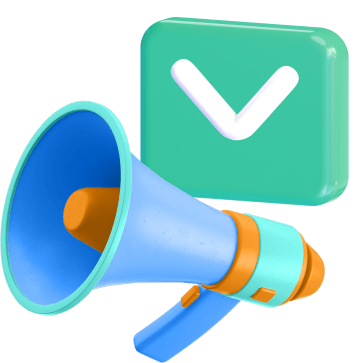 10 best Google Ads companies around the globe
Depending on where you live, you'll have access to a different set of Google Ads agencies. In this article, we're going to look briefly at the best Google Ads agency from 10 different regions of the world. Keep reading to learn more!
1. Best Google Ads Company in North America: WebFX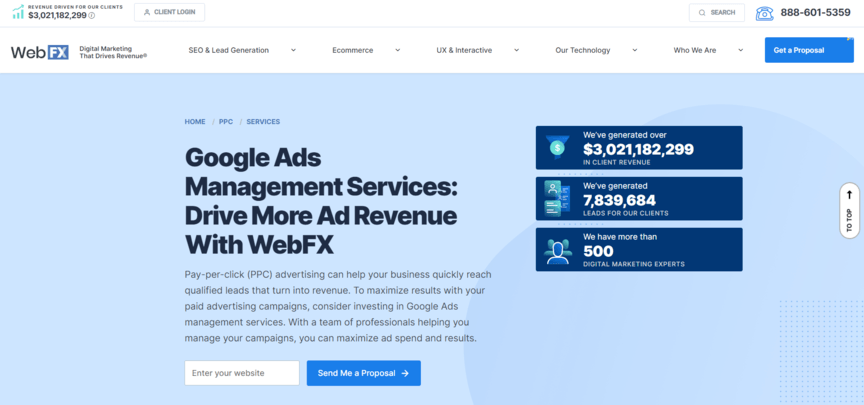 Location: Harrisburg, Pennsylvania, United States
Team size: 500+
Yes, we know: We've named ourselves as the best Google Ads agency in North America. But we're not saying that without good reason — we've got plenty of data to back it up. For instance, in the last several years alone, we've generated over 7.8 million leads for our clients, as well as over $3 billion in revenue.
On top of that, we have a 4.9 rating on Clutch, as well as over 1000+ glowing client testimonials. There's a reason our clients are so happy with our services — we know Google Ads inside and out, and we have all the necessary skills to drive up your company's revenue.
2. Best Google Ads Company in South America: Galletti Advertising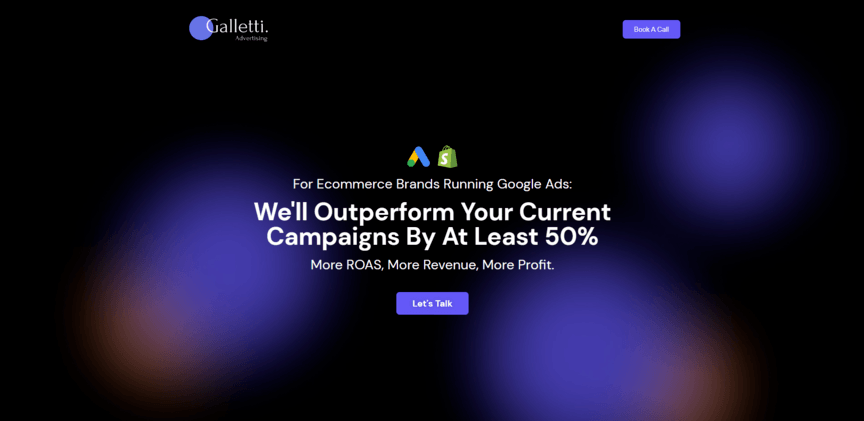 Location: Brasília, Brazil
Team size: 2–9
If you live in South America, you'll be hard-pressed to find a better Google Ads agency than Galletti Advertising. Based in Brazil, Galletti boasts a 5-star rating on Clutch, and its clients have praised it both for its team's knowledge and its integrity.
Galletti puts the majority of its focus on Google Ads, though it can also help you run ad campaigns on YouTube. It offers services related to social media marketing and conversion rate optimization (CRO) as well.
3. Best Google Ads Company in Western Europe: One Umbrella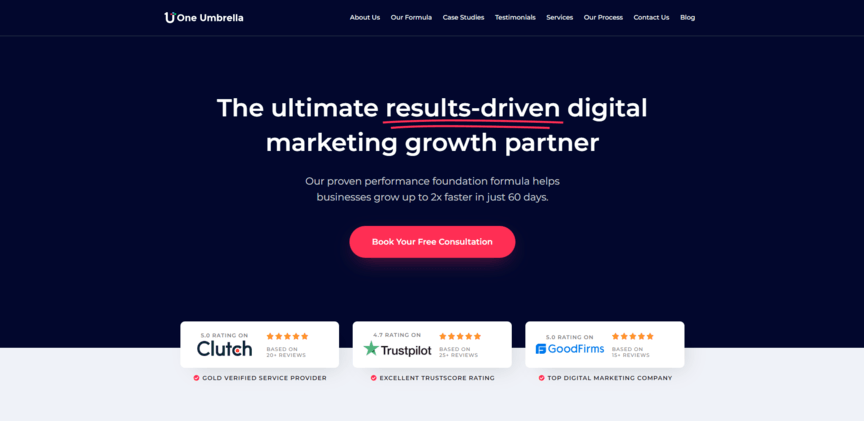 Location: London, England, United Kingdom
Team size: 2–9
In Western Europe, the best Google Ads company for your business is probably One Umbrella, an agency based in London. One Umbrella is Google-certified, meaning Google recognizes it as an expert in digital advertising. If you're looking for Google Ads services, that's a pretty fantastic thing to hear.
With a 5-star Clutch rating, One Umbrella is loved by all its clients. Those same clients testify to how skilled One Umbrella is at staying on top of changing ad trends and paying close attention to details to ensure superior results.
4. Best Google Ads Company in Eastern Europe: UAWC Agency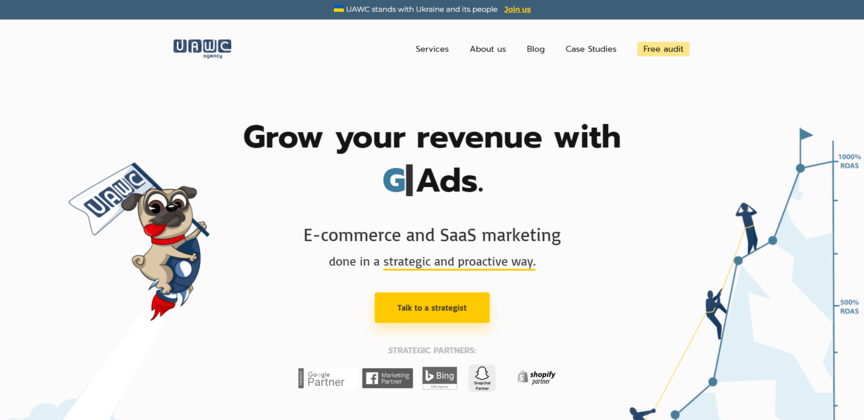 Location: Kyiv, Ukraine
Team size: 10–49
If your business is based in Eastern Europe, the best Google Ads agency for you is probably UAWC Agency. UAWC maintains a 5-star rating on Clutch, which also ranks them as the top ad agency in Ukraine.
UAWC is also a Google Premier Partner, meaning you can rest assured that they can drive the best possible results for your business. They specialize in maximizing your return on investment (ROI), directly impacting how much revenue your business earns.
5. Best Google Ads Company in Northern Africa: XNUMERIK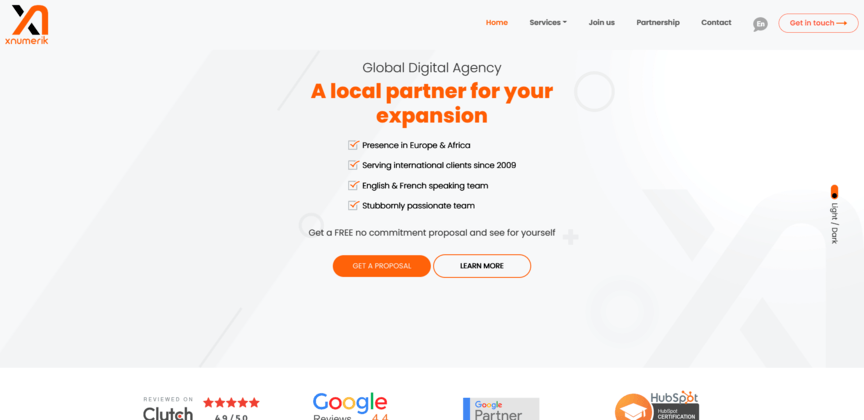 Location: Casablanca, Morocco
Team size: 2–9
Based in Morocco, XNUMERIK is the top ad agency in Northern Africa. The XNUMERIK team has over a decade of experience with digital advertising, including Google Ads. Their proficiency with Google Ads allows them to quickly and effectively generate incredible ad campaigns that bring in new leads and clients for your business.
On top of being experts at persuasive ad techniques, XNUMERIK's team also goes out of their way to base your campaigns entirely on advertising data. That ensures maximum effectiveness and helps you entice more users.
6. Best Google Ads Company in Southern Africa: Hype Digital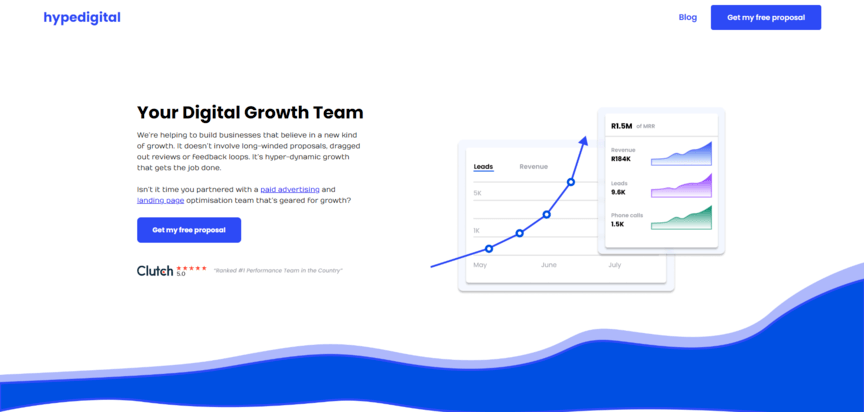 Location: Cape Town, South Africa
Team size: 10–49
If you're located in or near South Africa, Hype Digital may be the perfect option for you. It has a 5-star review on Clutch, meaning you can feel secure in the quality of its services. Though its main focus is on CRO, it also offers paid advertising services, including help with Google Ads.
Hype Digital works primarily with midmarket businesses, though it does also work with some small businesses and enterprises. Its clients particularly love how open and communicative Hype's team is, as well as how much focus they put on driving high-quality results.
7. Best Google Ads Company in the Middle East: SEO Sherpa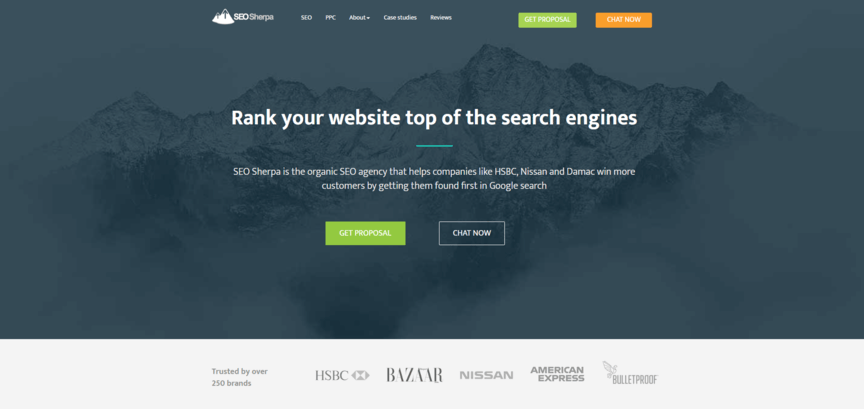 Location: Dubai, United Arab Emirates
Team size: 10–49
SEO Sherpa is the perfect Google Ads agency for businesses located in the Middle East. Based in Dubai, they specialize in both search engine optimization (SEO) and paid advertising services. They can help you optimize your Google ad campaigns to drive more leads than ever.
SEO Sherpa's team works with a variety of business sizes, meaning no matter how large or small your company is, they'll probably be happy to partner with you. They also carry a reputation for running things in a highly smooth and organized way.
8. Best Google Ads Company in South Asia: Oxedent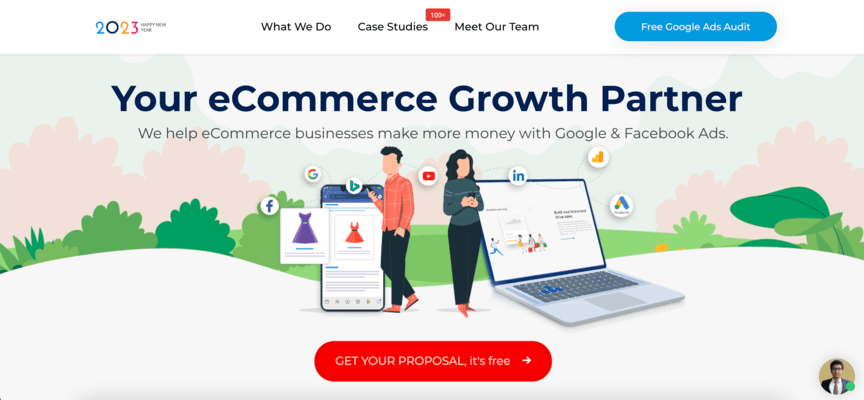 Location: Kolkata, India
Team size: 10–49
For companies in South Asia, Oxedent is among the best available choices. Located in Kolkata, India, Oxedent specializes in advertising through Google and Facebook, making them particularly qualified to help you run your Google Ads campaigns.
One thing to be aware of is that Oxedent works specifically with small businesses — meaning if you run a large enterprise, you may be better off finding a different company. But for small businesses, Oxedent has a fantastic reputation for driving up revenue and attracting large numbers of clients.
9. Best Google Ads Company in East Asia: AJ Marketing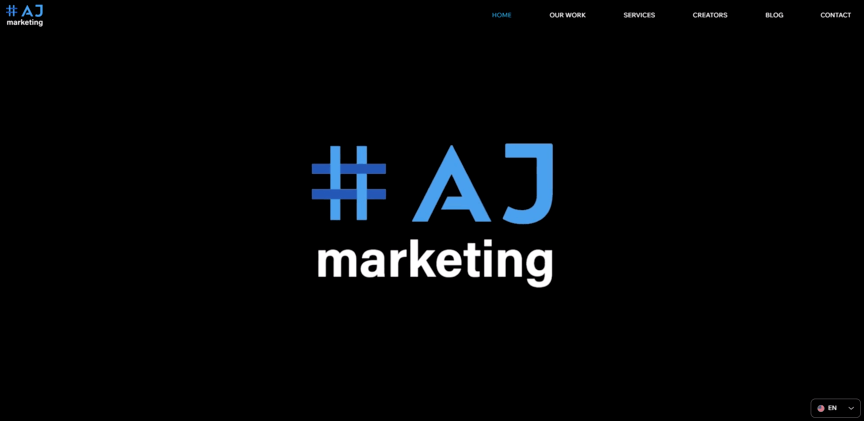 Location: Minato City, Japan
Team size: 10–49
AJ Marketing is one of the best advertising companies located in East Asia. It handles a wide variety of digital marketing strategies, from SEO to social media to content marketing. Its team excels with Google Ads, and knows exactly what it takes for your business to drive better results there.
AJ Marketing has a stellar reputation, with a solid 5-star Clutch rating out of 25 reviews. Those same reviews identify AJ Marketing as a company that can effectively reach a wide audience and attract many different leads and customers.
10. Best Google Ads Company in Australia: Farsiight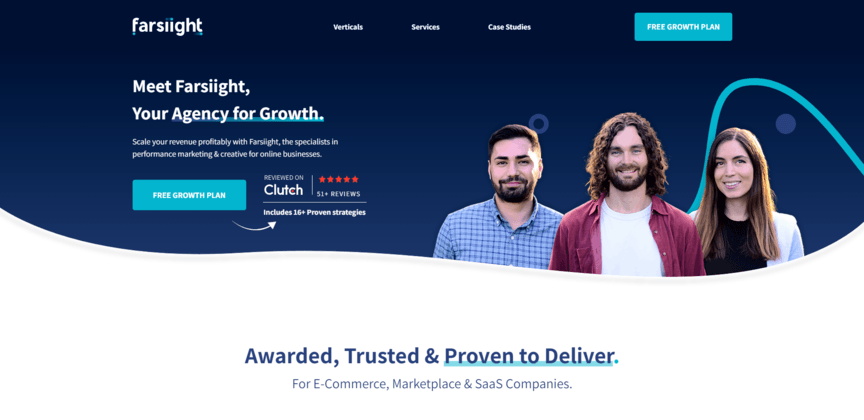 Location: Brisbane, Australia
Team size: 10–49
The final Google Ads company on this list is Farsiight, which is based in Australia. If that's where your business is located, you'll find that Farsiight is one of the best companies to work with on your Google Ads campaigns. Farsiight is a Google Premier Partner, and its team consists of Google Ads specialists who know precisely how to drive results.
Clients report that Farsiight is excellent at coming up with new ideas and strategies, as well as communicating with the client about those ideas and making sure there are no misunderstandings about anything in the advertising optimization process.
Time to Level Up Your Sales
Our long list of services helps you grow every aspect of your business with marketing strategies that are proven to increase bottom-line metrics like revenue and conversions.
In the past 5 years, we've managed more than 12.9 MILLION transactions across our client base.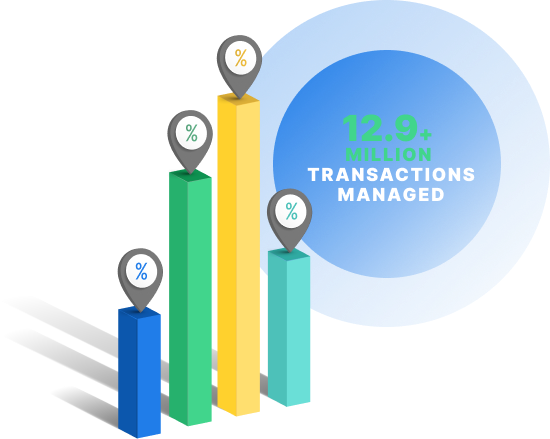 Get help boosting your Google Ads campaigns from WebFX
Are you based in the United States? Do you need help optimizing your Google ad campaigns? If so, the solution is obvious: Just partner with WebFX. With over 25 years of experience with digital advertising, including Google Ads, we have everything you need to drive more customers and revenue.
With our Google Ads management services, you'll get help creating and launching ads that cost you as little as possible while earning you as much as possible, leading to an extremely high ROI. Furthermore, you'll get a dedicated account representative to keep you in the loop about everything we do with your ads.
To get started with us, just call 888-601-5359 or contact us online today!