PPC ROI for Ecommerce: 5 Best Practices to Boost Your ROI
There is definitely no shortage when it comes to ecommerce stores. In the United States and Canada alone, there are about 1.3 million ecommerce companies. That's no small figure, and with that kind of competition, it's important to implement marketing strategies that provide an impressive ROI for your business.
Pay-per-click advertising (PPC) is an extremely effective marketing strategy for ecommerce stores, and it can provide a high ROI for your company when executed correctly.
On this page, we'll talk about the kind of ROI you can see with a PPC campaign, how PPC can increase your overall ROI, PPC best practices, and why WebFX is a great partner to implement a quality PPC campaign.
If you'd like to learn more about PPC, keep reading or contact us online or at 888-601-5359.
Time to Level Up Your Sales
Our long list of services helps you grow every aspect of your business with marketing strategies that are proven to increase bottom-line metrics like revenue and conversions.
In the past 5 years, we've managed more than 12.9 MILLION transactions across our client base.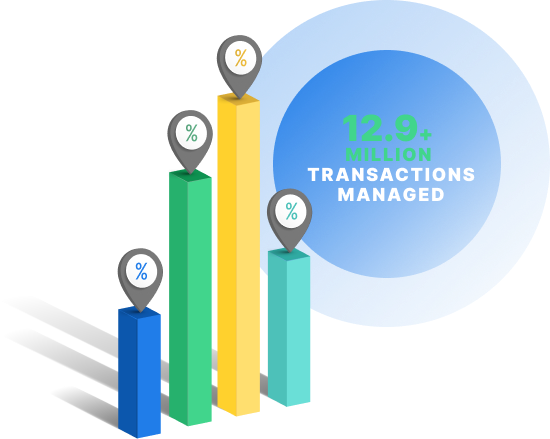 How does PPC increase ecommerce ROI?
PPC is a wonderful marketing strategy for increasing ROI for all kinds of businesses because you choose exactly how much you'll pay for each ad. It sounds pretty simple, and when it comes down to it, it is.
The fact that PPC campaigns operate on a bidding system allows you to have total control over how much you bid for each keyword. The best part is, for ecommerce, the average cost-per-click (CPC) in search is $1.16. That's the lowest average CPC among any industry.
The low CPC associated with your ads means you'll spend less to advertise your products while still charging the same price for those products. All in all, you'll have a positive ROI.
For example, if you spend a total of $100 on PPC ads and you made $250 in revenue from those ads, your ROI is 150 percent. In other words, you made $2.50 in revenue from each $1 that you spent on advertising.
This positive ROI can easily add up over time since ecommerce keywords have a relatively low CPC.
With these figures in mind, it's easy to see how PPC can increase your ecommerce store's ROI.
BONUS READING: 6 COMMON PPC QUESTIONS ANSWERED
PPC best practices to increase ROI
If you like the fact that PPC can provide you with positive ROI, it's time to dive in. Let's talk about five of the best ways to utilize your PPC campaign to keep your company's ROI growing.
1. Set up tracking for your ecommerce store
Like you've probably heard before, marketing and advertising are nothing without analytics. Analytics help you to see what you're doing right in your campaigns, what you can improve on, and what's not working at all.
Taking the time to analyze the results of your numerous campaigns will keep you from wasting your hard-earned cash on a campaign that isn't working.
To set up ecommerce tracking, you'll want to first enable ecommerce for a view. You'll need to do so for each of the views in which you want to see data.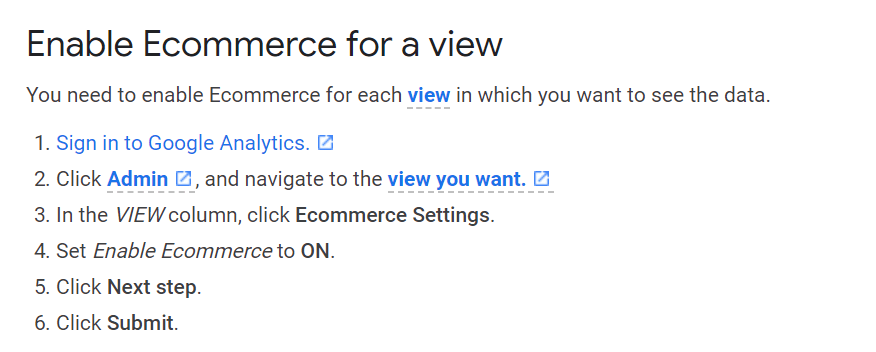 You'll then set up your tracking code with Google Tag Manager, and you'll be good to go! You can find all the in-depth, step-by-step details in the link above.
By setting up your ecommerce analytics, you will see important metrics like what items are selling the most, where the sales are coming from, and so much more. With this information, you'll be able to fine-tune your PPC ads so that they produce the most positive ROI.
2. Don't turn a blind eye to your competitors
The PPC landscape changes fast, and that means you always have to sleep with one eye open, so to speak. You'll want to always keep an eye on what your competitors are doing, how they're structuring their ads, the keywords they're targeting and most importantly, if they're making any drastic price drops for their products.
If you notice that one of your best-sellers hasn't been selling as it did before, check out how much your competitors are charging for their version of the product. They might have been charging a higher price than you in the past, but their price drop could explain why your sales have slowed down.
When competitors drop the price of their products or services to be lower than yours, users will be obviously drawn to the lower price.
3. Create effective, action-inducing landing pages
The landing page is where users will arrive when they've clicked your ad. It's a page that brings potential customers one step closer to a conversion by providing them with more detailed information about a product, a way to purchase it, or a way to request more information.
A landing page is an action-oriented page, and for such an important element of your campaign, it should be the best of the best in terms of both design and copy.
First and foremost, your landing page should illustrate exactly what your ad promoted. If product landing pages lack information searchers need, your ad will be ineffective. Provide information such as A, B, and C to ensure clicks to your landing page turn into leads.
The content about your product should be enticing and show value. The goal of a landing page, after all, is to get the user to buy the product or service on the spot. The content should entice the user to purchase the product by showing them the value it holds for them as a customer.
If you're selling warm cabin socks, show the value by letting users know that they'll keep your feet warm in sub-zero temperatures. If you're advertising a dog toy, show the value by sharing your "rip-proof" guarantee.
When you write the copy for your landing page, it should show the value by outlining elements that make your product the best on the market.
Not only should your landing page content be on point, but you'll also want to showcase an image of the product or service (or multiple images), and a button or form that takes them one step closer to a purchase. To take it one step further, you can even include a video of your product in use, or a few of your best reviews to really convince users that it's the product for them.
4. Make sure your ads are optimized
When it comes to marketing, the best way to get results is to make sure that your campaigns are optimized. But what does that mean for PPC? Your ads must be optimized for the most clicks and the highest ROI.
Here are a few ways to ensure that your ads are ready to gain clicks and increase ROI:
Optimize two kinds of ecommerce ads:When it comes to ecommerce ads, there are text-based ads and there are product listing ads. Both are beneficial, and in order to see the best results, you should consider using both. Text-based ads are of course ads that appear in organic search results as 100 percent text. These kinds of ads are great for using a lot of descriptive words and talking about unique product features. If a product is better seen than talked about, a product listing ad is the way to go.
But how do you optimize each? For text-based ads, be sure to include the name of your product, especially in the title tag. You'll want your product to jump out to potential users.For product listing ads, be sure to add a clear, high-quality image of your product for best results.
Don't forget about ad extensions:Ad extensions are nothing more than additional pieces of information about your business. The extensions can be tacked on to your ads free of charge, and they are known to increase an ad's click-through rate. When you provide additional information about your company, you give searchers another reason to choose your business.So what are some great ad extensions that help your ads perform? Callout extensions are one option, and they can be hugely beneficial to your ads. You can think of callout extensions as extra information to help convince searchers to click your ad. They're fairly easy to implement, they utilize otherwise open space on your ad, and best of all, they utilize ad space that would otherwise stay empty.

Call extensions are another option and as you might guess, they make it extremely easy for users to call you within search results. The phone number of your business, on a desktop, will appear directly beside your site's URL. On mobile, users will see a telephone icon. This extension is extremely beneficial if your company is looking to drive leads via phone calls.

Another extension that can really entice users to click your ad is review extensions. The little gold stars denoting how much previous customers like your products or services are extremely beneficial. Especially because 84 percent of people trust online reviews as much as a personal recommendation. Sitelink extensions provide a great opportunity to measure the number of clicks that users make to specific pages on your site. When you implement the sitelink extension, it provides links to specific pages under your initial ad.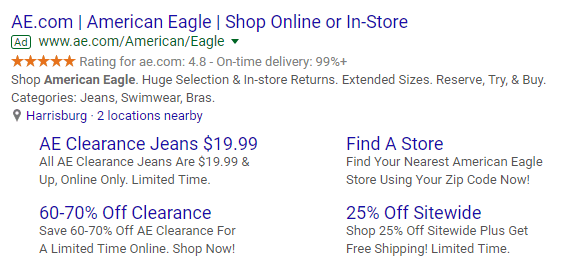 A/B test different campaign structures:If you're curious about what ads will perform best for you, A/B test different kinds you have in place. A/B testing allows you to hone in on what ads perform the best, and ultimately, allow you to have the highest ROI possible.When you A/B test different ad and campaign structures, you change one variable at a time, and then allow each ad time to earn clicks. From there, you'll be able to see which version of the ad performed the best, and use that version moving forward.
5. Consider advertising on Amazon
In the third quarter of 2018, Amazon was named the third-largest online advertising platform, trailing behind giants Facebook and Google.
That means if you run an ecommerce store and you're not advertising on Google, you could be missing out on a higher ROI. Not to mention, you might be losing out on valuable ad space that your competitors already have.
With a highly-saturated ecommerce platform like Amazon, it's crucial to place ads there in order to see the best results.
LEARN MORE ABOUT ECOMMERCE — VISIT OUR ECOMMERCE RESOURCE HUB
What kind of ROI will you see with a PPC campaign?
It's difficult to pin down an exact number when it comes to the ROI of a PPC campaign. There are so many variables that it makes it nearly impossible to give exact figures. However, there are a few industry averages that we can look at to determine baseline numbers.
The average CPC rates for ecommerce is around $0.88 per click. That's a pretty low figure, and in fact, it's the lowest average CPC of any industry — second only to the dating industry.
This is great news for the ecommerce industry because it means you will end up paying the least amount on PPC ads than almost any other industry. When your CPC is low, your ROI increases.
When you're figuring out your ROI for your PPC campaign, you might want to first determine your return on ad spend (ROAS). This will help you hone in specifically on how much return you made on your PPC ads directly.
When you calculate your ROI, it involves elements like the salaries you pay your workers, customer service costs, and more.
In order to figure out ROAS, you can follow this simple formula:
PPC REVENUE – PPC COST/ DIVIDED BY PPC COST
Multiplying that number by 100 will give you a percentage, which shows how much money you made on each dollar you spent on ads.

For example, if you made $10,000 profit, and spent $700 on ads, that means your ROAS is 1328 percent, meaning you have a positive ROI, and got more back than you invested.
Want to implement a quality ecommerce PPC campaign with a positive ROI?
If these numbers and figures have you interested in a PPC campaign for your ecommerce business, WebFX can help!
We specialize in providing custom PPC campaigns to a variety of industries, including ecommerce. We'll help you create the perfect campaign that will result in a positive return for your business.
Our PPC campaigns include the following:
Custom monthly ad spend
400-10,000 keywords in campaign
Google PPC network
Google Display Network
Google customer and audience match
Gmail Competitor Ads
Advanced keyword research and selection
Industry analysis
Ad campaign copywriting
Ad copy performance testing
And so much more.
These are just a few of the products that we offer with every PPC campaign. Whether you're looking for a basic PPC campaign or something a little more aggressive, we offer customizable campaigns for every budget and business. We offer basic, aggressive, and market leader plans that all have something unique to offer! We pride ourselves on offering custom campaign offerings that are unique as the businesses that we serve!
Our team of over 500 internet marketing specialists are experts in their fields and keep up with industry news and changes to ensure that your campaign implements the latest strategies and tactics.
We have over 1020 client testimonials that prove that we truly are one of the best of the best when it comes to Internet marketing — and PPC is no exception. We'll work with you to create a campaign that reaches your goals by getting to know your business, your products and services, and most importantly, earning a high ROI.
Over the last five years, we've been able to generate over $3 billion in client revenue and over 7.8 million leads.
If you're interested in becoming a part of that figure, contact us today for more information about our PPC campaigns that can change the course of your ecommerce business.
Feel free to contact us online, or give us a call at 888-601-5359!