Sales Pipeline Management Software Services: Work Smarter, Not Harder
Nutshell and MarketingCloudFX are the perfect duo for sales pipeline management. From first contact to conversion, our pipeline management software helps you track your prospects more effectively so you can maximize sales for your business. Learn more now!
Access the data-fueled plans behind
$3,021,182,299+
IN CLIENT REVENUE
Use the expert-led tactics behind
7,839,684
IN LEADS FOR OUR CLIENTS
Unlock do-it-for-me marketing with
500
DIGITAL MARKETING EXPERTS
Accelerate ROI with
1+ BILLION
DATA POINTS FROM MARKETINGCLOUDFX
Sales pipeline management that turns prospects into profit
Sales pipeline management is key to helping your business take prospects and nurture them towards conversion. This software enables you to keep tabs on where prospects are in the sales cycle so that you can deliver valuable information to them at the right time.
WebFX offers sales pipeline management software that helps you track the effectiveness of your marketing to your customers. Not only can you figure out what marketing tactics work, but you can also refine your marketing strategy to reach people more effectively.
Our customer relationship management (CRM) software integrates seamlessly with our ROI tracking platform, MarketingCloudFX, to deliver a one-two power punch to managing your sales pipeline. We make it easier for you to tie your sales and marketing data together to maximize your marketing.
If you're ready to take control of your sales pipeline, contact us online or call us today at 888-601-5359to speak with a strategist!
Are you ready to start optimizing your content? Contact us online to chat with an experienced strategist from our team to learn more about how content can drive leads.
What to expect from our sales pipeline management software
Our sales pipeline management software delivers everything you need to take hold of your sales cycle and make actionable decisions that drive more prospects towards conversion. With our sales pipeline software, you get two programs: MarketingCloudFX and Nutshell.
Here's a breakdown of how these two programs integrate to create a powerhouse for managing your sales pipeline:
MarketingCloudFX –– The marketing strategy insider
The first component of our pipeline management software is MarketingCloudFX. This platform is our marketing performance software that enables you to make strategic decisions that boost ROI for your business.
Our marketing platform uses artificial intelligence (AI) powered by IBM Watson to help you get more valuable insights from your marketing by analyzing billions of data points.
With MarketingCloudFX, you get everything you need to harness the power of your marketing, including:
LeadManagerFX: This feature lets you track how leads arrive at your site and what pages they visit. You can also see what campaigns drive people to contact your business. LeadManagerFX makes it easy for you to capture valuable data about leads.
CallTrackerFX: With CallTrackerFX, your sales team will never miss essential data about phone calls again. This feature enables your team to view call transcripts, track the source of your calls, and see real-time data. As a result, you can more accurately track your campaigns to see what's driving people to contact you.
MyEmailFX: With EmailMarketingFX, you can create, send, and track your email campaigns all in one place. This feature makes it easy for you to send tailored information to your audience to nurture them towards conversion.
AnalyticsFX: AnalyticsFX enables you to see your performance in search engines, so you can make actionable decisions to improve your marketing. You can track keyword rankings and overall visibility to discover ways to improve performance.
LeadNurtureFX: A crucial part of your sales pipeline is nurturing leads towards conversion. With LeadNurtureFX, you can set up custom triggers to automatically reengage visitors without lifting a finger.
ReviewBoostFX: ReviewBoostFX helps you harness the power of online reviews and use them to create powerful testimonials to encourage more leads to choose your business.
VisitorRecorderFX: Want to get insight into the customer experience on your website? With VisitorRecorderFX, you can see how customers browse on your site and uncover ways to improve your site experience.
PersonalizeFX: With PersonalizeFX, you can deliver a personalized experience for your customers that's tailored to their industry, location, and actions on your site. It creates the opportunity for you to offer the experience your audience wants, which can help you earn critical leads.
MarketingCloudFX provides you with everything you need to manage the marketing part of your sales pipeline. This platform can help you deliver content to your audience at the right time, manage leads, and personalize their experience to help you move them down the sales pipeline.
Nutshell –– The customer insight analyzer
If you want to market your business effectively, you need to know how to market to your customers. With Nutshell, you can gain valuable insight into your customers and use that data to make actionable decisions that move leads through the sales pipeline.
Here's what you get with Nutshell:
Lead management: Nutshell enables you to manage leads through your form submissions, so your sales team can contact leads faster.
Marketing and sales data management: With Nutshell, you can actively track critical marketing data like web session history, visit duration, and lead source. This data will help inform your sales team which channels are driving sales.
Notations: With each new lead you obtain, you can add notes to remember key details about prospects. This feature makes it easier for your sales team to build relationships with prospects that can help you earn more sales.
Custom dashboard: Nutshell enables you to create a CRM dashboard built for you and your sales pipeline. You can create custom follow-up actions and use the dashboard to plan your day. From setting due dates to assigning tasks, you can optimize your sales process in the way that's best for your team.
Contact management: Say goodbye to spreadsheets! With Nutshell, you can manage all your sales contacts in a single thread, which helps you streamline the information-sharing process.
With these key features used in combination with MarketingCloudFX's features, you have one of the most powerful sales pipeline tools to help you get more from your leads.
Time to Level Up Your Sales
Our long list of services helps you grow every aspect of your business with marketing strategies that are proven to increase bottom-line metrics like revenue and conversions.
In the past 5 years, we've managed more than 12.9 MILLION transactions across our client base.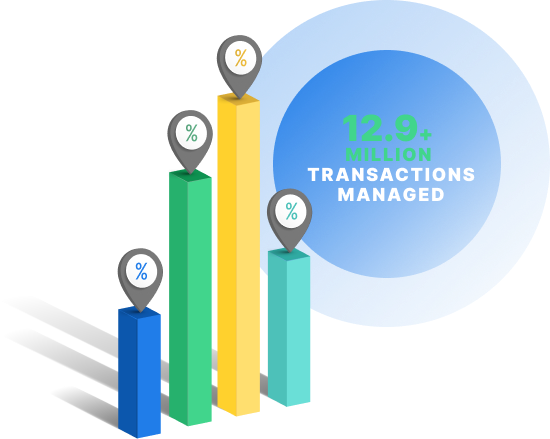 Why choose WebFX for your sales pipeline management
Investing in sales pipeline software goes beyond the software itself –– you want to ensure a top-rated company backs your software. At WebFX, you get top-notch sales pipeline software backed by a team of over 300 marketing experts that can help you capitalize on this marketing software.
Here's why you'll want to choose WebFX for your sales pipeline management:
We offer support
When you first dive into using any sales pipeline tools, it takes time to use the tool effectively. As you learn more about your sales pipeline software, you may have questions or run into issues. That's why, at WebFX, we provide support for our software clients.
You'll get a dedicated support specialist that can help answer any questions or solve problems you're having with our software. You always know who to turn to when issues arise.
Additionally, we provide the ability to submit tickets for ongoing issues. We work quickly to resolve your issues, so you can continue driving leads and sales for your business.
Not to mention, you'll receive monthly consultations with your support specialist to get helpful tips and advice on improving your sales pipeline for your business.
With ongoing support, you can feel confident you're getting the most from our pipeline management software.
We're experts in marketing
When you choose sales pipeline management software, you want to get it from experts who know marketing. At WebFX, our sales pipeline software is backed by over two decades of experience.
With all our experience in marketing, we built sales pipeline management software that's focused on helping you reach your marketing goals and maximize ROI.
We offer additional services to help enhance your sales pipeline
A significant component of an effective sales pipeline is having the right marketing strategies in place. When you invest in sales pipeline management software, you may find that some of your marketing strategies aren't producing the results you'd like, or you want to invest in new ones.
Instead of hiring multiple companies to manage your campaigns and work with your pipeline management software, you can get everything in one place with WebFX.
As a full-service digital marketing company, we offer everything you need to expand your online marketing reach, including:
Keeping your strategies and software under one roof makes it easier for you to manage your marketing. Not only does this prevent you from having to contact multiple companies to keep your campaigns cohesive, but we're already intimately familiar with our sales pipeline software.
As a result, your overall marketing efforts are more cohesive and effective.
We drive results for our clients
When you invest in sales pipeline software, you want your program to help you drive results. So, when choosing the right company to get your software, you want to make sure you select a results-driven company.
At WebFX, our client-first approach enables us to drive results our clients desire. In the past five years alone, we've done the following:
Driven over $3 billion in sales
Obtained over 7.8 million leads
Handled over 12.9 million transactions
Managed over 5.2 million phone calls
With software built by a results-driven company like WebFX, you can feel confident you'll drive results with our sales pipeline software.
WebFX is a partner businesses trust.
Hear from HydroWorx, who saw a 236% increase in organic sessions with WebFX services.
Watch the Video Testimonial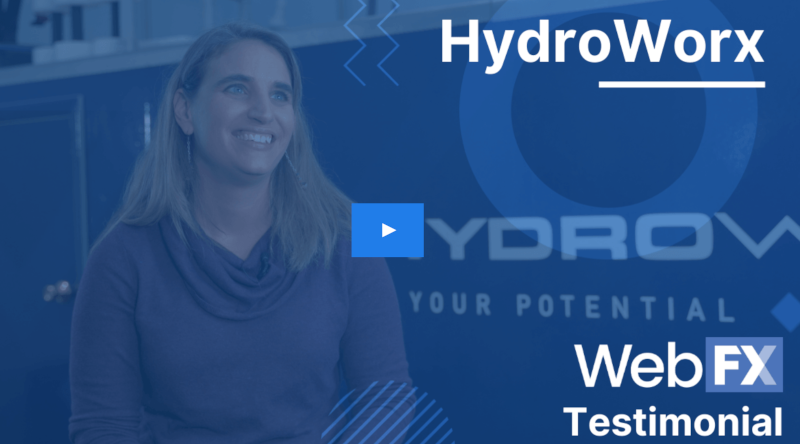 Choose sales pipeline management software from a company that puts you first
Choosing the right pipeline management software is critical to your business's success. With so many sales pipeline tools on the market, you want to ensure you select the right one for your business. If you're looking for the best sales pipeline software, look no further than WebFX.
With our combination of marketing automation software and lead management, we can help you manage your sales pipeline more effectively. Our sales pipe management software offers everything you need to get valuable data about prospects and target them with the right marketing.
With our pipeline management software, you'll help your sales team save time by automating processes and providing more actionable data that helps them deliver a better experience to leads.
When you choose WebFX as your sales pipeline management company, you can feel confident you're getting software that's backed by years of marketing experience. Our client-first approach and results-driven mindset make our sales pipeline software second to none.
Ready to turn more leads into sales for your business? Contact us online or call us today at 888-601-5359 to speak with a strategist!





+1020
For verified ratings of our marketing services, please read our:

WebFX Agency Rating:
4.9 / 5 with 300 ratings
Industry-Leading 1020 Testimonials

Martech Consulting Services