8 Inspiring Influencer Marketing Campaigns
Want to connect with more customers and encourage them to purchase your products or services?
Influencer marketing is an effective way to reach customers since people trust word of mouth recommendations more than brand ads. In fact, 92% of people trust influencers over company advertisements.
If you're looking to launch an inspiring influencer marketing campaign, you came to the right place. On this page, we'll take a look at eight creative influencer marketing campaigns you can use to inspire your own strategies.
P.S. Hiring a professional to make the most of your marketing is always advisable. Consider some of the best influencer marketing companies to assist you in accomplishing your marketing objectives. These businesses have the know-how and experience to pair you with the ideal influencers and design powerful campaigns that connect with and engage your target audience.
Keep reading if you want to learn more, and give us a call at 888-601-5359 to speak with a strategist.
Why use influencer marketing?
What are influencers, you ask?
Influencers can be celebrities, but most influencers are bloggers, YouTube stars, or other key industry figures.
They are real people who give their honest opinions on products. And they have anywhere from thousands to millions of subscribers or followers.
Regardless of the size of your company, influencers can have a big impact, and they can help your business increase awareness and revenue.
Many big name companies have turned to influencers to help them generate buzz about their businesses. As you begin your marketing campaign, these are some great examples you can use to inspire your own influencer marketing campaigns.
1. Hallmark
Hallmark is known for its sentimental products. From cards to ornaments, Hallmark focuses on remembering and celebrating special moments.
In 2016, they created the #KeepsakeIt campaign and reached out to family-friendly Instagram influencers to help promote their ornaments.
Influencers shared their favorite Christmas moments, along with a photo of a Hallmark ornament. They also linked back to Hallmark and encouraged people to buy the ornaments.
Hallmark's campaign appealed to people's emotions. By using influencers to share their precious holiday moments, Hallmark was able to drum up buzz around their business and encourage people to buy their ornaments.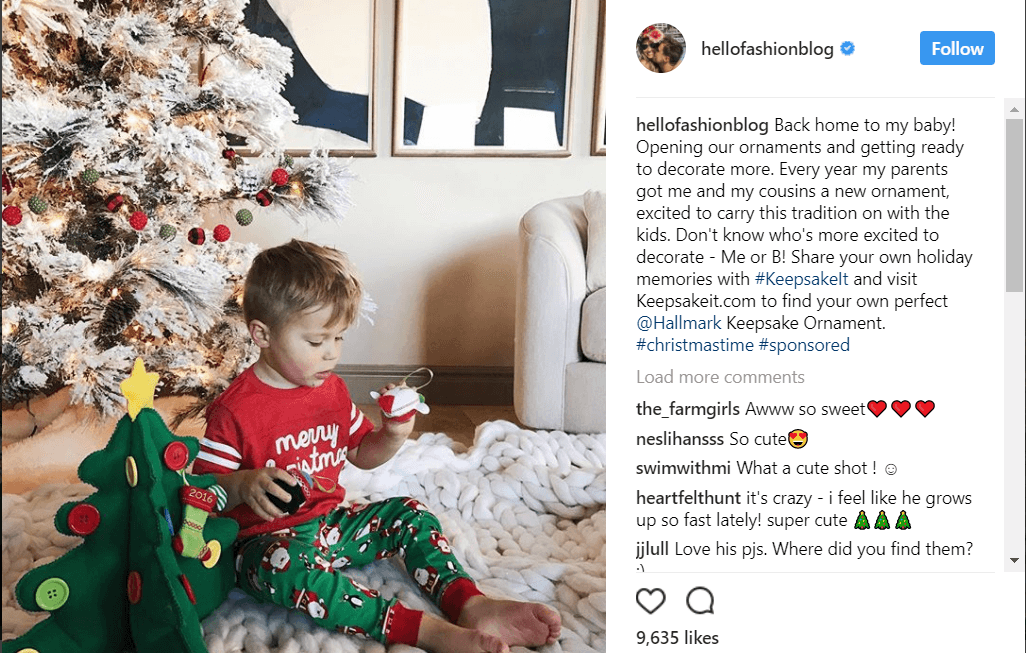 2. Adidas
Adidas used a celebrity to kick off their #MyNeoShoot campaign, but the rest of the work was done by influencers.
The company enlisted the help of Selena Gomez to start their campaign. The #MyNeoShoot campaign was a contest to get people to take photographs of themselves in Adidas gear. Users submitted their photos for the chance to be one of six models for the campaign.
Other Instagram influencers began jumping on the campaign and posting about it, including Iga Wysocka. The contest hashtag was mentioned 71,000 times, and Adidas received 12,000 entries.
The campaign helped increase Adidas' sales by 24.4%, while Nike's sales dropped by 9.1% during the same period. This influencer campaign was highly successful for increasing Adidas' exposure and sales.
3. Revolve
Fashion company Revolve has taken their idea of models to the next level. They don't use traditional fashion models. Instead, they take top influencers (fashion, beauty, and similar influencers) on exotic trips.
On these trips, influencers document their experience through Instagram, YouTube, and other social media. In every photo or video, they are wearing revolve clothing.
Beauty bloggers like Fleur de Force and In the Frow have participated in this campaign. It's a simple but effective way to advertise. By using everyday people, who are influencers, Revolve makes their clothing more appealing to their target audience.
This is an effective measure because the influencers aren't directly promoting the products. They use the hashtag, but the photos are focused on the overall experience.

4. Old Navy
Old Navy turned to Meghan Rienks to spearhead their Instagram fashion campaign. The campaign was about how people could pair different Old Navy clothing articles together to make the perfect outfit for any occasion. Rienks is a comedy and lifestyle YouTuber with over 2 million subscribers.
Old Navy used Rienks to advertise their clothing line, and they created videos with Rienks on topics like "How to Dress for a Date" and "How to Pack Like a Pro."
These videos offered helpful advice while keeping Rienks' humor in the mix. All the clothes featured in the minute-long videos were Old Navy brand. These videos garnered more than 500,000 views.
The campaign was successful because it offered helpful content to users from an influencer they liked and could trust, while promoting the Old Navy brand.
5. GAP
GAP wanted people to see how fashionable their clothes could be. This sparked their Styld.by campaign.
Their company encouraged influencers to piece together outfits using GAP brand clothing. The influencers modeled outfits with clothing of all brands. This created a more authentic feel because most people don't wear the same brand throughout their outfit.
Influencers like Sandra Riley Tang, Caitlin Crosby, and Justin Livingston all participated in the campaign. These influencers modeled pieces of GAP clothing on their Instagram accounts.
GAP wanted to promote the idea that all brands of clothing can mesh together to create beautiful outfits. Influencers who composed their outfits with GAP pieces proved that GAP clothes can be incorporated into any outfit.
These posts included a "Shop Now" button, so users could buy any of the pieces of clothing or a link back to the GAP website.
The results of this campaign were great for GAP. They gained 5,147 followers on their GAP Styld.by board on Pinterest.
This campaign was extremely successful in showing people that GAP has clothing that can fit into their style.

6. Sperry
Sperry decided to turn to micro-influencers to promote their brand.
Micro-influencers are people who have a direct connection with their audience. These influencers have 500-5,000 engaged followers that they share information with. Sperry enlisted the help of 100 of these influencers to post and promote content for their business.
These micro-influencers already posted images of Sperry products that gained a lot of attention. So Sperry reached out and asked if they could post the photos on their own page.
Sperry never paid these influencers, but made sure to give them credit for their photos. This campaign created an authentic feel because people posted the photos out of love for the brand. People could visit the accounts of the 100 micro-influencers and see that they were just regular people who loved Sperry.
7. Glossier
This beauty company utilized influencers and everyday people to promote their products.
In one case, Glossier enlisted the help of a college student named Ceilia Gorgon. Gorgon had posted about one of their products, gushing about how well it worked. Glossier reached out to Gorgon to help spread the word about how well their products worked.
This company also used bigger influencers to help with their campaign. They flew influencers to NYC for 48 hours. One influencer, YouTube beauty vlogger Amy Serrano, documented the entire trip.
The video garnered more than 5,000 views two days after posting and generated buzz around the trip. Many of the other influencers posted photos on Instagram of their trip.
With this campaign, Glossier focused on user engagement. They wanted people to get involved in the conversations and interact with the photos influencers were posting.
8. Daniel Wellington
At Daniel Wellington, influencer marketing is a huge part of the company's marketing plan. This business started as a $15,000 start up and garnered $220 million in revenue thanks to influencer marketing.
This company's strategy is simple. Daniel Wellington sends influencers watches. Influencers post pictures of them wearing watches in everyday situations. The caption includes a code, specific to the influencer, that followers can use to get a discount.
It is a simple tactic, but it has been extremely effective for Daniel Wellington. The appeal of the product is that it is an everyday person wearing the watch. This use of influencer marketing has garnered over 1.3 million posts using #danielwellington.
This is a great example of how any size business can use influencers to help their campaign. Once a small start up, Daniel Wellington made millions with the help of influencer marketing.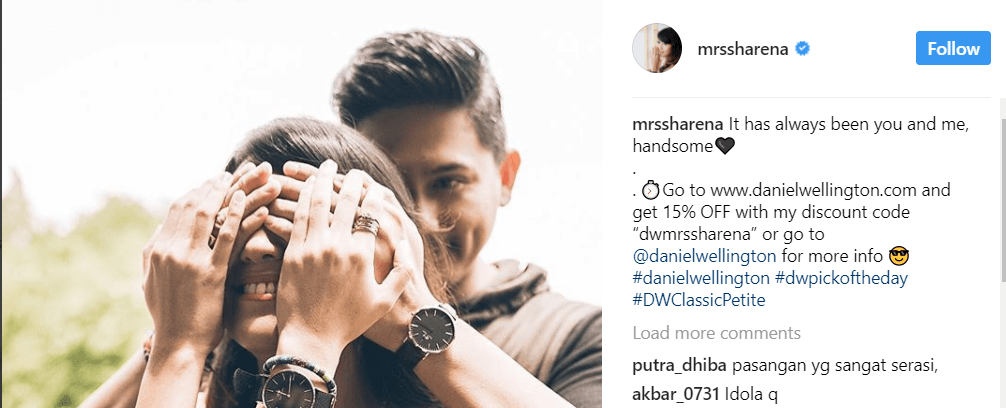 Start using influencer marketing today!
Influencer marketing can be a very beneficial aspect of your marketing plan. As social media continues to grow and expand, influencers are able to reach more consumers.
Want to get started with influencer marketing? Contact us today to speak with one of our 500+ expert team members, and we'll help you figure out the best influencer marketing campaign for your business!