5 Important Steps Involved in the Website Planning Process
If your company's website needs an overhaul—or if you don't have a site yet at all—managing the project can be intimidating. After all, your site is the core of your online presence, and it needs to be an accurate reflection of what your company has to offer.
But before you can do any work on the site, you need to have a plan in place. So if you're working on a redesign or building a new site from the ground up, your website planning process should involve the steps we mention below.
If you'd like to speak to a web design specialist, you can reach us at 888-601-5359.
And don't forget, we provide web design services to clients all around the world! Whether you need web design services in Orlando, or web design in Philadelphia, we've got you covered.
WebFX is home to a whole team of award-winning web designers that can create a website as unique as your company.
LEARN MORE ABOUT OUR WEB DESIGN OFFERINGS!
1. Evaluate your existing site
If you don't have a website, you can skip this step. But if you do (even if it's just one page with contact information), you should evaluate your existing online presence before going any further.
Domain name
First, you'll want to consider your domain name. Is it the exact name of your business? If not, is that domain available?
Ideally, you'll be able to keep your existing domain name for minimal customer confusion—but if you have the opportunity to switch to a better one, you'll want to do it before building your new site.
URL structure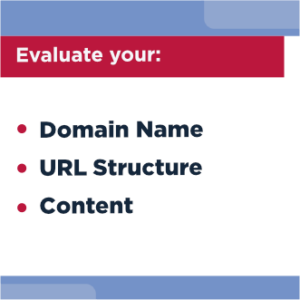 How are the URLs on your current site set up? Are they readable and appropriate to the content on your pages? Do you have a few clearly-named subfolders? If so, keeping these URLs intact when building your new site will eliminate the need for redirects.
If your URLs are made up of seemingly random characters, on the other hand, you're better off creating a new URL structure with your new site. However, be sure to keep a log of these URLs, so you can set up appropriate redirects later.
Content
Your site's content is arguably its most important element. It's what provides visitors with the information they need, tells them who you are as a company, and convinces them to convert.
If your site's existing content doesn't accomplish all three of these goals, it will need rewritten—it's as simple as that. Make this a part of your planning process (and budget), and not an afterthought.
Content on your site can range from written content, blogs, infographics, videos, and more.
2. Research your CMS options
There are a few different ways to build a site, and the one you choose is largely a matter of personal preference.
Your first option is to build a straight HTML site, meaning that the entire site will be coded from the ground up. These sites typically take longer to build, but allow for full customization of both appearance and functionality to ensure that you don't end up with a bad website design.
The upside to HTML sites is that if something goes wrong, the developer who built it won't have much of an issue identifying and fixing the issue. However, making site updates requires a bit of coding knowledge.
Your other option is to use a content management system, or CMS, like WordPress. When you build a site with a CMS, you get an admin panel that makes logging in and making changes a simple process. If you don't have any coding experience but want to be able to make site updates on your own, this may be a better option.
However, since CMS are built by third-party developers, it can sometimes be more challenging to get the same level of customization as an HTML site.
3. Determine what functionality you need
If all you want is a simple site with text, images, and contact information, the build process will be pretty straightforward. But if you're looking for additional functionality, you'll need to determine what you want before hiring a developer.
For example, will you want to host an ecommerce store in order to sell your products directly on your site? Or is the only interactive element you need a contact form?
Knowing what your site needs to do will make it much easier to select a developer that's right for your project.
4. Choose a web designer or developer
Once you know where you stand with your project, you'll need to select a web designer or developer to design and launch your site. If you have an in-house development team, you won't need to worry about this. But if you're like most companies, you'll need to hire an agency or independent developer.
This step should not be taken lightly, as the designer you work with will ultimately be responsible for the success of your company's site. Research your options, and make sure that the designers you're considering have experience with the specific kind of work your project will involve.
If you're on the fence about a specific agency, we recommend asking for names and contact information of their clients. When you speak with people who have already worked with a particular agency, you'll get a better sense of whether it'll be a good fit.
5. Finalize your budget
After you've found the right developer, you'll want to make sure that you're on the same page in terms of cost before they start working.
Review the project, then ask for estimates of both time and cost. These will vary depending on the size and experience of their team, but it's important that you both have the same set of expectations.
If you're not sure of whether you're getting a good price, feel free to check out our project quote calculator! This is how we determine pricing for our clients, and will give you a general idea of how much your site should cost.
Time to Level Up Your Sales
Our long list of services helps you grow every aspect of your business with marketing strategies that are proven to increase bottom-line metrics like revenue and conversions.
In the past 5 years, we've managed more than 12.9 MILLION transactions across our client base.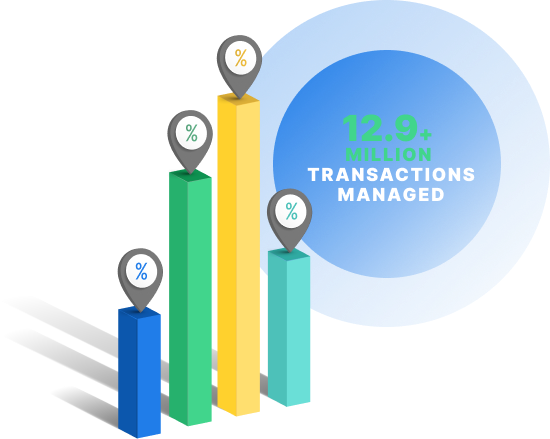 Does your company need a new website?
If your company needs a new or redesigned site, WebFX can help. We have years of experience planning, building, and launching successful sites for clients in a variety of industries, and we'll do the same for you.
Contact us today to speak with a strategist!