In the retail market, Amazon is the world's leader. In fact, it's responsible for more than 40 percent of all online sales. That's why small-to-midsized businesses (SMBs) rely on the ecommerce website to connect with consumers and generate revenue.
With Amazon Marketing Services (AMS), your team can now expedite that process to increase your revenue, brand awareness, and more. The question is, how can you create a competitive advertising campaign strategy that maximizes results and overshadows your competitors? Start with these seven powerful tips for SMBs in the online marketplace:
1. Know your Amazon ads
Before you start advertising, you want to research the types of Amazon ads available, which include:
Sponsored Products: A keyword-targeted ad, Sponsored Products appear in Amazon search results and below the fold on product pages — they promote a single product. They also come with product and keyword-level reporting, which lets you see which keywords drove specific product sales.
Headline Search Ads: A keyword-targeted ad, Headline Search Ads appear above search results as banner ads — they promote up to three products. They only come with keyword-level sales reporting, so you'll only know which keywords prompted a sale for any of the three products.
Product Display Ads: A product or interest-targeted ad, Product Display Ads appear below the fold on product pages, as well as on listing, review, and related product detail pages. They come with campaign-level sales reporting, which lets you see the overall success of the campaign.
It's also important to understand the difference between keyword-, interest- and product-targeted ads:
Keyword-targeted ad: A keyword-targeted ad means you're creating an advertisement that triggers when a search contains a specific set of keywords. So, if you're targeting the word, "security camera wireless," your ad will appear when users search for that string of keywords.
Product-targeted ad: A product-targeted ad means you're creating an advertisement that appears when a user visits a specific product page. It's useful when you want to target competitor listings, as well as products that your item complements. If you sell covers for security cameras, for instance, you may target product pages for compatible cameras.
Interest-targeted ad: An interest-targeted ad means you're creating an advertisement that displays when users visit product pages that relate to your product. So, you may aim your ads to users looking at dashcams, security cameras, hidden surveillance cameras, and more.
While each ad and target option offer advantages and disadvantages, they all serve a purpose. If you're promoting a series of new products from the same line, for instance, you may use Headline Search Ads. Or, if you're clearing out leftover inventory, you may use Sponsored Products ads for each item.
The ads all follow a pay-per-click (PPC), auction-based model. They also all require a minimum daily budget of $1, which lets you keep your advertising budget in-check, which is important for smaller businesses.
2. Make your goals S.M.A.R.T.

Whether you're opting to create an advertising campaign around Sponsored Products, Headline Search Ads, or Product Display Ads, you want to ensure you create goals that are S.M.A.R.T. — Specific, Measurable, Achievable, Realistic, and Timely. A few examples of S.M.A.R.T.
goals for an Amazon campaign include:
Earning 30 reviews for a product in a six-month period
Increasing a product's sales by 15 percent in a three-month period
Reducing a product's inventory by 100 percent before the launch of a new product
Often, your goals shape the advertisements you choose to run on Amazon. It's worth noting that your products will also play a role in your advertising campaign strategy, as you can only promote products that are winning their Buy Box. What is the Buy Box on Amazon?
It refers to a box on the right-hand side of the product page. When users want to purchase a product, they use the Buy Box, which contains the following product information:
Pricing
Shipping
Stock
Seller
On Amazon, if you win your Buy Box, your product is the default choice when a user clicks, "Add to Cart." To win your Buy Box, you must offer a competitive price, as well as a positive customer experience, which Amazon measures via several factors, including shipping times.

3. Calculate your advertising cost of sale
It's critical that you determine your Advertising Cost of Sale (ACoS) before you start creating your campaigns, as it'll influence your cost-per-click (CPC) bid and campaign budget. With an accurate ACoS, you can create a realistic, performance-driven budget. To calculate your ACoS, you want to look at the following factors for each product:
Selling price
Cost of goods sold
Fulfillment by Amazon (FBA) cost
Miscellaneous costs
Once you have your numbers, you'll subtract all your expenses — your cost of goods, FBA fees, and miscellaneous costs — from your selling price. The remaining number is how much you can spend to earn a sale with a profit. Now, if you're clearing inventory, you may want to calculate your break-even point.
For this calculation, you'll take your maximum spend and divide it by your product's selling price. The result is your break-even point. When you start advertising on Amazon, you can look at each keyword's ACoS in your AMS dashboard, under "Advertising." This feature lets you know which keywords are feasible to advertise for, and which wouldn't drive a profit.
4. Research your keywords

Whether you're a small start-up or established medium-sized business, Amazon recommends you begin advertising with automatic targeting, which is available for Sponsored Products and Headline Search Ads — if you're using Product Display Ads, Amazon recommends product-based targeting. The reason is that you'll receive valuable keyword data within a two-week period. You can then use that data to create Sponsored Products and Headline Search Ads with manual targeting or Product Display Ads with interest-based targeting.
It's important that you do some keyword research on your own, though. It can help you discover new keywords for your campaigns, as well as upward or downward keyword trends. To find keywords, you can use keyword.io, which is a handy tool for finding keywords on Amazon, Google, YouTube, and more.
Look at your competitor's listings as well. Depending on their familiarity with advertising on Amazon, they may have their product title and descriptions optimized for search, which will reveal what keywords they're using to drive sales. Avoid creating a direct copy of your competitor's advertising strategy, though.
5. Optimize your products

Before you launch your advertising campaign on Amazon, it's critical that you optimize your product listings. With this additional step, you're improving the chance that your ideal shopper will not only click on your ad but also purchase your product. When you're reviewing your products, look at the following features:
For the best results with your advertising strategy, Amazon recommends that you optimize these three areas, which can also help your ranking in organic search results on Amazon, and that can lead to more organic sales. To improve the quality of your title, images, and description, take the following steps:
Make your product titles descriptive, yet accurate
Equip your product listing with high-quality images
Modify your product description to include at least five bullet points
Edit your product description to include relevant and useful product information
As you revise your product titles and descriptions, consider adding keywords from your preliminary research. After you launch your campaign, you can use data from your ads to refine your listings even further. This cycle of optimization can become time-consuming, especially for an SMB, but it's worth the time.
It benefits your advertising campaign, as well as your business strategy. Once your campaign ends, you can continue to drive sales by improving your product's organic listing through keyword optimization. Keep in mind that Amazon does not approve of keyword stuffing — so avoid it.
6. Invite your shoppers to leave reviews

Reviews are powerful. In fact, more than 60 percent of shoppers read reviews before making a purchase, which is why they can increase sales by 18 percent. Not to mention, Amazon uses reviews as a ranking factor for organic search results.
That's why it's critical you consider reviews in your advertising campaign strategy. One way to invite feedback is with automated emails, such as when you confirm a customer's order. Create an email to send after the expected delivery date, this time asking for a consumer's feedback.
Make sure you invite users to contact you directly too, in case they're unhappy with their order. Another strategy is to include a product insert, such as a brochure on uses for your product, with your customer's package. A product insert is excellent for not only building brand awareness but also encouraging reviews, social shares, and more.
It's essential to note that Amazon does not permit solicited reviews. It does, however, offer an Early Reviewer Program, which includes a product fee. The Early Reviewer Program is a viable option if you have a product with less than five reviews and a price tag of more than $15. On your behalf, Amazon will solicit reviews for one year or until you earn five reviews. If your SMB is a wholesale provider to Amazon, you can also utilize their Vine Reviewer Program. This option is another paid program, but it connects you with some of the top reviewers on Amazon.
After you provide a sample of your product, the individual will post an honest review of it.
7. Review your search terms report
When you launch your advertising campaign, it's easy to focus on the sales and revenue, but it's vital that you also pay attention to what's driving those purchases — keywords. That's why you want to set aside the time to review your search terms report. The search terms report appears in your AMS dashboard in "Advertising." It's a valuable hub of data for your Sponsored Products and Headline Search Ads because it reveals which keywords are driving clicks and sales.
That can inform your future and current campaigns.

As an example, say you notice that one keyword is earning a lot of clicks, but zero purchases. When you investigate it, you discover that while the keyword describes your product, it doesn't match the user intent — a great example of this is, "saturn," which can reference a car or the planet.
By taking 30 minutes, you can save on your advertising budget and improve on your strategy, and that's worth it.
The first step to increasing your SMB's Amazon sales is getting a FREE proposal.
One of our experts will be in touch within 24 hours!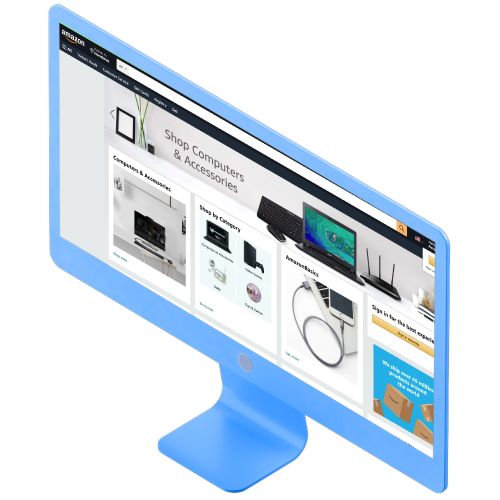 Share your successes from advertising on Amazon!
Does your SMB already advertise on Amazon? Tell us about it and share your tips @webfx!
Or, keep up with the latest marketing strategies for small-to-midsized businesses by joining our email newsletter at the top!
WebFX Careers
Join our mission to provide industry-leading digital marketing services to businesses around the globe - all while building your personal knowledge and growing as an individual.