Best Marketing Agencies for Promoting Your Amazon Store
Businesses like yours can make the most of the Amazon marketplace when you have a top Amazon marketing company on your side. However, with tons of agencies to choose from, it's not easy to find the best one for your brand. That's why we compiled this 2023 list of the best Amazon marketing agencies for promoting your store.
The top marketing companies of 2023 for Amazon
In 2023, the agencies that topped our list of the top Amazon marketing companies included:
Keep reading to learn more about these agencies and how they can help your Amazon store!
5 best marketing companies for Amazon: Which will you choose?
Start working with one of the best marketing companies for Amazon by browsing this list of the top agencies of 2023:
| Amazon Marketing Company | Location | Size | Google Business Profile Rating |
| --- | --- | --- | --- |
| WebFX | Pennsylvania, USA | 201-500 | 4.8/5 |
| Southtown Creative | Texas, USA | 1-10+ | 4.8/5 |
| Orderhive | California, USA | 50-249+ | N/A |
| SageMailer | New York, USA | 11-50 | N/A |
| Amazon | Washington, USA | 10,001+ | N/A |
1. WebFX: Best SEO services for Amazon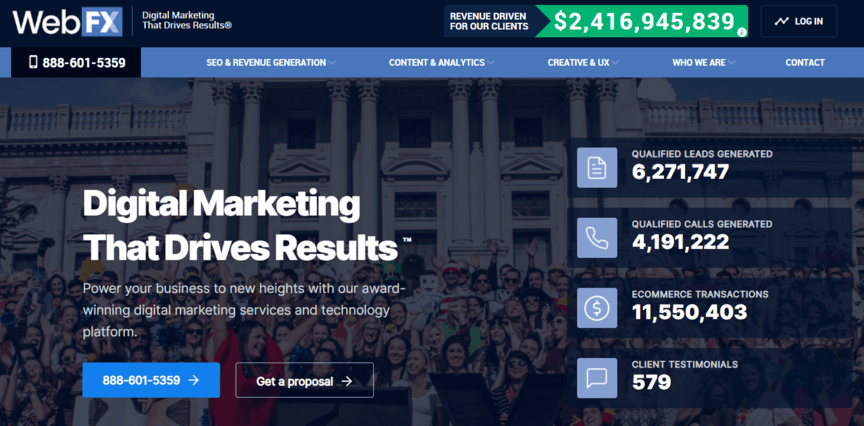 Location: Harrisburg, Pennsylvania, USA

Team Size: 201-500+

Google Business Profile Rating: 4.8/5
Search engine optimization (SEO) is a critical component to earning sales on Amazon.
That's because Amazon uses an algorithm, called A9, to rank product pages in search results. With Amazon SEO, your business can optimize its listings to rank at the top of search results related to your product.
Since higher rankings equal more sales, you want a top spot — and a top Amazon SEO agency.
WebFX is one of the best Amazon marketing companies for Amazon SEO because they provide:
Custom strategies: WebFX provides all its clients with a custom strategy for improving your rankings in Amazon search results. The agency doesn't focus on cookie-cutter approaches, which may explain why its clients have managed more than 12.9 million transactions in the past five years.
Upfront pricing: This Amazon marketing agency also publishes its plans and prices online, making life convenient when comparing agencies. If you need a custom plan, you can also request one from their team.
Regular performance reports: WebFX works well with Amazon sellers because it focuses on the kind of results that impact your bottom line, like orders. That's one reason why WebFX provides clients with easy-to-follow monthly reports.
Supporting services: While you can partner with multiple marketing agencies, you often make your life simpler by having a single marketing partner — and WebFX makes that possible. The agency offers a few supportive services, like advertising for Amazon and Store design for Amazon.
Complete product optimization: With WebFX, your business can get every aspect of its product listings optimized. For example, WebFX will optimize product titles, features, and descriptions. Plus, they'll monitor backend metrics and provide support for acquiring product photos and videos.
Account monitoring: WebFX is also one of the best marketing companies because it monitors critical account metrics. These metrics, which influence your ranking in search results, include your order defect rate, perfect order percentage, and more.
2. Southtown Creative: Best product photography for Amazon

URL: https://southtowncreative.net/

Location: Austin, Texas, USA

Team Size: 1-10+

Google Business Profile Rating: 4.8/5
Besides influencing your rankings in Amazon search results, your product photography also impacts your conversion rates. That's why it's critical to have professional images (and even videos) of your products. With high-quality photos and videos, you can persuade more shoppers to buy your goods.
Southtown Creative is one of the best Amazon marketing companies for product photography because:
Specialized focus: While many agencies aim to do everything, from photography to inventory management to marketing, Southtown Creatives focuses 100% on providing product images and videos. This focus allows the company to produce exceptional results for their clients.
Diverse portfolio: As one of the best Amazon marketing agencies, it's no surprise that Southtown Creative features a vast portfolio. From food and drink to beverage and clothing, the company has partnered with businesses in all industries.
Upfront pricing: Southtown Creative also publishes its pricing online. The company bases its pricing on the type of image and number of images. With upfront pricing, you can quickly calculate your costs and get started.
Optional video: Instead of shipping your products to a photographer and a videographer, Southtown Creative makes life easier. Since the agency provides both photo and video services, you can get all your multimedia from one place — without sacrificing quality.
3. Orderhive: Best order fulfillment and logistics for Amazon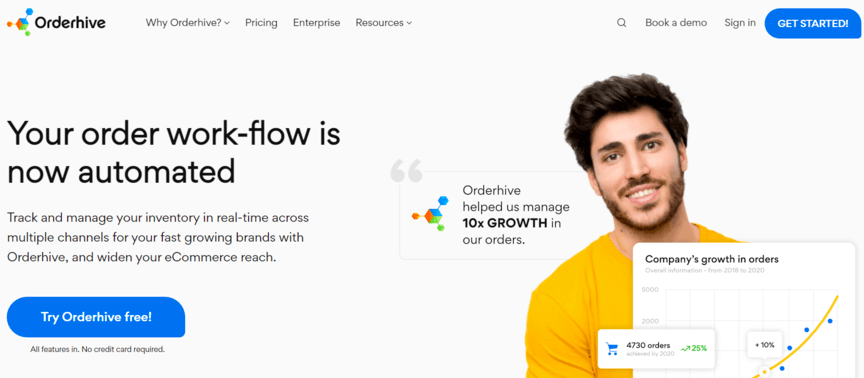 URL: https://www.orderhive.com/

Location: Sunnyvale, California, USA

Team Size: 50-249+

Google Business Profile Rating: N/A
Order fulfillment is critical to selling on Amazon. Even if your business offers an exceptional product, slow fulfillment times and poor inventory management will cut into your profits and hurt your rankings in search results.
Orderhive, however, offers a solution that makes managing your logistics and orders easy. Here's why:
Multi-channel management: Whether your company uses its own warehouse, Fulfillment by Amazon (FBA), or another storage solution, Orderhive allows you to manage these channels in one convenient place.
Full-scale automation: Routine tasks, from issuing refunds to sending order shipment emails, can become automated with Orderhive. As one of the top Amazon marketing agencies, Orderhive also includes built-in triggers for you to access, like "Order Received."
Comprehensive integrations: Besides integrating with Amazon, Orderhive also works with Shopify, eBay, FedEx, UPS, USPS, and more. Overall, the company supports more than 100 integrations, which makes managing your logistics even easier.
In-depth reports and analytics: Like another agency on our list of the best Amazon marketing companies — hello WebFX — Orderhive also understands the value of data to your business. That's why the company's software includes a variety of reports, from sales to returns.
Built-in returns management: With Orderhive, your business can make returns easier for your customers and easier for your team. That's because Orderhive simplifies and expedites the return process, plus automates the process of issuing refunds.
4. SageMailer: Best review management for Amazon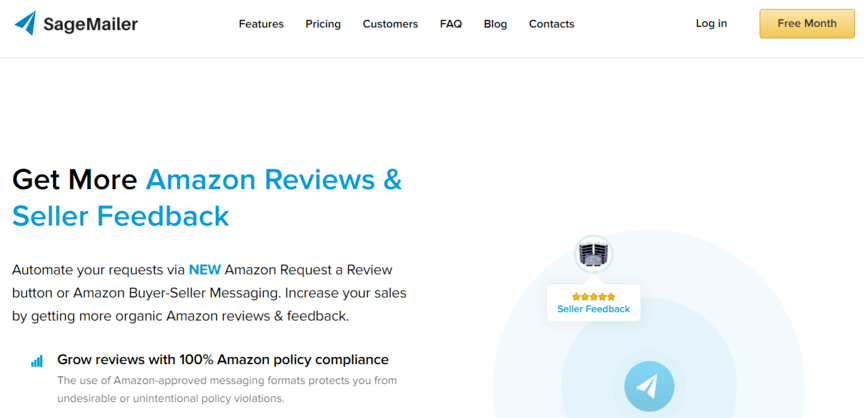 Location: New York City, New York, USA

Team Size: 11-50

Google Business Profile Rating: N/A
Reviews pose one of the biggest challenges to new and experienced Amazon sellers. They're critical to succeeding on Amazon, though, because reviews influence your search result rankings and conversion rates.
SageMailer helps you earn more Amazon reviews, which is why it's a top Amazon marketing agency:
Automated review requests: Besides allowing you to send review requests immediately for orders placed in the past 30 days, SageMailer also automates the entire process. Skip the old method of the "Request a Review" button and let SageMailer do it for you.
Custom templates: Become more than an Amazon seller to shoppers with the customization features in SageMailer. Build templates that include your logo, plus follow best practices for requesting a review or addressing an issue.
A/B testing: With A/B testing in SageMailer, your business can create the best possible emails for requesting product feedback. Experiment with different send times, subject lines, and more to drive opens and conversions.
Advanced email personalization: SageMailer also provides access to advanced personalization features that you can use. Tailor emails with a shopper's product name, image, review link, and more to make taking action even easier.
5. Amazon: Best consulting for Amazon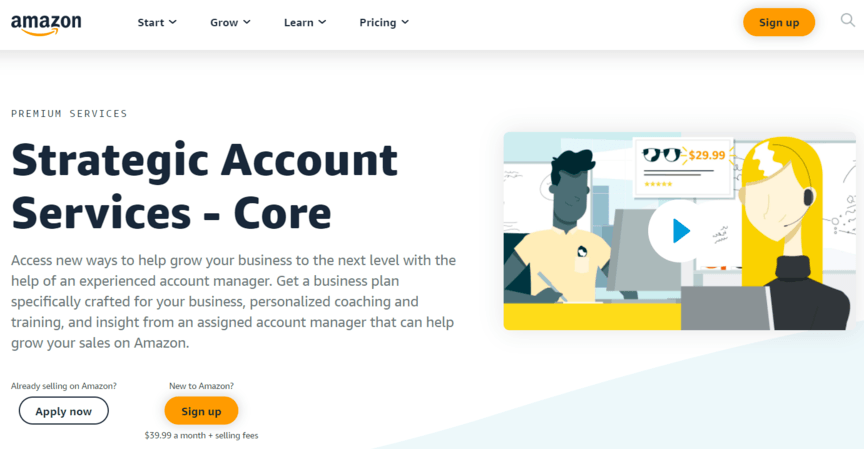 URL: https://sell.amazon.com/programs/paid-services.html

Location: Seattle, Washington, USA

Team Size: 10,001+

Google Business Profile Rating: N/A
Companies looking to maximize their presence and revenue on Amazon often search for outside advice via an Amazon consultant. While you can choose from dozens of consultants, many new and established brands opt for Amazon's Strategic Account Services.
Amazon is one of the top Amazon marketing agencies for consulting for a few reasons:
Early program access: With Amazon, your business can gain early access to new programs, including pilot and beta programs. Get advanced access to these features, and your company can leverage their benefits against your competitors.
Dedicated account manager: When you select Amazon as your consultant, you receive a dedicated account manager. This setup allows your business to establish a relationship with your consultant, leading to better recommendations over time.
Strategic advice: While your Amazon consultant can help navigate questions for present issues, they can also help your business plan for the future. With a second perspective, your brand can make a smarter decision about its marketing and advertising strategy.
Monthly calls: As a part of your Amazon consulting services, you receive a monthly one-on-one call with your consultant. You can use this time to discuss your strategies, like for the upcoming quarter, or existing problems.
One Size Does Not Fit All
Select an Amazon marketing service to view custom prices for your campaign
3+ features to look for in top marketing agencies for Amazon
You know which agencies topped our list of the best marketing companies for Amazon, but what goes into choosing these companies? When selecting the top Amazon marketing agencies, we looked at several key features — and you should too, when hiring an Amazon marketing agency — including:
1. In-depth knowledge
Just like email marketing and social media marketing, Amazon is its own digital marketing strategy.
That's why the best Amazon marketing companies will have a dedicated team or department for promoting brands on Amazon. These teams understand the Amazon Marketplace and recognize what it takes to rank well in search results, deliver exceptional service, and streamline inventory management.
Whether your business is new or familiar with selling on Amazon, you want a partner that knows Amazon and stays up-to-date on the latest features, trends, and tactics on the marketplace because that kind of agency will guide you towards success.
2. Positive reviews
Case studies, testimonials, and reviews all provide perspective on an agency and their service.
Besides looking at the number of reviews, it's important to look at the quality. A reviewer that explained why a business met or failed to meet their expectations provides helpful context that you can use to narrow your choices.
Generally, top Amazon marketing agencies will feature a significant amount of positive reviews.
These agencies will also include testimonials and case studies on their websites. Use these resources to learn more about the client experience. Keep in mind that some agencies will not publish case studies due to non-disclosure agreements (NDAs).
3. Client-focused deliverables
Deliverables are another critical component to finding and choosing the best Amazon marketing companies. Businesses today often want an all-in-one solution, like when selecting an inventory management software.
Top agencies will provide these features with their services.
These agencies will also anticipate what their clients need to succeed and include those deliverables in their services. SageMailer, for instance, incorporated A/B testing into its program because A/B testing can offer data-driven insight into the best time to send review request emails.
4. Transparent pricing
While custom pricing is useful for enterprise-level companies, it's time-consuming for small-to-midsized businesses (SMBs). You may waste hours researching and contacting multiple marketing agencies only to discover they're outside your budget for SMB Amazon marketing.
That's why our list of the best Amazon marketing agencies highlighted companies with upfront pricing.
Besides publishing their rates online, these organizations offered realistic prices for their services. For example, some services, like Amazon SEO, can attract shady businesses that advertise super-low rates but provide subpar service.
5. Unmatched client support
The top Amazon marketing agencies on our list serve plenty of clients, but you want to feel like their only client when you work with one of them. That's why some, like WebFX and Amazon, provide your business with a dedicated account manager.
This personalized approach allows companies like WebFX to deliver unmatched client support.
WebFX, for instance, maintains a client retention rate of 91% — the industry average is around 50%. Not to mention, the Amazon marketing company boasts a client recommendation score that's 488% higher than the nationwide average.
The first step to increasing your SMB's Amazon sales is getting a FREE proposal.
One of our experts will be in touch within 24 hours!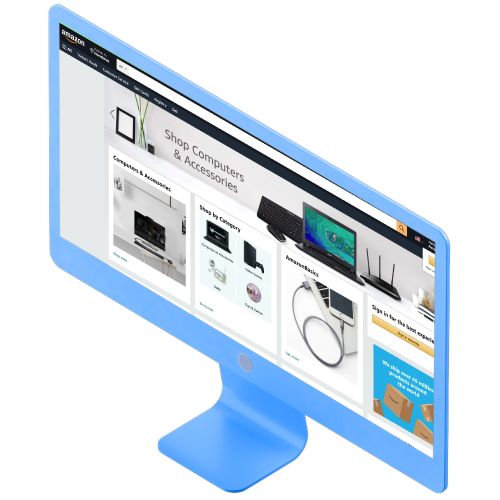 How to find the best Amazon marketing company for your business
Are you ready to start (or narrow) your search for the best Amazon marketing company?
Then check out our quick tips for how to find a top Amazon marketing agency for your business:
Determine what you need in a service or software
Set a realistic budget
Decide if you want to work with someone local, nationwide, or international
Ask people in your network for recommendations
Look for frequent problems or perks in online reviews or testimonials
Try a free trial (if possible)
Request a discovery call and compile a list of questions to ask
Keep in mind when looking for an Amazon marketing company that you are in control.
If you book a discovery call with an agency, that doesn't mean you have to sign with them. Instead, that call is for both of you. Use it to learn about one another and decide whether you're a good fit for each other. In comparison, if you sign up for a free trial, you can always cancel it.
With these quick tips, you can set yourself up for success when researching Amazon marketing agencies.
Are you ready to find the best Amazon marketing company for your business?
Partnering with an Amazon marketing company can help your business in multiple ways, including:
Growing your online sales
Increasing your Amazon rankings
Improving your order fulfillment
And more
Whether you're looking for help with Amazon SEO, product photography, order fulfillment, review management, or general consulting, this list of the top Amazon marketing agencies can help you get started.
Curious about what our Amazon agency can do for you? Contact us online today!
Learn more about Amazon pricing, services, and industry tips!
Learn More About Amazon Marketing
Amazon Technology and Platforms