How to Choose an Amazon Consultant: 12 Questions to Ask
Amazon dominates the online marketplace, accounting for more than 40 percent of online sales. It's a competitive platform though. That's why businesses that invest in Amazon consulting have a massive advantage — and can increase their online sales and outpace their competition with ease. The question is, how do you choose an Amazon consultant? With 12 simple questions, from asking about their experience to learning about their approach. Keep reading to learn about each of these questions or start collaborating with one of the best Amazon consultants, WebFX, by
contacting us online
or giving us a ring at
888-601-5359
!
1. How much ecommerce experience do they have?
Amazon started back in 1994, and while the ecommerce marketplace has changed a lot since then, partnering with a consulting agency with extensive experience in ecommerce can have numerous benefits for your business.

Some of the benefits include:
More sales: In most cases, your company's primary goal is to increase sales and overall revenue. By partnering with an Amazon consultant with years — or even better, decades — of experience, you can develop a smart and competitive strategy for boosting product orders.
Better advice: With their extensive experience, you can trust that your consultant remain up-to-date on the latest changes in the industry, such as updates to Amazon's algorithm. Their expertise, as well as passion, results in better advice for your company's online strategy. That extra experience can help your business outpace tough competitors and earn even more revenue.
Larger return: The combined benefits of bigger sales and better advice often translate to a larger return on investment (ROI), which you can reinvest into your consultant or other areas of your business. This factor is critical to consider, because if you're not earning any returns from your Amazon consultant, then you partnered with the wrong person.
Another perk of choosing an Amazon consultant with decades of experience, like WebFX, is that it demonstrates the quality of their services. If they've been in business for decades, you can assume that they've provided clients with results, as well as adapted to Amazon's changes throughout the years.
Many business consultants with ecommerce experience also have familiarity with other ecommerce platforms, like Shopify or WooCommerce. That's helpful if you're looking to improve your product sales across platforms.
2. What services for Amazon do they offer?
Today, Amazon is a full-fledged search engine for online goods. From pay-per-click (PPC) advertisements to search engine optimization (SEO), Amazon features several areas for consultants to focus. That's why your company needs to decide what services it needs.

A few examples of services offered by Amazon consultants include:
Amazon SEO: An Amazon optimization consultant specializes in Amazon SEO. Their services focus on optimizing your product listings for Amazon, as well as users. They help improve the ranking of your products in search results, which can lead to more sales for your business.
Amazon PPC: An Amazon Marketing Services (AMS) consultant specializes in Amazon PPC. Their services focus on advertising your products through the AMS platform, which includes Product Display Ads, Sponsored Products, and Headline Search Ads. They help improve the visibility of your products to shoppers to drive more orders.
Amazon Review: An Amazon review management consultant specializes Amazon reviews. Their services focus on earning genuine, verified reviews for your products and engaging with your shoppers. Their services can help improve your ranking in search results, as well as brand awareness and customer satisfaction.
Amazon FBA: An Amazon FBA consultant specializes in Fulfillment by Amazon (FBA). Their services focus on managing your products, as well as the logistics and fulfillment of those items. They help ensure a positive shopper experience and optimal product inventory management to meet consumer demand.
In some instances, a consultant will provide all these services. It's up to your business, however, to decide which services you need or want.
3. Do they understand SEO for Amazon?
While Amazon consulting includes several different specializations, it's critical that your consultant understands the fundamentals of Amazon's search algorithm — especially if they're providing SEO services.
Why is it so critical for a consultant to know SEO for Amazon?

It's the foundation of Amazon, as well as to earning product sales. Shoppers on Amazon search for what they want, before narrowing their choices with a series of filters. If you have unoptimized listings, it's unlikely that shoppers are even seeing your product, which is why it isn't selling.
Even if you're partnering with an Amazon FBA consultant, they should have a general understanding of Amazon SEO. That way, when you tell them that you're partnering with an Amazon SEO consultant, they know that your product demand will likely rise, which means changes to your inventory management.
How do you tell if a consultant understands Amazon SEO? A few ways, including:
Chat with them: If you're familiar with Amazon SEO, it won't take you long to determine if a consultant is an expert on it. That's why, when you call or meet with a consultant, you want to talk about Amazon SEO, from their experience with it to their past strategies for it.
Browse their portfolio: It's essential to explore a consultant's portfolio, as it provides direct insight into their approach, as well as results. Their portfolio may also highlight the services or strategies they used to deliver those results, such as Amazon SEO and Amazon PPC.
Read their reviews: While testimonials are helpful, you want to search for reviews on other websites, like Google or Facebook. These can highlight the expertise of a consultant — or their lack of experience with some Amazon features, like SEO.
As you investigate the expertise of an Amazon consultant, make sure that their SEO knowledge is up-to-date. Like Google, Amazon continues to update its search algorithm, which means consultants must adapt their SEO approach if they want to succeed on the platform.
4. Do they know how to win the Amazon Buy Box?
Another critical factor when looking for the best Amazon consultant is their knowledge of the Amazon Buy Box. As a seller on Amazon, it's essential that your business wins the Buy Box, as it provides you an immense advantage over other sellers.
Plus, if you want to advertise on Amazon, it's required.
A consultant should know that the Buy Box refers to the "box" that contains the "Add to Cart" and "Add to List" buttons on a product listing, and that the winner becomes the default seller for a product. They should also know how to win the Buy Box, like with product optimization and competitive pricing.
For instance, if you're a seller in the example below, you would want to partner with a consultant that can move your company from the "Other Sellers on Amazon" section and into the Buy Box above. That way, more shoppers buy the product from your business and not another seller.

If a consultant doesn't understand the Amazon Buy Box, you want to look at other consultants.
5. Do they offer transparent pricing?
For many businesses, price is an important factor when researching Amazon consulting. It's essential that you partner with a consultant that meets your budget, especially if you want to maximize your company's ROI.
Consultants vary when it comes to their prices.
While some will share their prices online, others request that you call for a quote. In some cases, prices will also depend on the service you're requesting, as well as the size of your product line-up, such as for Amazon FBA consulting.
At WebFX, we publish our prices for Amazon consulting online.
6. What tools do they use for Amazon?
If you're partnering with the best Amazon consultant, you can trust they'll use several different tools for their services, whether for Amazon FBA, Amazon PPC, or Amazon SEO. It's helpful to learn which tools they use, as they may show you or provide you access to reports generated by those tools.

A few examples of some popular tools that consultants use include:
Jungle Scout: This tool is helpful for competitor analyses, keyword research, and product monitoring. It's available as a web app, as well as a browser extension for Google Chrome. Jungle Scout is a paid tool.
AMZTracker: This tool is valuable for conversion rate optimization (CRO), competitor analysis, review monitoring, product optimization, and more. Like Jungle Scout, AMZTracker is a paid tool.
io: This tool is useful for researching keywords on Amazon. It generates information about related keywords, as well as their search volume, competition, and cost-per-click (CPC).
In some instances, an Amazon consultant may have proprietary software that they use. WebFX, for instance, features MarketingCloudFX. It's an artificial intelligence software that's powered by IBM's Watson to track your ROI and more.
As you learn about the different applications that a consultant uses, keep in mind how they respond to your questions. Are they happy to discuss the different features of the tools, as well as how they use them? Or, do they keep their responses to a minimum and without much detail?
7. Do they have a portfolio of case studies?
When researching the experience of a consultant, you browsed their portfolio. It's essential that a consultant maintains an up-to-date portfolio of ecommerce case studies — if they don't, it may signal a lack of experience in the area.
As you look at their different case studies, focus on the following areas:
Product: If you can partner with an Amazon consultant that specializes in your industry, that's a bonus. So, look at the products they successfully optimized, promoted, or managed to see if there's a trend.
Results: If you're investing in Amazon consulting, you want to choose an agency that shares your view on measuring success. That's why you want to see if they publish their results, such as an increase in sales.
What if an Amazon consultant doesn't have a portfolio? If you have a high interest in a consultant, but they don't have a portfolio or relevant case studies on their website, you can always contact them and ask them for some examples.
In some cases, an agency may not publish some of their work due to Non-Disclosure Agreements (NDAs). This factor is something to consider, especially if the agency has several strong trust signals, such as positive reviews, years of experience, and case studies from other businesses.
8. Do they follow best practices for Amazon optimization?
Across search engines, it's common for consultants or agencies to rely on black-hat practices. These are practices that go against the policies or recommendations of the search engine, such as Amazon or Google — and while they may generate results, it's often temporary.

In some cases, Amazon may even ban your account, such as for the following reasons:
Including false information in product titles and descriptions
Using identical product information from other sellers in product listings
Listing a product on Amazon, but only selling it on a separate website
Soliciting product reviews
Failing to deliver products within 17 to 28 days on a routine basis
That's why it's critical that you choose a respected and trusted Amazon consultant. If they use black-hat practices to earn reviews for your products, for instance, it's your business that's at risk — and it's not only repercussions from Amazon that you need to consider, but also the damage to your brand.
Determine whether an Amazon consultant adheres to Amazon's best practices with these steps:
Talk strategy: Discuss with consultants about their preferred strategies. If they prefer not to share how they'd optimize your listings or create your advertisements, it may indicate that their approach doesn't align with Amazons recommendations.
Read reviews: In most instances, reviews will alert you to consultants you can't trust. They may share how the consultant not only failed to deliver any results but also cost the company money by getting their Amazon account suspended, restricted, or banned.
When in doubt about the legitimacy of an Amazon consultant, take it as a tip to find someone else.
9. What is their client retention rate?
It's unlikely for consultants to share their exact retention rate. They're more likely to highlight the results of their campaigns, as well as reviews on Clutch, which are excellent indicators of a trusted agency or consultant.
Optimizing your Amazon products and account, however, is a continual process. You're always looking to increase your sales and compete against new competitors, as well as maintain your ranking in search results. That's why it's worth investigating the client retention rate of an Amazon consultant.

The benefit of a review site like Clutch is that reviewers state the duration of the project. If a company has provided a client with Amazon consulting services — or any other service — you can see how long they've been partners. That offers your company immense insight when comparing consultants.
In some instances, consultants will highlight their client retention rate across their website. WebFX, for instance, features a client retention rate of 91 percent. For perspective, that's 488 percent higher than the industry average.
10. What questions do they ask about your business?
At some point, you'll want to contact an agency or individual about their Amazon consulting services — for many businesses, agencies are a better option than freelancers due to the scope of your company and quality standards.
When you speak with an agency, you'll want to compile a list of questions to ask, including:
How long will it take to see results from the campaign or strategy?
How do you handle a campaign or strategy that's not performing?
What strategies would work well for my company and products?
How much do you involve your clients in the process?
What can my team expect when working with yours?
What are some potential challenges our company may have in using Amazon?
You should also expect the agency to ask your business some questions, including:
What are your goals for selling on Amazon?
Who is your target market?
Have you worked with an Amazon consultant before?
What experience do you have with Amazon SEO, PPC, or FBA?
What products are looking to promote?
What is your budget?
One way to look at this call or meeting is as a two-way interview. Both the agency, as well as your company, want to see if you're an ideal fit for one another. If you discover you're not, that's okay — you want to choose the best Amazon consultant for your business.
11. How do they approach Amazon consulting?
During your interview or meet-up with a potential firm, you want to consider their approach to consulting. This question is critical to ask because it'll influence your experience as a client in multiple ways.

Four factors to consider include:
Account Management
Some agencies that offer Amazon consulting will move you between project managers. That means at every check-in, you're meeting with a different person that doesn't know the details of your business, but only the bare minimum.
The best Amazon consultants will provide you with a dedicated and hands-on project manager. They'll know not only your business but also your team by name. It's a personalized experience that shows in the strategies they develop, as well as in the results of your campaign.
That's why, at WebFX, we provide you with a dedicated and award-winning account manager.
Strategy Personalization
Every company and every product are different. That's why you want a customized strategy for your business — not a cookie-cutter approach. If your consultant provides you with a one-size-fits-all campaign, it'll drive mediocre results for your business.
It can also lead to setbacks in your service to shoppers. A consultant that provides FBA services, for instance, can cause delays in order shipments, shortages of inventory, and additional errors that hurt your company's reputation.
That's why we focus on customized strategies as an Amazon optimization consultant.
Service Transparency
As a client, you want transparency from service providers, whether it's your utility company or your Amazon consultant. It's important that they share your interest in transparency and provide your team with the means to access account data, campaign analytics, and other critical information.
Consultants will vary in how they provide you access, but at WebFX, we make sure you have it. Via MarketingCloudFX, you can see data related to your services — as well as the ROI of them. Plus, your dedicated account manager is always ready to discuss the details of your service.
Amazon Knowledge
Depending on your business, you may not know much about optimizing your products on Amazon. What you do know, however, is that you need an Amazon consultant to reach your sales goals. The best Amazon consultants understand this, which is why they share their knowledge with you.
If you have questions, they answer them. They take the time to explain their strategies, as well as the reasoning behind those decisions. In comparison, other consultants won't invest the time to educate you or your team.
They see your business as an account, not a partner — and that's not the kind of consultant you want. Instead, you want a team that sees your company as a partner, and that works as an extension of your business, which is exactly what WebFX does.
Consider the above factors, and you're one step closer to picking a trusted Amazon consultant.
12. How do they respond to your questions?
Choosing an Amazon consultant involves a lot of questions. That can test the patience of some companies, which is why you want to think about how these agencies and their teams respond to your questions.
You want a consultant that's happy to answer your questions.
They may even suggest resources that you can read to learn more about a topic, such as optimizing products on Amazon. Even better, they remember your past discussions and follow-up to see if you have any other questions.

These types of responses relate to that personal approach that you want from a consultant. It also provides your company with insight into how the agency operates on a day-to-day basis with their existing clients.
That can help you decide if they're the best Amazon consultant for your business.
Partner with a team of ecommerce masters!
WebFX campaigns have delivered more than 12,936,451 ecommerce transactions in the last 5 years
Read the Case Studies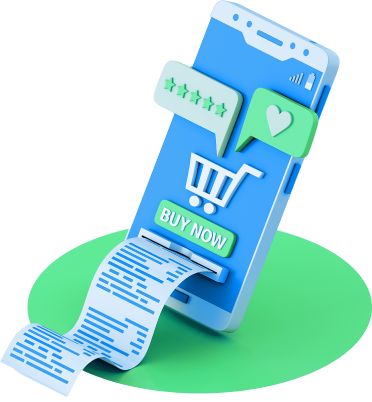 Partner with a trusted Amazon optimization consultant
Do you need an optimization consultant for your Amazon business? At WebFX, we offer more than 20 years of experience and feature an award-winning team that's passionate, tenacious, and gets things done.
Get ready to boost your Amazon sales by giving us a ring at 888-601-5359 — or contact us online!
Earn a 20% greater ROI with WebFX