Amazon and Google. They're behemoths in their industries (ecommerce and search), but in the past few years, the two have moved closer to becoming direct competitors, especially in the digital advertising market. The competition between the two companies, however, offers businesses like yours a tremendous opportunity.
Advertising on Google and Amazon can help your organization reach a broad audience of ready-to-buy shoppers and business buyers. Before you launch your ad campaigns, however, you need to understand what separates the two — and for that, you need this infographic. Keep reading to get the scoop on Amazon versus Google and learn about their advertising differences and similarities, plus unique advantages and ad performance.
For immediate assistance launching your Amazon and Google ad campaigns, contact us online!
Why digital advertising is Amazon and Google's battleground

Back in the day, Amazon was for shopping and Google was for searching. That hasn't changed, but how consumers shop has, with many turning to Amazon (rather than Google) to search, research, and compare products.
Users are migrating to Amazon to search
Studies even show that almost 55 percent of product searches now happen on Amazon, versus Google. A poll of more than 2000 U.S.
consumers confirmed this preference, with 66 percent of participants saying that Amazon is their first stop when looking for a new product, not Google. Companies, including Amazon, have noticed this shift and started adapting their advertising budgets.
Companies are investing in Amazon ads
In 2018, Amazon made a significant investment in its advertising platform. Amazon rebranded its advertising services, merging its Amazon Marketing Services (AMS), Amazon Advertising Platform (AAP), and Amazon Media Group (AMG) into one cohesive brand and application: Amazon Advertising.
Google undertook a similar rebranding effort in 2018, relaunching its advertising platform, Google AdWords, as Google Ads. Like Amazon Advertising, Google Ads houses several advertising options, including display, search, and video. While the rebrand positioned Amazon for success, the company's advertising platform was already taking off.
In 2018, Amazon's year-over-year (YoY) ad revenue grew by almost 120 percent. In comparison, Google's increased by 17 percent. Even though Google claims the biggest portion of the digital advertising market, which makes it difficult for the tech giant to experience the kind of growth that Amazon did in 2018, Amazon's increase is still worth the attention.
Part of the reason why is because more than 65 percent of businesses use online advertising, with digital ad spending in the U.S. topping more than $100 billion in 2018. For companies like Amazon and Google, online advertising offers a significant amount of revenue.
Marketers are increasing Amazon ad spend
Already, Google earns $17 billion in annual ad revenue. In comparison, Amazon generates around $10 billion. The accelerated growth of Amazon's advertising platform, however, threatens to chip away at not only the ad revenue of Google but also other platforms like Facebook.
Companies have already started to shift their ad spend from Google to Amazon. Around 50 to 60 percent of consumer-packaged goods (CPG) ad spending, which includes the budget of brands like Unilever and Proctor & Gamble, has moved from Google to Amazon. These are some of the world's biggest advertisers, which emphasizes their impact on ad revenue and ad market share.
That's why digital advertising is now a battleground for Amazon and Google.
10 core differences between Amazon and Google's advertising programs
Even though Amazon and Google are competing for your ad spend, your business doesn't have to choose a side. You can take advantage of both Google Ads and Amazon Advertising to promote your company, build your brand awareness, and increase your sales. Before you do, however, it's essential to understand how these platforms differ and influence your campaigns.
That way, you can create a smart advertising strategy and use each platform's advantages to your benefit, which can help increase your return on investment (ROI). Ready to learn more about Amazon vs. Google? Use this handy table of contents to get started!
1. Advertiser requirements
If you want to advertise on either Google or Amazon, you must meet their advertiser requirements:

Compared to Google, Amazon maintains a strict set of requirements for advertisers, including:
Active professional seller account
Ability to ship to all U.S. addresses
New products
Product listings in one or more available categories
Eligibility for the Buy Box, which appears on the right-side of product detail pages*
Enrollment in Amazon Brand Registry*
*Requirement only applies to Sponsored Brands advertisements If you do not sell products on Amazon, but want to advertise on Amazon, these requirements do not apply. For example, many established businesses will use the Amazon Demand-Side Platform (DSP) to promote their brand on Amazon.com and other sites owned by Amazon. No matter how you advertise on Amazon, however, you will need to meet the company's ad policies.

In comparison, Google only requires that advertisers have an active Google Ads account.
Like Amazon, Google also maintains a set of advertising policies. Your company will need to comply with these policies, which cover prohibited content and practices, restricted content, and editorial and technical quality standards.
2. Ad network
Advertising on Amazon and Google provides your business immediate access to expansive ad networks, which display and deliver your ads to millions of Internet users each year. Both Amazon and Google ensure your ads only show on trusted and reputable sites.

With Amazon Advertising, your company can advertise on the following networks or sites:
Amazon.com: On Amazon.com, your business can reach users as they shop, research, and compare products. It's one of the most common ways companies, especially ecommerce ones, advertise with Amazon.
Amazon-owned sites: Your ads can also reach users via Amazon-owned sites and apps, like IMDb, a movie and TV database. A few examples of ads that can take advantage of this network include video ads and display ads.
Partner sites: Amazon also features a partner site ad network, which includes various websites and apps vetted and approved by Amazon. If you create display ads with Amazon Advertising, they can appear on these partner sites.

With Google Ads, your business can advertise on two ad networks:
Search network: The Google Search Network features search-related apps and sites, like Google.com, Google Maps, and even Google Play. When companies advertise with Google, they often focus on the Google Search Network.
Display network: With the Google Display Network, your business can advertise on more than two million websites. The Google Display Network can reach more than 90 percent of people on the Internet, which makes it useful for brand awareness campaigns.
Like Amazon, Google ensures its partner sites, which may display your ads, meet its advertising policies.
3. Ad auction
The competition is real in digital advertising. That's why Google and Amazon operate real-time ad auctions, which trigger whenever an ad can appear. Auctions happen instantly and determine if your ad gets a spot on the page and the chance to reach your audience.
How do Amazon and Google compare when it comes to the ad auction?

Since Amazon features non-seller and seller advertisers, it features two ad auctions. If your company sells and promotes its products on Amazon, the ad auction follows these steps:
Check the seller's bid and the ad's relevance to the user's search
Remove any ads losing the Buy Box
Rank the remaining eligible ads based on:

Seller's bid
Ad's relevance to the user search

Deliver the winning ad
In comparison, if your business doesn't sell on Amazon, but advertises on one of its ad networks, the ad auction follows a different procedure. The overall process (and goal) remains the same, but Amazon does not use the Buy Box as a point of reference since it doesn't apply.

No matter how your company advertises on Google, whether with a remarketing campaign or search campaign, Google follows the same auction process, unlike Amazon.
This approach makes it easy for your business to build a successful ad campaign, bidding strategy, and more. The ad auction on Google follows these steps:
Compile a list of relevant and eligible ads
Remove ads that miss minimum quality standards or have a low Ad Rank
Rank ads based on:

Ad Rank
Landing page quality
Ad quality
Bid
User search
Predicted impact of ad extensions and other ad formats

Deliver ads to the user
For many companies, advertising on Google offers an advantage: Google is transparent about its ad auction and ad standards. In comparison, Amazon is less upfront about its ad auction process, especially when it comes to Amazon DSP ads.
4. Ad rank
When it comes to advertising, ad rank is synonymous with Google. Other advertising platforms, like Amazon Advertising, however, have adopted ad rank and customized it to their platforms, audiences, and needs. That's because relevance is critical in online advertising.
If users don't receive a relevant ad, nobody wins. Your company doesn't get to connect with potential clients, which doesn't motivate you to advertise online or with that advertising platform. That's why Amazon and Google evaluate every ad.
For your ad campaigns to succeed, it's essential to learn what Google and Amazon look at when scoring ads. That way, you can create high-quality, relevant ads that not only perform better in ad auctions but also generate a better ROI for your business.

When grading ads, Amazon looks at the following factors:
Bid: Amazon isn't a pay-to-win platform. A high bid doesn't mean you'll win the auction. It can, however, make your ad more competitive or compensate for a low-quality ad.

For the best results, your company wants to make competitive, yet strategic bids.

Keyword relevance: Keywords in your ad (as well as your product page, if you're promoting a product) also help Amazon determine the quality and relevance of your ad. Targeting the right keywords lets your business reach the right audience.
Accurate product listing: Ads create expectations, which is why it's essential for product listings, which act as landing pages, to coordinate with your advertisement. A promotion for a hairbrush that goes to a product page for shampoo, for example, won't go over well with users.
Complete listing: For Amazon, as well as shoppers, it's helpful if your business provides as much information as possible about your products. That's why Amazon references a listing's completion when grading ads for products sold on Amazon.
Buy Box eligibility: If you're advertising products as an Amazon seller, then your product's buy box eligibility will also influence your ad rank. For the best results, you want your product not only to be eligible for the Buy Box but also the winner of it.
When creating an ad on Amazon, it's essential to place a competitive bid, target the right keywords, and provide everything users need to not only learn about your product but also get the motivation to purchase it.

When it comes to its Ad Rank, Google looks at the following factors:
Bid: Google also looks at how much you're willing to pay for someone to click on your ad. Again, a high bid doesn't mean you'll win the auction. In fact, if you create a top-quality ad, you can often bid less and still win the ad auction.
Expected click-through rate (CTR): As a part of its Ad Rank, Google also looks at your CTR or how likely people are to click on your ad. If you have a low CTR, it generally means your ad isn't relevant to users, which can impact how often it gets shown to your audience.
Ad relevance to search: For a high Ad Rank, it's essential to create a relevant ad. You can make your ad relevant to users by refining your keyword or audience targeting. A local business, for example, may limit their ad to a specific area.
Landing page experience: When users click on your ads, Google wants to make sure they have a positive experience. That's why Ad Rank considers the landing page experience. The best landing pages follow up on your ad's promise and provide users what they want.
Context of user search: Personalization is a critical part of the online experience. That's why Google's Ad Rank looks at the context of a user's search. It considers their location, time of day, device, and even their previous search behavior.
Expected impact of extensions and other ad formats: With Google Ads, your business can take advantage of ad extensions to enhance your ad, like by providing your phone number. If these extensions improve your ad's relevance and user experience, they can boost your Ad Rank.
Compared to Amazon, Google looks at several different factors when determining ad rank.
5. Ad types
Whether your company advertises on Amazon or Google, you can promote your business, products, or services in several different formats. Each offers unique advantages and features, which can help you reach potential customers in innovative ways.

Amazon offers four ad types:
Product Display Ads: Product Display Ads promote a product and appear on Amazon.com, like on related product detail pages and customer review pages. They can also appear in merchandising emails.
Sponsored Brands: Sponsored Brands advertise your brand and up to three products on Amazon.com. These ads appear in mobile and desktop search results on Amazon.com. Users can click on your ad to view the advertised products or a landing page, like your Amazon Store.
Sponsored Products: Sponsored Products promote a single product on Amazon.com. Shoppers can see your ads when shopping on the Amazon app too. These ads can appear in search results, as well as product detail pages.
Display Ads: Display Ads advertise your brand and products on Amazon apps, devices, and websites. They can also appear on partner sites. You can use Display Ads to take users to your product pages on Amazon or even a website outside Amazon.

Google, meanwhile, provides seven different ad types:
Text: A text ad promotes your business in Google search results. Your text ad features a headline and description. You can also enable ad extensions to provide users with even more information about your company.
Responsive: A responsive ad can feature text or images. Responsive ads offer versatility and flexibility to advertisers because they adapt to wherever they display automatically, without requiring help from your team.
Image: An image ad can feature static, interactive, or animated graphics. While these ads won't display in search results on Google, they will feature on sites in the Google Search Network and Google Display Network.
Video: A video ad can appear on approved partner sites. They can display as a standalone ad or as an advertisement before a video. Video ads require advertisers to hook users fast to earn their attention.
App: An app ad promotes a downloadable mobile application. These ads only appear on compatible devices, like an Android or iOS smartphone. They can appear in Google search results and Google Play, as well as on sites and apps that partner with Google.
Call-only: A call-only ad features your phone number and uses it as the landing page. That means, when users click on your ad, they call your business. As a result, these ads will only appear on devices capable of making a phone call.
Shopping: A shopping ad promotes your products and online store. You can use these ads to reach users starting or ending their shopping journey, which can help your company secure sales fast.
Even though Google offers a dedicated ad type for promoting products, Amazon's Sponsored Products and Sponsored Brands outperform Google Shopping ads. In fact, they convert at more than three times the rate of Google Shopping ads.
6. Ad targeting options
In digital advertising, targeting plays a critical role. It helps your company refine your audience and reach the people that matter to your business strategy and bottom line. That's why it's helpful to learn about the different ad targeting options available through Google and Amazon.
Amazon
With Amazon, your company can use the following ad targeting options:
Keywords: A keyword targeting strategy allows your business to reach customers as they search for products like yours on Amazon.com.
Interests: Using interest targeting, your company can reach shoppers that show interest in specific product categories, products, and more.
Products: With product targeting, your ads can target specific products, brands, ratings, price points, similar products, and more.
Related Categories: Ads can also target specific categories. You can target suggested categories or search for different ones, which you can filter by price, rating, and brand.
If your business uses keyword targeting, you can also take advantage of automatic or manual keyword targeting. With manual keyword targeting, your company supplies all the keywords you want to target. Automatic keyword targeting, in comparison, allows Amazon to build your keyword strategy.
While Amazon recommends starting campaigns with automatic keyword targeting, it also advises you to check-in on that keyword strategy. Based on Amazon's automatic keyword targeting, you can discover profitable and not-so-profitable keywords, which you can then exclude from your ads.
Google
With Google, your company can take advantage of more than five different targeting options:
Keywords: Use relevant keywords or phrases to reach your audience as they search for products or services like yours on the Internet.
Demographics: Narrow your ad targeting with demographics, like location, age, gender, parental status, and even device.
Remarketing: Reengage users that previously interacted with your website, ads, or app with remarketing. You can refine your remarketing audience in multiple ways, including by what pages they visited on your site.
Affinity: Support your traditional advertising campaigns with affinity targeting, which targets a broad audience with a core interest, like baseball, cheap travel, or eco-friendly makeup.
In-market: Reach users with a perceived interest in products or services like yours. A wedding venue, for example, may use in-market targeting to reach people with a recent browsing history of wedding-related topics.
Custom intent: Target audience interests by focusing on words or phrases related to your audience. You can use sites, apps, and YouTube content to refine your custom intent targeting.
Similar audiences: Use your remarketing data to create a similar audience. While users in a similar audience aren't usually searching for your products or services, they generally have shared interests with your remarketing audience.
Topics: Expand your access to sites on the Google Display Network with topic targeting. This targeting lets you focus your efforts on topics related to your products or services.
Placement: Focus your advertising efforts on a single (or multiple) sites with placement targeting. This option can limit your reach, but help you connect with users in the right place.
While your company can combine targeting options, like keywords and demographics, you want to make informed decisions about your targeting. That may mean launching your campaign and reviewing the data before adding demographic targeting, for example. Either way, Google and Amazon provide you with a few ways to target and reach your ideal client.
7. Keyword match types
Even though Amazon and Google offer a suite of targeting options, most companies focus on keyword targeting. That's because keyword targeting allows your business to target users when they're searching for products or services similar to yours. If you're going to use keywords, though, you need to know about the different match types.
Amazon
Amazon offers five keyword match types:
| Keyword Match Type | Definition |
| --- | --- |
| Broad match | Targets searches that include your keyword phrase in any order or variation. |
| Phrase match | Targets searches that feature your keyword phrase in the same order. |
| Negative exact match | Prevents searches that exactly match your keyword phrase from triggering your ad. |
| Exact match | Targets searches that use your keyword phrase in the same order, without other words or phrases. |
| Negative phrase and exact match | Stops specific phrases (and close variations of those phrases) from triggering your ad. |
If you haven't used Amazon Advertising before, it's important to note that Amazon does not require special formatting for each match type.
Before you enter the keyword, you select the match type, which eliminates the need to add brackets, quotations, and additional formatting.
For the best results, Amazon recommends targeting at least 30 keywords. While you can add a maximum of 1000 keywords per campaign, that doesn't mean you should.
Targeting too many keywords can hurt your campaign's performance and ROI. Instead, you should focus on the keywords that offer your company the best results and return.
Google
Google also offers five keyword match options, which do require special formatting:
| Keyword Match Type | Definition | Format |
| --- | --- | --- |
| Broad match | Targets relevant variations of your keyword, like related searches, synonyms, and misspellings. | keyword |
| Phrase match | Targets searches matching your keyword phrase or close variations of it, including phrases with non-targeted words before or after them. | "keyword" |
| Exact match | Targets searches that use the exact keyword or close variations of it that still match the keyword's search intent. | [keyword] |
| Negative keywords | Prevents certain words or phrases from triggering your ad. | -keyword |
| Broad match modifier | Targets keywords by mixing and matching them, allowing non-targeted words to appear before, between, or after your targeted phrases. | +keyword |
If you advertise on Google, it's essential for your team to follow the formatting for each match type. If you want to add a negative keyword, for example, you need to add the minus symbol "-" before the word.
That way, Google knows it's a negative keyword and not a broad match keyword. For the best performance, Google recommends adding five to 20 keywords per ad group.
8. Bid strategies
Advertise on Google or Amazon, and you can take advantage of several basic and advanced bidding strategies that allow Amazon and Google to optimize your bids (without exceeding your budget) to achieve your campaign goals.

A few advanced bidding strategies are available in Amazon Advertising, including:
Dynamic bidding: Secure clicks that have a high chance of conversion by allowing Amazon to increase or decrease your bid as much as 100 percent.
Fixed bids: Manually manage your bids for each ad group.
Placement bid adjustments: Adjust your bids for Sponsored Products automatically. Just set a bid adjustment between zero and 900 percent, which Amazon will use as a multiplier when updating your bid.
The most common bid strategy on Amazon, however, is cost-per-click (CPC). With CPC, your company places a bid for how much you're willing to pay for someone to click on your ad, whether it's a Sponsored Brands or Sponsored Products advertisement. That doesn't mean you'll pay that amount every time someone clicks on your ad, but you won't pay any more than that number.
Like Amazon, Google also features a set of advanced bidding strategies, including:
Target cost-per-acquisition (CPA): Optimize your bids for conversions by allowing Google to adjust your bid for users that have a high chance of clicking on your ad and converting.
Target return-on-ad-spend (ROAS): Allow Google to manage and optimize your bids for the best ROAS. Google will update your bid for high-value users that could meet your target ROAS.
Enhanced CPC: Automate your CPC bids with the enhanced CPC bidding strategy. Google will change your bid to help your company maximize clicks and conversions.
The most basic bidding strategies in Google Ads are the following:
CPC: Bid for how much you're willing to pay for one click.
Cost-per-thousand impressions (CPM): Bid for 1000 ad impressions or views.
Cost-per-acquisition (CPA): Bid for a single conversion.
Cost-per-view (CPV): Bid for a single video view.
As every ad campaign is different, so is your bidding strategy. If you're looking to build brand awareness, your company may use CPM, but if you're looking to drive sales, you may use CPA or CPC to reach your goals.
9. Ad costs
No matter where your business advertises online, cost is a critical factor. You want to build a realistic pay-per-click (PPC) advertising budget, but you also want to earn an ROI. That's why it's helpful to review the costs that come with advertising on Amazon or Google.
Amazon
When you advertise on Amazon, you must meet several pricing minimums, which include:
| Ad Type | Minimum CPC | Minimum Daily Budget | Minimum Campaign Budget |
| --- | --- | --- | --- |
| Product Display Ads | $0.02 | $1.00 | $100 |
| Sponsored Brands | $0.10 | $1.00 | $100 |
| Sponsored Products | No minimum | $1.00 | $100 |
| Display Ads | N/A | N/A | $35,000 |
Google
In comparison to Amazon, Google does not require your business to set a minimum bid or budget. Your company can create a bidding strategy that supports your ad spend and business goals.
It's worth mentioning, however, that your ad spend will influence your results. That's because Google's Ad Rank uses your bid as a factor. If you bid super low, it can prevent your ad (no matter how relevant it is) from reaching your audience.
That's why it's crucial to create a realistic ad budget.
10. Performance metrics
Whether your business advertises on Amazon or Google (or both), you need to know which performance metrics each platform uses to measure and assess the performance of your advertisements.
Amazon
Amazon features 10 critical performance metrics:
| Performance Metric | What It Measures |
| --- | --- |
| Impressions | The number of people that saw your ad |
| Clicks | The number of clicks your ad received |
| Detail Page Views (DPV) | The number of times a user clicked your ad and then visited one of your brand's product detail pages |
| CTR | The ratio of how often users see and click on your ad |
| Spend | The total value of the clicks earned for a campaign |
| CPC | The average cost paid per click |
| Units sold | The number of units sold to shoppers within 14 days of clicking on your ad |
| Total sales | The dollar value of sales generated by your ads |
| Advertising Cost of Sale (ACoS) | The percentage value of how much you spend on advertising, per dollar of revenue generated |
| ROAS | The ROI produced by your ads |
For many advertisers on Amazon, the performance metrics that earn the most attention are:
That's because (like all advertisers) companies promoting their products on Amazon want to make a return on their investment. They also want to get the best ACoS and CPC possible. Plus, they want to sell their products at a price that drives a return.
Google
Google also features a series of performance metrics, with the most mentioned ones being:
| Performance Metric | What It Measures |
| --- | --- |
| Impressions | The number of views your ad receives |
| Clicks | The number of clicks generated by your ad |
| CTR | A ratio for how often the people that see your ads click them |
| CPC | The average cost paid when a user clicks on your ad |
| Cost | The dollar amount spent on your ad campaigns |
| Conversions | The number of conversions generated by an ad |
With Google Ads, most advertisers focus on CTR, conversions, and CPC.
Depending on your company's strategy, however, you may focus on different performance metrics. If you're looking to build brand awareness, for example, you may monitor your impressions more than your clicks.
Amazon vs. Google: Who is winning in the advertising arena?
In the Amazon vs. Google debate, there isn't a definitive winner. While Google claims most of the digital advertising market, Amazon shows exceptional growth and the potential to upset ad revenue, as marketers now plan to increase their Amazon ad spend by 25 percent. Not to mention, Amazon boasts a lower CPC and higher conversion rate than Google.
Metric
Amazon
Google
Average CPC
$0.96
$2.69 (search ads)
$0.63 (display ads)
Average Conversion Rate
10%
3.75% (search ads)
0.77% (display ads)
Even though Amazon boasts all these advantages, however, the platform isn't feasible for every company.
While it's convenient for companies that sell on Amazon to take advantage of the platform, it's more challenging for businesses outside of Amazon.com due to ad prices. Display Ads (the only option for companies not selling on Amazon) require a $35,000 ad spend. For a small-to-midsized business (SMB), that's a high upfront price for an advertisement, which limits Display Ads to larger brands.
Google, however, offers companies of all sizes the ability to advertise online. That's why there isn't a definitive winner to the Google vs. Amazon debate. While an ecommerce store may see Amazon as the clear winner, a local SMB may look at Google as the undeniable choice for businesses looking to grow. The good news, however, is that your company doesn't have to choose between the two.
The first step to increasing your SMB's Amazon sales is getting a FREE proposal.
One of our experts will be in touch within 24 hours!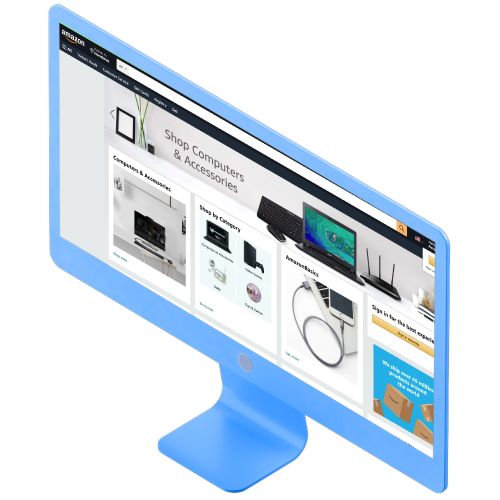 Get the best ROI from your ad campaigns with Google and Amazon
Companies can use both Amazon Advertising and Google Ads to increase their revenue, build their brand awareness, and grow their businesses. Launching an ad campaign, however, isn't easy, though. It requires time, skill, and resources.
WebFX, however, can make it simple. With our advertising services for Amazon, as well as PPC services, we can help your company develop, launch, and oversee a successful ad campaign on Google and Amazon. In fact, we've managed more than 650 ad campaigns already.
Just contact us online or call us at 888-601-5359 to see how we can help your team!
Get posts by email
Join 200,000 marketing managers and subscribe to Revenue Weekly!
"*" indicates required fields
WebFX Careers
Join our mission to provide industry-leading digital marketing services to businesses around the globe - all while building your personal knowledge and growing as an individual.