From Sponsored Products to Sponsored Brands, Amazon offers your business choices when it comes to advertising your products. The question is, which will you choose? If you're looking for ideas, get a preview of what's possible by checking out these nine Amazon advertising examples:
1. Quilted Northern
Ad Type: Sponsored Brands

Just like its toilet paper, there are no weak points in Quilted Northern's Amazon ad campaign. The company goes after competitive, high-volume keywords, like "toilet paper" with this Sponsored Brands ad to capture sales and stand out from other well-known competitors. Takeaways from this Amazon Sponsored Brands example include:
Write headlines that speak to your user's needs
Create descriptive product titles that explain what your product includes, like 24 rolls
Have a primary image that displays your product accurately
Bonus: Join Fulfillment by Amazon (FBA) or Seller Fulfilled Prime (SFP) to offer Prime shipping
2. Traeger
Ad Type: Sponsored Brands

People looking to grill smarter, not harder, won't have trouble finding a solution thanks to Traeger's ad campaign. The company appears for several relevant keywords, including "wifi grill," which helps the brand reach its desired audience. Takeaways from this Amazon Sponsored Brands example include:
Target long-tail keywords to show your ads to more qualified shoppers
Create a bundle with two to three of your advertised products, like a grill and pellets
Experiment with curiosity with your headline, like "Taste the wood fire difference"
Bonus: Take your promotion a step further with a video ad

3. La Colombe
Ad Type: Sponsored Brands

Like other brands selling on Amazon, La Colombe bids on keywords related to its brand, like "la colombe." This strategy helps the company get visibility above competitors that bid on the same keyword, like Starbucks. What can you learn from La Colombe's Sponsored Brands ad? A few things, including:
Showcase different options for different user needs, like dairy and non-dairy options
Outline the number and size of goods for bulk items, like "9 Fluid Ounce, 12 Count"
Sync the primary images of products to build better brand awareness
Bonus: Optimize your Amazon Store for users that click to "Shop [Your Brand]"

4. Foxelli
Ad Type: Sponsored Products

Looking to promote a single product? Use Sponsored Products ads like Foxelli. This outdoors company uses Sponsored Products ads for advertising its trekking poles and compete against big names on the Amazon marketplace.
Takeaways from this Amazon advertising example include:
Showcase everything shoppers receive with their purchase in your primary product image
Include relevant keywords in your product title, like "carbon fiber trekking poles"
Emphasize product features, like "lightweight" and "collapsible"
Bonus: Get a professional to stage and photograph your products
5. Charmin
Ad Type: Sponsored Products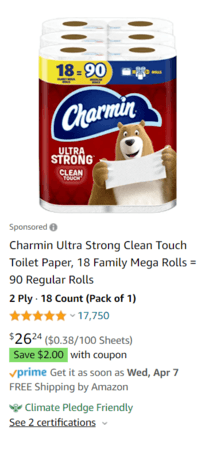 When it comes to toilet paper brands, Quilted Northern isn't the only company using Amazon to drive sales. Charmin also advertises on the marketplace, targeting keywords like "soft toilet paper," "toilet paper," and more. Takeaways from Charmin's Sponsored Products ad include:
Use your product packaging to reinforce what your product includes, like 18 rolls
Include a coupon offer to make your ads stand out
Add helpful, easy-to-skim information, like ply rating and size for relevant products
Bonus: Submit for relevant product certifications, like Climate Pledge Friendly
6. FELIWAY
Ad Type: Sponsored Products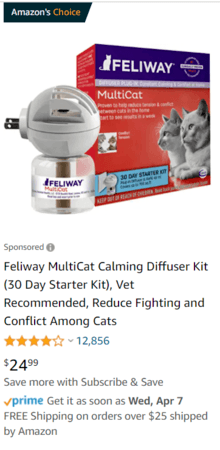 Another Amazon advertising example comes from FELIWAY. This veterinary-recommended brand manufactures diffusers and sprays to help cats relax, bond with one another, and retire behaviors like scratching and marking. Takeaways from this Amazon ad example include:
Include trust signals, like "Vet Recommended," in your product titles
Enroll products in programs like Subscribe & Save to generate a bigger return from your ads
Use product vs. lifestyle images as your primary image
Bonus: Optimize for badges like "Amazon's Choice" with search engine optimization (SEO)
7. Glymnis
Ad Type: Video

Brands like Glymnis, another outdoor company, take advantage of Amazon's video ads. These ads provide your business with massive real estate in Amazon search results, though these ads appear lower than Sponsored Brands and Sponsored Products ads. Takeaways from this Amazon video ad example include:
Highlight different product applications, from walking on a sidewalk to hiking trails
Show shoppers how to use your product, from setup to storage
Brand products with your logo to protect against knock-offs and build awareness
Bonus: Upsell shoppers by promoting add-on purchases, like different attachments
8. Brightech
Ad Type: Sponsored Brands

Brightech, a home lighting company, is a big fan of Sponsored Brands ads. The company uses a variety of Sponsored Brands ads to get shoppers familiar with its offerings, which range from floor lamps to string lights. Takeaways from this Amazon Sponsored Brands example include:
Use your headlines to ask a question and engage shoppers
Expand your ad campaign with multiple product combinations to find top performers
Make your product titles user-focused as an experiment
Bonus: Include your product's biggest benefits, like warranty information, in its list of product features. Your bulleted list of product features will be one of the first things shoppers see, so optimizing it for your audience can result in more purchases.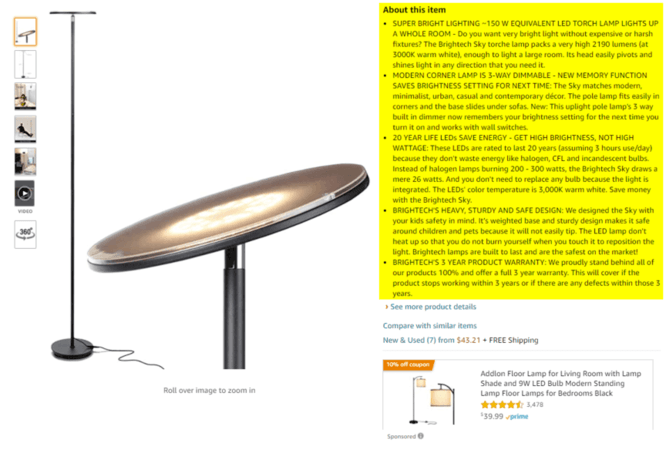 9. Miroco
Ad Type: Display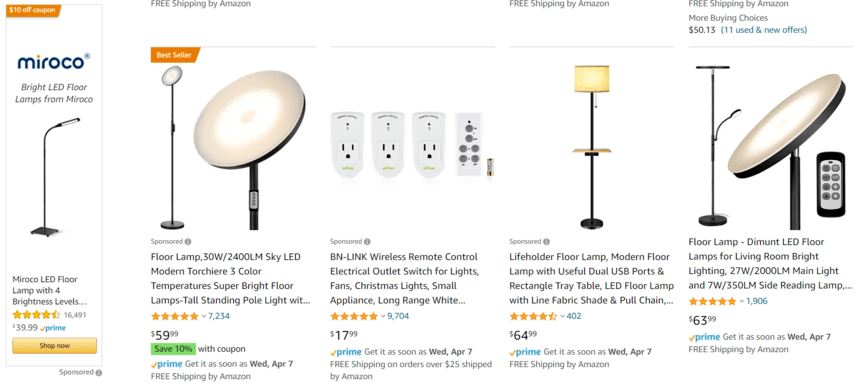 Besides Sponsored Brands and Sponsored Products, companies can also invest in display ads on Amazon. These ads, which appear outside the product listings, can help your business bring shoppers back to Amazon — or discourage them from buying a competitor's product. Some takeaways from this Amazon ad example include:
Improve click-through rates (CTRs) with a promotional offer, like a $10 coupon
Advertise products with a high star rating to increase shopper trust and confidence
Anticipate that your product title will get cut off — and plan accordingly
Bonus: Use Sponsored Display audiences targeting to enhance your ad targeting
FAQs about advertising on Amazon
Looking to learn more about advertising your products on Amazon? Check out these FAQs:
What are the types of Amazon ads I can use?
Amazon offers several ad types, including:
Sponsored Brands: Appear at the top of search results with three featured products.
Sponsored Products: Promote a single product in search results and on product pages.
Display: Advertise a single product on and off Amazon, plus access remarketing.
Video: Highlight a single product (and your brand) with video ads on Amazon.
Most of these advertising options, like Sponsored Brands and Sponsored Products, are self-serve. Meaning, you can log in to your Amazon Seller Central or Amazon Vendor Central account and create these ads yourself.
How much does Amazon advertising cost?
Amazon uses a pay-per-click (PPC) pricing model for its ad network. That means you only pay when someone clicks on your product ad versus when someone sees your product ad.
How much does a click cost, though? The average cost-per-click (CPC) on Amazon is $0.77. Depending on your business, product, and strategy, you may see higher or lower CPCs. For example, if your company uses manual targeting, which allows you to select keywords and bids for them, you may earn a lower CPC than if relying on automatic targeting.
Achieve a lower ACoS with your Amazon ad campaigns
Advertising on Amazon offers your brand a way to:
Build brand awareness
Drive purchases
Increase revenue
And more
While advertising on Amazon isn't free, you can maximize your revenue with the help of an experienced marketing agency for Amazon. WebFX, for example, features a dedicated team of Amazon marketing specialists who can help your brand drive more sales at a lower Advertising Cost of Sale (ACoS). Learn more about growing your bottom line with Amazon ads by browsing our ad services for Amazon!
Partner with a team of ecommerce masters!
WebFX campaigns have delivered more than 12,936,451 ecommerce transactions in the last 5 years
Read the Case Studies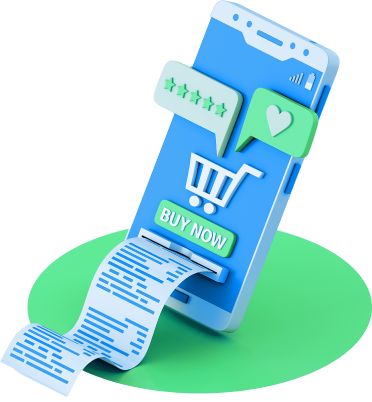 How is your website's SEO?
Use our free tool to get your score calculated in under 60 seconds.
Get posts by email
Join 200,000 marketing managers and subscribe to Revenue Weekly!
"*" indicates required fields
WebFX Careers
Join our mission to provide industry-leading digital marketing services to businesses around the globe - all while building your personal knowledge and growing as an individual.