Data is one of the most valuable resources for marketing professionals. That's why we're exploring the ins and outs of data-driven marketing and providing some data-driven marketing examples to help you collect essential data and use it to inform your campaigns:
Did we mention that WebFX is a top data-driven marketing company? Our award-winning team uses the latest data-driven strategies — and our proprietary MarketingCloudFX software — to drive revenue for clients. Just keep reading to learn more!
Our digital marketing campaigns impact the metrics that improve your bottom line.
See More Results

WebFX has driven the following results for clients:

$3 billion
In client revenue

7.8 million
Leads for our clients

5.2 million
Client phone calls
What is data-driven marketing?

Data-driven marketing is the process of analyzing consumer data and campaigns to develop marketing insights and inform decisions.
In other words, data can help you understand the habits of your audience, as well as campaign performance, so you can better reach qualified leads and channel marketing spend into channels that drive the most revenue.
Read Data-Driven Marketing Guide
5 data-driven marketing examples you can use
Data-driven marketing can offer many benefits for your business and help you gain valuable insights to inform your marketing campaign.
But how can you collect and use this data effectively to enjoy these benefits? Here are five noteworthy data-driven marketing examples to help you out:
1. Collect first-party data
You'll first need to gather crucial data before you can use it to inform your marketing campaigns. Fortunately, there are plenty of data-tracking marketing tools to help you track the success of your marketing strategies, like our industry-leading platform powered by IBM Watson, MarketingCloudFX.
With MarketingCloudFX, you can stay ahead of trends with Google AI machine learning and get access to multiple data points to give you valuable insights into your marketing strategies.
For example, you can view the sources of phone calls and sales, receive a comprehensive analysis of your content, track how your leads arrive on your website and which pages they visit, and track your search engine performance.
MarketingCloudFX takes care of the heavy lifting, giving you access to essential customer data and providing you with creative and effective marketing solutions.
2. Inform channel-specific marketing strategies
To get the highest ROI from your marketing strategies, it's essential to implement campaigns that will be successful and drive results.
One of the best ways to develop successful campaigns is to use data from one marketing channel to inform another to boost your results.
For example, you can use data from your pay-per-click (PPC) advertisements to help inform your search engine optimization (SEO) strategies. When you run a PPC campaign, you will gain valuable insight into the targeted keywords you use, such as the search volume, conversion rate, and where those keywords are located in the marketing funnel.
You can use this data to help inform your SEO strategies and target keywords that are the most likely to generate leads and increase your web traffic and conversions.
3. Optimize your website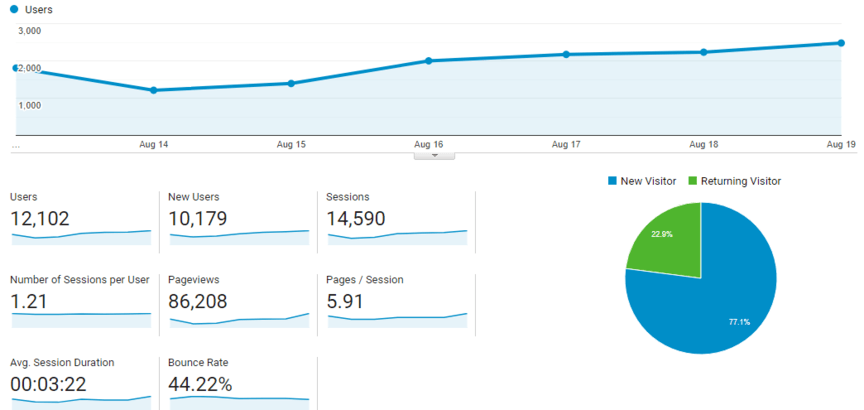 An excellent benefit of data-driven marketing is that it allows you to understand your customers' behavior better. You can see which pages they like the most, where they spend most of their time on your website, where they are in the funnel, and where your customers might be dropping out of the funnel.
You can use this data to optimize your website for a better user experience to hold on to your leads and increase your conversions.
And when 94% of first impressions are related to your web design, it's essential to prioritize your web design for the best user experience. Customer behavior data also allows you to identify any problem areas with your website to address them to better improve your website.
4. Create personalized messages

If you use demographic data from your customers effectively, you can create more personalized marketing messages to boost your revenue.
You can use demographic data to understand your customer's location, age, interests, and even their average household income and spending habits. This essential data can help you develop personalized marketing campaigns and advertisements that will resonate with your customers. It can also help you further segment your audience to create tailored messages to specific groups of customers.
Personalized marketing messages and content will help your customers feel valued, and they will find that your content answers their questions.
As a result, you will see an increase in conversions and sales for your business.
5. Assess the impact of industry changes
Staying current with the latest trends in your industry is essential to staying ahead of your competitors and ensuring your products provide the best solutions for your customers.
However, sometimes industry changes could have an impact on the success of your marketing campaigns. Fortunately, you can use data to assess the effects of these changes to respond to them efficiently and effectively.
For example, when Google updates its algorithm, the display of the search results page could change.
These updates could impact your marketing efforts, and you may need to alter your strategies accordingly. You can use data to help you determine which changes you need to make, so you can always stay one step ahead and keep creating effective marketing strategies for your business.
Learn how we increased traffic by over 40%, and conversions by over 100% for an ecommerce client.
Read the Case Study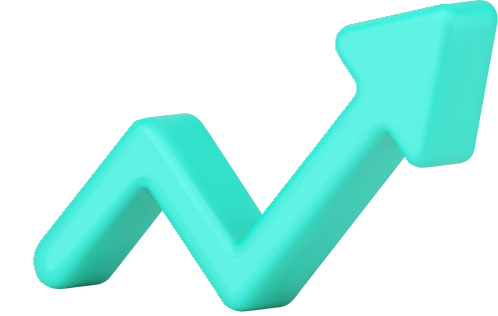 Benefits of implementing data-driven marketing strategies
Data-driven marketing can offer several benefits for your business. Here are a few benefits you can enjoy when you use data to inform your marketing strategies:
1. Higher return on investment (ROI)
One of the best benefits of data-driven marketing is that it helps you identify the marketing strategies your customers are responding to and driving the best results.
This means you can focus your efforts on these results-driving campaigns instead of wasting resources on the strategies that don't work, saving you money in the long run and providing you with a higher ROI.
And by focusing on successful strategies, you can increase your conversions and boost revenue for your business.
2. Better user experience
Data helps you better understand your customers, especially which products and pages are the most popular, which content resonates with them the most, and how much time they spend on your website.
This information can help you identify any problems within your website and content and fix these issues to improve user experience.
Data-driven marketing can help you provide a better experience for your customers to spend more time on your website and help you increase your conversions.
3. Create personalized marketing campaigns
Data-driven marketing allows you to understand the interests of your customers.
You will better understand their problems and concerns, so you can provide them with a more personalized experience.
By developing personalized marketing campaigns, your customers will feel more valued, increasing your brand loyalty. And since your content will be more pertinent to your audience, they will be more likely to convert.
Bring these data-drive marketing examples to life with WebFX
At WebFX, our digital marketing experts understand that data is essential to create effective marketing strategies for your business.
We collect and analyze the most critical data to create custom marketing campaigns that will drive results for your business.
Ready to get started? Speak with one of our strategists today to learn more about how we can help boost the success of your business.
Need more examples of data-driven marketing case studies from WebFX? Check out our client portfolio to see how we used data to drive results for our clients.
WebFX Careers
Join our mission to provide industry-leading digital marketing services to businesses around the globe - all while building your personal knowledge and growing as an individual.