When it comes to your company's online marketing, having a Google marketing strategy is critical. With 93% of all online experiences beginning on a search engine, Google is an essential part of any large-scale online advertising campaign. But while Google can sometimes pose marketing challenges for you to solve, it also offers various solutions to those challenges. Google has several marketing tools available online to help you manage your campaigns, and it's a great idea to take advantage of them. Below is a list of the most useful Google marketing tools available for your business.
Read on to learn more, and then subscribe to Revenue Weekly — an email newsletter from the agency with over 25 years of experience — for more digital marketing tips!
8 Google tools to boost your marketing
Google is a digital marketing machine in many ways, so it's not surprising that it's developed numerous marketing resources for businesses. From keyword research to paid ad campaigns, Google can help you with multiple aspects of your online advertising. Here are eight Google tools for your business to try!
1. Google Analytics
One of the most useful Google tools available is Google Analytics. The main thing Google Analytics allows you to do is to view various metrics related to your website traffic. Since your website is often the center of your online marketing, keeping up with its traffic is crucial. Google Analytics will let you answer questions like:
How many people visit your website each day?

How much of your daily site traffic is new?

Which pages on your site are users visiting?

How long are users staying on your site?
You can see the above information by viewing metrics and charts in Google Analytics, helping you see how your audience interacts with your site. Audience reports can show you the interests of your audience which you can use to make your marketing efforts more personalized and in line with your brand.
Google Analytics allows you to track the performance of your organic search campaigns and compare them to paid search campaigns, social media campaigns and more, giving your business complete multi-channel marketing insights.
2. Google Search Console
Google Search Console is another free Google tool. It's in many ways similar to Google Analytics, offering metrics related to your web traffic. The difference is that Search Console focuses more heavily on your place in Google search results, rather than your website alone. With Search Console, you can see how many users encounter your site in search results and how many of those users click on it.
You can also see which specific searches your site is ranking for. Unlike Google Analytics, Search Console goes beyond mere data reporting, offering suggestions for how you can improve your metrics.
3. Google Ads
If you want to run paid ads in Google search results, you need to use Google Ads. Google Ads is Google's pay-per-click (PPC) advertising platform, where you can set up your ads and determine which searches you want them to appear in. In Google Ads, you can bid on specific keywords that you want your ads to appear for. If your ads have a high enough Quality Score and optimal bid strategies, they'll display for your chosen searches where users can see them. Google Ads does cost money to use since the whole point of the platform is to run paid ads.
That being said, the advantage of PPC is that you only have to pay for your ads when people click on them, making it very cost-effective.
4. Google Business Profile
Google Business Profile is a phenomenal tool for search engine optimization (SEO). When you optimize your Google Business Profile, you can submit information like your business hours, location, and contact information. Users can then easily find that information when they search for it. Having a Google Business Profile allows you to show up in local searches. For example, if you run a lawn service company in Topeka, you could appear in a Google Business Profile local pack at the top of search results for "Topeka lawn service."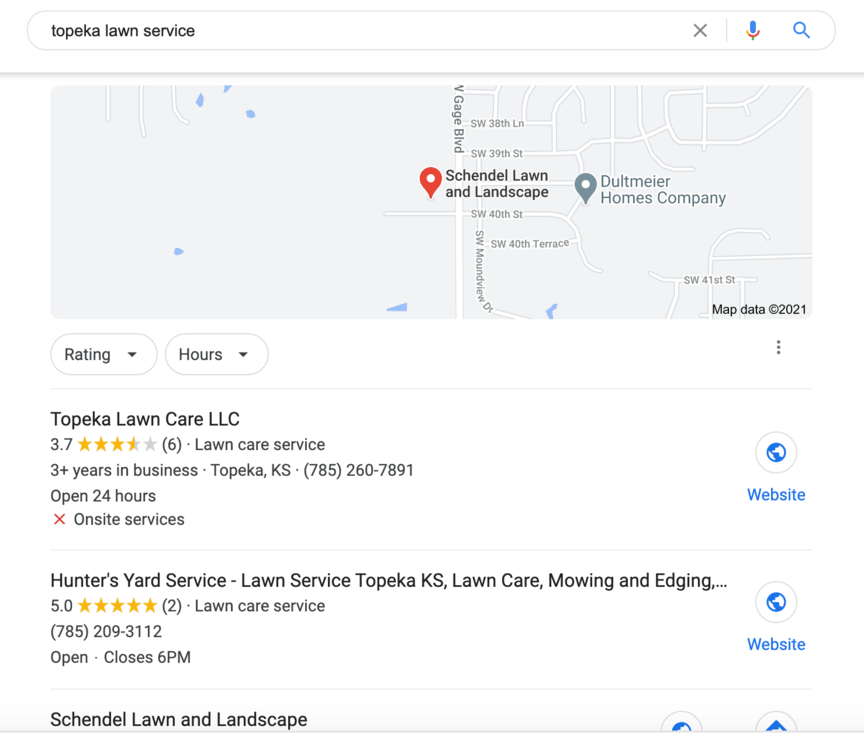 You may already have a Google Business Profile, in which case you can claim it by sending Google proof of ownership for your business.
5. Google Keyword Planner
A major part of the SEO process involves researching and optimizing for relevant keywords. One of the best Google tools to help with the keyword research process is Google Keyword Planner, which will help you find ideal keywords to target. To access Keyword Planner, you first need to have a Google Ads account. From there, you can find Keyword Planner under the "Planning" section.
Then you can start using it to generate lists of keywords related to your business.

In addition to using Keyword Planner to help with your SEO, you can use it to find keywords to bid on in your PPC campaigns.
6. Google Trends
All the tools on this list so far have required you to create some kind of account, but for these last three, all you have to do is visit a site. First among these are Google Trends, another free Google tool that can help with keyword research. The main feature that makes Google Trends, so valuable is that it allows you to see which keywords are driving traffic. You can start with a simple word or phrase, like "pest control," and then view a list of related keywords driving high traffic.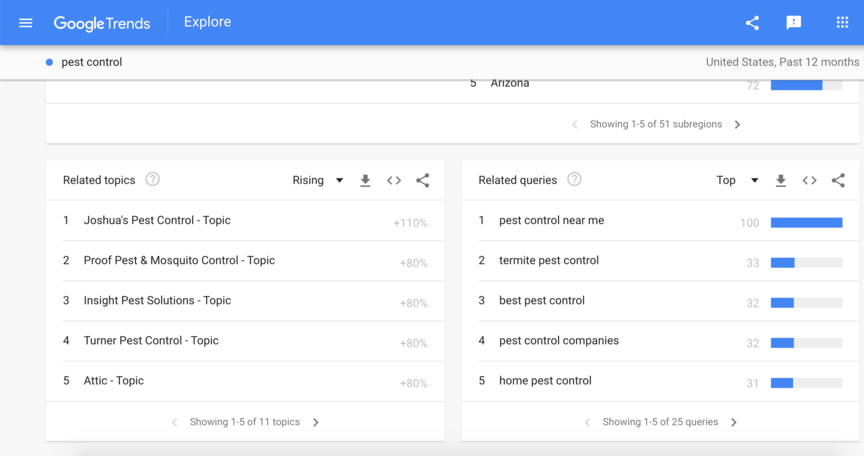 By singling out the keywords that drive the most search traffic, you can optimize your campaigns to reach as many users as possible.
7. Google's PageSpeed Insights
Did you know that 83% of online users expect web pages to load in three seconds or less? If your website takes longer than that to load, you'll probably have a lot of users hitting the "back" button, which means you're losing out on valuable traffic. To see what your page load speeds are, you can use Google's PageSpeed Insights tool. When you submit a URL, PageSpeed Insights will rank that page's load times on a scale of one to 100. It will then offer suggestions for how to improve your score.
8. Google's mobile-friendly test
The final free Google tool on our list is Google's mobile-friendly test, which helps you see how mobile-friendly your website is. Since over 50% of all Internet traffic comes from mobile devices, having a mobile-friendly site is essential. When you plug a URL into Google's mobile-friendly test, Google will give you an overall assessment of how mobile-friendly the site is, along with any specific errors it encountered in the test. You can then take its recommendations and use them to improve your site's mobile-friendliness.
Our digital marketing campaigns impact the metrics that improve your bottom line.
See More Results

WebFX has driven the following results for clients:

$3 billion
In client revenue

7.8 million
Leads for our clients

5.2 million
Client phone calls
WebFX can help optimize your Google marketing strategy
You now know which Google tools to use, but those tools are only as helpful as your ability to use them. Fortunately, WebFX is experienced with each of the tools listed above, and we can help you get the most out of them. With our digital marketing services, you'll get help optimizing every facet of your Google marketing strategy.
You'll also receive a dedicated account representative to keep you informed about everything we do for you. To get started with us, just give us a call at 888-601-5359 or contact us online today!
WebFX Careers
Join our mission to provide industry-leading digital marketing services to businesses around the globe - all while building your personal knowledge and growing as an individual.