Advertising is a critical step in any marketing process. By showcasing your products, services, and business, you can reach more people and increase your bottom line.
However, you must have an advertising plan that considers your customers, goals, and budget. Your advertising plan is your guideline for all advertisement and marketing materials that gives you a timeline and outline to work with.
So, how do you create an advertising plan? This post will cover that question and the following sections:
What is an advertising plan?
Benefits of having an advertising plan
How do you create an advertising plan?
Keep reading for our advertising plan steps and advice, and call 888-601-5359 to speak to a strategist!
Don't miss our Marketing Manager Insider emails!
Join 200,000 smart marketers and get the month's hottest marketing news and insights delivered straight to your inbox!
Enter your email below:
"*" indicates required fields
(Don't worry, we'll never share your information!)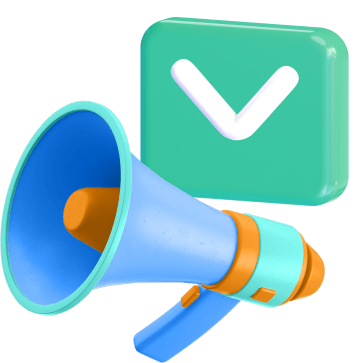 What is an advertising plan?
An advertising plan guides your advertising strategy, which you will use to promote your products and services to customers. These plans can be monthly or annual guides for how your company plans to use advertising funding efficiently.
Here are the primary advertising plan steps:
You develop a plan.
The marketing or advertising team enacts the plan.
You measure results.
You review and adjust the plan.
Through your advertising planning, you will outline ideas that your team will later turn into individual campaigns. One advertising plan will have multiple campaigns, which go toward your company goals.
Benefits of having an advertising plan
An advertising plan is more than a recommendation — it's a necessary blueprint for any business. When you implement your advertising plan outline, you can enjoy the following benefits:
Increased awareness: As more people encounter your ads, they'll be more aware of your products and services when needed.
Better market position: Depending on your ad and goals, you can set yourself apart from your competitors and improve your market position.
Enhanced audience targeting: As you figure out which ads to publish, you can do more research on your audience, including their preferences and demographics.
Improved budgeting: With a solid advertising plan, you can spend your advertising budget on campaigns that drive results.
How do you create an advertising plan?
Follow these advertising plan steps to start creating a basic timeline. Want more help? Our free strategy builder can help you outline some aspects below!
Want some tips on advertising from the experts? Watch this video first:
1. Outline your goals
Before you jump into creating ads, you need to establish your goals. Ask yourself the following questions:
What product or service do I want to highlight?
What are the features and benefits of this product?
Are there any limited-time aspects to consider? (i.e., holiday promos)
When do I want this ad to run?
Make sure your goals are specific, measurable, achievable, relevant, and time-bound (SMART). For example, say you have a new product to launch at the beginning of the year. Your goal could be something like this:
By Q2, this ad for our product will have generated 100 pricing requests.
SMART goals will help you set the most applicable goals for your campaign.
2. Establish your budget
Once you set your goals, you can outline how much you are willing to spend on your advertising plan. Small- to medium-sized businesses (SMBs) can expect to pay $2500 to $12,000 per month or $1000 to $7500 per project.
Pricing will depend on factors like:
The channels you advertise on
The type of advertisement
Your in-house capabilities
This article breaks down the average cost of online advertising methods and the features of each. Once you determine how much you can spend, you can start shopping for different approaches.
3. Define your target audience
To improve your ads' effectiveness, you want to ensure they reach the right people. Instead of using a blanket approach, determine what people use your products and how you can place your ads in front of them.
Outline your target audience to determine what kind of people benefit most from your products. Consider the following demographics:
Age range
Location
Income
If you already know your target audience, you can better serve them and provide advertisements that meet their needs.
4. Select your channel
You can choose your channels based on your audience, budget, and goals.
For example, say your target audience is young adults from 18 to 24. You will most likely reach them through social channels like TikTok or Instagram, so you can start creating paid or free ads for those services.
If you have a broad audience and want to increase your website traffic, you can invest in pay-per-click (PPC) ads. These advertisements let you appear higher on search engine results pages (SERPs), and you only pay whenever someone clicks on your ad.
Here, the top result with the "sponsored" tag is a paid ad, while the next result is what Google determined to be the best match: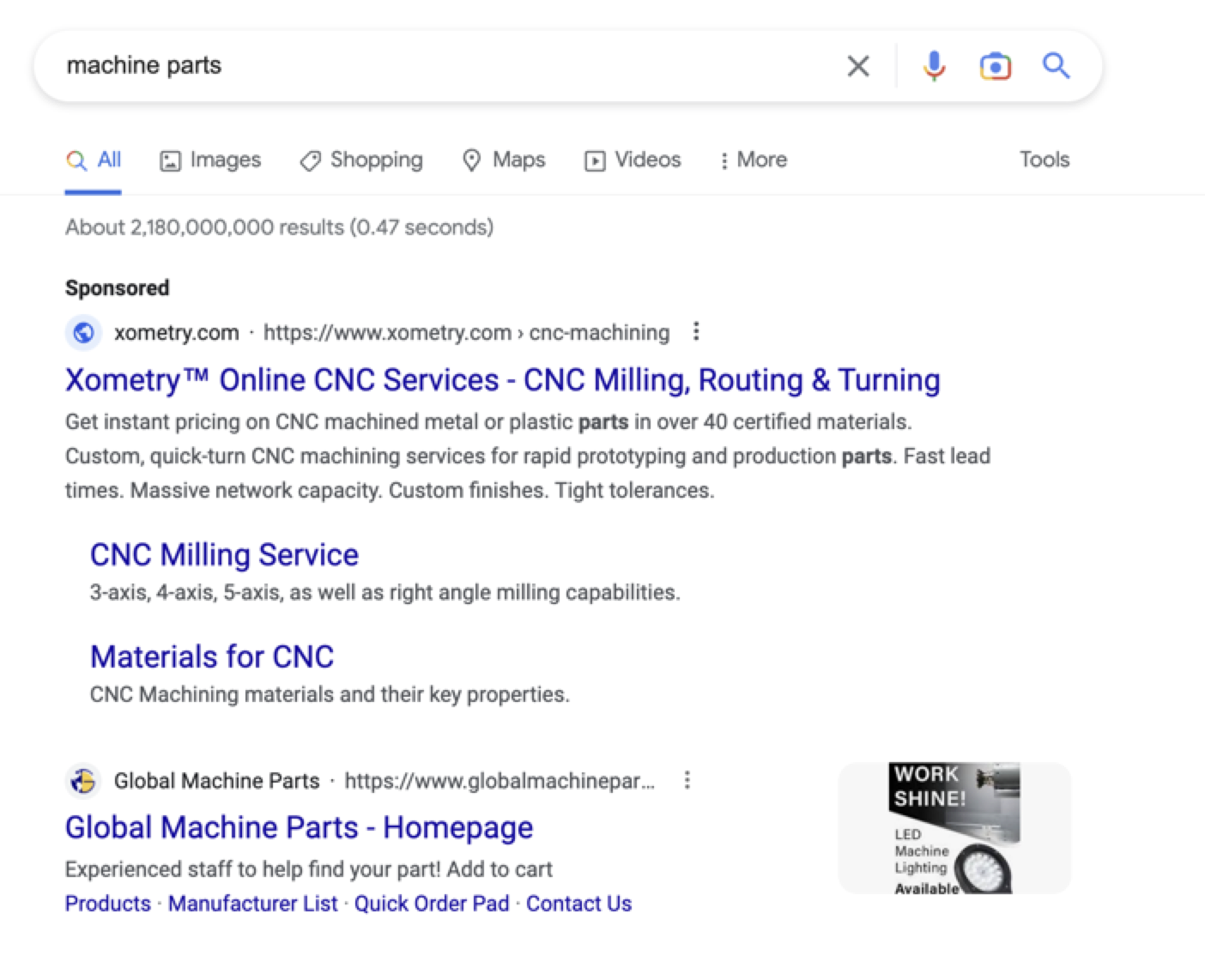 Be sure to look at where your competitors are and what's popular in your industry. If you are going to stand out, you need to make a presence where your competitors are.
5. Develop and publish your ads
Once you have a plan, your marketing and design teams can start creating the ads!
Your ads will look different based on the channel, but they should all have consistent branding and designs to create a cohesive look. Here's what a pay-per-click (PPC) ad might look like in search engines: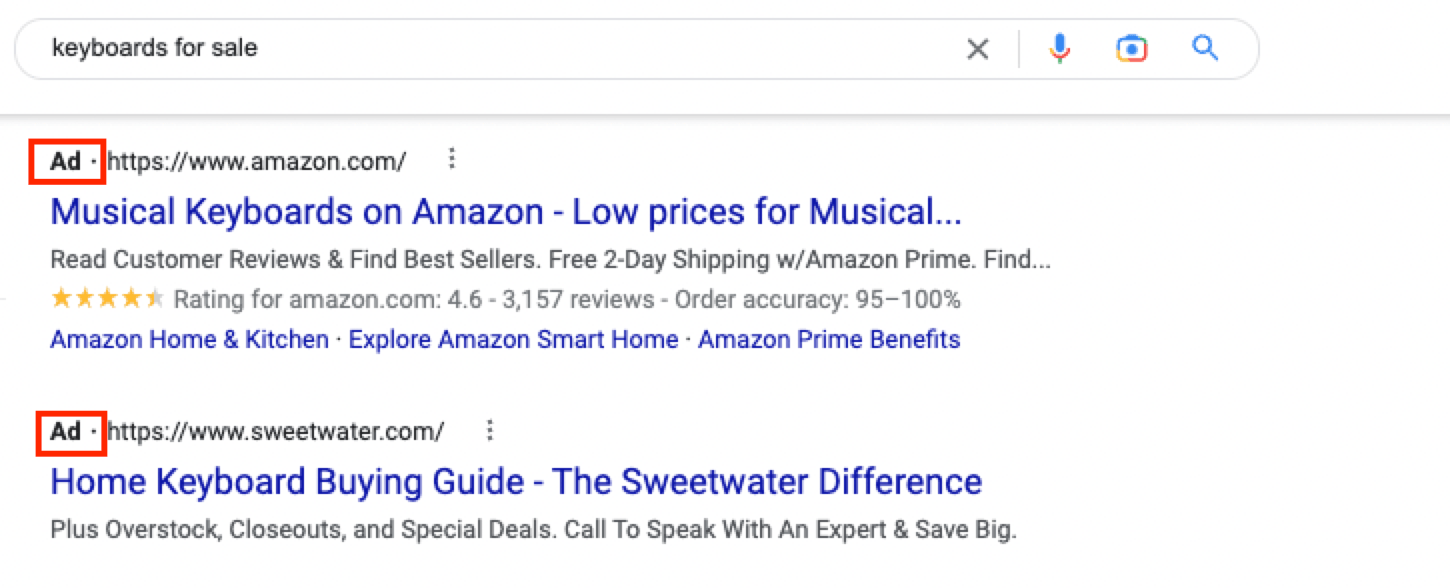 Outline a timeline for when you want your ads to run. This step will also help you track what ads are in place and adjust schedules for creating the next campaign.
6. Track metrics
Look at your site and sales metrics before you publish your ad to establish a baseline. After you post your ads, be sure to track their performance. Pay attention to key performance metrics (KPIs) like:
Conversion rate: How many people clicked on your ad and completed your desired action.
Bounce rate: How many people clicked on your ad and then left without converting.
Return on investment: The financial performance of your advertising efforts.
Traffic: The number of people visiting your site or profile from your ad.
You can use tools like Google Analytics to track your ads:

7. Evaluate the results
After tracking your ad metrics, you can determine how effective it was compared to your initial plan. Did your sales increase? What ads were most effective? How much time did people spend on your site?
Now is the time to pull out your benchmark numbers and see how the results compare. You can also try surveying how people found your ad and what they thought of it. If you have two different versions that you run simultaneously, you can try A/B testing to see which does best.
8. Adjust for future campaigns
After your ad campaign, you can move on to the next one and implement any changes you learned. Advertising is an ongoing process, but tracking your metrics and working with your audience will help you see the most profit.
If you need help analyzing your results or building your plan, working with an agency can be the best option.
Our digital marketing campaigns impact the metrics that improve your bottom line.
See More Results

WebFX has driven the following results for clients:

$3 billion
In client revenue

7.8 million
Leads for our clients

5.2 million
Client phone calls
Get professional help for your advertising plan
Once you understand the basic advertising plan steps, it's time to find a partner to help.
WebFX is a professional digital marketing agency serving businesses across industries. With our paid advertising services, we can help you create ads on the platforms your customers use. We will help you reach your customers and improve your bottom line.
In the past five years, we have generated $3 billion in revenue for our clients — imagine what we could do for you. View our case studies to see what we've done and contact us online for more information!
WebFX Careers
Join our mission to provide industry-leading digital marketing services to businesses around the globe - all while building your personal knowledge and growing as an individual.