The best part about digital marketing is that these methods have measurable results. You can see all kinds of statistics related to your campaigns. Each type of method will show you pertinent numbers that will help you better understand your campaign.
With methods like pay per click (PPC) advertising, email marketing, and social media, you can see measurable results. One of the most important metrics is the click-through rate (CTR). Your CTR according to your industry is an important metric because it indicates how many people are interested in your products and click on your ads to learn more.
What is a good click-through rate, though?
The industry average CTR is 1.9%, though you should aim for a higher CTR. In this post, we'll give you an overview of your industry's CTR, as well as CTRs across industries, plus offer steps you can take to improve your CTR. If you need help improving your CTR, you can give us a call at 888-601-5359 or contact us online.
What is a good CTR?
CTR shows how often users clicked on your ads.
While a good CTR depends on several factors specific to your ad campaigns, the average CTR for search and display ads is 1.9%. For search ads specifically, the average CTR is 3.17% and for display ads, the average CTR is 0.46%.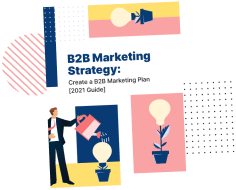 You're a B2B business with no marketing strategy? We've got you. Download your
FREE

B2B marketing strategy guide today! Show Me the Guide
[Table] What is a good CTR for my industry?
You know what a good CTR is, but what is your industry's average CTR? Browse this table to find out!
| Industry | Search Network CTR | Display Network CTR |
| --- | --- | --- |
| Advocacy | 4.41% | 0.59% |
| Auto | 4% | 0.60% |
| B2B | 2.41% | 0.46% |
| Consumer Services | 2.41% | 0.51% |
| Dating & Personals | 6.05% | 0.72% |
| Ecommerce | 2.69% | 0.51% |
| Education | 3.78% | 0.53% |
| Employment Services | 2.42% | 0.59% |
| Finance & Insurance | 2.91% | 0.52% |
| Health & Medical | 3.27% | 0.59% |
| Home Goods | 2.44% | 0.49% |
| Industrial Services | 2.61% | 0.50% |
| Legal | 2.93% | 0.59% |
| Real Estate | 3.71% | 1.08% |
| Technology | 2.09% | 0.39% |
| Travel & Hospitality | 4.68% | 0.47% |
Data courtesy of https://www.searchenginejournal.com/data-whats-good-ctr-cpa-conversion-rate-adwords-2018/248947/
Search network CTR and Google Display Network CTR vary greatly, and it's important to take a look at both to get a well-rounded feel of CTR by industry.
What is the average CTR for the Google Search Network?
Across all 16 industries monitored in Google Ads, the average search network CTR by industry rounded out at 3.17 percent.

What is the average CTR for the Google Display Network?
Across all 16 industries monitored in Google Ads, the average GDN CTR by industry rounded out at 0.46%.

So, what's a good CTR? While there is no set number that determines a great CTR, you'll want it to be high.
A higher CTR means more clicks for your business and the ability to reach more potential leads. A good rule of thumb is to maintain a CTR that is equal to or slightly higher than the average for your industry.

Tips for improving your industry's CTR
If you are running marketing campaigns, you want to maximize your potential for gaining new leads and conversions.
Here are a few tips you can take to improve your campaign.
1. Conduct keyword research for your industry
A critical part of running a campaign that focuses on CTR is conducting keyword research. If you haven't conducted keyword research for your campaign, you'll want to do it. Keyword research helps you figure out the right keywords for your type of advertisement.
There are numerous tools you can use to figure out the best keywords for your campaign. These tools will help you determine the value of your keyword and how many searches are conducted utilizing that keyword. You don't want to just pick random keywords you think will work.
It is important to conduct keyword research to see the value of your keywords. You may think a certain keyword will perform well, but it may turn out that it won't. Keyword research is valuable for creating advertisements that are effective.
By selecting the right keywords, you will be able to reach more qualified leads.
2. Try different types of ads
If you try running a campaign and don't see the success you desire, don't throw in the towel. There's a good chance that your advertisement just doesn't resonate with your audience or catch their attention. This isn't a time to throw in the towel, but rather, change your strategy.
You may need to try different advertisements to see which ones work better. There may be elements missing or photos that aren't interesting to your audience. It is important to evaluate your advertisement to see where you can improve.
3. Create relevant CTAs
The most important thing you can do to create effective advertisements is including CTA. CTAs are important because they tell your target audience what to do next. It is important that you include relevant CTAs in your listings.
A good CTA will lead people to click on your advertisement. This will increase your CTR. You can use phrases such as "Find out how," "Check it out," or "Shop now." These are all CTAs that tell people what to do next or how they can get more information.
Your CTAs need to be relevant to your advertisement. If you want to get someone to make a purchase, a CTA such as "Shop now" is effective. On the other hand, if you want someone to contact your business, "Call now" is a better option.
By using relevant CTAs, you can entice more people to click on your advertisements. This will help you increase your CTR and drive in more credible leads for your business.
4. Refine your parameters
As you are running your campaign, you may find that you can't seem to click with your audience. You may have tried different advertisements, but you aren't seeing the results you want to see. This may be a time to refine your parameters.
So, what are your parameters? One thing you can check is your target market. Are you reaching out to the right people who will buy your product?
Are there people who may like your product better? If your target market is set, try changing the time you show your advertisements. It may just be that you are missing your target audience when they are online.
By adjusting the time of day, you may find yourself reaching more people in your target market. If the time of day isn't helping, you can try optimizing for different keywords. The keywords you are using in your advertisement may not bring in the right traffic.
By altering your keywords, you can reach more qualified leads. When you analyze your perimeters, you can see if you are making the most of your campaign.
FAQs about CTR
Learn more about CTR with our FAQ!
What is CTR and why is it important?
CTR is the number of clicks received per number of impressions. These are tailored to PPC ads, social media ads, and emails in an email marketing campaign.
How is click-through rate calculated?
Click-through rate is calculated with the following formula: Clicks / Impressions = CTR.
What is CTR in PPC and social media advertising?
PPC advertisements and social media ads are two methods that measure CTR.
When you run an advertising campaign with these methods, these ads appear in front of people in your target market. The people who see this ad make up your number of impressions. These are people who see your advertisements but don't act on them.
The members of your target market that click on your advertisements make up the number of clicks. To figure out your click-through rate, you'll divide the total number of clicks by the total impressions. If you have 5 clicks on an ad and 2000 impressions, it would look like this: 5/2000=0.0025. Your CTR would be 0.25%. There are two types of advertisements you will encounter with these methods. The type of method you use will affect your CTR.
What is CTR in search advertising?
Search ads are used for PPC campaigns.
These are advertisements that appear at the top of the search results. These advertisements appear above the organic listing and are tagged with the word "ad."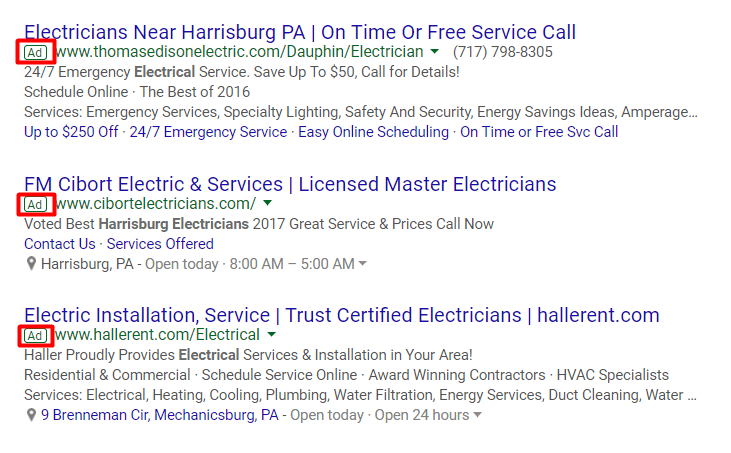 These advertisements operate on keywords. When a user types in certain keywords, it triggers the advertisement.
In this case, by typing in "electricians near Harrisburg, PA," there were numerous PPC ads that appeared in the search results. Search ads are very common because 93% of all online experiences begin with a search engine. If people are starting their online experience by conducting a search, you want to be able to reach them first.
You will see this quite often when you are trying to find a business, product, or service. This method is used more commonly by businesses because they produce a higher CTR for your business. PPC ads tend to blend into the search results, so many people are unaware that they are advertisements.
In fact, 46% of people can't identify PPC ads in the search results. Search ads are a great option for your business to garner a good click-through rate. Aside from search ads, there is another type of advertisement you can use.
What is CTR in display advertising?
These two methods also utilize display ads.
These are visual advertisements that appear on different sites than the advertiser's site or in a social media newsfeed.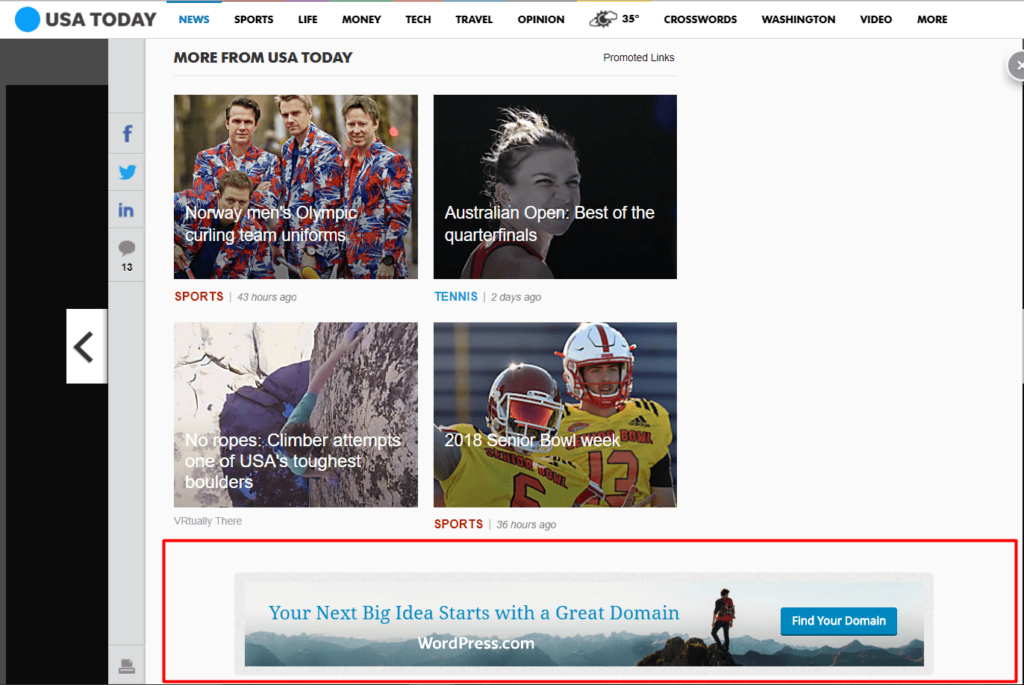 These advertisements are related to the searches you conduct. You'll often see the advertisements containing products or services you were recently searching.
Many businesses utilize this method to create visually appealing advertisements to tempt you to click on them. It is important to note that these types of advertisements do not have a CTR as high as search ads. This is because these are noticeable advertisements, which people will sometimes avoid.
It doesn't mean that display ads aren't a good option for your business. Retargeted advertisements, which are typically display ads, have a high CTR because they market products you know people are interested in buying. You can increase your CTR by using display ads to remarket products to leads.
What is CTR in email marketing?
Email marketing also measures CTR.
When you run an email marketing campaign, you want people to open your emails and read your ad. The number of people who open your email makes up the impressions group. These are people who see your email but choose not to act on the information in the email.
You earn clicks by getting people to click on your advertisement in the email. These emails typically include a call to action (CTA) that entices people to click on the email. It may say "Check it out," "Buy now," or "Shop now!" This is how you get your CTR for email marketing.
Your CTR has a huge impact on the performance of your campaign. In the case of PPC and social advertisements, when you have a high CTR, you can improve your quality score and lower the cost you pay each time someone clicks on your advertisement. When you have a higher quality score, you can obtain a better position for your advertisement.
This enables more people to see your advertisement. Then, when more people click on your advertisement, you'll lower the CPC because Google will see your ad as pertinent, which enables you to get more clicks for your budget. Your CTR shows you how effective your campaign is with your audience.
If your email CTR is high, you'll know that a certain type of email is effective for your target market. Having a good click-through rate plays an important role in helping you see which ads work best for your target audience.
WebFX can help you improve your CTR
Creating a good CTR can be a challenge, especially if you don't know where to start.
WebFX is here to help! We work with tons of different industries and know the intricacies of what makes each one different. That being said, we can help you improve your CTR in relation to your industry.
Our team of 500+ experts will help you create pertinent advertisements that resonate with your target audience. We can help you earn new leads and conversions for your business. Contact us today to learn more about how we can help you improve your CTR with niche SEO!
Get posts by email
Join 200,000 marketing managers and subscribe to Revenue Weekly!
"*" indicates required fields
WebFX Careers
Join our mission to provide industry-leading digital marketing services to businesses around the globe - all while building your personal knowledge and growing as an individual.