Google Ads is one of the most helpful tools online. You can use it to run paid ads in Google search results and on third-party websites, enabling you to reach your target audience and drive conversions.
As you drive conversions, it can be helpful to track them. That lets you learn which ads are successful and what users want from your company. For the most part, Google Ads can automatically register which ads drive which conversions, creating reports based on that information.
But the thing is, Google Ads can only account for online conversions. So, what about offline conversions, which don't happen on the Internet? How can you factor those into your reporting?
In this blog post, we'll talk about how to set up offline conversions in Google Ads, so keep reading to learn more. Then subscribe to Revenue Weekly, our email newsletter, for more digital marketing tips!
What are offline conversions?
Let's start by defining what an offline conversion is. As the name suggests, Google Ads offline conversions are conversions that are tied to your paid ads but don't happen online.
Most ad conversions do happen online. These conversions happen in a way Google Ads can automatically track — someone clicks a button, purchases something from your online store, or signs up for your emails. But offline conversions happen off the Internet, where Google Ads can't track them.
These conversions include things like phone calls and in-store purchases. Those conversions may still be the direct result of a paid ad, but since it happens offline, Google can't track it.
Why import offline conversions into Google Ads?
You may be wondering why it's worth the hassle to import offline conversions into Google Ads at all. The answer is that importing those conversions allows you to factor them into your analytics.
When it comes to paid advertising, one of the most important steps is tracking the results of your ads so you can see how they're performing and reoptimize them accordingly. But if you're not accounting for your offline conversions, your analytics will be skewed.
For example, let's say you have an ad that drives 20 online conversions and two offline conversions. Then you have another ad that drives 10 online conversions and 30 offline conversions.
In that scenario, Google Ads would only recognize the online conversions. That means it would tell you that the first ad drove 20 conversions while the second one only drove 10. Based on that information, you'd think the first ad was performing better, so you'd prioritize it over the second one.
In reality, though, the second ad drove a total of 40 conversions, while the first ad only drove 22. The only way for you to see that is by importing your offline conversions into Google Ads so it can give you more accurate feedback. That's the reason why offline conversion imports matter so much.
How to set up offline conversions in Google Ads
Now that we've established what offline conversions are and why they're important, let's talk about how to set up offline conversions in Google Ads.
Generally, paid ad conversions result from either a click or a phone call. That is, when users see an ad and convert, they'll either click on the ad or they'll call the phone number connected to it.
That means some Google Ads offline conversions will result from clicks, while others will result from calls. Depending on which it is, you'll want to use a different method. We'll cover each one below.
Conversions from clicks
The most common method of offline conversion importing is Google Click Identification (GCLID). The GCLID method, as the name suggests, is used for conversions that begin with a click. To set up this method, follow the instructions provided by Google.
Essentially, the way this method works is that every time someone clicks on one of your ads, Google assigns that specific click a unique GCLID number. The click then takes the user to your website, where they become a lead. Each time that happens, you can save the GCLID number alongside whatever lead info you get from them on your website.
Later, when that user converts offline, you can connect them to the ad click by pulling up their GCLID number and plugging it back into Google Ads. Google will then register them as a conversion in association with whichever ad they clicked.
Conversions from calls
The method for tracking phone call conversions is slightly different. Whenever someone calls the number listed in an ad, Google Ads can track it. However, Google may not know if the call resulted in a conversion. That's where you come in.
Independent of Google Ads, track all of the phone calls that end in someone converting. You can then upload a list of those calls into Google Ads. Google Ads will match up your records with its own to see which leads made calls that ended in conversions. You can then see which ads led those users to call.
Other methods
The two methods listed above both involve working directly with Google Ads. However, there are a few additional options that involve using a customer relationship management (CRM) tool as a middleman of sorts.
Google Ads integrates with tools like HubSpot, Salesforce, and Zapier to import information about your conversions. As you track your offline conversions in your CRM, the CRM will send that information to Google Ads automatically. If you're already using one of the tools listed above, you may simply be able to use it to track your Google Ads offline conversions.
Time to Level Up Your Sales
Our long list of services helps you grow every aspect of your business with marketing strategies that are proven to increase bottom-line metrics like revenue and conversions.
In the past 5 years, we've managed more than 12.9 MILLION transactions across our client base.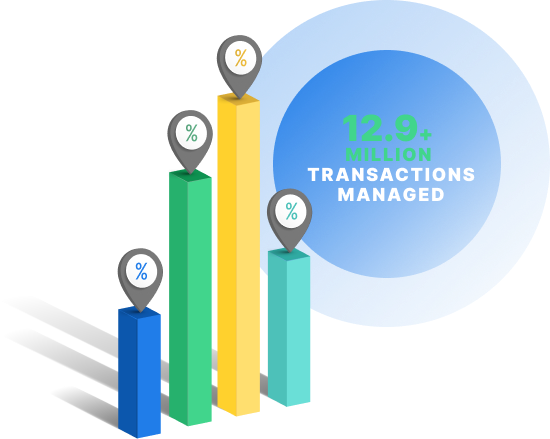 WebFX can help you drive more paid ad conversions
Tracking your conversions is one thing, but figuring out how to analyze them and apply those insights to your paid advertising is a different topic entirely. Thankfully, you don't have to tackle it on your own. WebFX has over 25 years of experience managing paid ad campaigns, and we can use that experience to drive results for your company.
When you partner with us for our pay-per-click (PPC) advertising services, you'll get help building ads that convert users, as well as help reoptimizing them to be even more effective over time. You'll even receive a dedicated account representative to keep you in the loop about everything we do for you.
To get started, just call 888-601-5359 or contact us online today!
How is your website's SEO?
Use our free tool to get your score calculated in under 60 seconds.
WebFX Careers
Join our mission to provide industry-leading digital marketing services to businesses around the globe - all while building your personal knowledge and growing as an individual.