Arguably the most important digital marketing strategy for you to get right is search engine optimization (SEO). This strategy focuses on getting your pages to rank high in Google, allowing users to find and visit your website.
However, you don't want your pages to rank in just any searches. You want them to rank for relevant pages that will put your site in front of people with an interest in your industry. For that to happen, though, Google needs to understand the type of content on your site.
That's where structured data comes in. Structured data can help Google figure out the context of your pages so it can rank those pages in the right searches and help you find your target audience. But you may not be sure if your structured data is set up properly, which is why it's good to test it.
In this blog post, we'll explore several structured data testing tools you can use to help boost your SEO. Keep reading to learn more, and then subscribe to Revenue Weekly — our email newsletter — for more digital marketing tips from the experts!
What is a structured data tool?
To define structured data tools, let's first define structured data.
Structured data is information that's structured in a certain way on a page or a website. In the context of web design and SEO, structured data refers to the text that tells Google's algorithms what the page is about and how to interpret the information there.
The point of structured data is to help Google figure out what searches a page should appear in. Google uses structured data to display pages in relevant searches.
However, structured data can also go a step further. Many Google search results go beyond the regular blue link, appearing as more specialized items like "People Also Ask" or carousel results. These more prominent rankings are called rich results.
Structured data tools are resources that help you improve your structured data. Most often, that help takes the form of analyzing your existing data and testing it for weaknesses. The goal of these tools is to help your pages earn spots in rich results.
6 structured data testing tools to try
Now that we've established what structured data testing tools are, the question becomes, which one should you use? There are quite a few options to choose from, and it can be helpful to narrow it down to some of the best ones.
That's what we aim to do here. Below, we've listed six of the best rich results testing tools out there. As an added note, all of these tools are free to use!
1. Google Rich Results Test
Since rich results are all about how your content appears in Google, it's not surprising that several structured data tools are offered by Google itself. The first of those tools is Google's Rich Results Test.
This free tool is incredibly simple. To use it, literally all you have to do is visit the tool and input a URL of your choice. The tool will then process the URL for a minute or two before returning a handful of simple results.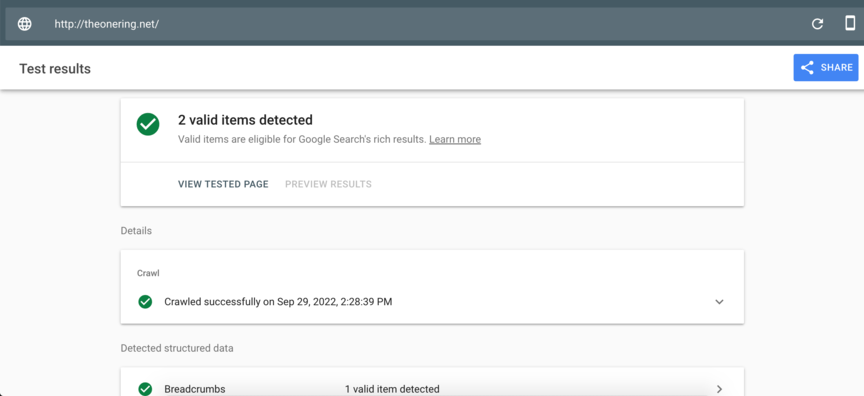 Those results will tell you how many valid items were detected as eligible for rich results, as well as whether or not the page was successfully crawled. If there are issues with crawling, the tool will point you toward them.
2. Google Search Console Structured Data Report
Another Google tool for structured data testing is the Google Search Console Structured Data Report. This tool is available as part of Google Search Console, a free tool you can use to help monitor your site's SEO.
The Structured Data Report provides you with a simple overview of your site's scheme markup, including the precise number of structured data elements on your site. It will tell you which of those elements are valid, as well as which ones come with warnings and which ones have full-on errors.
This tool is great for getting a full picture of your site's schema markup rather than honing in on only one page at a time.
3. Google Email Markup Tester
The third tool on this list offered directly by Google is the Google Email Markup Tester. This tool is a bit different from the previous two, as it focuses on markup in your emails rather than on your website.
To use this tool, copy and paste your email HTML into the provided box and click "Validate." The tool will then return all the extracted structured data it can find, letting you know if there are any errors with anything.
4. Microsoft Bing Markup Validator
While Google may be the biggest search engine out there, it's not the only one. It's helpful to rank in search results on Bing as well, which is why you might like to use the Microsoft Bing Markup Validator.
This structured data tool is part of Bing Webmaster Tools, a free service used to help optimize your site for Bing SEO. It works in essentially the same way as Google's Rich Results Test, letting you plug in a specific URL and then providing feedback related to any errors that pop up.
5. Schema.org
Schema.org is an interesting entry on this list because it isn't run by an independent organization. Rather, it was created as the result of a collaboration between Google, Microsoft, Yahoo, and Yandex to help site owners create and test structured data.
The Schema validator works in essentially the same way as most other tools on this list: You plug in a URL and let it return insights into your structured data. The difference between Schema.org and, say, the Google Rich Results Test is that Schema provides much more in-depth information.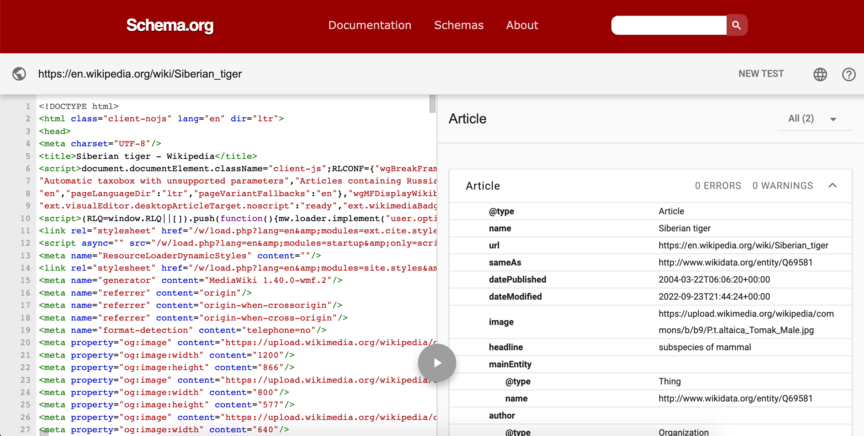 Schema's results appear as two columns. On the left is the code from the URL you provided, with certain spots highlighted to denote errors. On the right is a list of info about the page and the structured data elements found there.
6. JSON-LD Playground
The final tool on this list is the JSON-LD Playground. JSON-LD is a type of structured data format that many site owners like to use, but it's newer than many other formats, so not everyone has mastered it yet. If you want to use JSON-LD, the JSON-LD Playground tool can help.
This tool is built to help you try out different JSON-LD codes to see what elements it generates. Essentially, you type in or paste a piece of code and then get a preview of what it would actually look like. This tool is useful for checking your structured data as you develop it.
Let WebFX help you manage your structured data testing
If you want some help optimizing your website to rank high in relevant search results, look no further than WebFX. We can help you improve not only your structured data, but also all the other SEO facets of your website.
To see where your website's SEO currently stands, just check out our free SEO checker tool. And to get help optimizing that SEO, consider our professional SEO services, where we can get your site in front of users who will eventually convert.
To get in touch with us, just call 888-601-5359 or contact us online today!
How is your website's SEO?
Use our free tool to get your score calculated in under 60 seconds.
WebFX Careers
Join our mission to provide industry-leading digital marketing services to businesses around the globe - all while building your personal knowledge and growing as an individual.