May 23, 2021
17 minute read
Sarah Berry is a Google Analytics-certified Web Marketing Consultant at WebFX. She's written over 400 articles on digital marketing, covering topics like SEO, CRO, and Amazon. When she isn't polishing her Time Magazine Person of the Year Award, she's spending time with her flock of ducks.
You may have heard that you need search engine optimization (SEO) to market your business effectively in today's day and age. But understanding how exactly SEO contributes to business growth can be tricky. In this guide, we'll explain how SEO works for business and how you can use it to help your company grow, plus the biggest impacts SEO has on your growth:
Want to speak with an SEO expert about how SEO can help you grow your business? Request a free quote online or give us a call at 888-601-5359.
Looking for an all-in-one SEO audit tool? You've found it.
SEO Checker provides data on key metrics to give you:
Complete SEO score
Content Grade
Site Speed Analysis
and more.
Why is SEO important for business growth?
SEO is important for business growth because search engine optimization improves your online visibility.
Greater online visibility generates more website traffic, which your business can then convert into leads, sales, and revenue.
What is SEO?
SEO, which stands for search engine optimization, is a digital marketing strategy that helps your site rank at the top of organic search results for relevant keywords. A well-designed SEO strategy increases your online visibility and brings qualified leads to your website. SEO focuses only on organic search results — unpaid listings on search engine results pages (SERPs).
It does not deal with ads that appear on SERPs.
What are the types of SEO?
There are several types of SEO. Every SEO strategy should include the following:
There are also several types of SEO that only certain kinds of businesses use. Examples include:
Local SEO: Local SEO focuses on reaching users within a certain geographic area, usually customers within a local business's service area. This type of SEO focuses on location-specific keywords, such as those containing the phrase "near me" or the name of a city, state, or region.
Enterprise SEO: Enterprise SEO is SEO for especially large businesses or websites. It focuses on ranking for broad, frequently searched, highly competitive keywords.
How can SEO grow your business?
So, how does all of that actually translate into business growth? Here are eight ways SEO can help you meet your goals. Going through the below points will help you understand the importance of SEO in business and how to use SEO for business growth.
1. SEO increases your online visibility
SEO gets your website and business in front of more people online. The potential for visibility with SEO is enormous. Google fields over 3.5 billion searches every day, which translates to more than 40,000 per second.
Organic search drives over half of all website traffic. People turn to search engines for help answering all sorts of questions and solving all kinds of problems. When your company's answer or solution shows up near the top of search results, you gain a lot of visibility.
2. SEO helps you reach the right audience
SEO doesn't help you show up for just any search queries. With a well-designed SEO strategy, you'll show up for the keywords your potential customers are searching. You accomplish this by conducting research to determine which searches people who may be interested in your products or services are performing.
For example, if you sell paint for outdoor furniture, you could target keywords such as "how to paint outdoor furniture" or "buy outdoor furniture paint."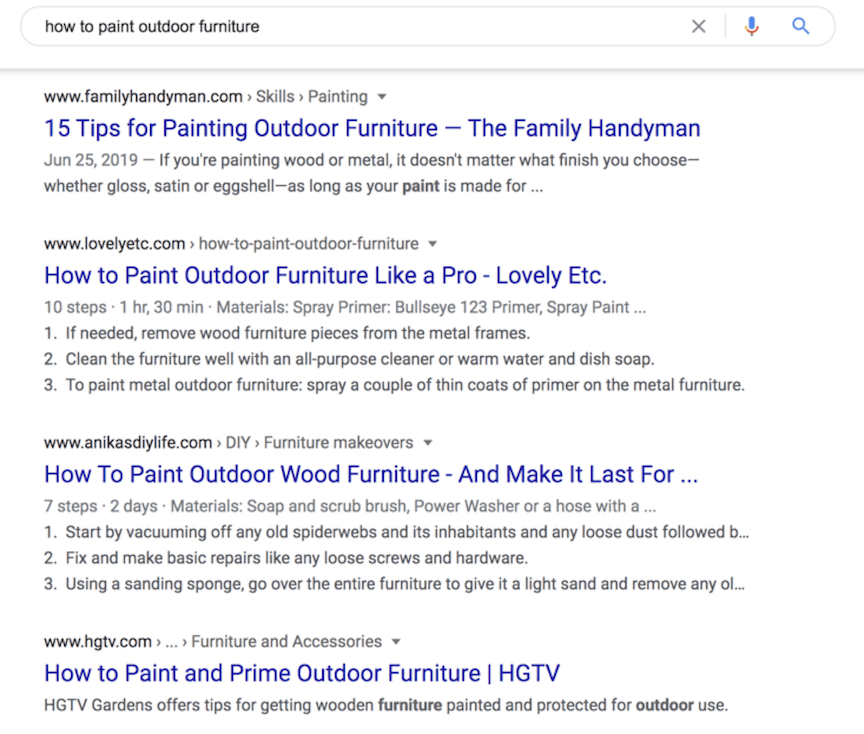 3. SEO brings qualified leads to your website
With SEO, you're reaching people who have already expressed interest in something related to your business, products, or services. People who click through to your website via organic search are likely to be well-qualified leads, meaning they're likely to become customers. Leads earned through SEO have a close rate — the percentage of leads that become customers — of 14.6%, compared to just 1.7% for traditional marketing.
4. SEO can help you convert leads
SEO's main focus isn't converting leads, but many of the things that are good for SEO are also good for increasing conversions. Google wants to rank high-quality content that users like, so making changes that improve the user experience can boost your rankings. Many of these changes can also increase conversions.
For example, improving your website's design and usability can improve your rankings and encourage visitors to stay on your site longer. These changes may also cause them to view your website as more trustworthy, helping them feel comfortable enough to make a purchase.
5. SEO improves brand awareness
Because SEO puts your website and company name in front of more eyes online, it can increase brand awareness. The more often people see your brand name in search results, the more familiar they'll become with it. Even if they don't click on your website the first time they see it in search, after a while, it will feel familiar to them, and they may click through.
If potential customers see your website in search results, they will also already be familiar with your business name if they see it in an ad, social media post, or other marketing channel.
6. SEO increases trust and credibility
Another one of the top benefits of SEO for business is that ranking well can cause people to view your brand as more credible and trustworthy. Google wants to rank high-quality content from authoritative sources, and people are used to getting high-quality results in Google searches. So, when someone sees your site ranking well, they're more likely to view your site as authoritative, credible, and trustworthy.
As people see your ranking well for multiple search terms related to your industry, they'll start to see you as an authority in your field.
7. SEO helps you beat the competition
Even if you're not investing in SEO, there's a good chance your competitors are. And if your competitors are ranking above you in search results, they're likely winning customers that otherwise may have gone to you. Improving your SEO is essential to staying competitive in a world where search engines are such a prevalent way people find information, goods, and services.
Search results themselves are also highly competitive, so you need to invest in a smart SEO strategy to stay ahead of your competition in the SERPs. Having a strategy that gets you top rankings is crucial since 95% of search traffic goes to listings on the first page of results, and 68% of all clicks go to the first five results.
8. SEO provides long-term value
SEO is a long-term strategy that continues delivering returns long after your initial investment. A page can continue ranking well in search results long after you first create and optimize it, with just a small amount of upkeep. This differs from other strategies, such as paid advertising, in which your ads stop appearing when your campaign ends.
Examples of the benefits of SEO for business growth
At WebFX, we've seen firsthand how SEO can help businesses grow.
Sharretts Plating
Take, for example, Sharretts Plating, an industrial plating company.
We redesigned their website with SEO in mind, created new content for their site, and optimized their site for search. As a result, Sharretts Plating saw a 270% increase in organic traffic and a 60% increase in quote requests, bringing more qualified leads to the company and helping them grow.
C.H. Reed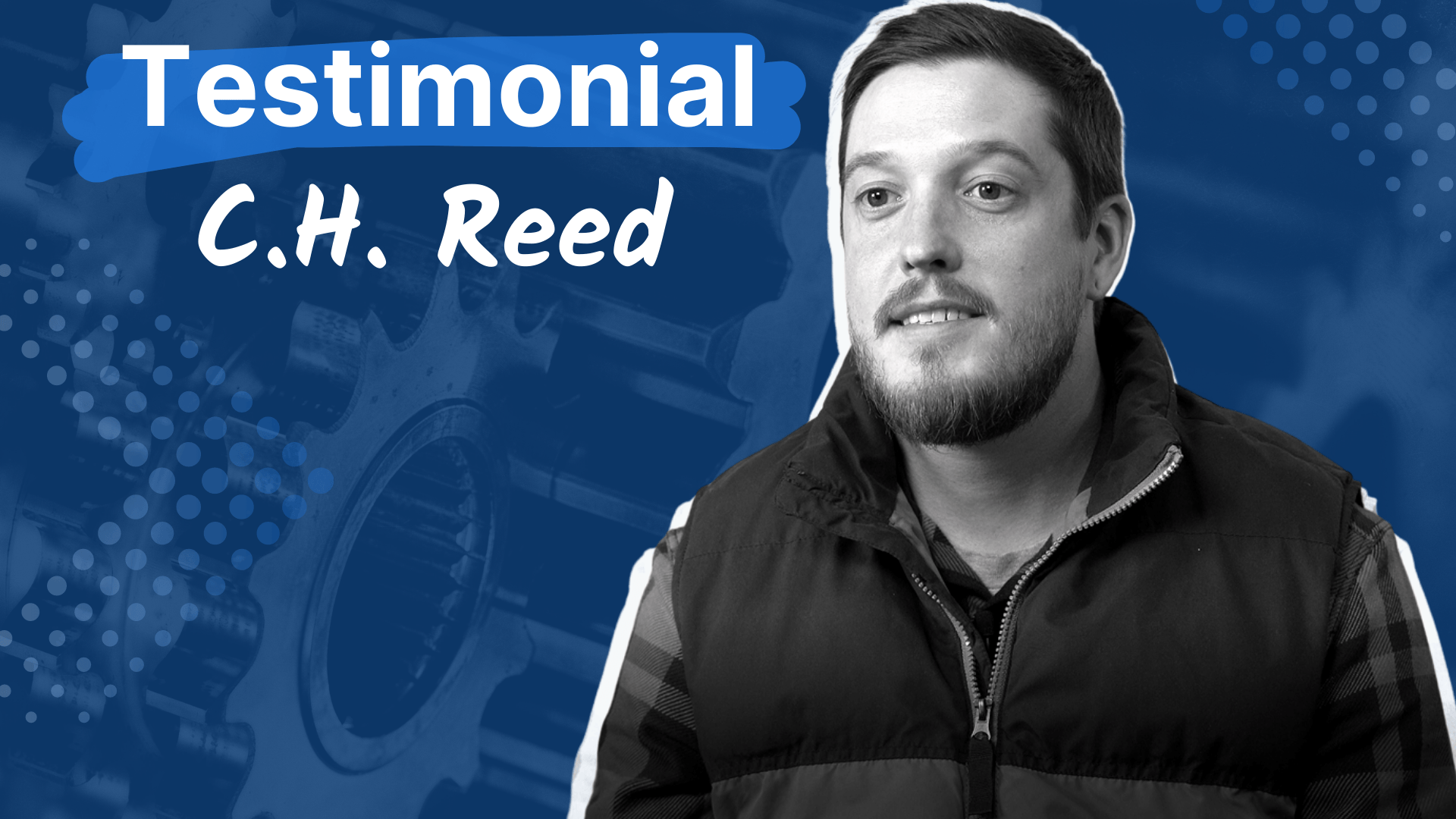 Another excellent example of how SEO can influence business growth comes from C.H.
Reed, which works with manufacturers in the Mid-Atlantic region on compressed air, paint finishing, and fluid handling processes. We created a custom SEO strategy for C.H. Reed, which included local SEO, with the goal of increasing organic traffic and contact form submissions.
A year into the project, C.H. Reed saw a 40% increase in visitors from organic and a 30% increase in organic goal completions, which included contact form submissions. This increased traffic and leads have led to increased brand awareness, conversions, and revenue.
Approaches to getting started with SEO
So, how can you get started with SEO?
There are several different approaches you can take.
Doing SEO yourself
One of the great things about SEO is that you can do some SEO work yourself. Doing your own SEO will take a considerable amount of time and effort, including time to learn about SEO and time to implement your chosen techniques. You also might not see optimal results right away if you're just learning about SEO.
However, doing your own SEO can be a great way to save money if you have the time to spend on it. It can be an effective way to boost your rankings, especially if you're just getting started.
Building an in-house SEO team
You can also hire an in-house team to do your SEO. This approach gives you a lot of control over your SEO process without having to do all the work yourself.
Of course, hiring an internal SEO expert or team is expensive, so you'll need to make sure the investment is worthwhile for you and that you feel ready to hire your own SEO experts. Hiring SEO professionals can be challenging if you don't yet know much about SEO. The benefits of hiring an in-house team include having people working on your SEO full-time and having more direct control over your SEO efforts.
Hiring freelancers
You can also hire freelancers to help you with your SEO.
You might hire freelancers to assist you as you do your own SEO or to help your in-house team. Or, you could have a freelancer take the lead on your SEO efforts. When you hire freelancers, you get the benefits of bringing in an outside professional but don't have to commit to hiring a full-time in-house team or working with an agency.
Hiring freelancers can be a great way to try out working with outside pros. Hiring freelancers does come with challenges, though. You'll have to vet each freelancer and evaluate their work to ensure they're delivering the value you expect.
This can be challenging if you're not too familiar with SEO. You also won't have as much direct control over the process.
Working with an SEO agency
Another approach is hiring a professional SEO agency. When you hire an SEO company, you get a team of experts and the resources of the agency on your side.
An agency will know how to get results quickly and can develop a custom SEO strategy for your business. Working with an agency typically requires more commitment than working with a freelancer. However, you gain the benefit of having a partner you can work with and build a relationship with.
You'll also still need to vet each agency and make sure they're delivering results, so look for a company with lots of reviews and testimonials and ask about how they report on results. With an SEO agency, you won't have as much direct control over the SEO process as when you hire an internal team. SEO companies typically offer options, though, that let you be more or less involved, depending on your preferences.
When hiring an agency, make sure you carefully examine their website and reviews and talk with a representative of the company to make sure it can meet your needs and seems like a good fit for your business.
We foster and form long-term partnerships so that your business has long-term results.
Over 90% of WebFX clients continue partnering with us into year 2 of their campaign.

Hear from Our Happy Customers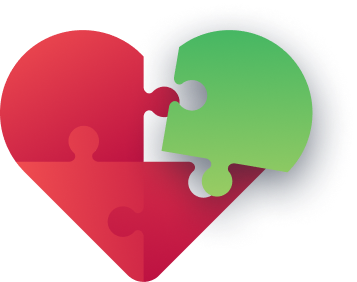 SEO Basics: How search engines work
Next, we'll discuss some of the basics of how SEO works for business, including how to get started with SEO and some top tips for improving your SEO performance. First, though, it's helpful to understand a bit about how search engines work.
This will give you some more context for understanding SEO strategies. Search engines like Google use "bots" to crawl the web for content. These bots discover content via links or when publishers submit them to the search engine.
When these bots come across a piece of content, they analyze or "crawl" it, which is the process they use to determine the topic of and evaluate the quality of the content. The search engine then indexes the content, which means it adds it to its database of web content. When someone conducts a search, the search engine uses its data about the pages in its index to determine the most appropriate results and rank them accordingly.
The process by which search engines rank content involves a complex algorithm that considers a wide range of factors. Search engines don't provide comprehensive lists of their ranking factors, but it's believed that they weigh more than 200 factors when ranking content. To succeed in search, you need to optimize for these factors.
Good SEO makes it easier for search engines to find and understand your content and helps you show Google that your content is high-quality. Updates that are beneficial for SEO also tend to be helpful for users since Google's goal is to rank the content that provides the best experience for its users. In the next section, we'll discuss some of the most important SEO factors and how to optimize for them.
SEO basics: SEO strategies for driving growth
While there are many factors to consider when it comes to SEO for business growth, it's important to have the basics down first. Here are the most fundamental things you need to do to start enjoying the benefits of SEO for business.
Conducting keyword research
Keyword research involves determining which keywords your potential customers are searching when looking for information related to your industry, business, products, or services. These are the terms you'll want to target with your SEO efforts.
To find keywords, come up with a list of basic keyword ideas — terms relevant to your business or industry. You can brainstorm these keywords, use Google Search Console to see which terms users search when they find your site organically, and browse competitor sites for ideas. Once you have some keyword ideas, put them into a keyword research tool like KeywordsFX, Ahrefs, or SEMrush.
The tool will provide you with a list of related keyword ideas.
Creating high-quality content
Once you have your keyword ideas, you'll create content that uses those keywords as inspiration for topics. For example, if you sell knitting supplies, one of your keywords might be "how to knit a scarf." For this keyword, you'd create a how-to article or video. Another might be "types of yarn." For this keyword, you might create an informational post, video, or infographic explaining the various kinds of yarn and their uses.
It's crucial that you invest time in making sure your content is high-quality so that it appeals to both search engines and users. Ensure your content offers something of value to your audience, gives them all the information they need, and is easy and enjoyable to use and navigate.
Integrating target keywords
Another essential step is integrating your keywords into your pages. You'll want to include a main keyword on each page, as well as several variations of that keyword and possibly some related keywords.
Say, for example, your main keyword is "types of yarn." You'll use this keyword more frequently than other keywords and in the most important locations on your page. You might also use variations like "kinds of yarn" and "yarn types" as well as related keywords like "types of yarn for knitting" and "types of yarn textures." Some of the most important places to include your keywords are your:
You'll also include your keywords throughout your main text. Make sure, though, that your keywords fit into your copy naturally and don't feel forced.

Earning backlinks to your site
Another one of the most important ranking factors is the quantity and quality of backlinks a page has.
A backlink is a link from another website to yours. Having more links from well-known websites causes Google to view your site as more authoritative, improving your rankings. You can earn links naturally simply by creating quality content that others want to link to.
Infographics, in-depth content, and statistics roundups perform especially well in this area. Another way to build links is to reach out to publishers and suggest that they link to one of your pages as a way to add value to their content. Find a specific piece of content from a publisher, pitch a specific link, and describe how that link will enhance their content.
Improving user experience
User experience is vital for rankings since it improves your content quality and encourages visitors to spend more time on your website, which is a positive signal for Google.
Various areas of user experience are important for SEO:
Mobile-friendliness: Use responsive design to ensure your website displays and works correctly on all types of devices. Prioritizing mobile is essential because Google now uses a mobile-first index, meaning it evaluates and serves pages from a mobile user's perspective.
Page speed: Users don't like slow websites, and neither does Google. You can use various page speed optimization techniques to improve your pages' load speed.
Website design: Your website's design should be visually appealing and make it easier and more enjoyable for visitors to use your site.
Polishing technical SEO
Technical SEO focuses on the backend of your website. While these factors may not be readily visible to users, they're crucial for SEO. One aspect of technical SEO involves making sure search engines can crawl and index your pages.
Check that you're not accidentally blocking search engine crawlers with your robots.txt file or through other methods. Also, create an XML sitemap, a list of the pages on your site that search engine bots can use to get around your site. Other aspects of technical SEO involve duplicate content, site security, and URL structure.
Page speed and mobile-friendliness are also sometimes considered part of technical SEO.
Tracking SEO results
An essential part of any marketing strategy, including SEO, is tracking your results. When you gather data about your results, you can evaluate that data and use what you learn to improve your performance. Before launching an SEO strategy, determine which metrics you'll track and how you'll track them.
Some useful metrics include:
Organic traffic: The number of visits your site gets from organic search results
Keyword rankings: The positions in which you rank in SERPs for relevant keywords
Click-through rate: The percentage of users that clicked through to your website after seeing it on a SERP
Top site exit points: The pages from which users most often exit your site
Conversion rate: The percentage of site visitors that take a desired action, such as making a purchase, signing up for a newsletter, or submitting a quote request form
Helpful tools for tracking SEO performance include:
Meet MarketingCloudFX:
One platform tracking countless metrics and driving stellar results.

Learn More About Our Proprietary Software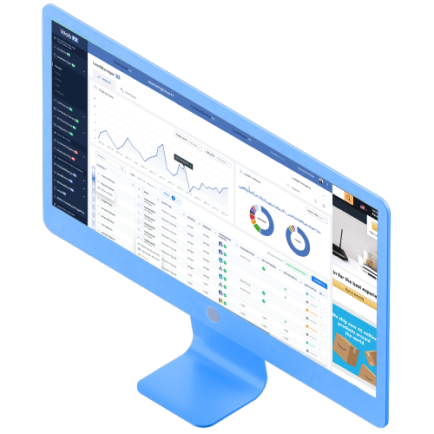 Harness the power of SEO for business growth with WebFX
Want to start using SEO for business growth or improve your current SEO performance? WebFX can help. We have over 25 years of experience in digital marketing and a team of more than 500 digital marketing experts.
We've even been named the world's top SEO agency by Clutch. When you work with us, we'll get to know your business and create a custom SEO strategy designed to meet your goals. As we implement your strategy, your dedicated account representative will provide you with regular reports on our progress.
We focus on driving results for our clients. Over the past five years, we've generated more than 7.8 million leads and $3 billion in revenue for them. Want to learn more?
Request a free quote online or call us at 888-601-5359 to speak with an SEO specialist.
Sarah Berry is a Google Analytics-certified

Web Marketing Consultant at WebFX

. She's written over 400 articles on digital marketing, covering topics like SEO, CRO, and Amazon. When she isn't polishing her Time Magazine Person of the Year Award, she's spending time with her flock of ducks.

WebFX provides digital marketing solutions with expert marketers, designers, and developers to increase visibility, conversions, and revenue.

Learn more
Try our free SEO Checker
Boost your site's search performance with our free SEO Checker. Analyze your website for optimization tips on titles, headers, content, speed, and more. Get a free report now to enhance rankings on Google, Bing, Yahoo, and beyond!
How Is Your Website's SEO?
Use our free tool to get your score calculated in under 60 seconds.
Try our free SEO Checker
Boost your site's search performance with our free SEO Checker. Analyze your website for optimization tips on titles, headers, content, speed, and more. Get a free report now to enhance rankings on Google, Bing, Yahoo, and beyond!