B2C

B2C Email Marketing Services
B2C Email Marketing Services That Generate Conversions
Email is one of the most reliable forms of digital marketing available. Your business can use email marketing services to drive more conversions, boost open rates, and increase revenue year after year. Read on to learn about B2C email marketing services from WebFX!
We've generated over
$3,021,182,299
IN CLIENT REVENUE
We've generated
7,839,684
LEADS FOR OUR CLIENTS
Proprietary email software
EmailMarketingFX
FOR CLIENTS
Email marketing from the agency with over 20 years of experience
Email is one of the most longstanding forms of online communication. It's been around for decades, and in all that time, it's proven to be a highly effective marketing tool.
Of course, running multiple email marketing campaigns at once can take time and effort, and you have other parts of your business to run. But you don't have to handle it on your own. WebFX offers an array of B2C email marketing services for you to try.
When you partner with us, we can help you set up every element of your campaign, from creating the email copy to handling your audience targeting. Read on to learn more about our B2C email services!
B2C email marketing services from WebFX
Looking to learn about the email marketing services we offer? Look no further. Here's an overview of some of the main features our email services include!
1. Email copywriting
At our B2C email marketing agency, we offer email copywriting services to ensure that you communicate your message effectively to your target customers. Great copy helps you communicate to users what your company offers and what you want them to do. It's also how you persuade them to do it.
We offer different plans when it comes to copywriting.
If you want, you can provide your own copy, and we can build the email around it.
We can also put our professional copywriting team to work devising copy that will draw users in and encourage them to click.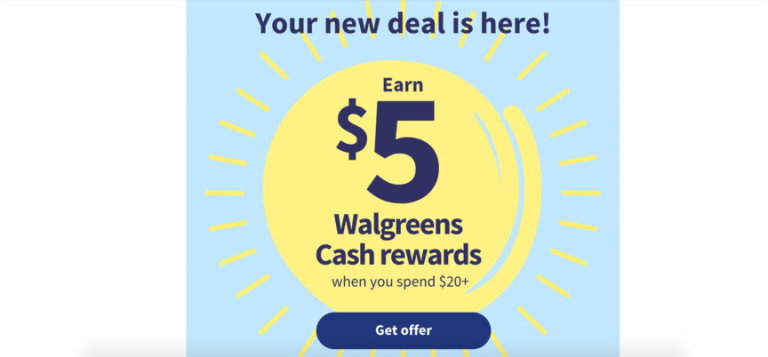 We'll write persuasive email subject lines that encourage users to open your emails. Then we'll write matching email copy that quickly and succinctly points users toward the action you want them to take.
2. Email remarketing services
Email marketing for B2C companies has the edge over other digital strategies because it's perfectly built for remarketing. Remarketing is a type of advertising that targets people who have already visited your site. It's so valuable because the people you cater to with a remarketing campaign have shown a clear interest in your business.
When we create your emails, we can help you target the right audience. Depending on what you want your emails to advertise, we can create different email signup forms on your website where people can subscribe.
From there, we'll be sure to optimize your emails in such a way that perfectly targets the audience that signed up for them. We'll leverage their existing interest in your business to push them toward conversions and boost your revenue.
3. Landing page design
When setting up an email marketing campaign, it's not just the emails that are important — it's also the landing pages where they lead. Once users have clicked on the email call to action (CTA) button, you want them to take the final step and convert on the resulting landing page.
WebFX can help you make that happen. We'll put our top-tier web design abilities to work to design landing pages that look amazing and point users toward whatever final action you want them to take. The pages will also function smoothly, with fast load times and mobile-friendly layouts.
Some common landing page actions include:
Completing a purchase
Trying a demo
Claiming a special offer
And more!
4. Email distribution management
As soon as your emails are ready to go, it's time to send them to users. We'll handle all the email distribution elements, from targeting the right users to determining the right frequency.
You don't want to send your emails too often, or you'll annoy your audience, but infrequency can kill your campaign. WebFX will help you pinpoint just the right frequency to send promotional emails, and we'll schedule them accordingly.
We'll also make sure you have appropriate options for subscribing and unsubscribing, so users never feel bombarded by your emails.
5. Campaign analysis
B2C email services don't end once we send your emails. From there, you need to monitor your emails' progress to see how they perform, and WebFX will be there to help you do it.
We'll keep a close eye on metrics like open rate and click-through rate (CTR) to determine which emails drive results and which ones don't. We'll then work to reoptimize the less successful emails and replicate the ones that prove effective.
As part of our analysis, we'll provide you with monthly reports on how your campaigns perform and what we've done to improve them.
Time to Level Up Your Sales
Our long list of services helps you grow every aspect of your business with marketing strategies that are proven to increase bottom-line metrics like revenue and conversions.
In the past 5 years, we've managed more than 12.9 MILLION transactions across our client base.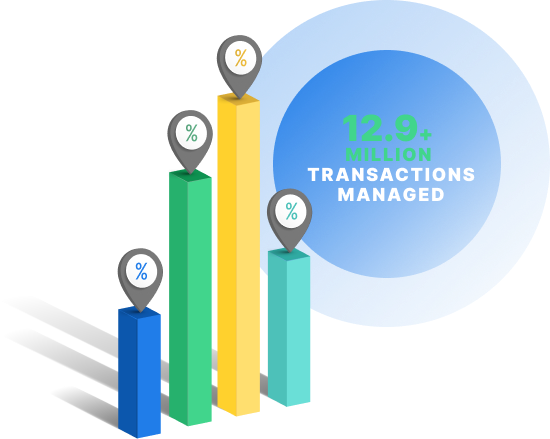 Why do you need email marketing for B2C?
Email marketing is a valuable marketing tool for any business — but why do you need email marketing to generate revenue?
Here are three ways email marketing for B2C companies is so effective at driving results!
1. People frequently check their email
One of the reasons email marketing for B2C is so effective is that people check their email frequently — a fact you probably know from experience. But did you know that people typically spend between 10 and 60 minutes looking at emails each week?
That means email marketing is an excellent strategy if you want to ensure that people learn about your business. Not everyone will visit your social media page or see your display ads, but many of them will check their emails.
Furthermore, 58% of adults check their email first thing in the morning. That means you can be the first thing people see when they start their day.
2. Users will be happy to receive your emails
One thing that makes email marketing unique among other marketing strategies is that every user you target with it has signed up for it. Since email marketing works on a submission system, you can guarantee that subscribed users specifically asked to receive a particular material from you.
The result is that all your email recipients will be more than happy to receive your emails since they requested them. That makes them much more willing to convert when you encourage them to do so.
3. Emails help counteract cart abandonment
Emails are excellent for reaching people who have previously visited your website. Using a similar structure to remarketing, emails can also help you reduce abandoned carts.
When someone begins to make a purchase on your website, they may not always finish it. But if you have their email address, you can send them a follow-up email a few days later to remind them of their abandoned cart.
As a result, you'll be able to drive more completed purchases and — ultimately — more revenue.
Why partner with WebFX for B2C email marketing services?
It's clear that you need email marketing to drive the best results for your marketing — but why work with WebFX to achieve those results? Why not handle it on your own or partner with a different agency?
While you certainly could do one of those things, partnering with WebFX brings several advantages that you don't want to miss.
Here are three things that make WebFX such a good option for your business!
1. We have decades of experience
When you partner with an agency to handle your email marketing, you want one with plenty of experience. An agency that's only been around for a few years won't have the level of expertise needed to drive a stellar campaign.
WebFX was founded in 1996, giving us well over 25 years of experience. In that time, we've learned quite a lot about how to craft top-tier email marketing for B2C companies.
That makes us the ideal choice if you're looking for an agency whose team members know what they're doing!
2. We drive top-tier results
As beneficial as it is to partner with an agency that's been handling marketing for a long time, no amount of experience will help you unless your chosen agency also knows how to drive superior marketing results. Fortunately, WebFX specializes in driving incredible results for clients.
If you don't believe us, look at our history. In the past five years alone, we've generated over 7.8 million leads and $3 billion in revenue for our clients. Those numbers should make it fairly clear how proficient we are.
Given what we're capable of, it's probably no surprise that our past clients have been so happy with our services. And if you partner with us, so will you!
3. We're a full-service agency
Another benefit of partnering with WebFX is that we're a full-service digital marketing agency. That means we don't only offer B2C email services — we also provide a range of other services, including:
It's possible that you only need help with your email. But should you ever need help with another service, it would be convenient to be able to go to the same agency you're already working with rather than having to find a new one for each service.
Fortunately, when you partner with us, you'll have access to all the services listed above, all in one place!
Let WebFX boost your revenue with our B2C email marketing services
Ready to kick your email marketing campaigns into gear? WebFX would love to help! With over 1000+ client testimonials, we're the agency small businesses trust to drive superior results for their marketing, and we can't wait to show you firsthand.
With our B2C email marketing services, you'll get help implementing all the features listed above — and more! You'll even have a dedicated representative assigned to your account to notify you of everything we do for your campaigns.
To get started with us today, call 888-601-5359 or contact us online!